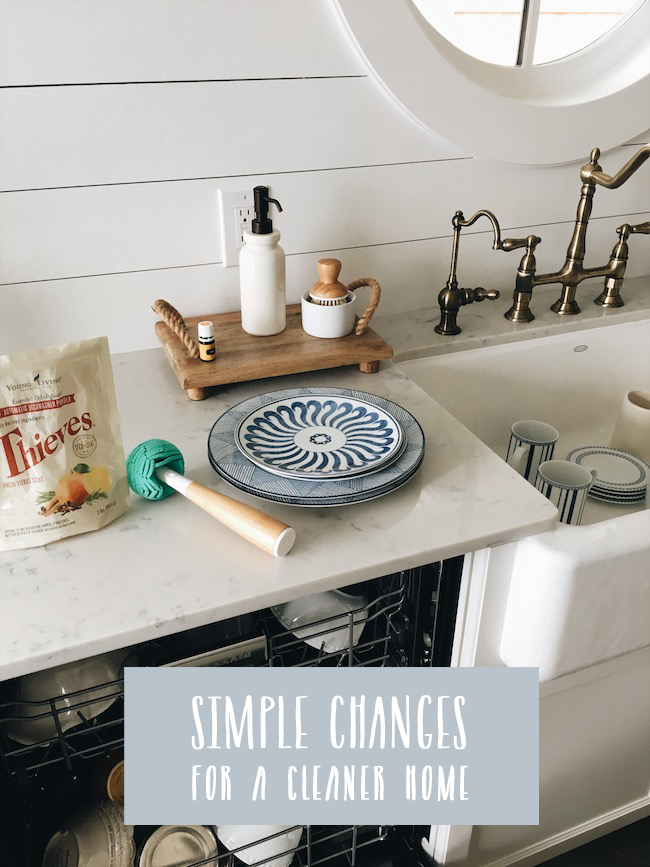 I want to do everything I can to create a healthy and happy home for my family. I know you do, too. We can't control everything, obviously, but we do have the freedom to make choices about what products come into our own home.
Yesterday I shared potentially hidden toxins in everyday products many of us may have under our sinks and in our cabinets. Here's an important take away. Don't get paralyzed worrying about how you'd ever study enough or ever be able to understand each ingredient in your products. Don't start fearing all products or blaming yourself for what you didn't know! That's no way to live.
I simplify it all by focusing on positive changes I know I make.
I am not likely going to change the world today, or ever know how to fix every problem, but I know I can give a little more thought to what I want to spray on my countertops or put on my face.
Less is more, so keep things simple!
Minimize the number of products and be selective on ingredients to minimize potential risk!
You know me, I always try to tell you what products I use and how I come to conclusions about any changes I make in my home. I offer my opinion in case it helps you narrow options or interests you to know, but not everything I have will work for you or even be right for you.
Information we learn can change in time too, too, so that's why I recommend keeping up with current studies so you can make the best possible choices for your family!
Here is a quick non-comprehensive list of possible ingredients/chemicals to look for / research (This isn't to scare or upset anyone, this is just intended to be a helpful start for those who want to learn more!) :
parabens
phenol
benzene
ammonia
bleach
fragrance (phthalates)
dyes
phosphates
triclosan
ammonia
sodium lauryl sulfate/sodium laureth sulfate
flame retardants
Whether a toxic chemical in a product poses a real and known risk, or an unlikely one, the bottom line for our family is we don't feel the NEED to use harsh products in our home. And we can make changes over time. It's really that simple.
We don't need to be lathering them on our body as lotions, breathing them in our air for scents, or using them to clean our home. We personally feel there are better alternatives we can use in our home. Do we still have questionable or unstudied products in our house? Yep, but we are working our way through our home, evaluating what is beneficial and working on making better choices going forward.
I think most of us can agree that simplifying the consumption of unnecessary chemicals and redefining our definition of what is actually clean is a good idea.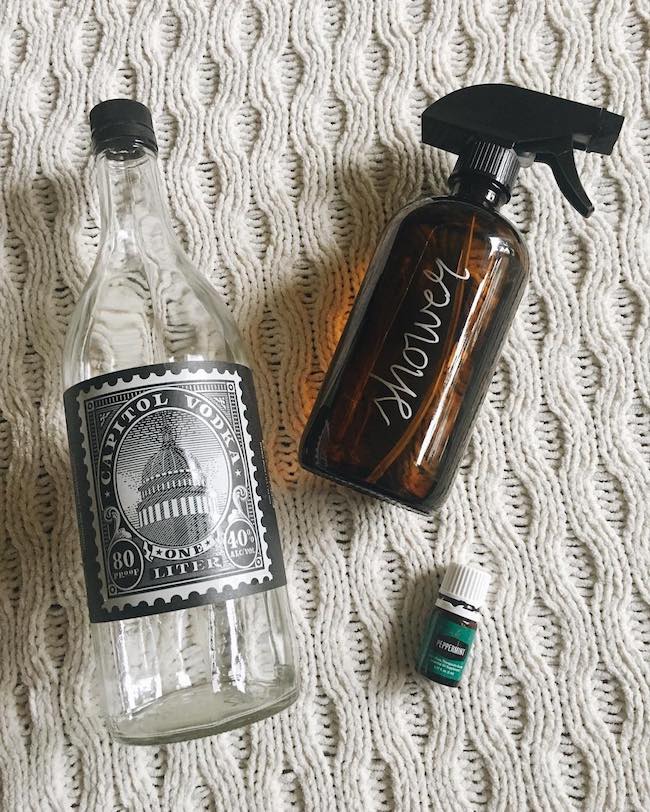 Check out the DIY shower spray we posted here and some other DIY ideas, below.
Today I will share a few simple changes we've made in our home.
Even though it is sometimes hard to know who or what to trust when it comes to products, a product my own family would feel safest with would be as close to its "natural state" as possible, like a plant or one derived from a healthy plant.
And then because we don't often grow plants to make products ourselves, we'd want to purchase from a company if we trust their commitment to quality. We would more likely trust a company when we know they use responsible methods for farming and processes.
Responsible farming doesn't always mean you will see an "organic label" on a product. It's about the actual organic soil the plants grew in, the process by which a farmer grows their plants and the commitment a company has to protecting the quality and purity of their products.
Yes, that all takes a little research to figure it all out, but for our family I find any effort is worth it for the confidence we can have in trusting the products going forward.
I think even if we can take a small step in a healthier home, it's better than never taking a step towards wellness at all. Moderation and common sense are good steps and guidelines, too.
Below you'll find just a few of the products we use or would trust in our home. Again, this is just what we use. You may have other products that serve your family well and these may not be right for you. The important thing is that we do have a choice when it comes to what is in our products.
All products may not be perfect, but some are clearly better than others. Baby steps are far better than no steps at all!
SIMPLE NON-TOXIC WAYS TO CLEAN:
If you are a DIY'er or want to be one, you can start with a couple of base cleaning products and combine them in different ways for your family.
We like unscented Dr. Bronner's soap, which can be ordered in many stores or online here. It's a great base product on its own (and you can add essential oils to it if you want to customize the scent, find the essential oils we use and recommend here!).
Dr. Bronner's castile soap can be used many ways, including a:
fruit/vegetable rinse
bath soap
hand soap
shaving cream
makeup brush cleaner
Shop sources for glass spray bottles and more with the scrolling bars below:


DIY NON-TOXIC CLEANING WITH BAKING SODA:
Clean your sink with the leftover half of a lemon (or slice of lemon), with a sprinkle of baking soda
Simply sprinkle your sink with baking soda, a splash of dish soap and scrub with warm water and a wet rag
Clean your sink drain by pouring 1/2 cup of baking soda down the drain, and then 1/2 cup vinegar. After it fizzes, pour 6 cups hot water down the drain.
Make a toilet bowl cleaner with 1/4 cup baking soda + 1 cup vinegar
Make an all-purpose cleaner with 1/2 cup vinegar + 1/4 cup baking soda + 1/2 gallon water
What could be easier than cleaning with baking soda? It's not fancy by itself, but you can jazz up the scent with a drop of your favorite essential oil.
BETTER HEALTH WITH PURE ESSENTIAL OILS
You can get creative with your DIY or simple household products by incorporating various plant-based scents from pure essential oils to your unscented soaps and cleaners to make them not only smell great, but are good for you!
Essential oils come from plants and have been used safely for thousands of years. The reason my family uses and only recommends Young Living essential oils is because we have researched their farms and their commitment to quality.
Their products really help–not harm–our family. I wouldn't buy just any "essential oil" off the internet or off a gift store shelf just because it came in a cute bottle or was a cheap price.
Even ones that may be marked "pure or natural" could have fillers and additives or compromised components or the plants could come from unknown sources. Just like any other product, even with "natural products" you've got to trust the source. That's why I buy my products directly through Young Living and not from Amazon.
Essential oils not only offer a way to add fresh scent to cleaners, facial washes, and home diffusers, but unlike harmful chemicals found in most scented products, plant-based oils can actually work with the body in a natural way (not against it) to support systems in the body to function as they should. Essential oils are fascinating to study as well.
** You can find many of the plant-based products we use for cleaning, personal care and wellness at wholesale pricing through Young Living here. When you get started with our referral, you'll not only have you need to get started as well as access to any other wholesale products you might want in the future, but you'll also be invited into our private wellness community!)**
Want just one All-Purpose Plant Based Cleaner for all the things?
Me, too! If want the simplest most effective way to start cleaning without harsh chemicals, I highly recommend the Thieves Household Cleaner. It's really all you need to clean nearly everything. It's the best cleaner I've found!
Thieves essential oil is a Young Living proprietary blend of clove, rosemary, cinnamon bark, lemon and eucalyptus radiata.
Below you'll find several convenient Thieves products for the home that smell great, clean amazingly well, too.
Get Thieves Household Cleaner for 24% off HERE.
A bottle of Thieves cleaner is versatile, concentrated product that you mix with water. A 14oz bottle costs $22 per bottle BUT it makes 29 (TWENTY-NINE) bottles of non-toxic cleaner! That comes out to 75 cents per bottle of cleaner! HELLO, what a bargain! And it's far cheaper than the toxic stuff!

Thieves household cleaner is a plant-based product you absolutely don't want to be without. It cleans everything like a BOSS and smells like fall with no harsh chemicals. BEST OF ALL WORLDS!
Clean all the things with Thieves Household Cleaner!
For most cleaning needs, use a capful Thieves Household Cleaner diluted with water in a 16 ounce spray bottle. But you can definitely and safely adjust the strength/ratio as needed, or even add a little baking soda or the Thieves dish soap for a little extra scrubbing action!
Clean your countertops, stove and sinks: Fill a spray bottle with 1 capful of Thieves cleaner and 3 1/2 cups water. Do a patch test on your counter first, just to make sure, but we use it on everything including marble and granite. You can also try it full strength right on your stove to clean off years of grime!
Clean your toilet: Use half a capful of Thieves Cleaner with 1/4 cup baking soda and clean with a toilet brush.
Make a sink or toilet scrub:
-1 cup baking soda
-1/4 cup Thieves Household Cleaner
-10 drops lemon essential oil
-1 tsp vinegar
-mix and store in a jar with tight lid
Clean your shower: All you need is a dish brush that you can fill with water, Thieves Household Cleaner, and Thieves dish soap! Just add a couple squirts of Thieves dish soap, two splashes of thieves cleaner, filled the rest with water and you can clean you shower walls and tub right before you get out and then rinse it clean!
Clean wood and tile floors: Combine 2 capfuls of Thieves household cleaner with 1 gallon warm water. Apply evenly to floors with a damp (not wet) mop. To be safe, test a small out of the way area first.
Clean fabrics and rugs. I use Thieves household cleaner to clean our fabrics, leather and rugs. Again, do a patch test first to make sure, but I've never had an issue.
Learn more about Thieves Household Cleaner and order it for 24% off HERE.
What about ditching other toxic or harsh household and personal products?
We used to carry those unhealthy hand sanitizers, chemical-laden "health" products and artificially scented products with us everywhere we went. Many hand sanitizers appear to actually kill good bacteria and can lower your resistance to disease. That's the opposite of what we want.
Now we bring along plant-based products, like Thieves hand purifiers and sprays and we make our own wellness and body scents in glass roller bottles. It's pretty fun to make your own roller blends with actual plant-based scents (we share some of our blend ideas on our Dwell Well Collective Instagram.
Toxic detergent or dryer sheets? Those need to go!
We don't want artificially scented or toxic dryer sheets or yucky products on our clothes at all. We use Thieves laundry detergent, and we use these reusable wool dryer balls from Amazon with a few drops of Young Living essential oils to make our laundry truly clean and fresh!
What about clean skincare and makeup?
Don't even get me started on how I feel about products we use on our skin, like make up, toothpaste or what we use on our lips! We've ditched so many products we used to use in favor of these simple clean natural ones. We are cleaning out the toxic products from every drawer and cabinet in our house!
I get a monthly "wellness" box (called 'Subscribe to Save') from Young Living where I order all of our monthly essentials like makeup, skincare, household products, etc. I have been extremely happy with all of the products, so it's been a super easy and affordable way to get the things we need and use regularly.
You can get your own optional customizable monthly wellness box once you set up your Young Living account, I think it's the best way to clean out all of the products in your home.
You can choose to subscribe to certain items every month, every other month, or every 3 months. It's totally customizable and adjustable each month, so you can always change it up depending what you want or need! But again, that part is totally optional. You can just set up your Young Living account and get 24% off by getting whatever you'd like, no starter kit required. Get started with my referral link here.
What about scenting the home without toxic chemicals?
Any product labeled "perfume" "parfum" or "fragrance" and even "natural" can be suspect because you really don't know what that means. Even a product labeled with "essential oils" doesn't mean it is safe or good for you as the bottle could contain other additives.
I have always loved scenting my home, but now instead of candles or room sprays, I just use my trusted essential oils! I love that with oils I can be scenting our home and receiving health benefits, rather than breathing in who knows what. And Young Living's essential oils smell amazing so we don't even miss the toxic chemical scents.
Click here to order the essential oils, diffusers, and toxin-free products our family trusts and uses. (no starter kit required, you can order whatever you'd like to get the 24% off discount!)
I use battery operated candles for the flickering ambience to avoid the risks of burning actual candles. When we do occasionally use real candles, we try to choose ones that are made with 100% soy or beeswax with a cotton wick (no paraffin), like this candle we have for example. We also make easy DIY room sprays which I shared an example of here.
Any other recommendations?
As a reminder, what we EAT and the food we bring into our home is very important to our health, which I shared here.
I'll have more products, DIY cleaning recipes and tips to share in future posts!
* * * * * * * * * * * * * * *
Where is the order information?
You can find many of the plant-based cleaning, personal care, cosmetics and wellness products I recommend at wholesale prices so it's easy and affordable to get started with a cleaner home! Order your products here. (no starter kit required)