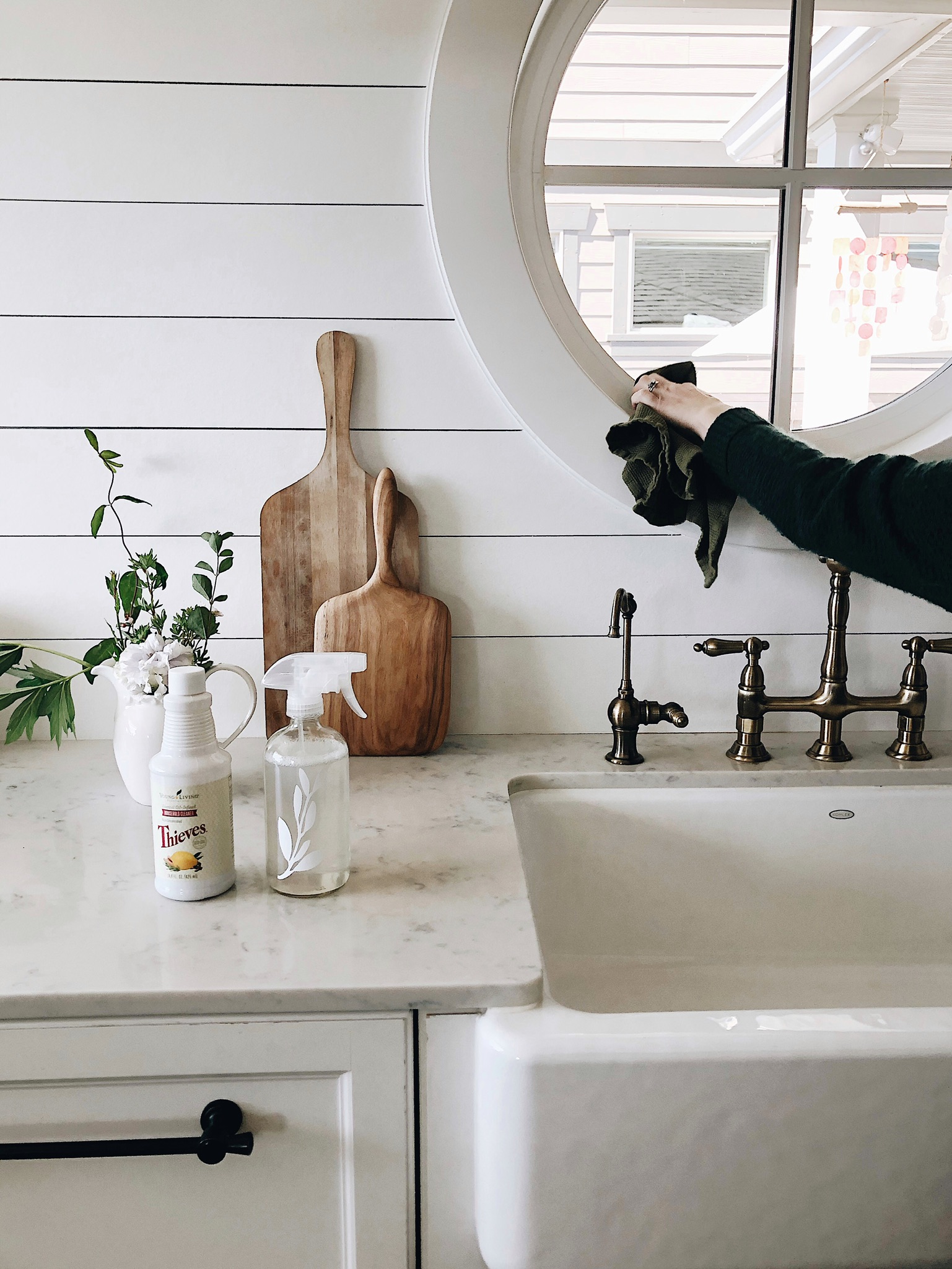 What if I told you that you could replace every single cleaning product in your home with just one all purpose solution that's plant-based and free of harmful chemicals?
And what if I told you that each bottle would cost you less than $1?
A bottle of Thieves cleaner is versatile, concentrated product that you can mix with water. A 14oz bottle costs $22, BUT it makes 29 (TWENTY-NINE) bottles of non-toxic cleaner! That comes out to about 75 cents per bottle of cleaner! HELLO, what a bargain! Far cheaper than the toxic stuff and way better for you and the people you love.
How to Get Thieves Household Cleaner 24% Off:
Use THIS LINK to order (referral #3731456).
To get the 24% off discount, all you need to do is CLICK HERE (referral #3731456) and either 1) Place an order of anything you want totaling at least 100pv, OR 2) You can 'subscribe to save' on any product (example: subscribe to Thieves Dish Soap once every 3 months). You can modify or cancel the subscription any time.
Either one of those options will unlock the 24% off pricing and you'll be able to shop with the discount anytime you'd like! Easy peasy.
Remember that the Thieves cleaner is a concentrate so it will make 29 spray bottles of cleaner. You'll get the wholesale price on your order, plus you'll have your own account where you can order or reorder any of the 600 wellness products at the wholesale prices.
Another optional way to get Thieves:
The Thieves Starter Kit comes with a variety of the most loved Thieves products including two bottles of the cleaner (each bottle is a concentrate–you will make SIXTY bottles of cleaner out of this kit!). This kit is a fantastic option as well and super economical way to stock up on the most popular and well-loved plant-based Thieves products from Young Living at wholesale prices.
You can also get the Thieves Premium Starter Kit which is just $125 and comes with everything you need to switch to toxin free household products! Including:
– 2 bottles of Thieves Household Cleaner Concentrate – each bottle makes up to 30 bottles of all-purpose cleaner (60 total) This is my all-time favorite cleaner, the ONLY one I use!
– Thieves Mouthwash
– 2 Thieves Foaming Hand Soap
– Thieves Aromabright Toothpaste
– 2 Thieves Hand Sanitizers
– 2 Thieves Surface Sprays
– 1 15ml Bottle of Thieves Oil
Incredible deal!
Order whatever you want HERE! Make sure you see my member number 3731456.
When you get your account set up with my link, you also receive free access to my optional private Facebook group called Dwell Well Collective. I'd love to have you join us, we're having a blast learning together, supporting each other and getting healthier, too. I love to offer giveaways and offer my team happy mail from time to time, too.

These products are truly life-changing and the incredible community you'll become a part of will support you every step of the way.
*************
If you're not yet following Dwell Well Collective on Instagram or Dwell Well Essentials on Facebook, follow me there for lots of oils and wellness inspiration!
Feel free to email me at [email protected] if you have questions.
You can read my health story here and why a healthy home matters to me!