Greetings, friends! It's been awhile since I've shared some of my phone and Instagram pics in a Life Lately post. So today's the day I will catch up a bit and invite you into our home with some behind the scenes photos.
We had family here over the Thanksgiving holiday so we've been totally living life to the full (and loving every minute of the crazy). With our work and projects and family and lots of family pups all gathered under our roof, it's a little wild around here sometimes.
But savoring that wild and crazy life is what home and holidays are all about.
If there ever was a time of the year to let go of stress and just enjoy the season, it's this one.
I've said it before but I'll say it again, if I ever start feeling overwhelmed or Scrooge-like this time of year, I remind myself to picture Christmas through the eyes of a child. Don't overthink it. A tree with twinkling lights on the counter may not be practical, but that's what makes it magical.
My husband makes fun of all my furry blankies in every room, but hey, they make me feel snug and cozy. This is our guest room so we created a little winter retreat for visitors to enjoy.
Kitchen Details
We do a lot of cooking now that we have our fully functioning kitchen! You might remember that last year we didn't have a kitchen for Thanksgiving, so it was a special time this year.
There's no where we'd rather be than gathered together in our cozy little home.
We definitely feel blessed to be able to do so much together as a family right here in our home! We work, play, eat and repeat. This is our life and we are grateful for it.
Christmas Houses // Stockings Source // Stool Source
We're always surrounded by projects in progress! For example, as we were cooking Thanksgiving dinner we were preparing to pack up these gift boxes for the Dwell Well Collective (y'all are invited to join us!).
Jack was in his element on Thanksgiving, he loves the activity and commotion of people and pets gathering. He's very much an extrovert. :)
With friends and family around, there is always a lot of good food!

Goldendoodle Plate (this one may be sold out but hopefully will return soon!)
And of course, we are fans of festive drinks! My sister's special Spanish coffee has become a tradition. I'll see if I can get a recipe from her, it was good!
We may have to squeeze in tables, chairs and pups but we always make room for more!
We are grateful for so much, so many blessings and a happy healthy family.
This furry friend is my sister's dog, Luna. They got to hang out together for a couple of days. Jack and Luna get along great and are good buds.
We had a camera crew here just before Thanksgiving to film videos for my books! I can't wait to show you once they are complete.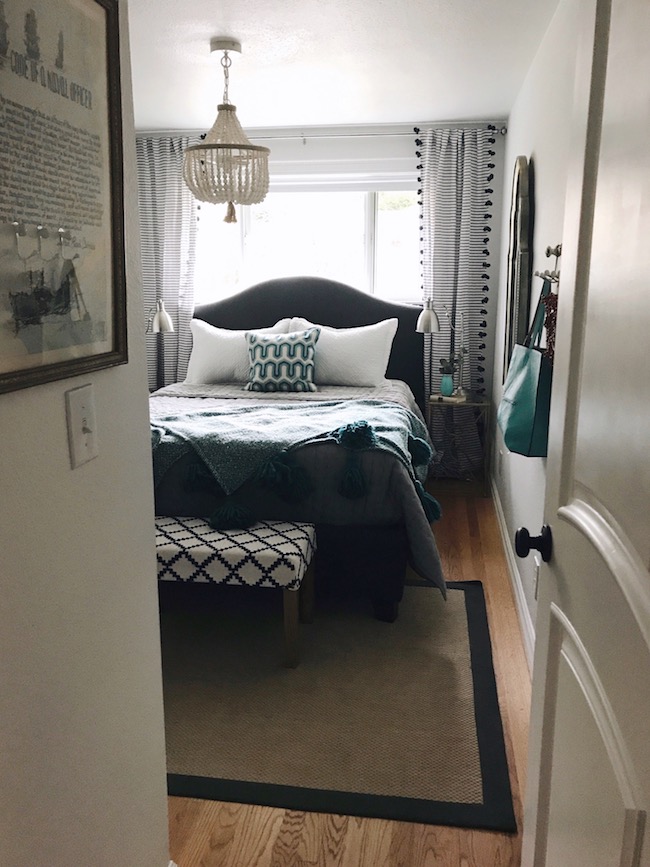 Since our home is also like our studio and our warehouse (haha), rooms sometimes have to change from Christmas to spring or winter all in one day.
It can be a little chaotic at times. Over the years I've learned a lot about embracing change and going with the flow.
Speaking of going with the flow, Bella decided this table would make a comfy spot to curl up (on a backpack?!) even though we have a no dogs on the table rule (hahah, apparently I didn't make that clear enough).
We were just as shocked as you probably are to see here there smiling like she was the most clever dog on the planet. You just never know what might happen when you have dogs. They they bring laughter to our home everyday.
I also have a no TV in the living room rule (well, it's more of a personal preference), but we set up a TV in our main room over Thanksgiving so our family could play the fun group game I told you about recently (called Drawful on the PS4–you can all play with your phones!).
We pulled up chairs, snuggled up and played for hours! I'm terrible at it, but it's fun anyway.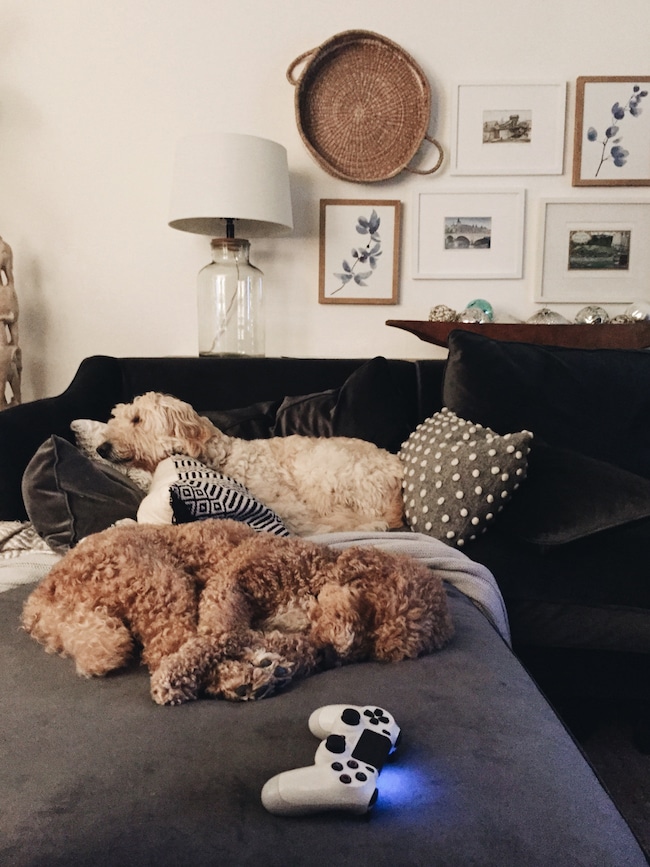 All the dogs were exhausted by the end of the day.
But the next day, everyone was up and out for more adventures!
Hope you all are embracing all the simple joys in each season.
You can follow along with all of our Instagrams below:
The Inspired Room // Jack the Goldendoodle // Doodles at Home // Pure & Lovely // Kylee // Courtney