Do you have a happy place to go to within your home? Maybe it's the chair you go to soak in a moment of peace, or a room you sit in to bring a little more joy, or the spot in your home where you go when you need to reenergize yourself or to feel more inspired?
In my "homebody manifesto" post, I talked about how often we are told to offer ourselves self-care by heading off somewhere other than our home.
Of course, a "happy place" can be somewhere else in the world. Maybe on a beach. Or in the mountains. Or at a boutique hotel with room service. Those can be very happy places because we feel like we can leave our cares behind.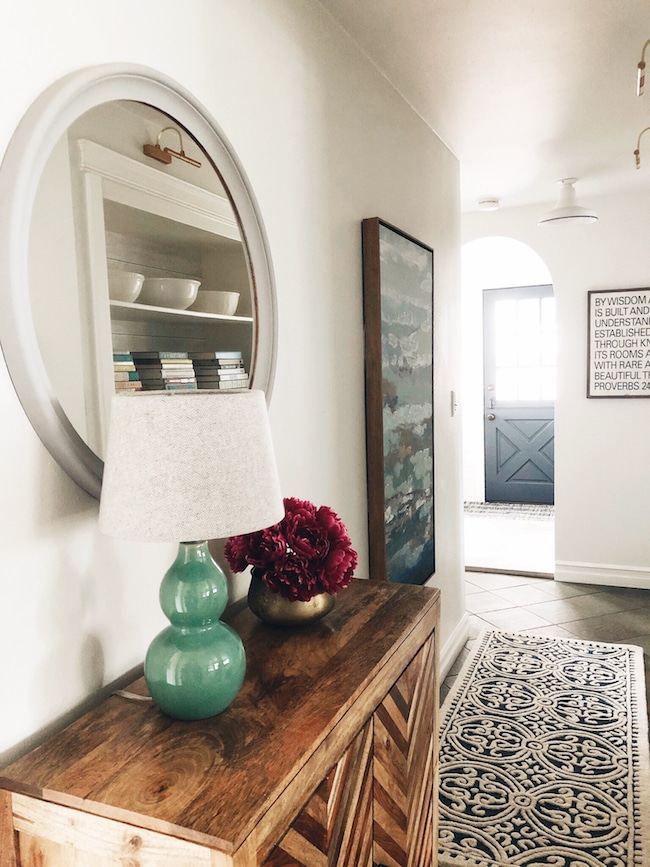 But I have found I feel my best overall when I create restorative spaces in my home where I feel happier, too.
Home is where a lot of our life is lived, so I've observed that there are lots of little decisions we make there every day that can greatly impact how we feel. My new book Dwelling is all about feeling well where you dwell (it's not just about our home but in how we take care of ourselves there, too).
While a perfectly designed room or new furniture could offer a very happy place, a happy spot is not always about having all of the perfect "things" we want in a room.
Sometimes a happy place means you will claim one clutter-free corner for yourself.
Maybe it means arranging one shelf to bring joy in an imperfect place.
Maybe it's about cultivating the "happy mindset" we need to see the gifts in a space right in front of us.
Of course, people or pets can bring happy to a home, too! Wherever and however you find more joy in your home, I think having at least one spot where you know you can go to soak in some happiness can be a gift to yourself!
White Slipcovered Sofa /Blue and White Rug
In my house I'd probably say I feel my happiest when I'm curled up on my living room sofa. Besides being where my people and pups are, I think it's a happy spot because during the day or sunset hours I can enjoy the light and view through our windows. Being there brings more joy to my day.
We intentionally positioned our sofa in the living room and a bench in our dining room so that we can sit in either spot and look outside. We could have arranged our rooms differently, but that decision (among many!) has had a positive impact on my well-being.
Whether or not we have the perfect rooms or make ideal choices from a design standpoint, the decisions we make to improve how we feel in our home matters most of all.
Where's your happy place in your home? I'd love to hear about it in the comments!
If you aren't sure where your happy spot would be, maybe it's time to create a little nook for more joy this week!
More on The Inspired Room:
One Thing I Do Every Day to Be Happy