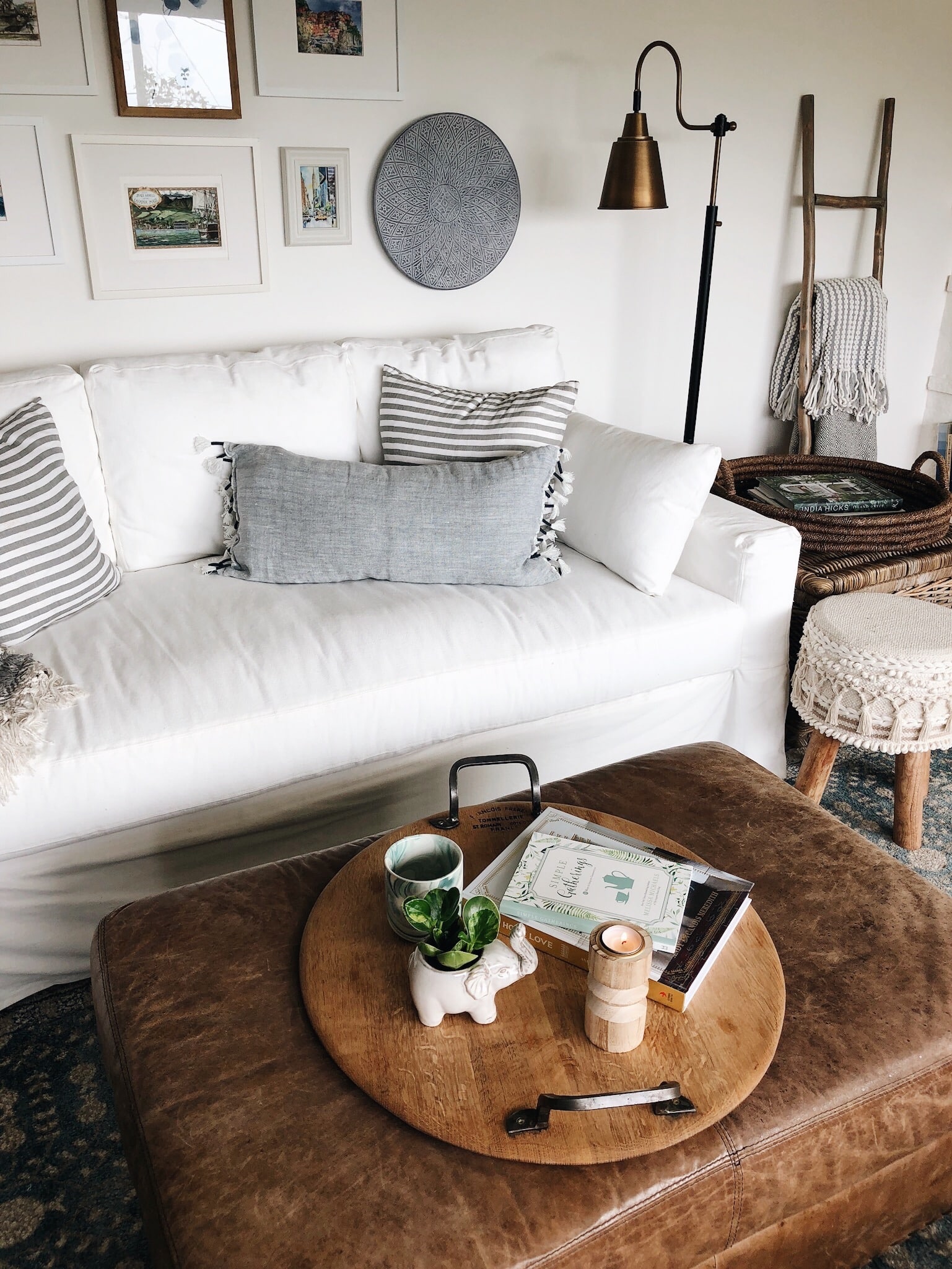 I've had my Pottery Barn white slipcovered sofa for about eight months now. You might recall that I had a similar sofa with the same fabric slipcover years ago, so I was confident when purchasing this one that I would love it. And I do! Ours is called the York, you can find the model and sale code here.
Since I get a lot of questions about it, I thought it was high time I do a little update to answer some FAQ!
What are the benefits of a bench seat?
I personally love the bench style seat. It makes it extra comfortable as an extra bed or nap spot! And if you have a lot of people needing to squish onto the sofa at one time, no one has to sit on (or avoid falling in) the crack.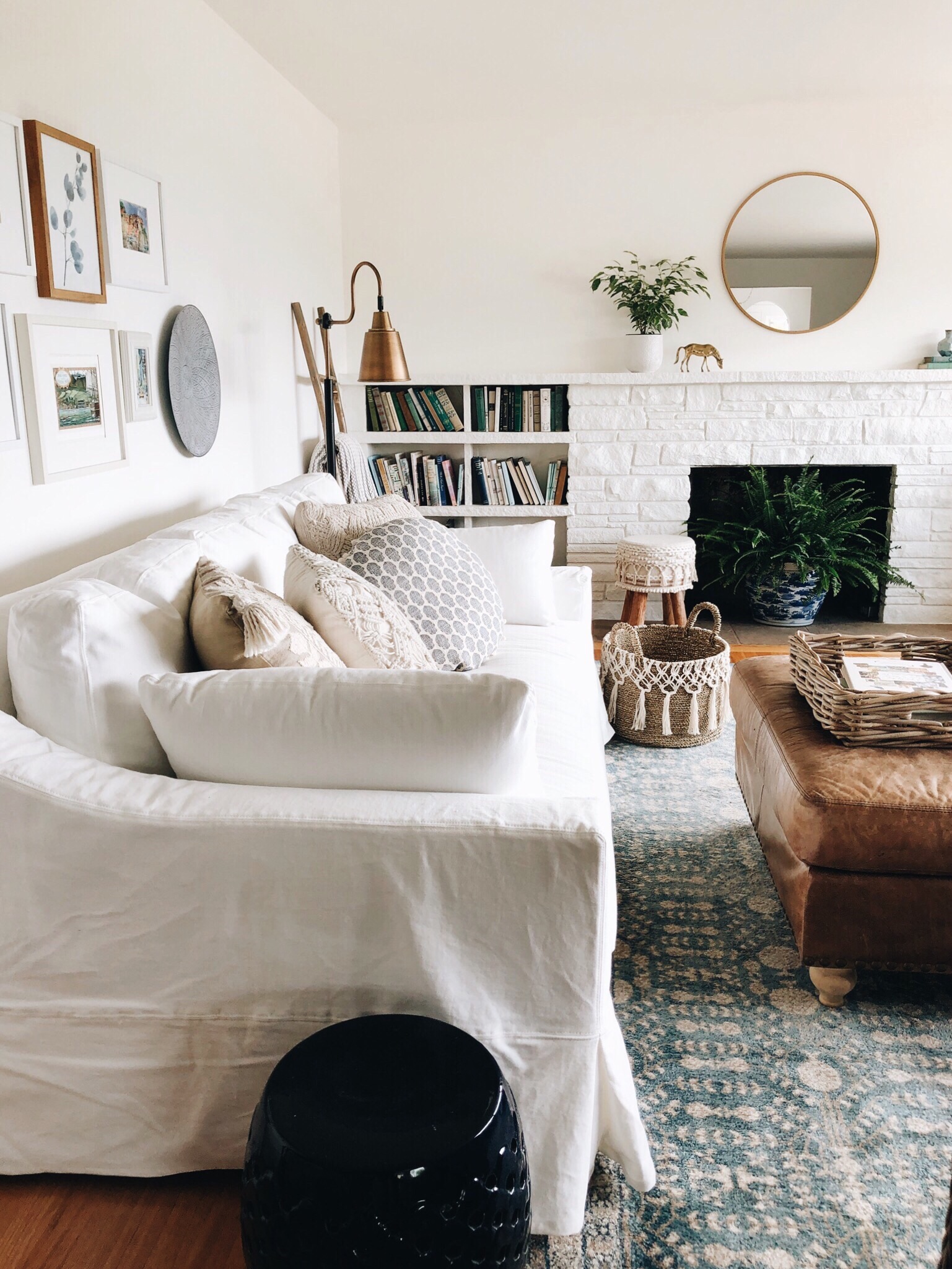 Is the deep seat comfortable?
Our family is on the "smaller side" but we all find it very comfy. You will likely want to put some pillows behind your back unless you are super long-legged! But that's one of the things I love about the sofa. It's the kind of sofa you want to curl up on, so I think the depth makes it all the more cozy and inviting.
How do you like the denim slipcover?
The main reason I chose this fabric was due to the quality and ease of maintenance. Ours is the Warm White Denim and the color is lovely–a soft white (not cream!). Our last white sofa had this same slipcover so I was confident in this decision before I even got it! It is still so soft, durable and machine washable.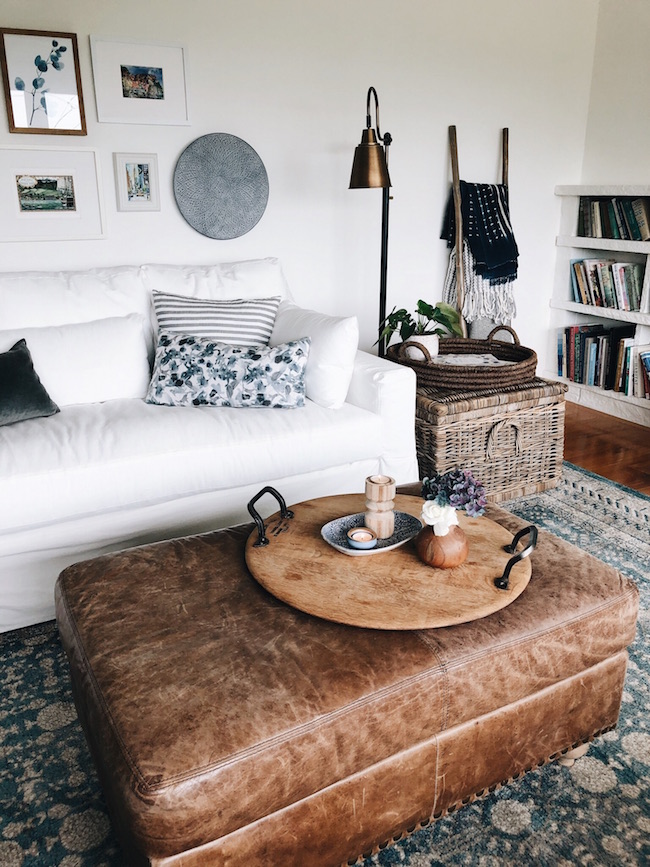 Similar leather ottoman source / Rug source / Blanket ladder / Woven side table
How do you keep it clean?
Just as I remember, it has been very easy to keep clean in between washings. But I actually have not yet washed our new slipcovers in the machine. So far I've just spot cleaned as needed, for in-between washings I use Thieves Household Cleaner. You can get it as a Young Living member, one of many reasons I highly recommend the membership. It cleans just about everything!
Unlike my experience with IKEA slipcovers, this denim fabric is so much softer to the touch, and it doesn't attract as much hair or fuzz. I remember loving that the denim didn't get as wrinkled after I would wash it, either! I will just take the covers out of the dryer and put them back on before they are completely dry.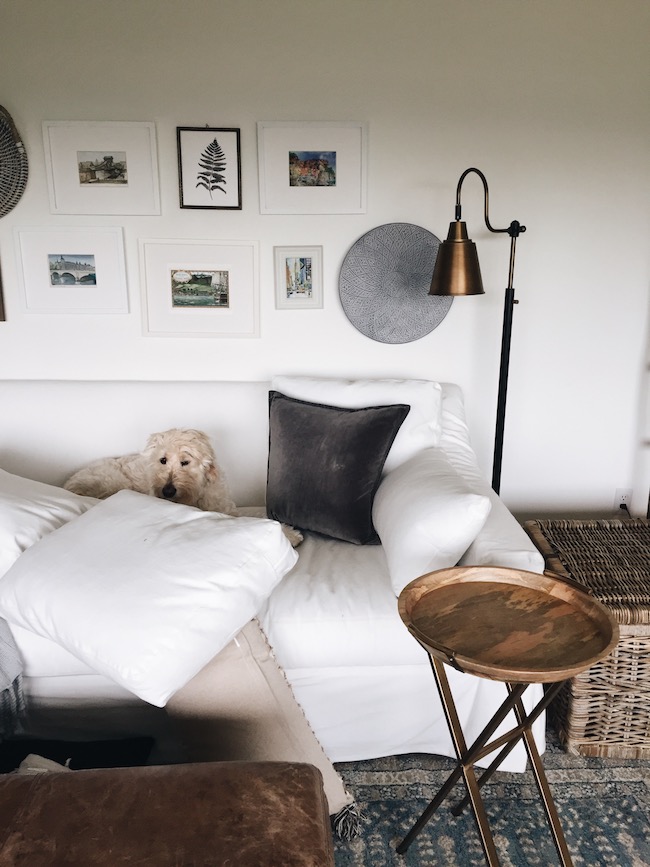 How does it hold up to your dogs?
It's a white sofa, so it doesn't hide everything. But that's one of the things I love about it. I like my sofa to be clean, so trying to hid dirt or gross messes isn't really my intention. I'd rather just do the spot cleaning when I see a need.
If you have a dark haired dog you might prefer a darker couch, but our dogs don't shed so that really isn't an issue for us. The machine washable slipcovers do make it easier to keep feeling fresh, though. No white fabric is ever "no maintenance" so that's something to keep in mind.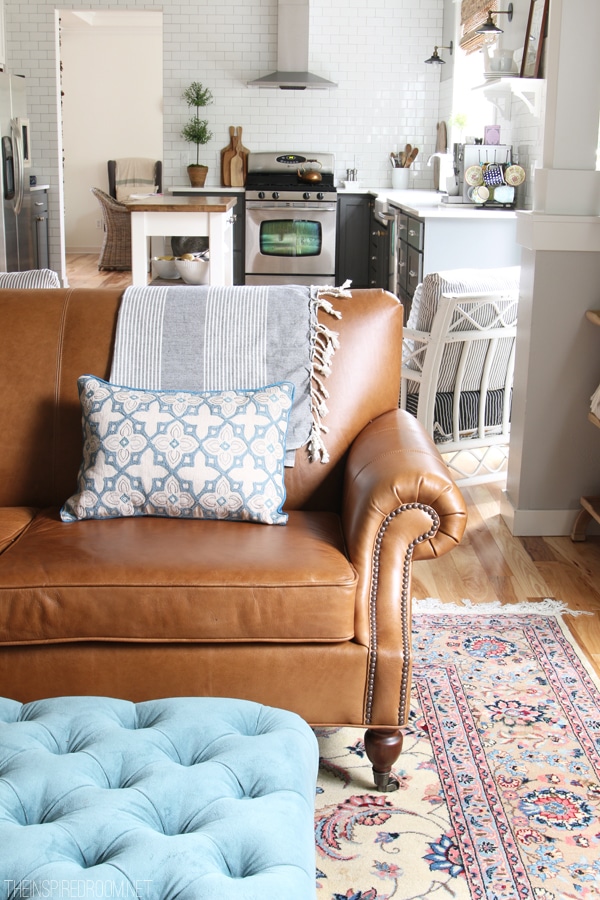 When my dogs were puppies I gave up and got my leather sofa (above)–which like my white one, is also 25% off!
I've tried to uphold a no dog on the white sofa rule in this house, but Jack chooses to defy my rules. He still leaps up here on occasion, tosses the throw pillows on the flow and tries to dig the fluff out of the seat. But so far, I'm happy to report there has been no lasting damage!
(Read more about how we keep our house clean with dogs here).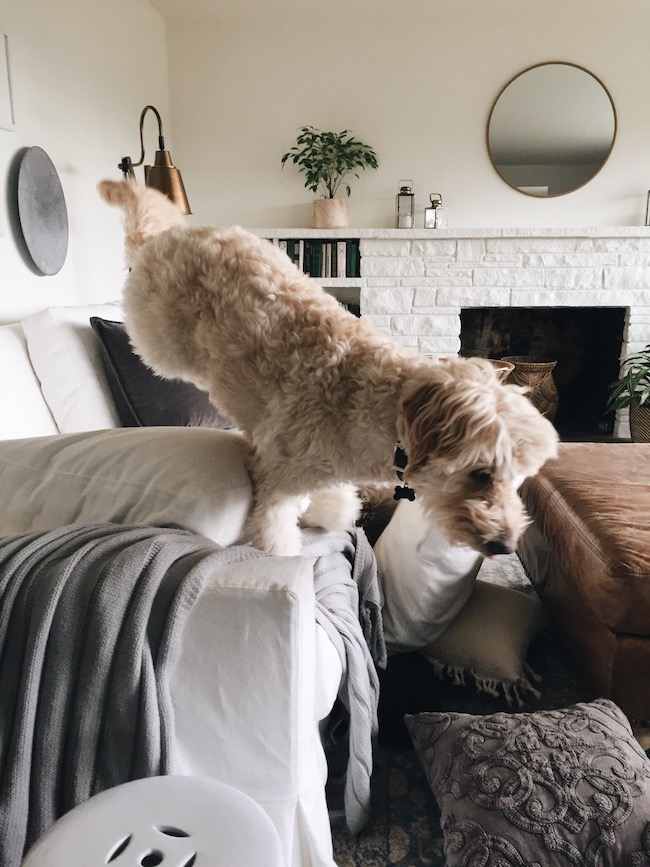 All things considered, I still find it quite easy to keep this sofa clean and I'm still very happy with it!
Similar leather ottoman source / Round wood accent table source / My favorite leather sofa