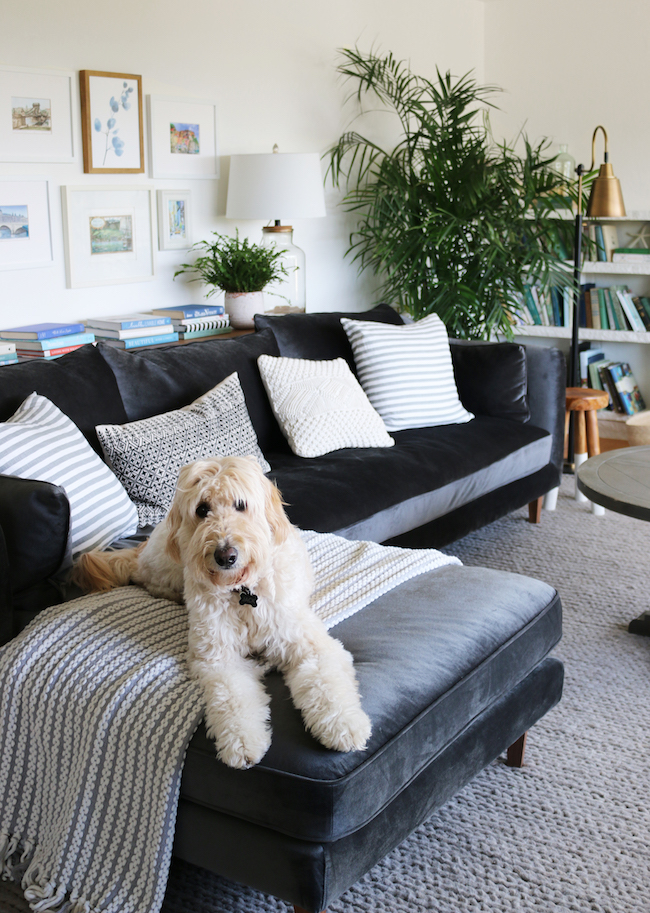 Raise your hand if you have dogs! Raise your hand if you dream about having a clean house AND dogs!
We have FOUR doodle pups in our family, two of which live in my house full time. The other two visit when they can. That's a lot of fluff!
Even though we love our dogs so much, a clean home is important to me. We've found a few tips to keep our house clean enough for us, so both the pups and people can be happy.
Here are some questions I'm often asked about dogs in our house!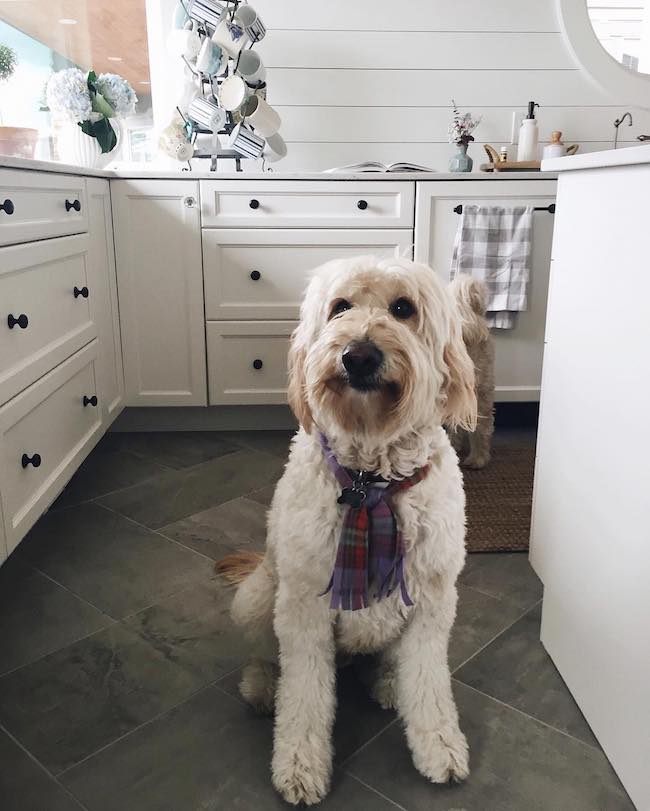 1. Do your dogs shed?
No, they don't. I have no idea how to deal with a shedding dog as I've never had one, so I will say right off the bat I don't have any info on dogs that shed.
But, our dogs' fur flies like any creature does, so we definitely get fluffy white fur floating through the house!
2. So how do you deal with all of the fluff?
We brush our dogs often, and get them groomed every six weeks or so. We have a housekeeper (a robot vacuum!) that we love–she keeps up with the dog dust bunnies pretty well! You can find a post about ours here.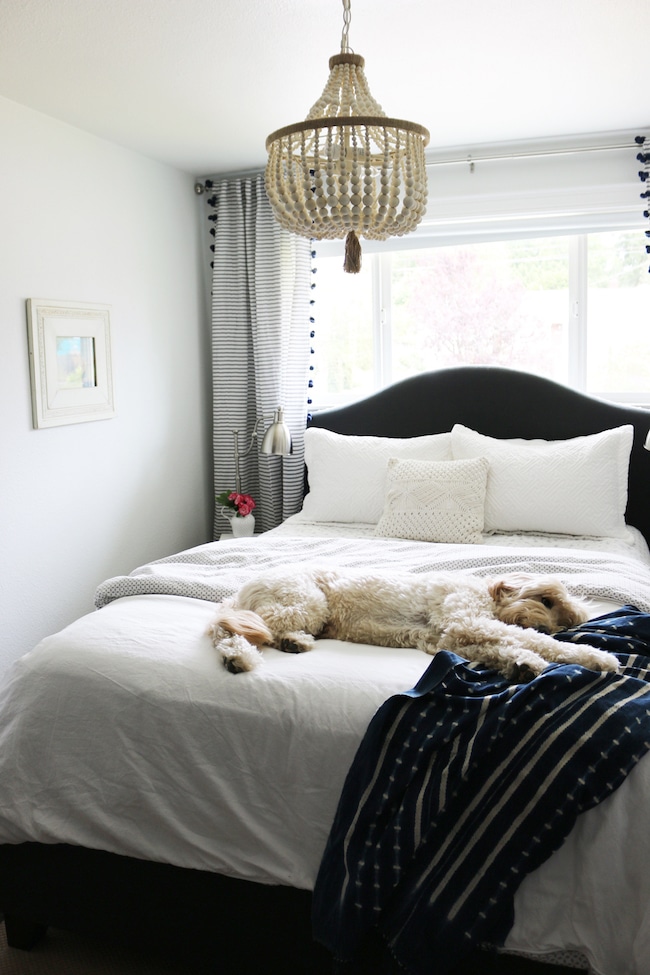 3. Do you let your dogs on furniture?
Yes. They rule the house. That was not my original idea, but I lost that battle. :) It's OK, we adore our pups and it's worth it to us. They bring a lot of joy to our life.
4. Don't your dogs get mud everywhere in the house?
No, not very often. I'll explain below!
5. How do you keep the mud from tracking in on their feet?
We're very diligent about keeping our outdoor area as clean and dry as possible. We put bark down on soil so they don't walk through mud. We cover up any spots they are tempted to dig.
We also have large areas of hardscaping, like patio surfacing, leading up to our doors so they have more time to shake off the mud from their paws. We also wipe their paws in the winter if needed before they come inside, although we don't seem to have to do that very often.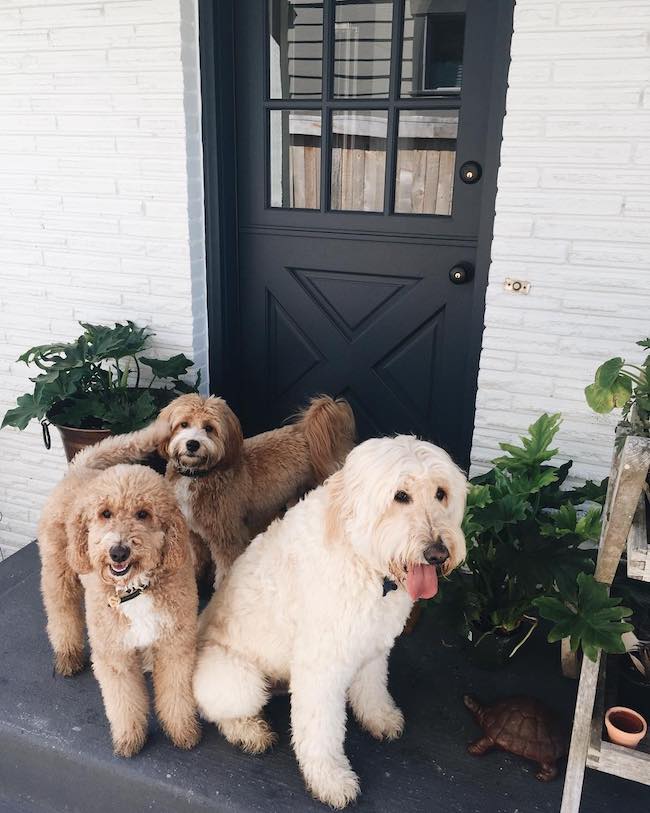 6. But, don't your floors and rugs get really dirty?
We have hard floor material, like wood and tile, that hide most of the dirt at first glance, but they are also easy to clean. Most of our rugs are indestructible, too.
My favorites are the indoor / outdoor rugs, check out our rug shop! We definitely roll our rugs up when our dogs seem likely to barf or could be super muddy, just in case.
If we wanted a spotless house we'd have no kids or dogs, but we are OK with cleaning a little extra, as needed. We are also OK with accepting a little imperfection.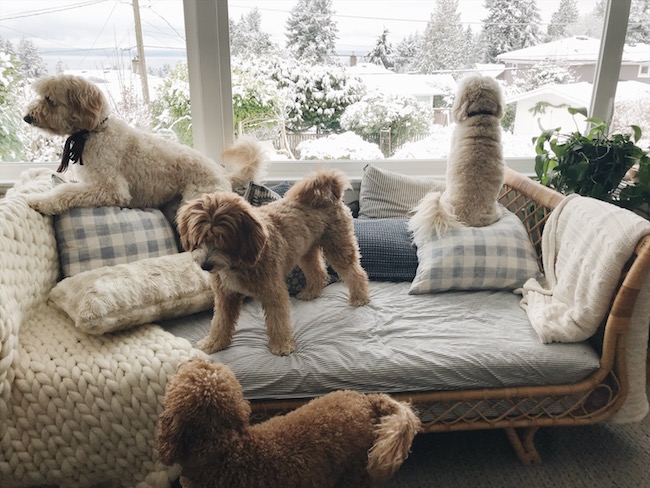 7. What do you do when those inevitable doggie "accidents" happen on your rugs? How do you clean your rugs?
Oh yes, accidents happen! For sure. We are very conscientious about what we clean rugs with to protect our pups (and family), so we never use harsh toxic cleaners in our home or on our rugs where their little paws and noses go!
Gratefully the cleaner we use not only does an AMAZING job on cleaning rugs and upholstery, but it is also safe around family and pets (it's all plant-based). And, it is truly THE BEST household cleaner you'll ever have (and really the only one you even need!). It's SUPER affordable, too (it's a concentrate so you mix it with water, I think it ends up like .70 a bottle!).
It works on EVERYTHING!! I promise you, you'll be as obsessed as I am with it:
Order my favorite plant-based household cleaner HERE!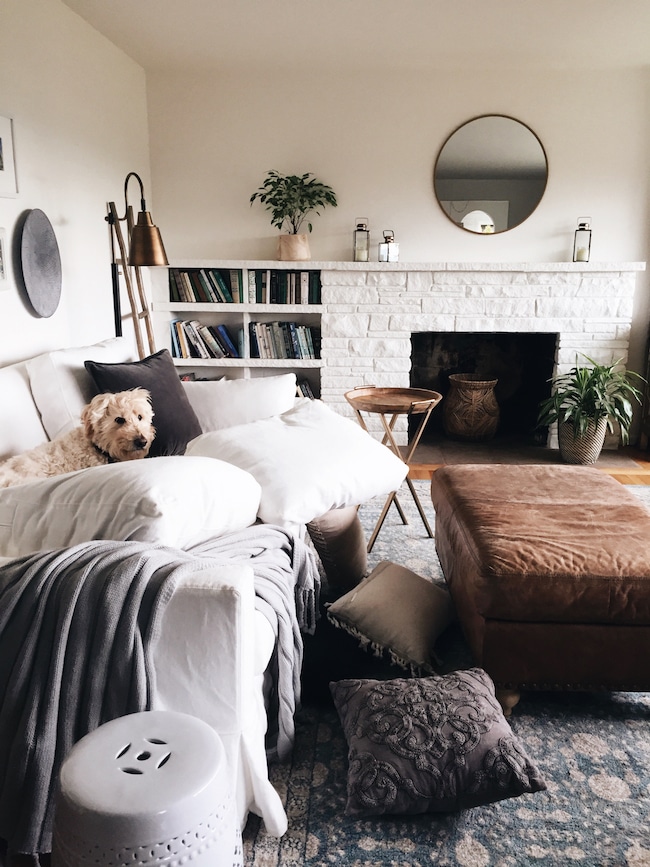 8. What about dirt, wear and tear on your furniture?
Most of it is washable or easy enough to clean!
The daybed we have in our living room has really be the PERFECT piece for the pups! We use a regular twin sheet and mattress pad on it, so it's really easy to clean. You can read more about our daybed and find it and similar sources here.
When Jack and Lily were pups we had a white slipcovered sofa. In that house, our back door was right by the white sofa and we also had brand new puppies. We also had brand new landscaping! Our pups LOVED digging in that fresh soft soil!
Even so, that white sofa lasted for years with young kids and pups! (There's no more dirt on a white sofa than a dark one, but at least with the light slipcover you know to it's time clean it!).
You can read the white slipcovered sofa post and see the leather sofa we got next here.
**UPDATE 2018 ** We just got another white slipcovered couch (see it above!) and we spot clean it with the same plant-based household cleaner I use on my rugs (see #7).
Learn more about the white slipcovered sofa we have HERE.
The darker sofa we have has performance fabric, so it's very easy to keep clean and the fabric is sturdy enough to hold up to the dogs. We keep sheets and washable blankets and pillow covers on the daybed.
We also have a lot of washable blankets around that we can toss over beds or furniture as needed to keep things cleaner.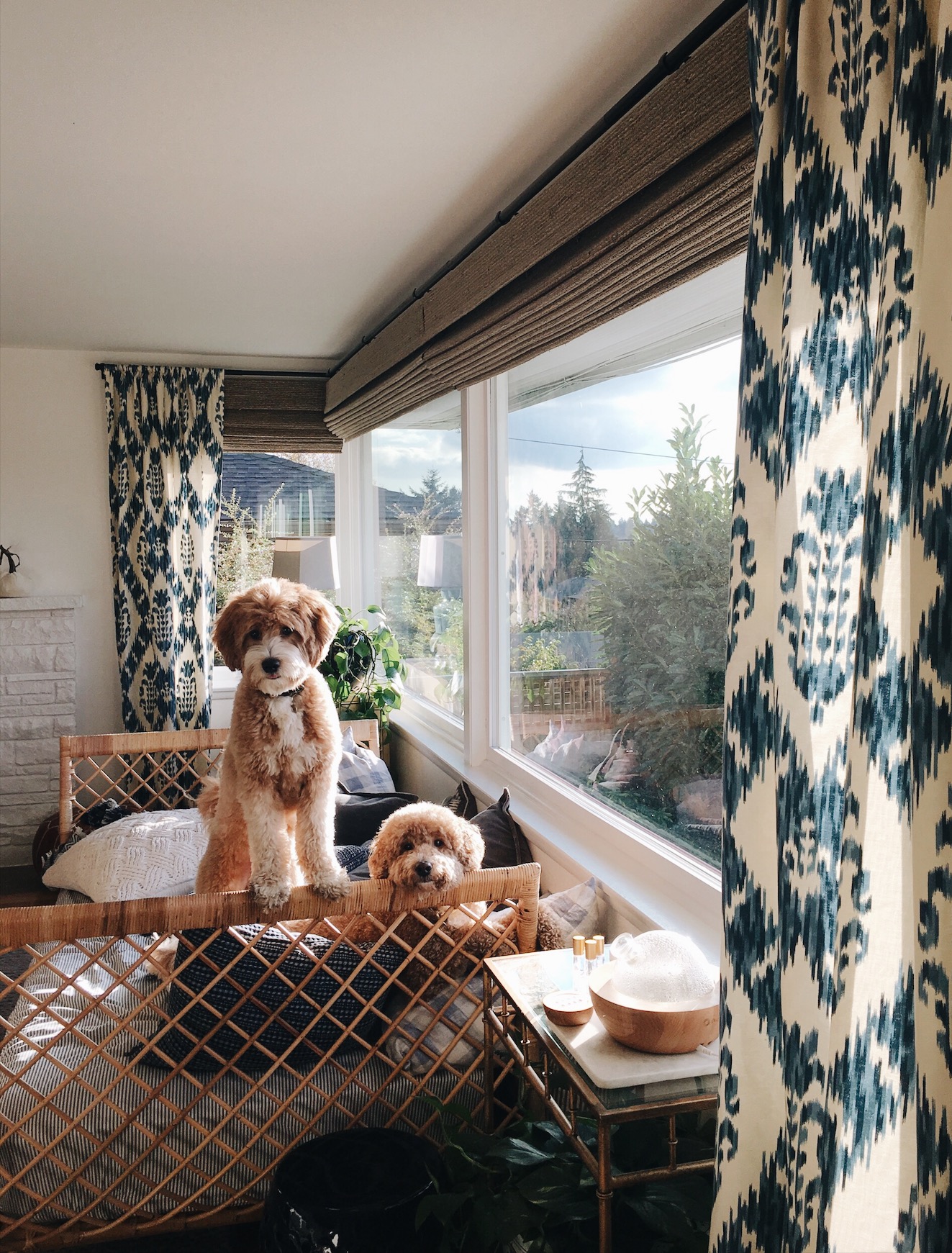 8. But what about the dog SMELL?
That's kind of hard to avoid with dogs in the house, but here's our solutions.
We keep attractive washable blankets or throws on furniture as much as possible so it's easy to toss them in the wash. We keep things washed often (and keep the house as clean as possible, too, see the tips above!).
We also keep our dogs groomed regularly so they smell fresh, that makes a huge difference.
For the doggie smell in the house, we use pure essential oils in diffusers to purify the air with natural plant-based scents. As I mentioned we never use synthetic or toxic scents around our animals or our people, so don't use toxic laundry soap, room sprays or use Plug-Ins or candles that can harm a pet.
Disclaimer: I only use and recommend Young Living essential oils and products, I don't trust any other brand. YL has incredible high quality oils so they are safe around our healthy dogs when used as directed. I would be very wary of other brands or cheap oils as they may contain preservatives or fillers that are not safe for people or pets.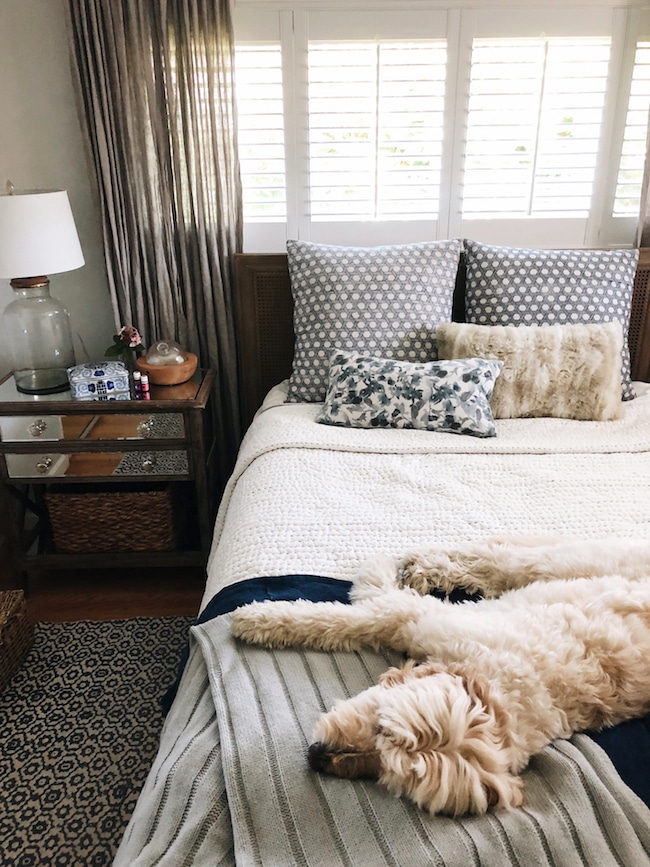 Get this diffuser (above) here!
You will LOVE these oils and they will be a game changer for you, your home AND health! When you order your oils with my link I'll send you lots of resources to help you learn how to use them, too.
My dogs LOVE oils. Peace & Calming comes in the kit and it helps calm Jack down when he's feeling a little stressed (we also put it on his bandana!).
Grab the ESSENTIAL OILS HERE with my referral link (order anything you want–no kit required!). We also have a private oils education group for our members and many of us are pet lovers (and we even have a vet in our group!). JOIN US! It's fun!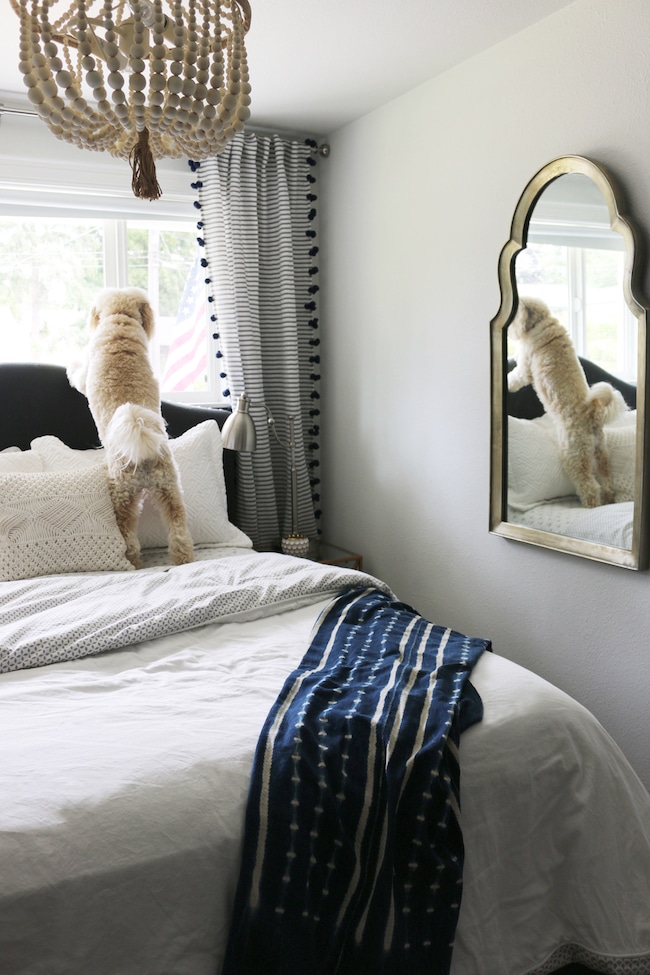 9. What about DOG NOSES ON THE WINDOWS?
You guys, I forgot to mention this one earlier so I'm adding it in because I think it's my biggest pet peeve. I clean the main windows our dogs put their noses on every single day. Fortunately there are only a couple windows I have to deal with and it takes me less than three minutes a day to keep up on it. I don't like dog slime on windows :).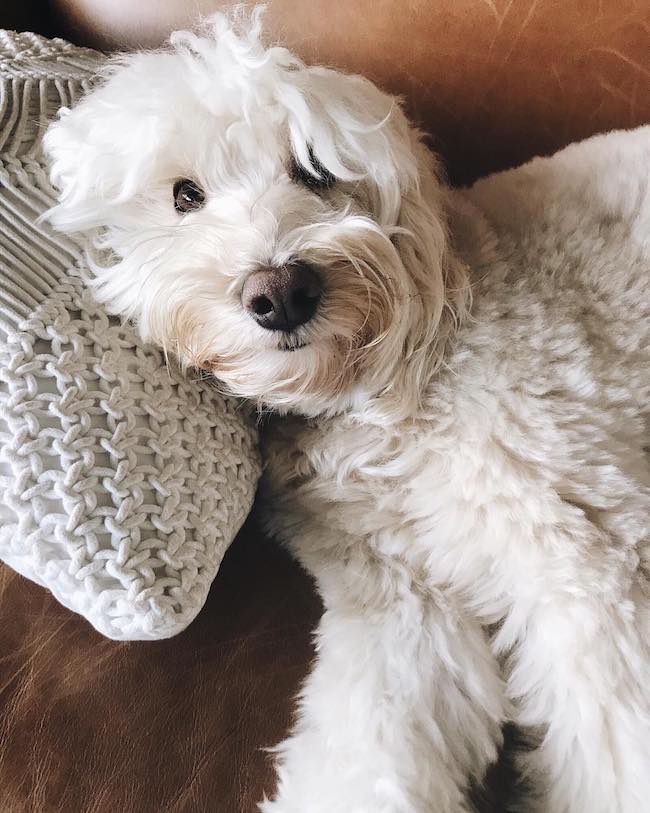 Tell me about your pets! How do you keep your home clean with furry friends?
PS…for more of our pups, you can see them on Instagram at Doodles at Home or Jack the Inspired Goldendoodle. :)
Grab ESSENTIAL OILS HERE with my referral link (no kit required, order whatever you'd like!)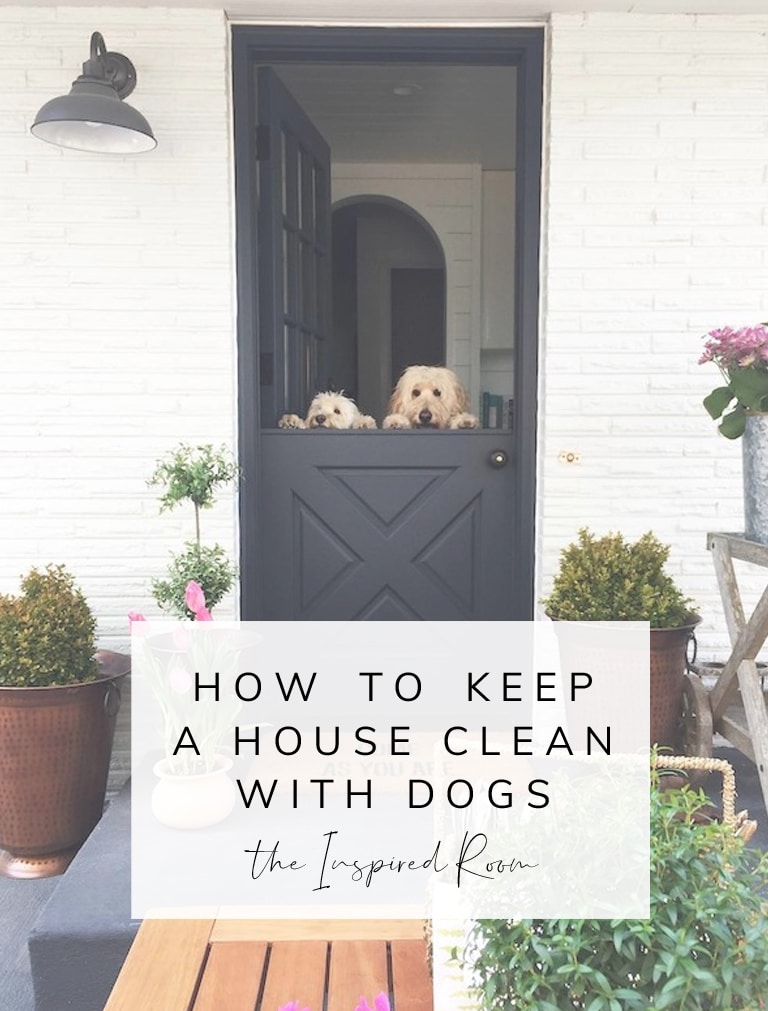 Related Post: