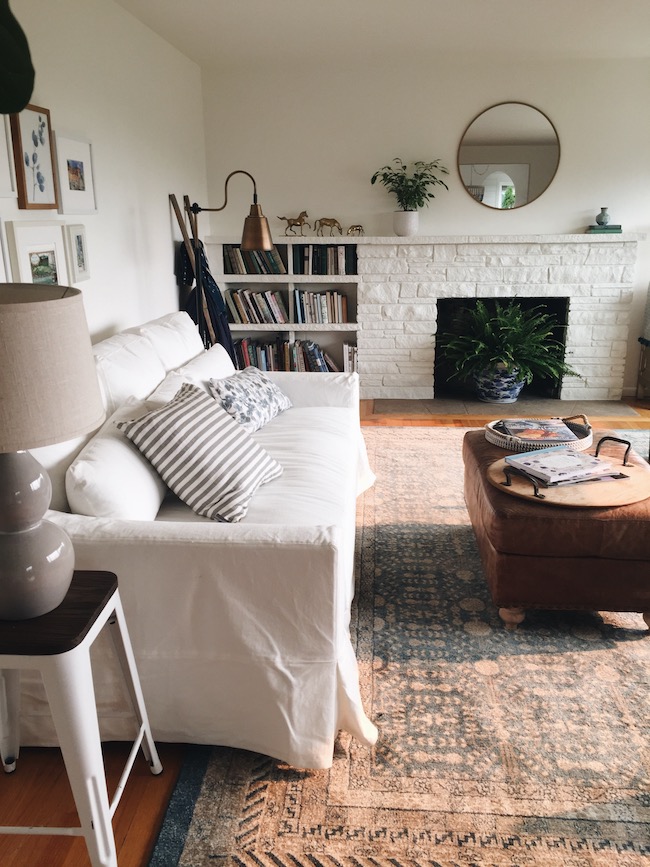 Remember when I told you I had ordered a new slipcovered couch? Well, it arrived yesterday! HOORAY! This is just a first look, but I promise I'll be back with more.
(If you notice the glow in my photos across the floor and rug in the above photo, our Seattle sky was full of smoke from wildfires and the sun was glowing like an orange fireball through the smog into my house! It was really bad yesterday, even though there aren't fires near us).
The couch was just delivered so the slipcover still has some packing wrinkles and I didn't have time to fully set up the room or anything yet (thus the lamp perched a stool, ha!) BUT I was so excited that I couldn't wait to show y'all.
This is the couch I have here. I chose the deep seat slipcovered with a bench cushion, 80 inches long in the Warm White Denim fabric.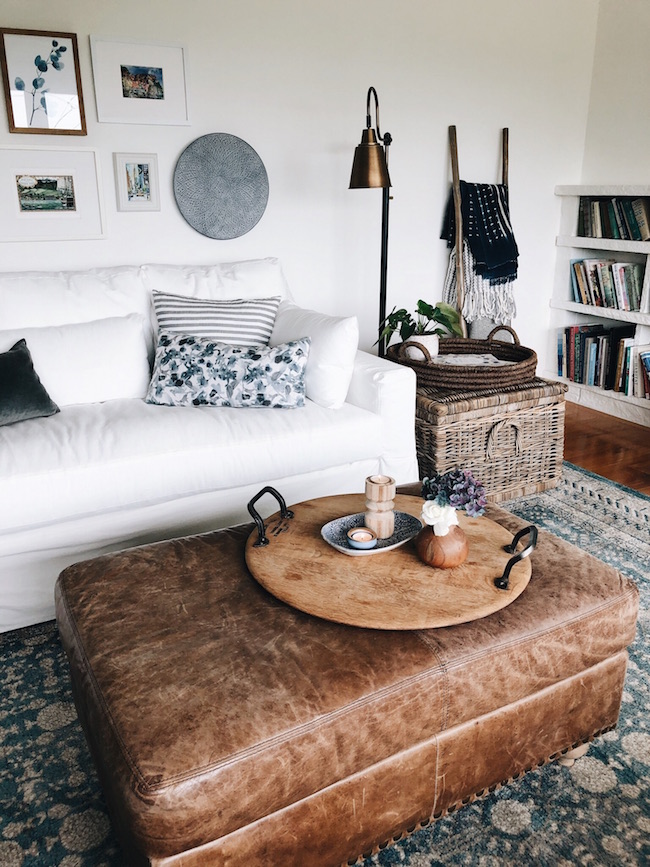 The moment the delivery crew set it down in my living room I could tell I was going to love the simplicity and crisp feeling it brings to the space. I still have my dark velvet couch, it went back downstairs so we'll still enjoy it there.
The new couch has the same washable fabric I had on my original slipcovered sofa, it's just as wonderful as I remembered. It's so soft and the white denim is pretty against the Benjamin Moore Simply White walls, too.
The couch is super comfy! It's deep, so it's going to be perfect for curling up but also not too deep to just sit and chat (and I'm only 5'2!) with the pillows behind you.
I can't wait to put the room all together now that it's here. (Of course I've been thinking about it for weeks, but it's always so helpful to actually have the couch in the room.) I still haven't decided if I'm going to bring my leather sofa into this room, too, or not, but I know I'll be using a combination of my long time favorites in this room: whites + woods + leather with lots of textural warmth  and evolving colors and accessories with the seasons.
Courtney (my daughter and full time assistant for the past four or so years!) can't wait to do a little puttering around the house this week. Undoubtedly we'll try a few arrangements to get the right mix, so stay tuned for more photos and angles of the room!
PS. Get ready to pull out all your cozy layers … my yearly Fall Nesting series will be starting up soon. WHO IS EXCITED?! I am…I've totally enjoyed this summer, but the smoke is putting a damper on my outdoor activities so I'm especially ready to start nesting inside. :)

Room Sources:
Sofa
Blue and White Rug
Gray and White Striped Pillow
Inspiration Posts:
White + Wood Inspiration Style (an oldie from 2013, but still a goodie…great style doesn't get quickly dated so it still gets a thumbs up from me!)
Leather + Copper + Wood (still a favorite combo from my old house with the leather sofa!).
. . . . . . . . .
The Inspired Room on Instagram // The Inspired Room on Facebook