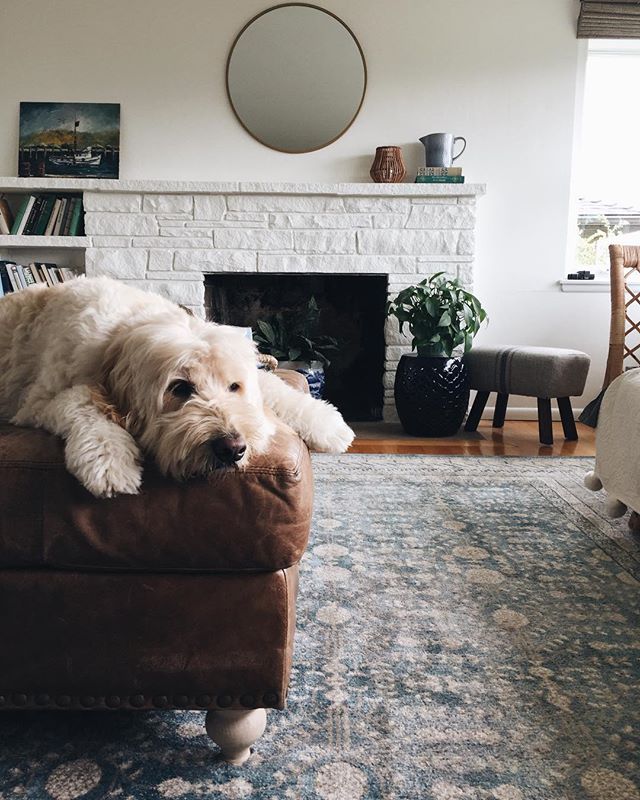 Okay, y'all. Yesterday I did a thing. After years of thinking about it and weighing allll my options, I finally ordered a white slipcovered couch (or a sofa, or a davenport haha, whatever you like to call it!) for my living room.
UPDATE! See the couch I chose and FAQ here.
Eeek! Why was buying a couch so scary? Or maybe it's just me. I know I'm an over-thinker when it comes to big purchases and decisions like this.
Awhile ago I mentioned that I really want to do a little more work on getting more settled design-wise and furniture-wise in our living room. I feel like our couch situation is what has been holding me back the most, and of course, being an over-thinker, I can sometimes get in my own way.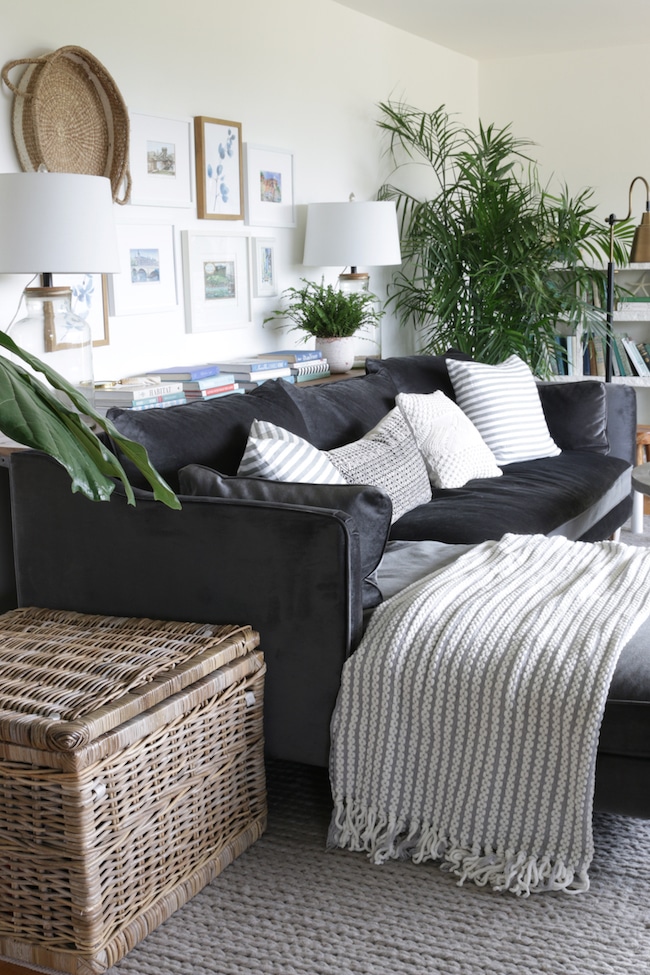 Over the holidays I brought the downstairs sectional (the dark gray one with the chaise) up to the living room. It worked for us all winter (so cozy!) but I've been really wanting to move it back as we never intended for it to be upstairs permanently.
We still have the leather loveseat which I adore (and may still use in the living room), but it's just a bit smaller than what we need in here if it was to be our only couch.
So the things that have slowed me down in making a purchase are: the cost, of course, as well as deciding on design and fabric choices and the preferred placement / arrangement of furniture in our room. So many decisions, so many good options.
Ironically, I'm currently writing a design Q & A book called But Where Do I Put The Couch? with KariAnne of Thistlewood Farms. Ha! I wish the book was coming out right away because I need a few pointers. ;)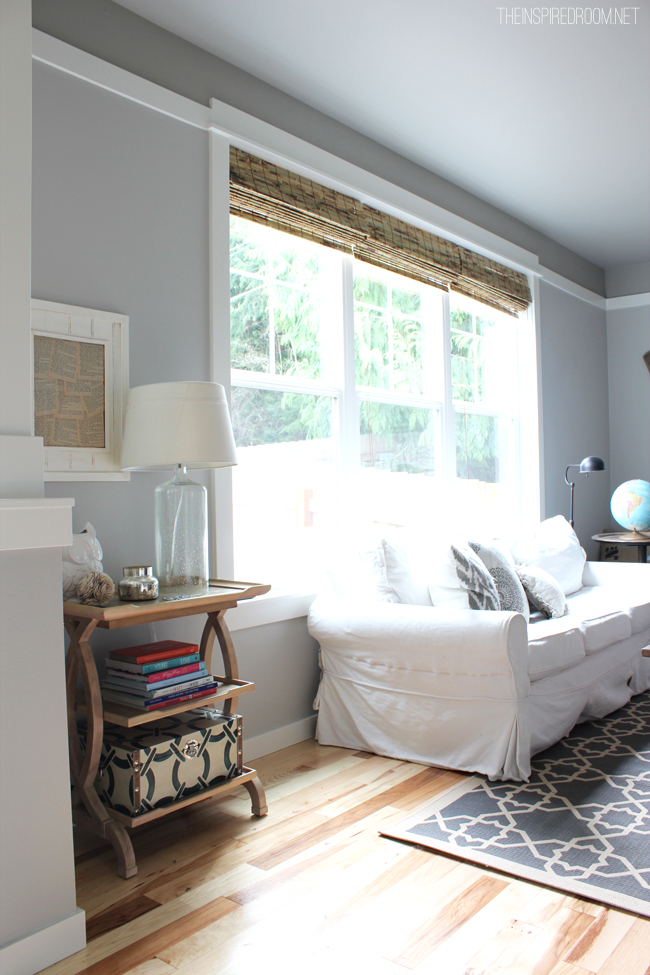 But, in spite of all my indecision and over thinking every option, the deed is finally done! Sometime in August I'll have another white slipcovered couch. Now that I'm over the shock and stress of actually buying it, I'm SO EXCITED!!!
I decided to trust my heart on this one, even though I could have gone so many different directions. When there are many good options, you just have to land on one and trust it will all come together.
You may remember that I've always been open about my feelings on white slipcovered sofas (Part One, and Part Two). I love 'em, but I know they aren't for everyone.
When my kids were young we bought a white slipcovered Pottery Barn / Mitchell Gold sofa off of Craigslist and it lasted for years! You can see it, above. It was a good purchase for us. We had it through little boys, and even old and young pups. It was actually our puppies, Jack & Lily, who finally destroyed it. I was over it by that point. It was finally time to let it go (and we got the leather one to replace it!)
All things considered, the white slipcovered sofa served us well. And, the truth is, I've missed it and its versatility. I am ready for another! This time we chose a slightly different sofa shape, but I still think it's going to bring the laid back simplicity and versatility I love in a room.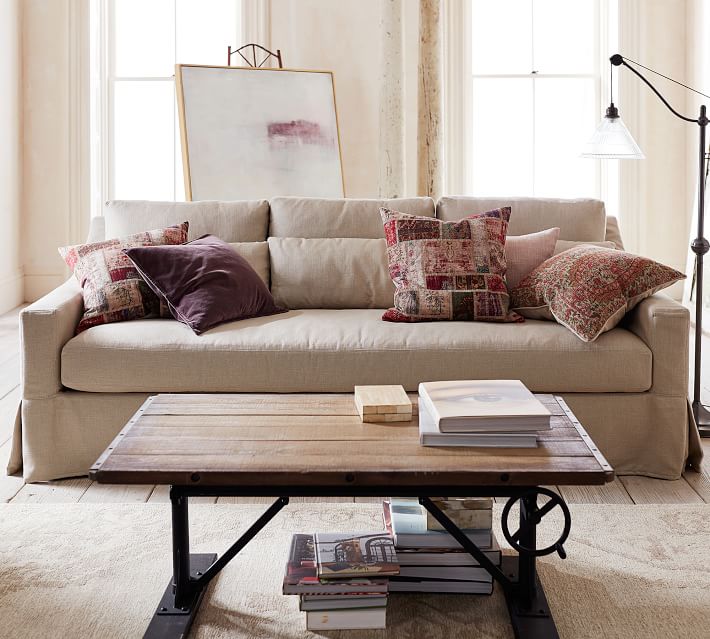 Here's the new sofa I got (but mine is a soft white denim, not tan as shown in the image above).
I'm telling you about it today just in case you might be in the same boat I was, trying to work up the courage to place an order for a new sofa. This is the one I got!!
Below you can see the mockup of it in white. The white denim is the same fabric I had on my previous white sofa. It was tempting to try a different fabric this time since there are so many pretty ones available, but I know the white denim was wonderful. It made great slipcovers and was easy to throw in the wash. It isn't too delicate or sensitive, but it's still very soft and really pretty in a room. I didn't want performance fabrics, but they do offer that option, as well as many other lovely fabrics.
UPDATE*** The couch arrived, see it in our living room here!
I got to sit in it the store and it's super comfy. Even though we aren't a tall family, I think the deep seat will be nice for curling up and getting cozy, which is mostly what I want it for :).  The regular depth would have been great, too, but I don't think it came in the fabric I wanted.
I'll share more on our room and report in when the couch arrives, I can't wait!
If you're wondering on some of the specifics on my couch order, I chose the York slope arm, deep seat slipcovered with a bench cushion, 80 inches long in the Warm White Denim fabric. Phew! That's a mouthful, isn't it? Ha! So many options. 
Do you struggle with making decisions on furniture purchases (or is it just me?)
Sources:
Top image: Rug
Third image: knit rug
Top and third image: Woven and bamboo window shades
UPDATE*** The couch arrived, see it in our living room here!