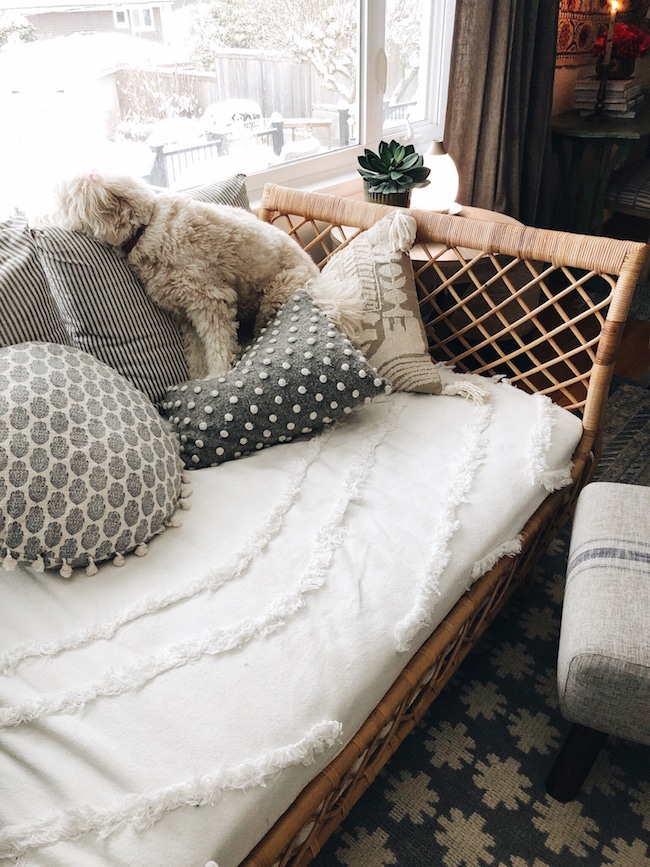 When we moved into this house we envisioned a window seat or bench under this back window in our living room. The view out the the mountains, water and sunsets was one of the selling features of the house, so creating a spot to relax and enjoy it made sense!
We had so many other projects to work on, though, that all dreams of built-ins had to be put off until a future year. Three years later, we are still awaiting the right time to tackle that project (but you can see a round up of the home projects we have worked on here!).
At some point we decided to go ahead and get a rattan daybed for this room as it would serve essentially the same purpose as a built-in window seat (and we could enjoy it right away).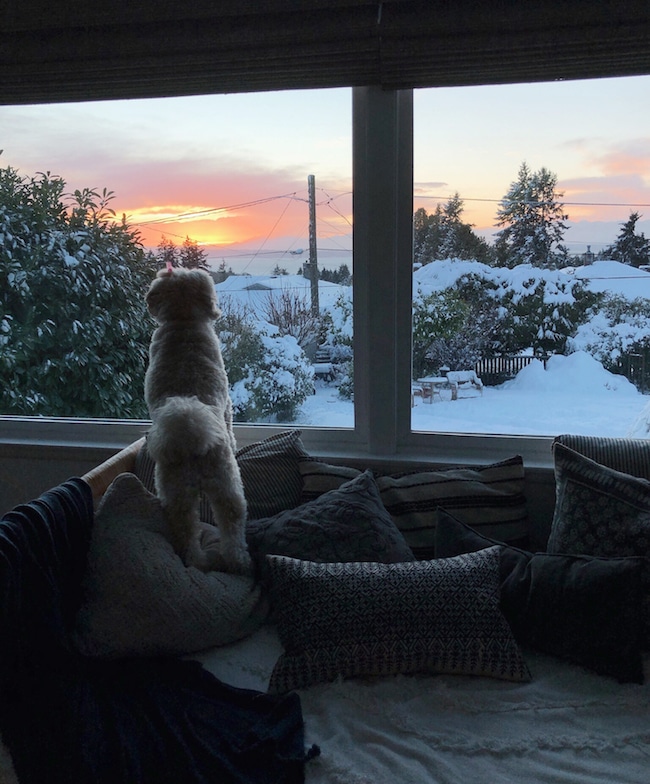 This daybed has provided us an extra spot for guests, which we use often for our niece or nephew when they visit.
It's been a very a cozy spot to curl up on to read, work, or watch the sunsets.
The daybed also serves as a regular couch for more seating, we just add a few more pillows behind us.
But of course, I have to say that I think our dogs are the most grateful for this spot. I'm sure they completely believe we provided this bed for them so they can experience the ultimate comfort every day. Ha, they certainly relax in this spot more than anyone else in the family.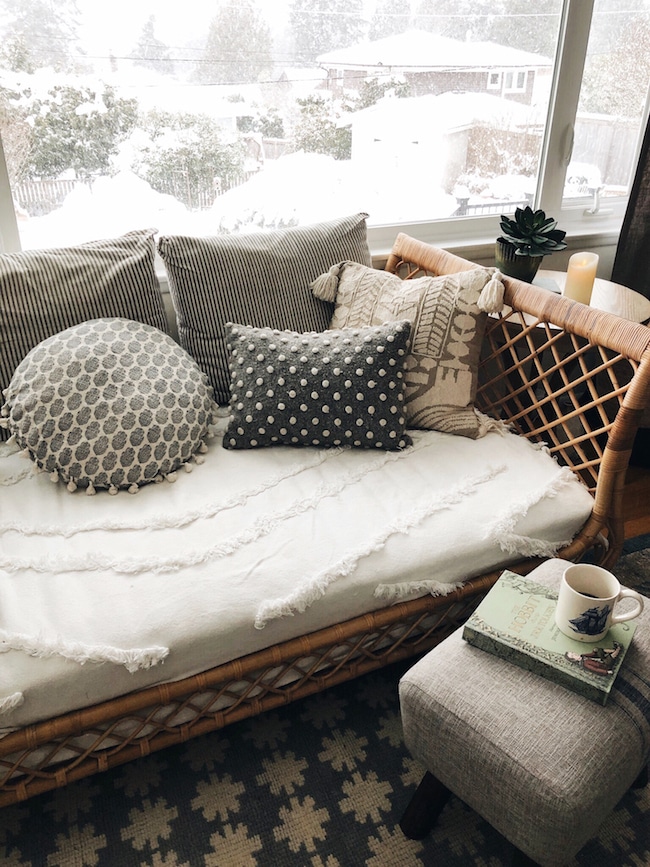 Daybed / My Nova Rug / Stool / Blanket / Pillows and more
It's really an ideal piece of furniture in a home with dogs because you can easily keep it clean. Just like with a bed, you use normal sheets and blankets so you can just toss them in the wash. (Click here for my blog post about how to keep a house clean with dogs!).
Anytime I've considered moving the daybed to another room, I start to feel TERRIBLE and GUILTY and like a bad dog mom because our pups love it so much.
Most people probably haven't thought about using a daybed in their main living room, but if you have room for one, there are many different styles that could work in a variety of spaces and rooms!
We think of our daybed as the best spot in the house!
Do you have anything in your home that you might think about moving, but then you feel guilty because someone else loves it?
Daybed Sources:
My Rattan Daybed (or click here for a similar option!)
Click here for even MORE daybeds!
[show_shopthepost_widget id="3476672"]