Hey friends! I really appreciated all of your comments, emails and Instagram messages with suggestions and thoughts on my fireplace post. Thank you!
Today I thought I'd share 5 fireplace makeover ideas / inspiration projects with you!
How can you work with the fireplace you have but still give it a makeover for a new look?
I was so happy to discover how many of you love the room and fireplace as is, even if I made no further changes to the fireplace at all! Some thought I should leave it because it is original, simple or feels cottagey or homey. Some appreciated that the paint update to the fireplace was such a simple and doable project.
I loved hearing how many would leave the fireplace as it is, because I've been quite content with it ever since the paint makeover! (If you missed the recent post I'm referring to, you can catch up here.).
Since not everyone can (or wants to) do big makeovers in their home all the time, I am so glad that my painted fireplace offers hope that even paint alone could be enough to update an outdated fireplace.
Of course, a fresh look can also be achieved with just a change of accessories or art.
It's always inspiring to find new creative ways to love the fireplace you have (so to speak, LOL, maybe that will be a future book…a "sequel" to my first book Love the Home You Have…hahah).
With that said, I am not entirely certain what I'll do! Leave it? Change it?I think I'll probably make some sort of change in the near future, but exactly what that will be is still up in the air.
Y'all had so many good ideas, some of which were similar to what I have in my inspiration files! It was fun to see that many of us are on the same wavelength about potential ideas.
These inspiration photos are not necessarily my top choices and may or may not work for my fireplace or situation, but it's fun to consider all kinds of possibilities. Perhaps these projects will inspire or spark a new idea for your home (or mine!)! Click through to the linked sources to see more about each project/home.
1. Keep original stone and add new wood mantel
Many of you suggested the addition of a rustic or wood mantel to the original stone. This fireplace on Farmhouse Living blog goes all the way to the ceiling so it isn't the same shape, but you can see how similar the stone is to what we have!
2. Cover with trim and add mantel
This makeover by Chris Loves Julia is interesting because they left the existing fireplace brick and hearth, but covered the brick partially with updated trim work and a new mantel (and some paint to even out the brick tone). See the BEFORE of their fireplace below.
Perhaps our existing stacked stone could be covered?
3. Reframe and rebuild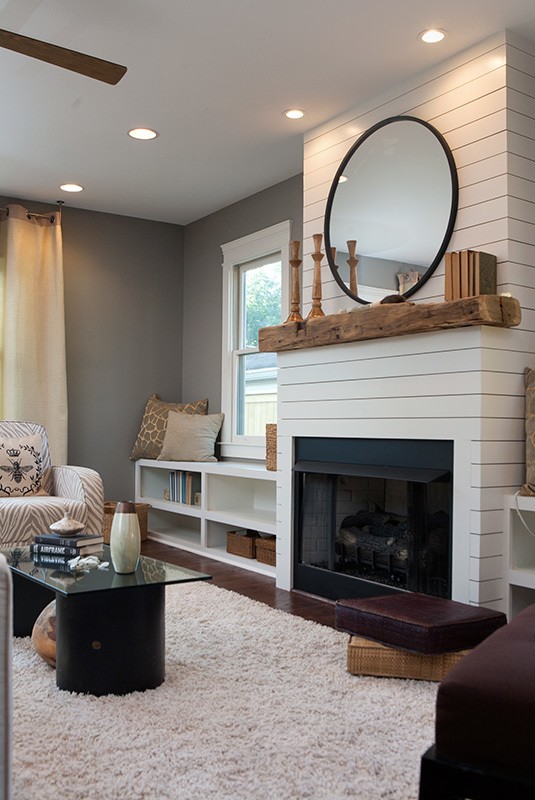 This inspiration photo was sent to me by a reader named Susan (thanks Susan!). I could get an entirely new look without tearing out the existing fireplace stone by building out a new frame over the top of the old fireplace. We could completely cover the stone and take the fireplace all the way up to the ceiling.
Covering the existing fireplace and taking it to the ceiling was actually an idea I have considered for a long time. In fact, don't judge our Photoshop skills above, but a couple of years ago we made this mockup for inspiration! When I received Susan's inspiration photo, I smiled at the resemblance to our mockup!
Rather than built-ins to the ceiling, Susan suggested another alternative, using floating wood shelves over our existing bookcase area on the wall to the left, and then refacing the existing bookshelf with wood to cover the stone.
A design like this, for example, would make the entire fireplace feel updated and echo the materials in our kitchen.
Here's a similar look with built-ins (above) from Rue Mag.
4. Reface with concrete and wood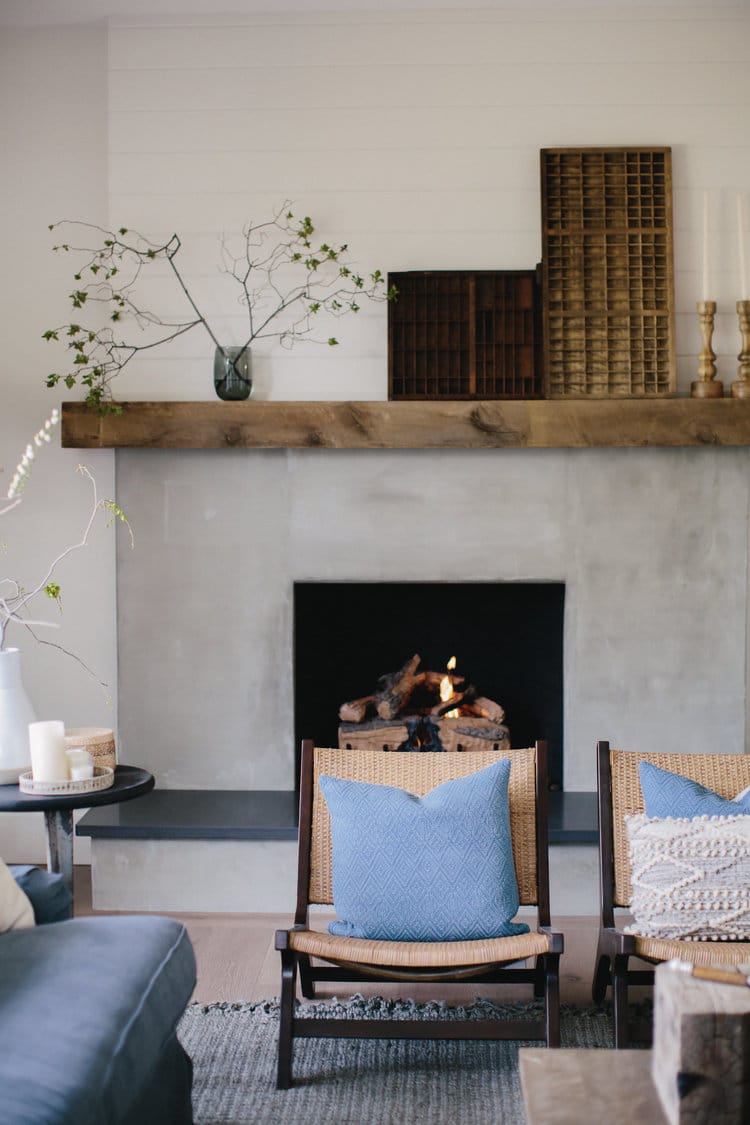 Here's a fresh fireplace makeover idea (above) by Boxwood Avenue. Floating concrete over the existing fireplace below and taking the fireplace to the ceiling by adding a different texture above the mantel. This combination gives a more transitional look to the fireplace.
Maybe the stone could also be covered with a smooth white plaster.
"Smearing cement over old brick is a great way to makeover an old and dated fireplace without spending a lot of money! You can easily do this in your home, simply have a tile installer come out to float the brick with cement. " Boxwood Avenue
5. Add a thick white mantel
Another simple option for a fireplace makeover would be to add a deeper / thick white mantel to the top of the existing fireplace and that's it. Sometimes if a focal point of your room, like a fireplace, isn't your favorite design, keeping it understated and in the background with a monochromatic color scheme makes sense.
A deeper mantel could also provide more opportunities for art or accessories to change the look. Our existing mantel is very shallow.
The photo above reminds me a bit of my basement fireplace (it's all white brick but has no mantel!).
I know asking people on the internet for suggestions on something as personal as your home can be quite a risky thing to do.
But PRAISE HANDS, y'all are like besties who get me. Thank you for being so thoughtful and helpful in your suggestions!
PS. We redid our fireplace at our last home (from shiny black tile with a "bachelor pad" vibe to a cottage look!). A lovely new split face gray and white stacked stone totally transformed the front of the fireplace. You can see that before and after makeover here!
More on The Inspired Room:

Shop My House and Latest Decor Finds