When we moved into this house, I started gathering all kinds of ideas for what I wanted to do to update this room.
I dreamed up everything from adding a window seat, to bookcases, to built ins, to some trim work, to refinishing floors, to a new fireplace surround and a fireplace insert for cozier fall days.
So many ideas!
So little time and budget.
While we've been able to work on quite a few other projects around our house (if you are new and want to catch up you can find many of them here!), this room has evolved in less dramatic ways than I envisioned.
But for this past season of our life, simple changes have been more than enough.
Instead of redoing the fireplace, we just painted it. Twice. :)
Rather than a built-in window seat, we bought a rattan daybed that we ended up loving (and the dogs love it, too!).
While we still haven't installed one bit of trim in here, we refreshed the room with paint and installed window shades.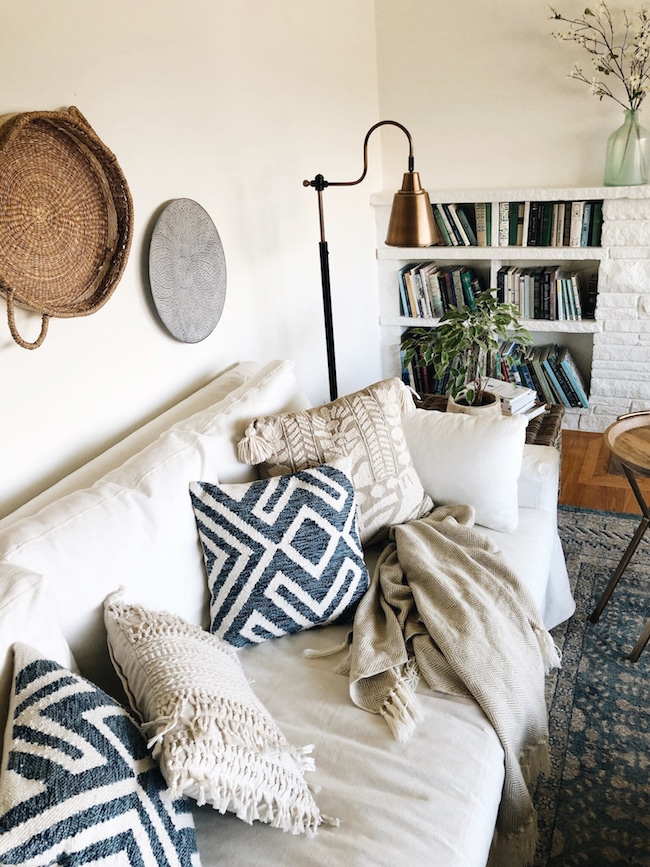 Of course, every so often (or every season!) we rearrange the space with rugs, furniture, art, lamps…we're still experimenting and figuring out what makes us feel our best in here.
(If you missed my recent post, I shared how we've been liking our new white sofa here!)
Similar leather ottoman / Sofa / Rug / Round Accent Table / Woven side table trunk
I haven't stopped dreaming up ideas for this room though. That's what I do. But I've also grown to be quite content with it as it is. It's comfortable. Inviting. Relaxing and cozy.
What more do I really need?
There's something to be said about embracing simplicity, you know? Letting yourself just be content with what is. Feeling happy with what you already have, rather than always feeling the need to have new, or more…or different…or extra.
My goal is that when I do decide to make a more significant change, it is a more thoughtful one. I want my home to speak to my heart. I don't want to make changes on a whim just to reflect the most current design trends. I want to make changes that bring joy, make sense, are meaningful or serve our needs well.
One of the questions I'm still pondering is whether or not I want to make a design change to my fireplace! Part of me still wants to redesign this whole wall. Part of me has grown to be comfortable with it as it is.
What are your thoughts, friends? If this was your home, would you change this wall? What ideas would you have for updating this fireplace? What inspiration photos would inspire you? Or would you just leave it as is?
Do you ever wrestle with the process of making design changes or decisions in your home?


More on The Inspired Room:

Shop My House and Latest Decor Finds
The Inspired Room on Instagram
Books by The Inspired Room: