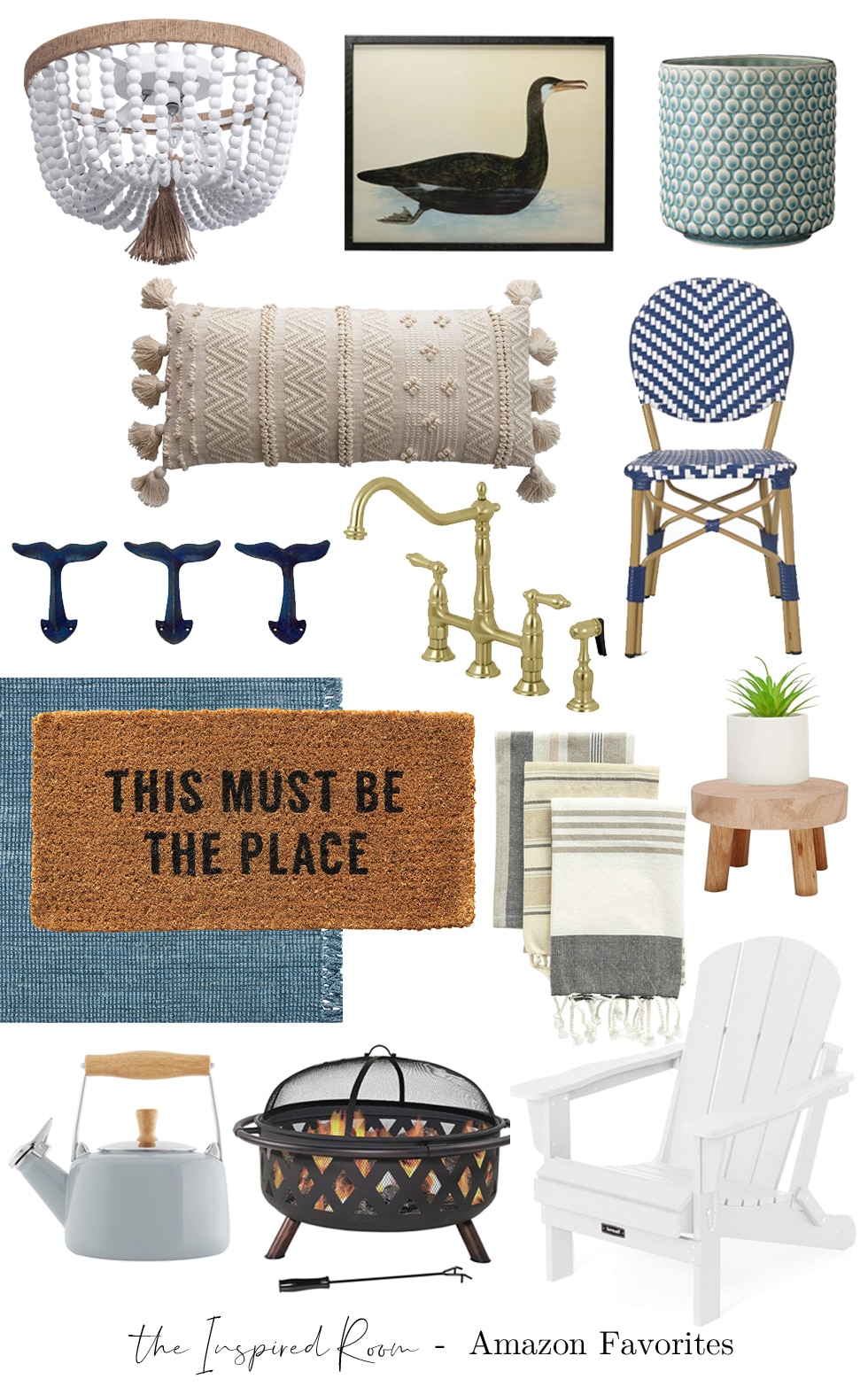 Click HERE to shop ALL my Amazon favorites
True confessions: I order from Amazon several times a week. In addition to our regular local shopping, whether it's items we need for our business or household or family, there's pretty much always a few Amazon packages on their way to me or on my porch, ha! I thought it would be fun and hopefully helpful to you to share my favorite Amazon finds in several categories, from home decor, to kitchen gadgets, to board games we love, garden and outdoor decor, a list of my own latest purchases and more.
Bookmark this post to save for later–as I'll continue updating it!
---
I am a Prime member and I love it. We use Prime to watch movies/TV, borrow Kindle books, and we get unlimited free two day shipping with no minimum order size. You can sign up for a free trial here!
You can use this link to get your Amazon Prime 30 day free trial. If you're a student you can even get a student Prime account HERE (same benefits, just lower price).
Sources for top graphic: Wood Beaded Ceiling Light // Neutral Tassel Pillow // This Must Be The Place Doormat // Blue Textured Rug // Bird Art // Textured Pot // Whale Tail Hooks // Navy and White Outdoor Bistro Chairs // Firepit // Brass Faucet // Gray Teakettle (multiple color options) // Striped Tea Towels with Tassels // White Adirondack Chair // Wood Footed Pedestal / Plant Stand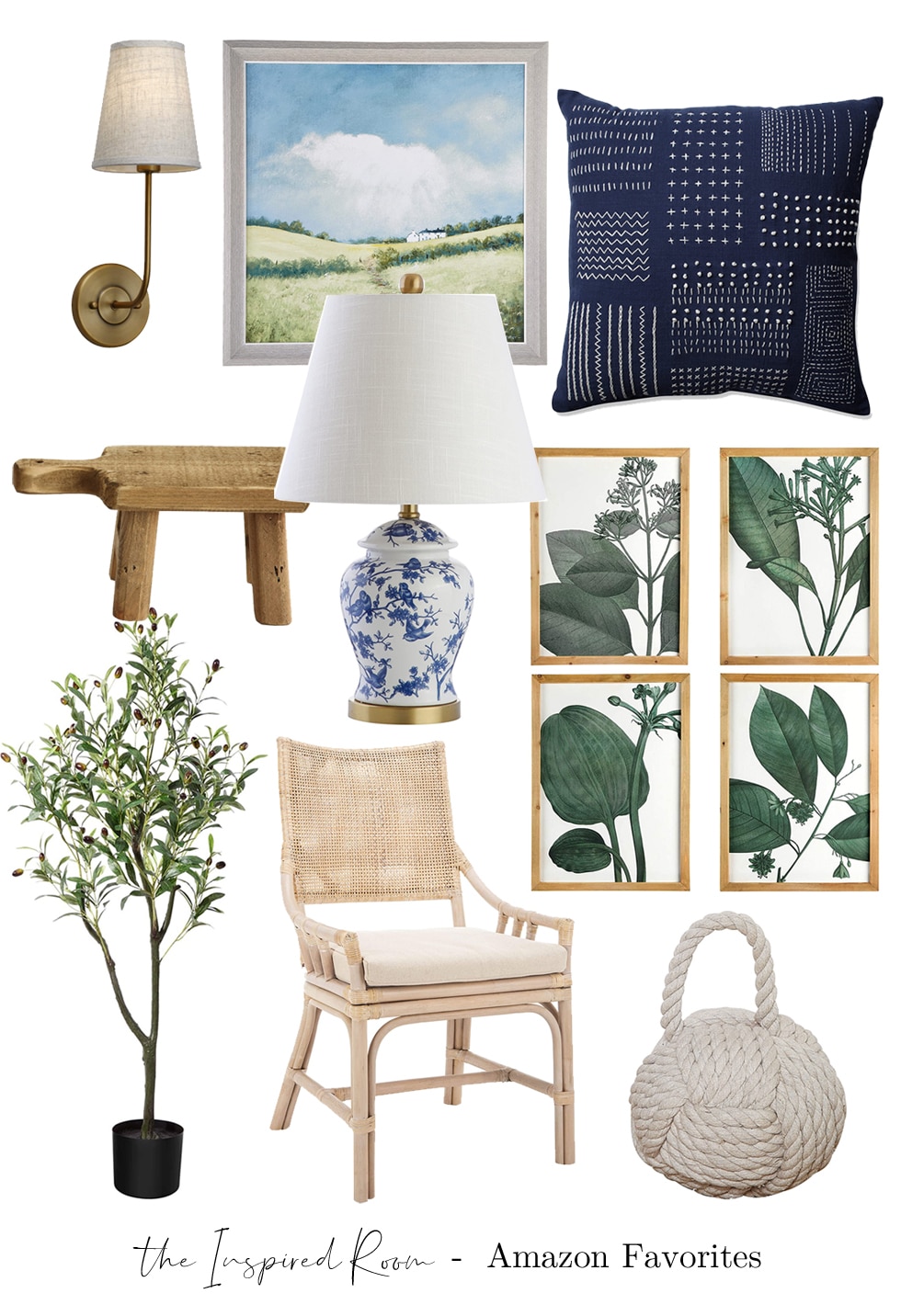 Click HERE to shop my Amazon Home Decor Finds
Sources for above graphic: Brass Wall Sconce with Shade // Landscape Canvas Framed Art // Blue and White Patterned Pillow // Blue and White Chinoiserie Lamp // Wood Pedestal // Green Botanical Wall Art // Artificial Olive Tree // Wood Chair // Nautical Rope Doorstop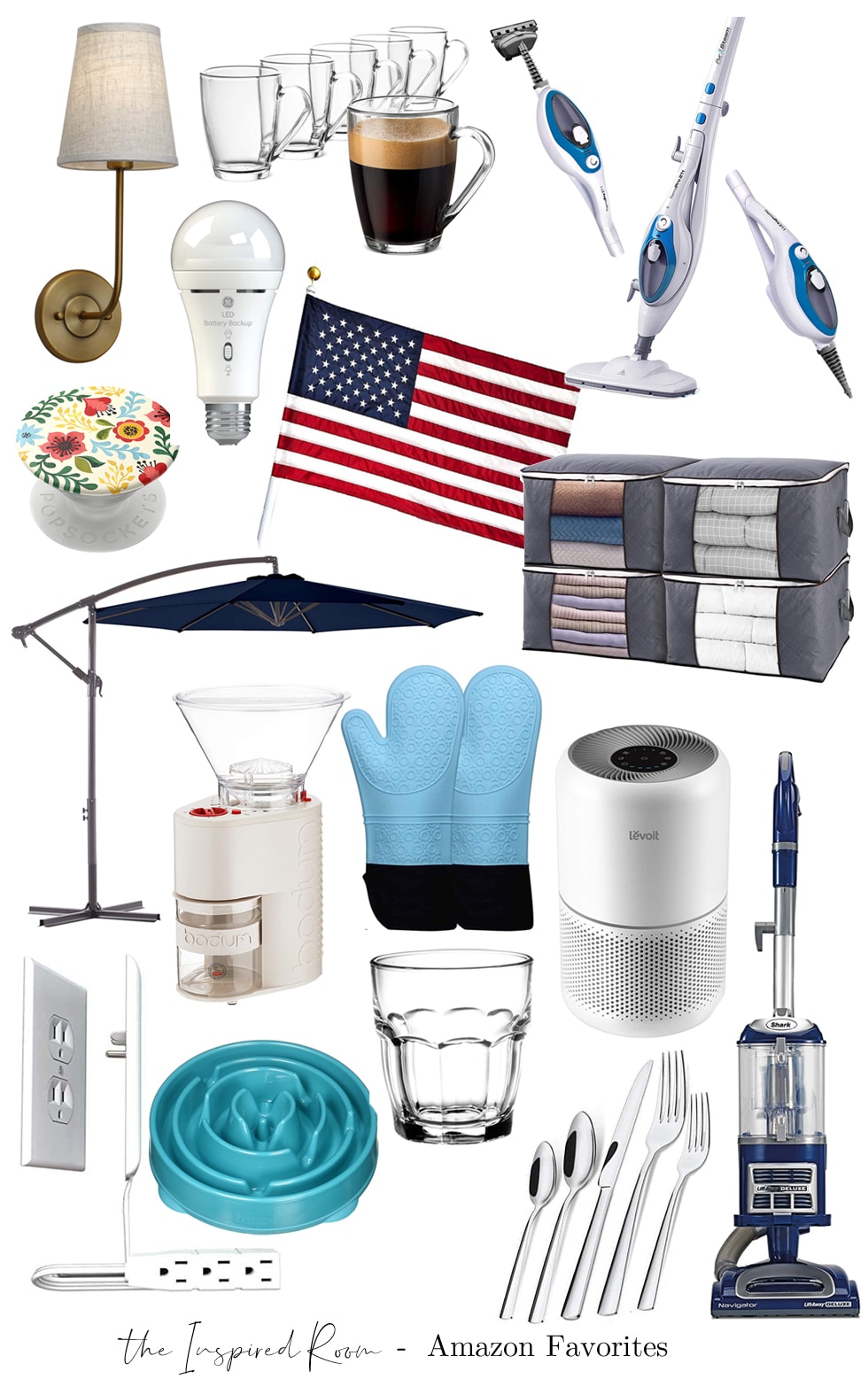 Click HERE to shop my recent Amazon purchases
The items above are some of the things I personally own from Amazon. I'm happy with all of them!
I still love the wall sconce paired with rechargeable bulbs, no need to wire it in! See my post about it here.
Sources for above graphic (my recent purchases): Brass Wall Sconce with Shade // Glass Coffee Cups // Rechargeable Light Bulb // Air Purifier // Silicone Oven Mitts // American Flag // Slow Feeder Dog Bowl // Sleek Socket Electrical Outlet Cover // Drinking Glasses // Silverware Set // Tiltable Patio Umbrella // Floral Pop Socket // Steam Mop Cleaner // Glass and Bamboo Dropper Bottles // Clothing Storage Bags // Shark Lift Away Vacuum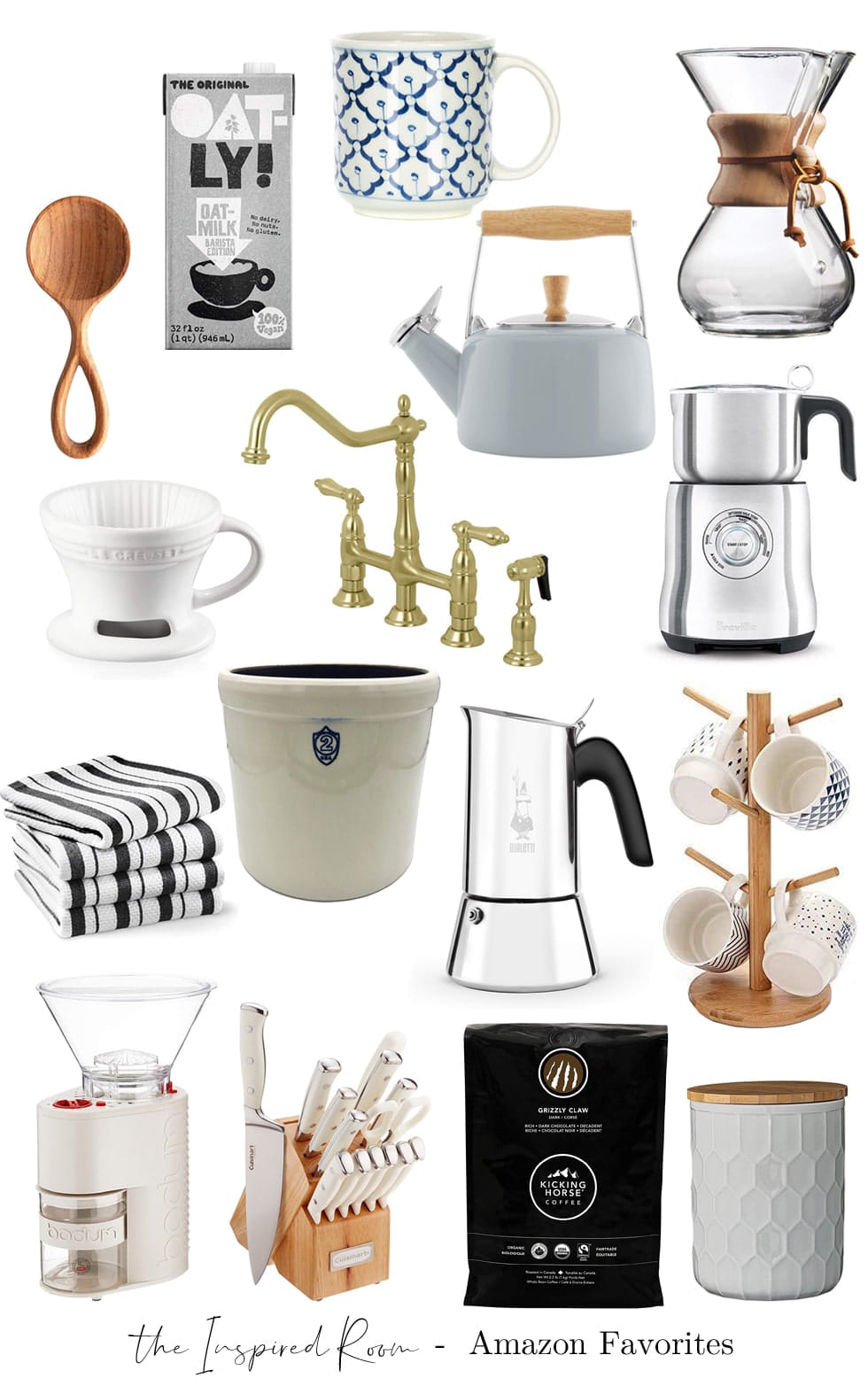 Click HERE to shop my favorite Amazon kitchen and coffee tools
Sources for above graphic: Milk Frother // Hand Carved Wood Spoon with Handle // Blue and White Mugs // White Coffee Bean Grinder // Kicking Horse Coffee Beans (one of our favorite blends) // Stoneware Crock // Chemex Glass Pour Over Coffee Maker // Oatly Oat Milk // Glass Coffee Cups // Wood Mug Tree // White Ceramic Pour Over Coffee Cone // Wood and White Knife Set // White Kitchen Canisters with Bamboo Lids // Stainless Steel Stovetop Coffee Maker // Black and White Kitchen Striped Towels
---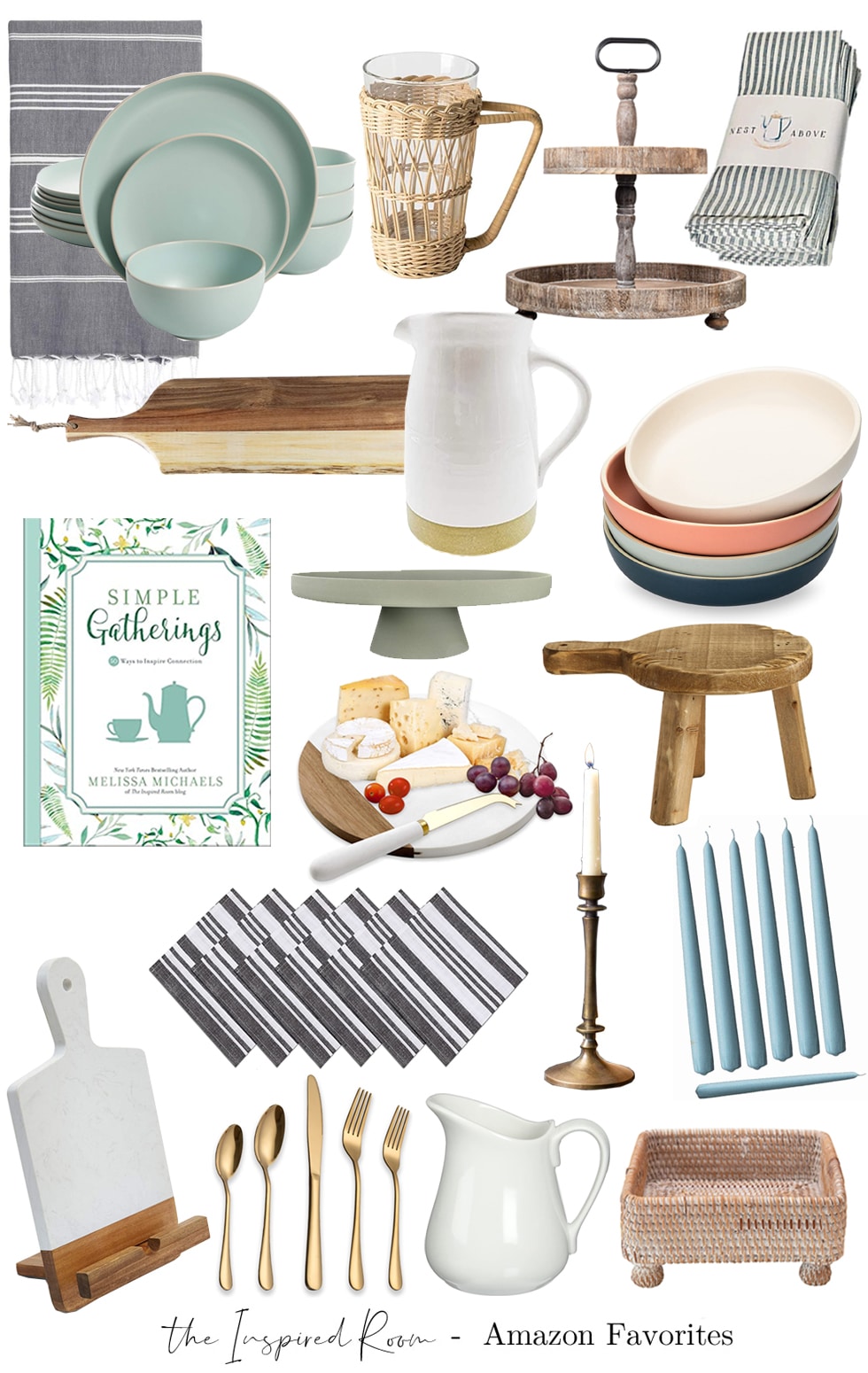 Click here to find my entertaining and tabletop decor favorites on Amazon!
Sources for above: Turkish towel (many color options, love using these as tablecloths!) // Teal Matte Dinnerware // Simple Gatherings Book // Wood Pedestal with Handle // 2 Tiered Wooden Tray // Matte Porcelain Dinner Dishes // Bamboo Rattan Cup with Handle // Brass Taper Candle Holder Set up Two // Sage Green Pedestal // Blue and White Ticking Striped Cloth Napkins // White Marble Acacia Wood Round Cheeseboard // Stainless Steel Gold Flatware // Farmhouse Ceramic Pitcher // Marble and Acacia Wood Cookbook Holder and Serving Board // Woven Rattan Napkin Holder // White Porcelain Pitcher // Blue Taper Candles (many color options) // Gray and White Striped Cloth Napkins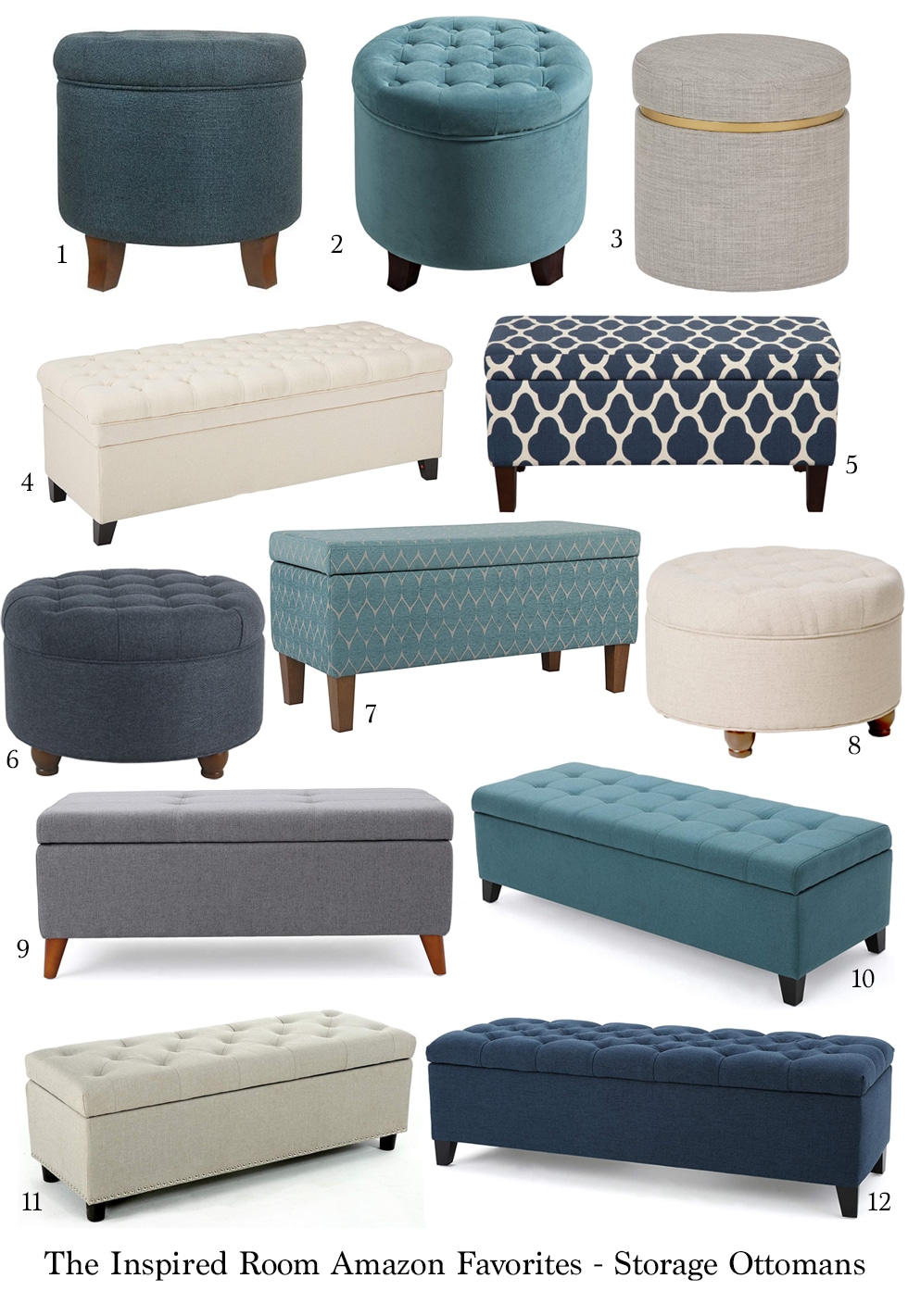 Amazon Storage Ottoman Sources: 1 // 2 // 3 // 4 // 5 // 6 // 7 // 8 // 9 // 10 // 11 // 12
---
Click HERE to shop ALL my Amazon favorites
More Amazon Favorites: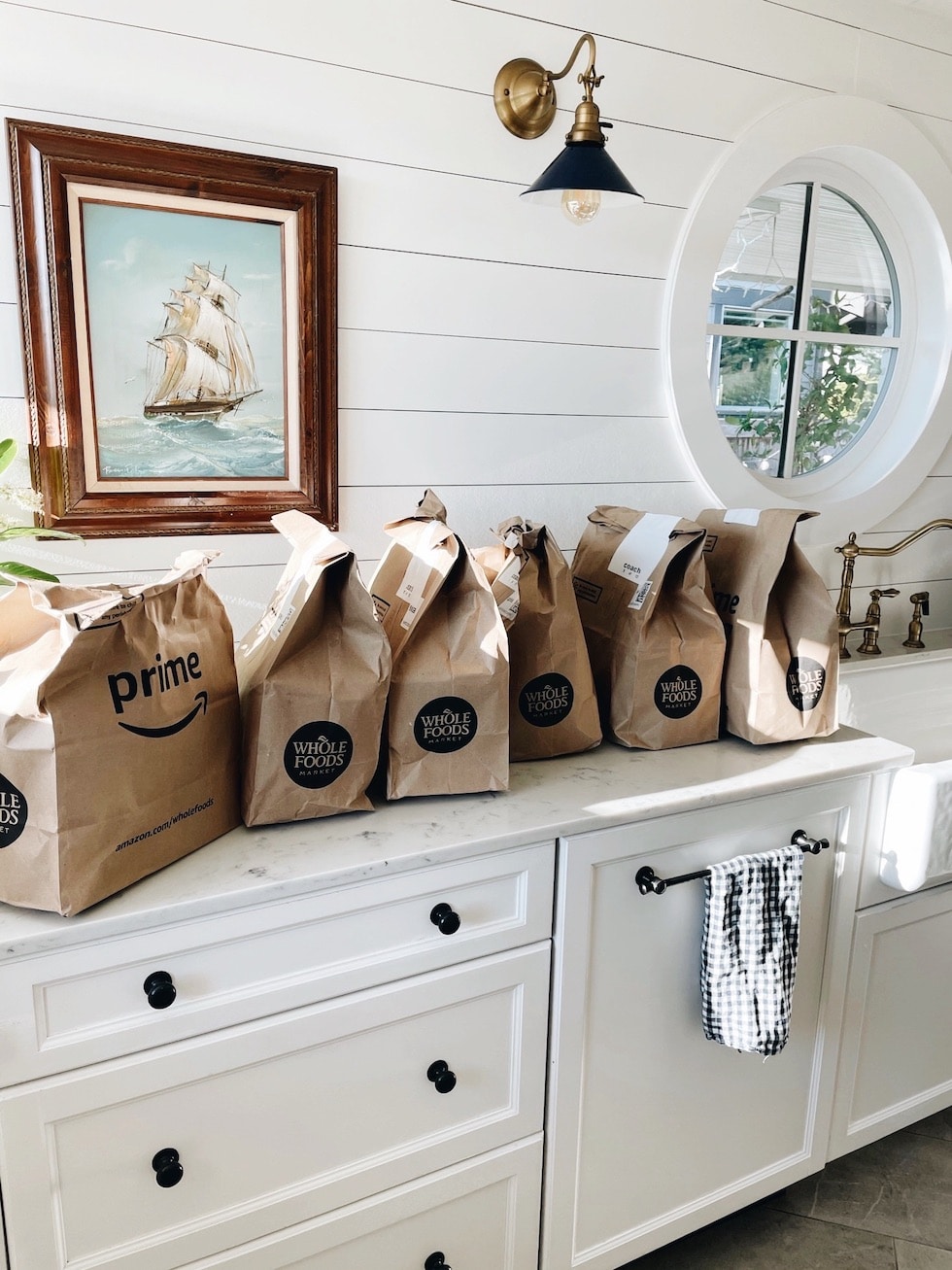 Groceries:
About twice a month we get a grocery delivery from Whole Foods. We use our Amazon card to get points back.
I'm working on some new posts with our favorite grocery store purchases! In a family where we eat mostly gluten free/dairy free/plant-based we have tried a lot of different recipes and items from various stores! Here's one post you can check out.
Books: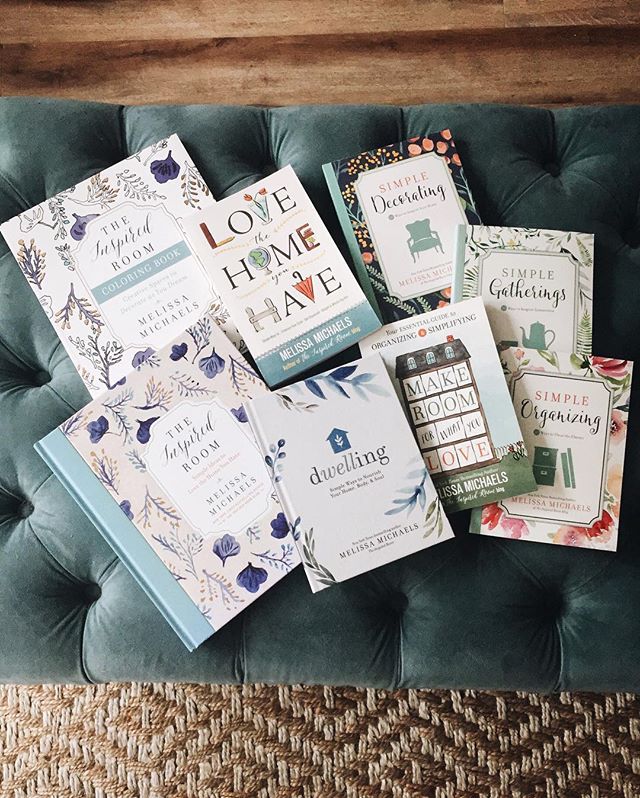 You can find all my books on Amazon with the links below:
– New York Times Bestseller Love the Home You Have
– The Inspired Room Coloring Book
– Dwelling
– But Where Do I Put the Couch
Music:
I love using music to inspire a positive atmosphere in my home (I've shared many playlists here on the blog!) We primarily use Amazon Prime Music to play our music on our Echo Dot and Echo Show.
Having Prime Music gives you unlimited ad free streaming of over a million songs, instant streaming of thousands of movies and TV shows, allows you to borrow Kindle books, and get the free two day shipping no minimum order size.
Rugs:
You can find Loloi rugs on Amazon–like the Loren rug here, or the Chris Loves Julia Tangerine rug here. So many lovely styles!
As an Amazon affiliate I earn from qualifying purchases at no cost to you. Affiliate links used in this post.
---
Have a wonderful first day of summer! Come hang out with me on Instagram stories, I'll share more deals today there. Also I'll be back on the blog to show you how the blue front door turned out, it's sooo cute with our new door knocker!