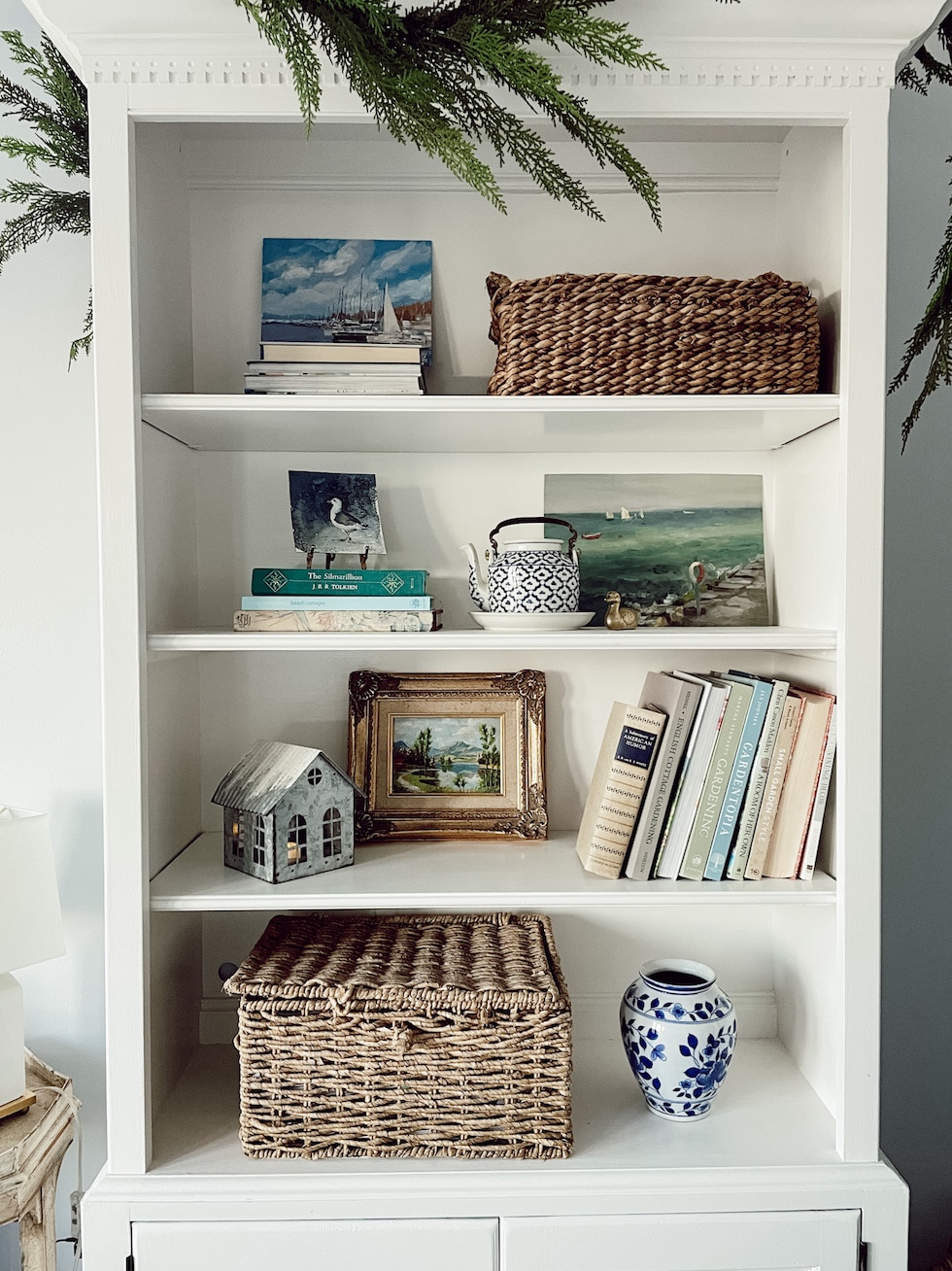 There's a "down and dreary" period of time between the holidays and spring that makes it a bit harder for many people to find joy at home. Especially if you don't live in a warm winter sunshine state! But even if you DO have sun all winter, life can have its ups and downs.
So what can we do at home to uplift our spirits?

Today I'm going to talk about a simple way to uplift our spirits in our homes (plus introduce you to our favorite feature in our new bedroom and talk about an upcoming project)!
One of the things I do for our well-being through the winter is to make sure our home feels like a sanctuary. I feel it's important to create a sanctuary in every season, of course, but each season offers an opportunity to focus on a different area of our well-being as well as our home.
Right now we might feel inspired by the sparkling lights and be excited for the Christmas festivities next week (if you missed the post on our exterior and porch lights, you can see it here.). But once all of those twinkling lights are taken down from the house and the fun holiday gatherings are over, I find it's helpful to have a room or home project to focus on, or something to look forward to at home (rather than just dreading winter while waiting for spring!).
I decided this winter I'll focus on my new bedroom! I'll fully enjoy the season we're in now and then have a project to look forward to after that.
By the way, I share many tips and the uplifting rhythms I practice at home through the seasons in my new book A Lovely Life, you can read about it and preorder it here! I hope you'll enjoy having this new book on your coffee table or nightstand to refer to for encouragement and uplifting reminders throughout the year!
Focusing on a room to uplift your spirits doesn't mean you have to remodel or redecorate it! Maybe you will just enjoy puttering or rearranging things in it, perhaps your chosen room needs some cleaning, decluttering or organizing, or maybe you just want to spend time enjoying the space.
We just moved into our new home this fall so we really haven't worked on our room at all yet, other than bringing in a few pieces of furniture from our old house. To refresh your memory of our old room, below is a photo of how our bedroom looked just before we moved. It was a small but cozy room!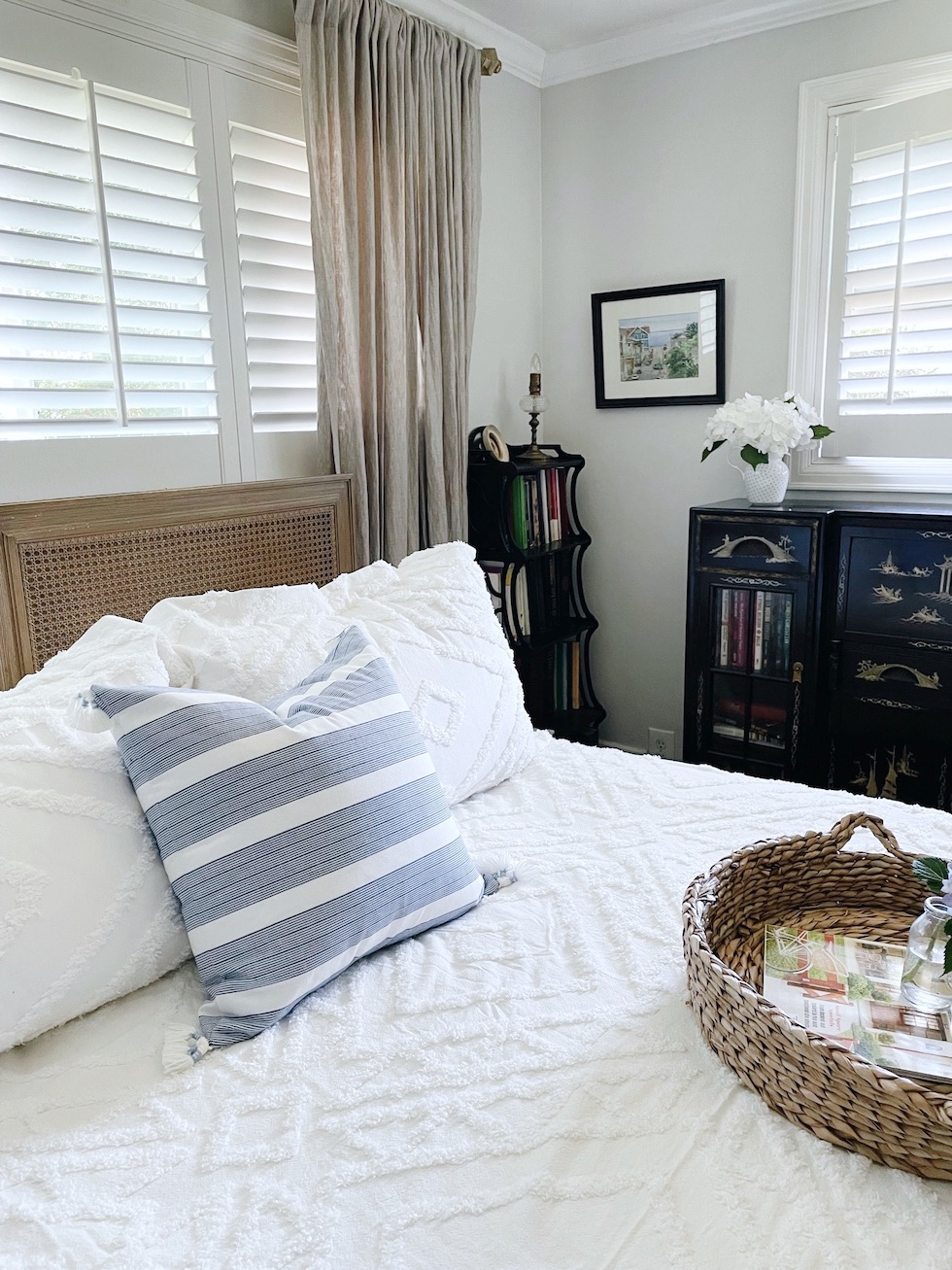 If you were following along when we lived in our last house, you might remember last spring I was sharing that I was considering changing our then master bedroom (above) to our son's room after he moved out. While there were some good practical reasons to possibly make a change like that, one of the less crucial but still fun benefits was it would have allowed us to add French doors out which would connect our bedroom to our little side patio that I loved.
It had been a tough year (as it has been for everyone in different ways and to various degrees, and much worse for so many!). While counting our blessings and enjoying the gift of unexpected time with our family at home, one way I was able to keep myself feeling hopeful and creatively inspired during some of our own difficult challenges was dreaming up fun ideas for our home.
Cultivating gratitude for what I have while still allowing myself to dream of the future uplifts my mood. I pictured how doors to the patio would bring so much light into the bedroom. We could open the doors to start the day with fresh air, to be able to see a little spot just outside our room where we'd sip our coffee or tea on a summer morning or have dinner for two (in our future empty nest life!) in the evening.
Do you remember the inspiration photo of the bedroom with exterior French doors and seating area that I shared? I'll post it again below to jog your memory, or in case you missed it.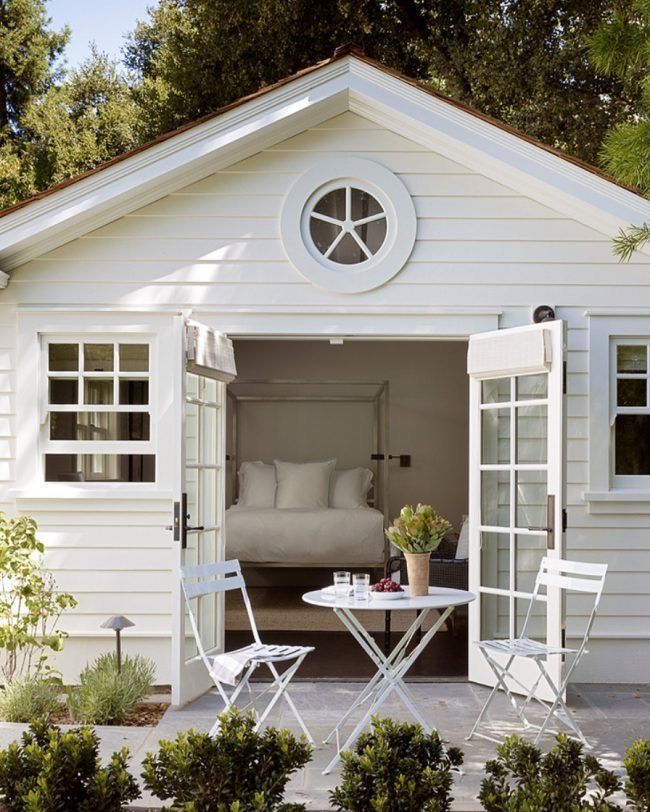 At the time I was sharing that inspiration photo, I never would have imagined the unexpected twists and turns that would happen in the following months that would make that "French doors to a patio for two" dream come true. There were so many ups and downs in the year and a half leading up to where we are now that it was getting a bit harder to dream, even for a life-long dreamer like me.
But oh my goodness. Everything changed this past summer. When I felt that tug in my heart to visit the island where we now live, drove up to what would become our new home, and then walked into what would be our new bedroom, I COULD NOT believe my eyes! Right there in front of me was a set of French doors, leading out to the charming space for morning coffee.
Every day I wake up and pinch myself, it's like I am waking up in my dream! I still can NOT believe we have French doors that open to perfect spot for morning coffee or dinner for two. It's so much like I dreamed but even more than I could have dreamed.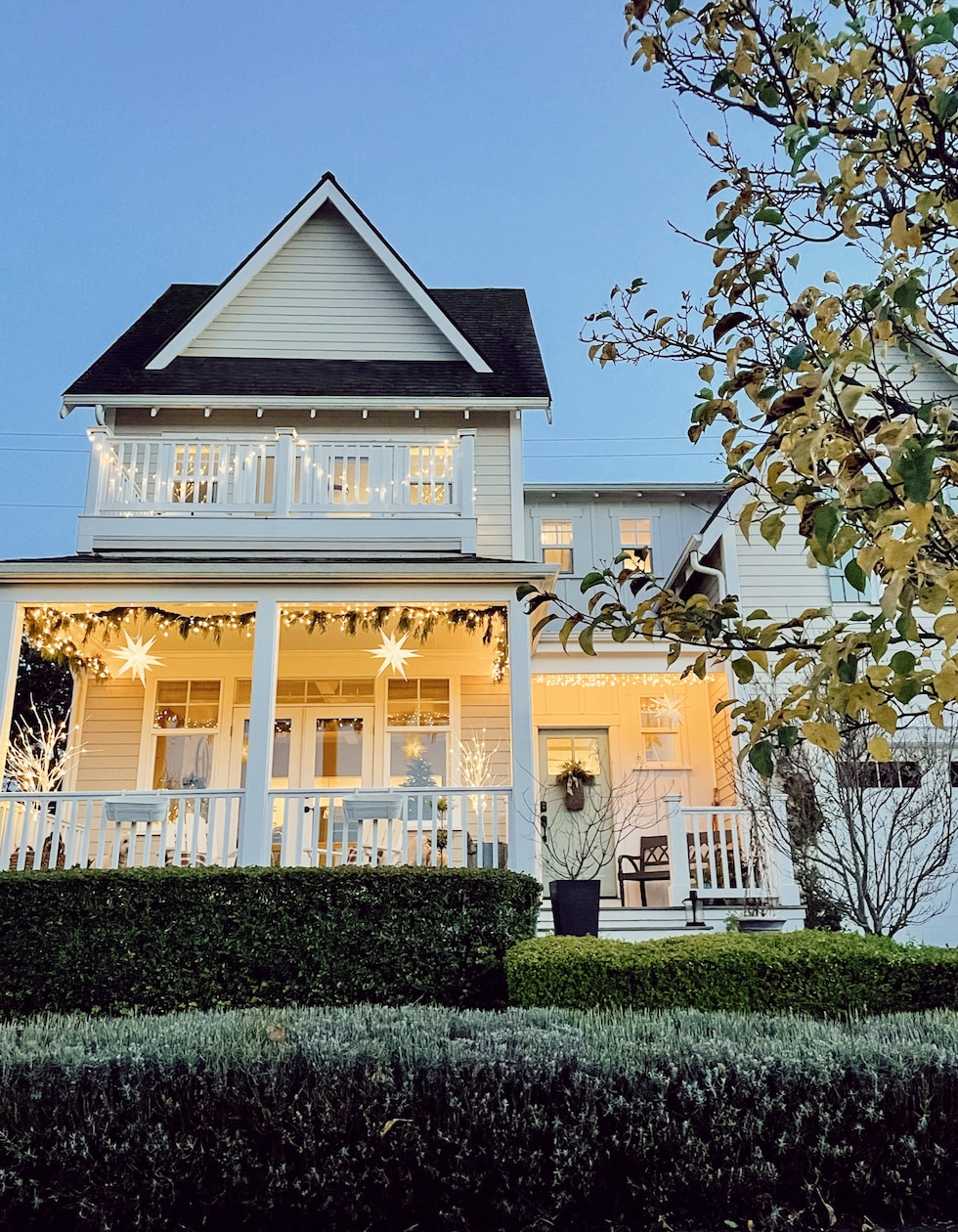 And I'll never get over the view of the sky, the sea and the charming neighborhood. It is a gift. I will never stop being grateful for it and so many other answered prayers through the unexpected turn of events over the past few months.
So with all that has transpired since last spring, it seemed appropriate that I would continue on with my dream and start working on our bedroom this winter. Just like I planned to in our old house, except with a bit less construction :).
While we have a few future dreams and plans for our new room which I'll share soon, our immediate goal is to make it our own in simple ways. I just want to pull the room together and make it cozy for winter (but also want it to be simple to transition into spring.) In upcoming posts I'll share four mood boards, and then the room photos, photos of where we started, what we brought into the room so far, and the new things we'll add to the room this winter.
As you probably know by now, I LOVE to create mood boards when I'm going work on a room. I call them "mood boards" because they are more than just "design boards." To me designing a room isn't just about creating a style that speaks to me (although that's fun too!), it's about how the room feels to be in it. Mood boards help me to visualize the feeling of the room, which in turn helps me to focus on ways to uplift my real-life mood in every season!
So before we sign off next week for Christmas, I thought I would share our four possible mood boards in my next post. I'd love to hear your thoughts on which ones you like the best!
What room or project will you focus on this winter?
Watch my newsletter to keep in touch in the new year, and to follow along with the progress as we decorate our bedroom and make it our own!