I wanted my house to smell like Anthropologie.
I know. I sound obsessed. I'm OK with that.
I want to LOVE being in my home as much as I love being in an Anthropologie store.
And a lot of that experience is how delicious it smells in Anthropologie. The scent makes you want to linger. To relax and stay awhile.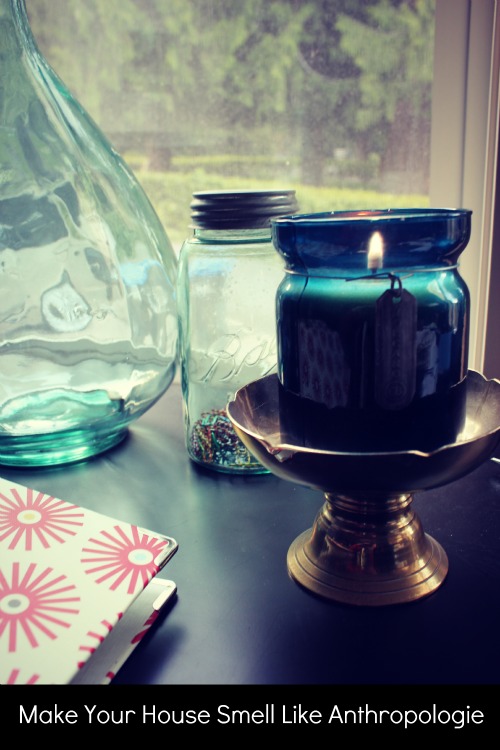 So, how do you make your house smell like Anthro? Back when I first wrote this post, I bought a candle. The scent you'll find in Anthropologie is Volcano. But now that I no longer use synthetic scents in my home, I've figured out how to duplicate this amazing scent but with my essential oils. It's good ya'll.
Anthropologie describes their scent as smelling of tropical fruits, sugared oranges, lemons, and limes, redolent with lightly exotic mountain greens. YUM. That's what I'm talking about.
If you'd like to learn how to make your home smell like Anthropologie, without synthetic scents I'm happy to help! I definitely recommend you begin this journey to ditch toxins by getting a starter kit of 11 essential oils and a diffuser. It even comes with a free concentrate to make a bottle of Thieves plant-based cleaner, the only cleaning product you'll need!
This kit is going to change your world in all the best ways. You'll never go back to toxic stuff again. I LOVE Young Living essential oils, after four years, I can say for certain that my life was completely transformed by getting a hold of this kit!
Order Essential Oils and Diffusers here. You can make your home smell like a dream, but even better, you'll begin to discover what it feels like when you ditch toxins. Once you get your kit, you'll be invited into our private educational group where we learn and swap fun recipes.  Join us!