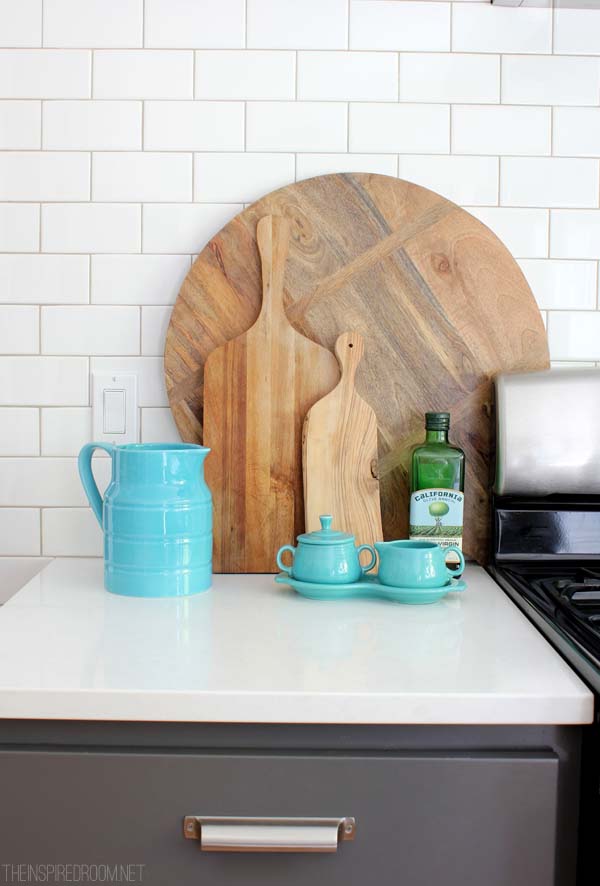 You really do not have to have a ton of decorations, craft items or expensive collections to make a house personal, pretty or feel "finished." Really, you don't! I noticed upon arrival last summer in blogland that many bloggers have tons of accessories and collections! Decorating a home by buying collections, art and/or hand making creative home accessories is a big hobby for some folks. That is great, but not everyone wants to spend money to buy decorative collectibles or has the time and creativity to fill up their home with hand made crafts.
So what are we to do if we fall into the "I don't want to spend a lot OR create everything by hand" category?
It can seem like a lonely desperate situation to be in if you look at blogs for inspiration! But don't despair! There are other solutions. Trust me, somehow I manage just fine in that lonely category!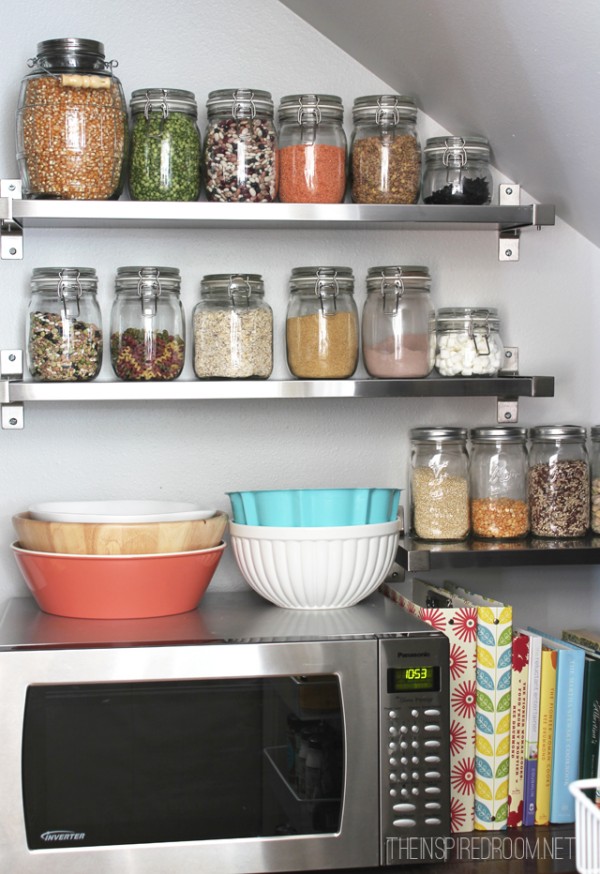 My kitchen pantry displays our dried goods in jars, and other pantry items are organized in pretty baskets.
Here is my style tip for the day:
It is not necessary to spend lots of money OR be crafty in order to have a beautiful or personalized home. You just need everyday items.
Simply by utilizing things you DO have and actually use everyday your authentic style can shine through.
Being somewhat practical, I love the idea of displaying useful items as decorations. By having pretty things to use, you have the joy of finding beauty in every day activities (and you know I like that idea) AND your house magically becomes attractive, without trying too hard to "decorate." That idea always appeals to me. I love the look of beauty that is more natural, evolving and less contrived.
When you have things in your home that are pretty colors, shapes, textures or patterns, find creative ways to have them out in the open! Just group them together on shelves (even inexpensive shelves with brackets can look amazing), or in glass fronted cabinets, open armoires, or even just out on hooks. Everyday items can function as art. The subtlety of it can be very striking. Almost appearing like a "happy accident" rather than a "Hey, look how hard I tried to decorate this shelf" kind of look.
I am a big fan of the bulletin/pin boards. They keep paper clutter confined and can make an artistic statement all at the same time! Love that.
Kitchen Bulletin Board from BHG
Save closed storage for less than attractive items and clutter. If you have too many things in sight, you will suffer with a lack of visual serenity and the whole look will be chaotic. Be selective in what is out for public view. Strike a balance between accessories on display and breathing room.
Having things on display that you actually use rather than just look at is efficient, and cost-saving (because it is a dual-purpose item rather than just a decorative piece), not to mention completely authentic! Group things by color, shape or purpose just like you would display a priceless but basically useless collection.
I love this DIY Driftwood Jewelry Organizer that doesn't just hold jewelry, but looks beautiful as art!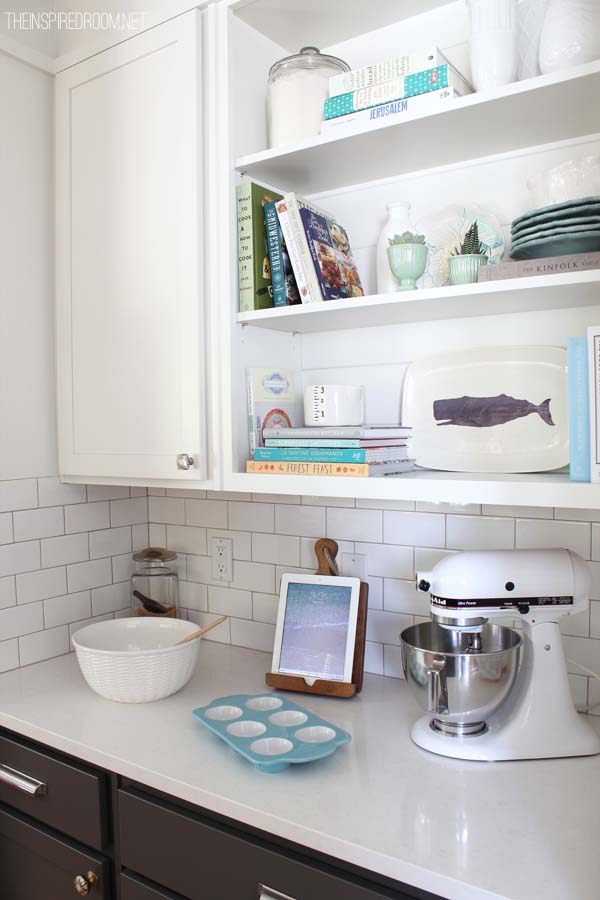 Add shelves in any room to add personality and opportunity for your style to be showcased. Pretty dishes can look so homey on an open shelf or in a glass fronted cabinet.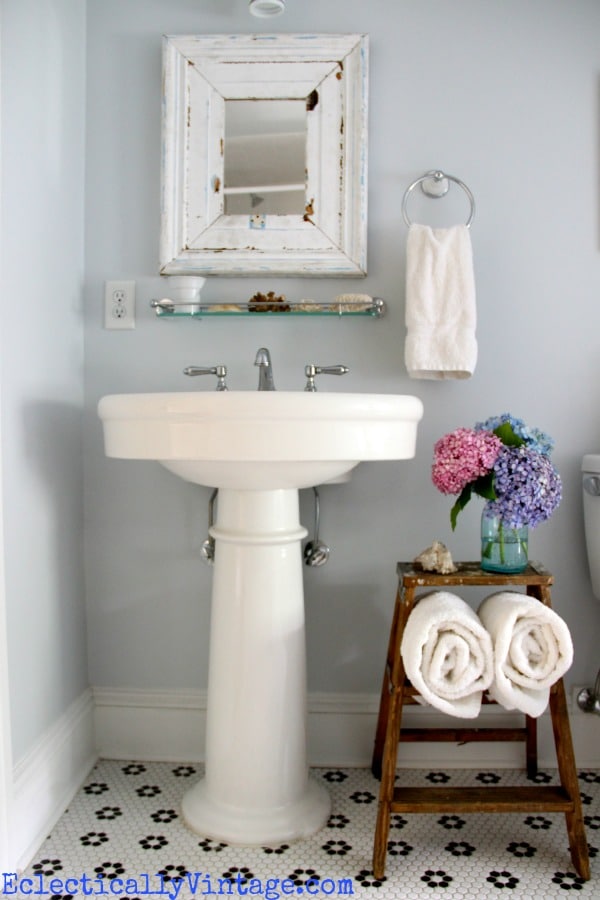 Kelly from Eclectically Vintage repurposed this old ladder to hold guest towels and provide a place for a pretty vase of flowers.
Re-purpose furniture to display every day items. By mixing everyday accessories with furniture intended for other display purposes you create art! Try a bookcase stacked with towels in a bathroom or a library cabinet with glass doors to showcase purses and pretty shoes in the bedroom.
Baskets or clear glass jars can be filled with everyday necessities to make a decorative statement. Even cotton balls can look amazing in a glass jar from a discount retailer like Home Goods!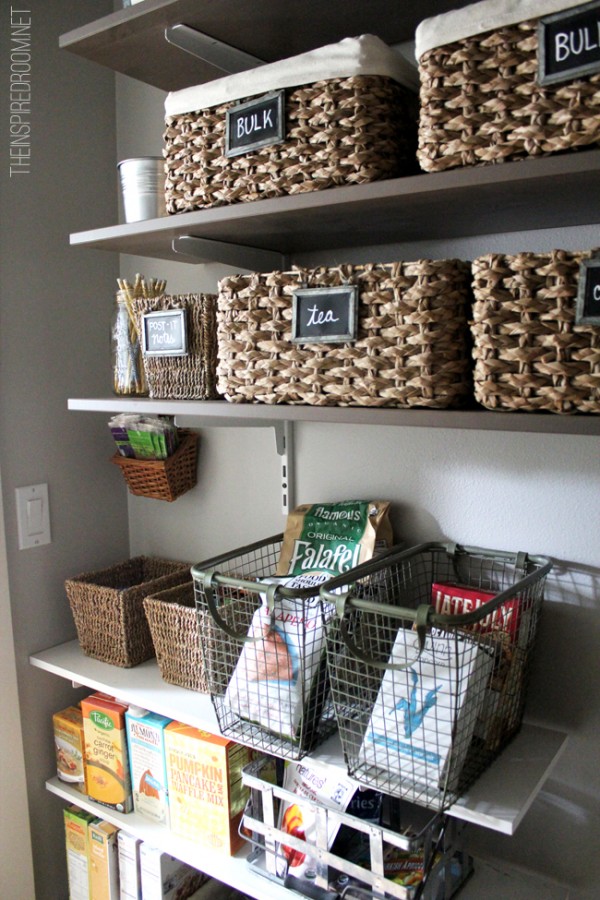 Don't have pretty everyday things? Well, you need them! You really do! Why drink out of an ugly cup when you can sip out of a pretty one? If you are on a budget (let's face it, most of us are or should be on a budget!) start shopping at resale, thrift and discount stores for your basic necessities like cups and bowls in pretty shapes and colors. The key here is that attractive doesn't necessarily mean expensive. That is a big fat lie so don't fall for it.
Over time, I implore you to start replacing ugly everyday necessities with attractive things. Then you'll be happy every time you pull a pretty cereal bowl off the shelf for breakfast. I'd much rather have a pretty cereal bowl than a useless object d'art sitting on a shelf. Even simple white dishes can be very attractive. Truth is, I don't own a bunch of fancy schmancy dishes. I love to collect mismatched white dishes from inexpensive places like TJ Maxx and HomeGoods.
Every day items hung on wall, Martha Stewart Online
When faced with a blank wall or empty shelf, ask yourself what every day items you could bring out to create art! What you choose to display will showcase your personality. Chic or antique, colorful or neutral, plain or fancy everyday items will set the stage for your authentic style.
This is another tip worth considering: You don't need to find a trendy or popular accessory to have style. Just because everyone else has something in their house doesn't mean you need it in yours. In fact, if you see something in everyone else's house or on everyone else's blog, you might want to reconsider having it in yours. Just sayin', it's something to consider. Trendy is not a personal style, trendy is often just imitating someone else's style. And trendy becomes expensive and time-consuming when you try to keep up with what everyone else is in love with at the moment. Just sayin'. Trendy is fine, if that is what you love, but I prefer something more personal and longer lasting. That's just me.
Consider creative ways to display every day items like:
Aprons
Art supplies
Pantry Items
Oils & Vinegars
Fruits & Veggies
Baskets
Cookbooks
Pots, Pans, Baking Dishes
Towels
Clothes
Dress Shoes
Scarves
Jewelry
Purses
Towels
Coffee mugs
Plates
Decorative Books
Trays
Pitchers
Serving Pieces
Vases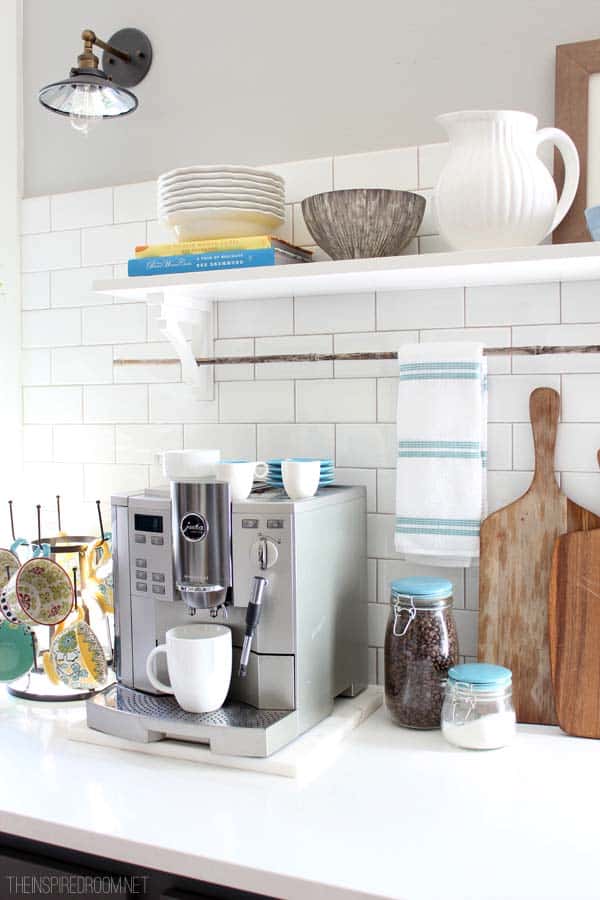 In my kitchen, I keep everyday mugs, pitchers, cookbooks, cutting boards, even coffee beans and sugar right out on display.
*This post was updated from my original post in 2008 with new photos. I've added many photos in this post from my 2014 Summer House Tour, which you can find here!
Having a personalized and beautiful home is as often simple
as putting everyday items on display!