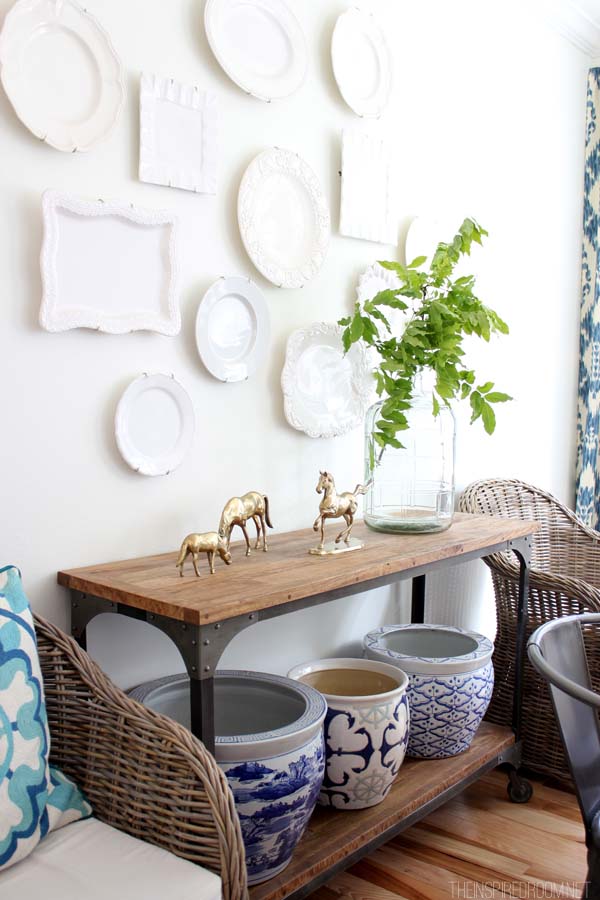 Welcome! I'm happy you stopped by! If it is your first time here, I am so glad you are here. Today I'm joining up with Gina from The Shabby Creek Cottage and her fun Summer Tour of Homes! You can find the entire line up of links at the end of the post. The sun has been out here and I've been LOVING life. That happens when the sun shines in Seattle :-). Actually, I feel like the NW is a hidden gem that people miss out on since they think it rains all the time. Shhhh, little do they know we have absolutely gorgeous usually mild weather and when it does rain, we are grateful because it is what makes everything so green and lush year around. So, enough small talk about the weather!! Let's talk about summer decorating, shall we?
Ya'll probably know if you've been here for awhile that I don't decorate FOR the seasons much but rather I LOVE LOVE LOVE letting my home evolve WITH the seasons.
Evolving through the seasons is all a part of that slow process of decorating that I wrote about in my recent post!
I love each season for different reasons. But summer is one of my favorites because of the light that streams through the windows and the pretty plants and flowers inside and out! I'm going to be planting more vines, trees and flowers because I love using them in the house, too. Our yard started out pretty barren since it was a brand new house without much landscaping (you can see my dream of a Secret Garden post here), so adding plants is one of the projects I've started working on recently! My budget and time is limited, but each little bit I do makes me happy.
The vine on my dining room console in that awesome glass jug (new flea market find!) is a stem from my Wisteria from the deck, it grows like crazy so I never mind cutting a branch to bring inside! My little brass animal family is hanging out here in the dining room for awhile. If you are wondering about the plate wall, you can find the post about how it randomly came together here and here. The curtains were made from old fabric I've had for ages.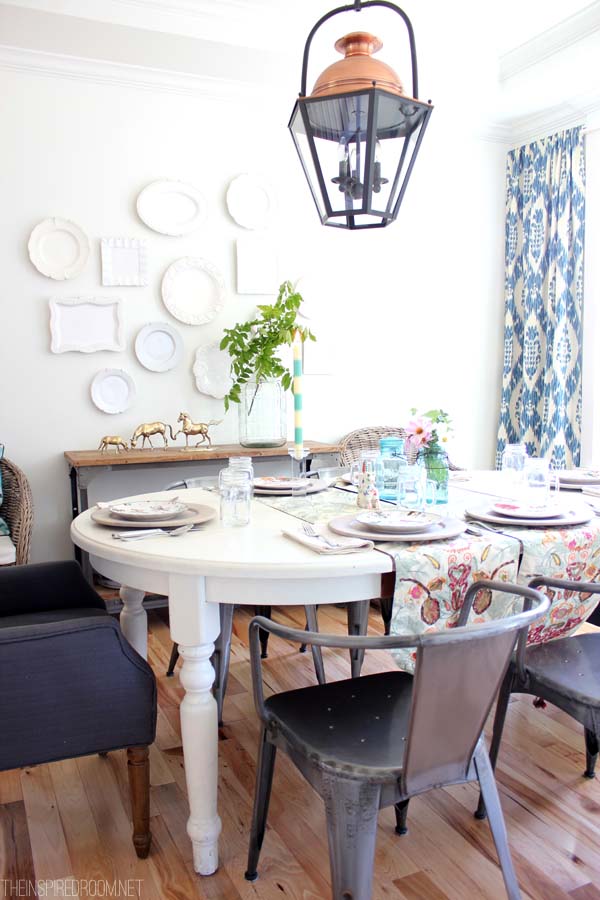 My dining room is one of my favorite spaces in my home in all the seasons. It has come such a long way from the humble beginnings of ghastly flesh colored walls, awful brown carpet and the standard builder lighting five years ago. Every year it looks different. Actually, every month it seems to look different. Heheh.
While it has evolved slowly, I love adding a little bit to it every year. We just got new chairs for the heads of the table, but I'll show more and talk about that in another post. :-)
**Update: Many have asked about where I got the light fixture in my dining room! It's an outdoor lantern that I purchased it from Pottery Barn, here is the link!
I just can't help myself. Quirky random animals have taken over my house. They just make me smile. The bunny is from Anthropologie…who clearly understands my love for quirky animals.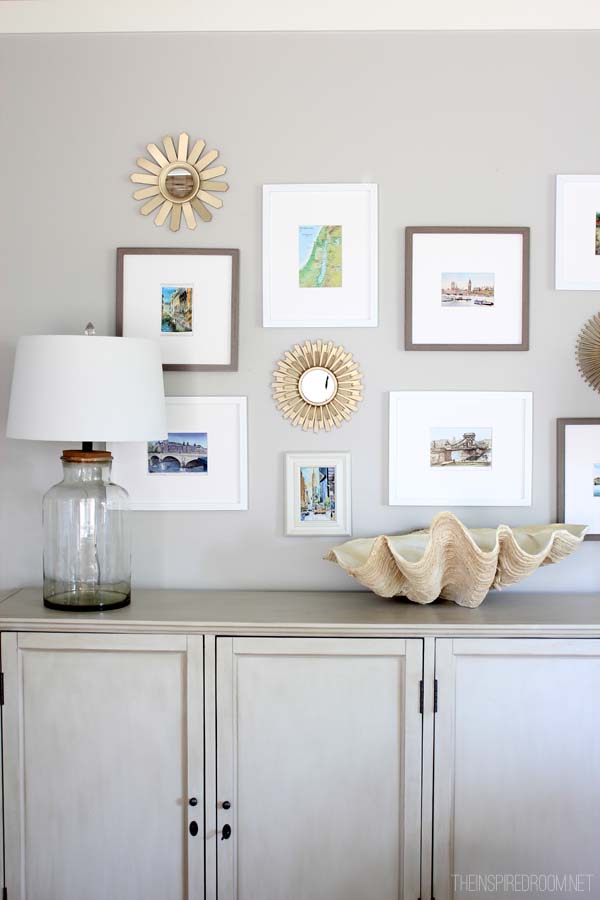 The family room wall I've been working on for years (right?) is coming together and I'm SO happy with it! The gallery wall is filled with so many happy travel memories it is perfect for summer dreaming. I love how it is perfectly set off now by the new shallow cabinet and our new glass lamps from HomeGoods! The clamshell bowl is from Wisteria.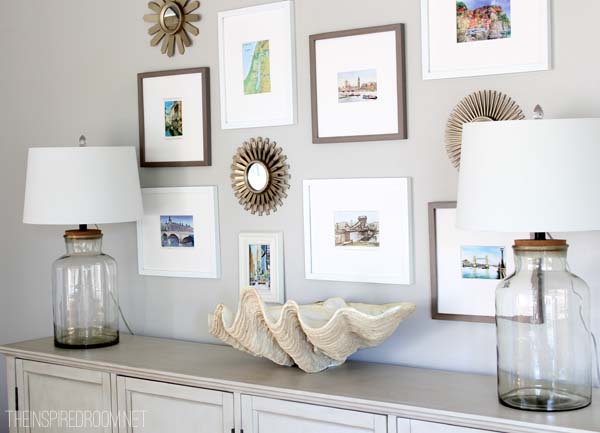 This whole wall works so well to complement the style of our kitchen and family room, without shouting at me or calling too much attention to itself.
I'll tell you more about the lamps in another post too, they were a great find!
I found that adorable little stool at Serena and Lily on sale over the Memorial Day weekend. I love the texture of the rustic wood and the fun white dipped legs are very cute too. It's a perfect little table for a cup or book next to the chair!
You can't come to my house without enjoying a little trip to the coffee station. It is a party all by itself in any season. And, I have way too much fun changing up how it looks. Somewhere I saw a branch hanging from brackets like this as a towel bar so when I saw this stick outside I thought WHY NOT! I'll try it! It's just a fun summery touch and actually very practical here too!
One of my favorite things each season is the fun I have changing colors around to suit my mood. I am smitten by fresh greens and teal blues right now. The more I add, the more I love it. The pitcher came from TJ Maxx and the cream and sugar set is Fiestaware from Macy's.
And of course, the cookbooks get rearranged too both for what types of cookbooks we might use but also the colors that make me happy. I know. It takes so little to keep me amused. You can find many of my favorite cookbooks and decorating books in my Amazon shop. The wood iPad stand is from Pottery Barn!
Speaking of being amused and all the quirky animals that seem to find their way to our house, I found that whale plate at a shop I love over in Poulsbo called Modern Mercantile (near where I live). I was shopping with my daughter Courtney and we were discussing how the plate needed to be in our house and that even if we didn't have room we would make room (because we can't pass up any whales). We loved it because he was a serious classy whale, not a silly cartoon whale. Those are the kinds of random things we talk about when we shop. After we carried on for awhile about summer decorating and changing  our home for the seasons (without mentioning blogging at all — just being our regular strange selves haha), the lady working at the counter did a double take realized she was a reader of my blog! Well, she knew she was a reader but didn't know the blog was mine. That always takes me by surprise, to find anyone who reads my blog out in the real world!
I'm sure she will be happy to see where the whale plate ended up!
I still love my little chalkboard on the fridge. Sometimes we'll put an inspiring little saying there. It is a great reminder that finding joy in every season and every day is a choice!
This is The Inspired Room headquarters, the tiny office where I spend a lot of time talking to you all :-). And where I spend a lot of time gazing out the window at the summer sun.
I've had these little anchor hooks sitting around my house for awhile and when I found the brass "captain" plaque a couple of weeks ago, I decided that they would be the perfect nautical touch for under our map wall in the hallway just outside my office. These little hooks are so fun for getting shopping bags or the dog leashes and harnesses up off the floor, or just for looking cute all by themselves! I found a similar captain plaque online and put one in my shop here, and also a set of cute gold nautical hooks here!
I still have the flea market dresser here in the entry! The blue glass water jug lamp I made is now sitting on it and I LOVE it here!
I found the cute frames at TJ Maxx the other day and the basket was from TJ Maxx a couple of years back.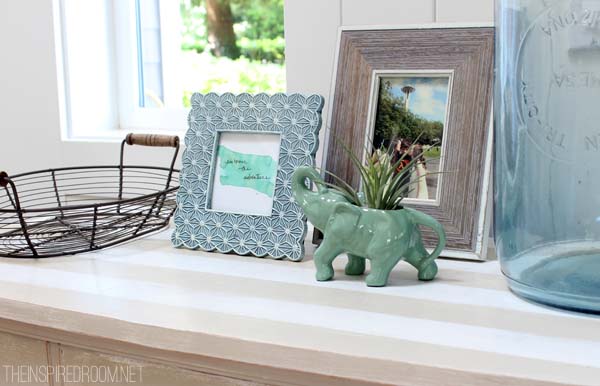 The watercolor print in the blue frame is a free printable from Gina, our summer house tour host! It says 'embrace the adventure.' I love that! You can get your own free download of it here. And you can read about my little air plant and elephant here.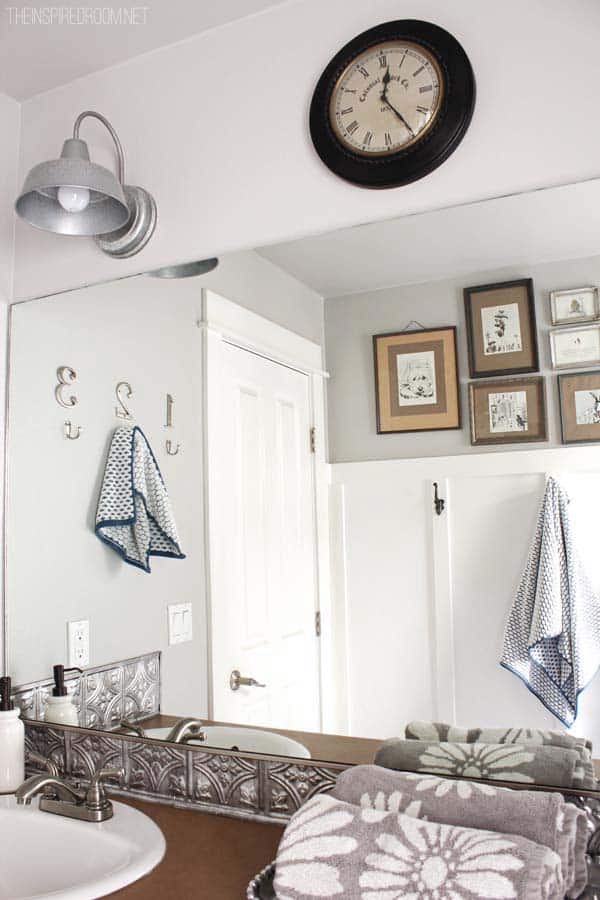 If you missed my weekend post, I shared a quick bathroom makeover project! You can see all the details and more pics of the recent room refresh here. You'll also notice that the awesome DIY faux tin ceiling tile backsplash is still up years later!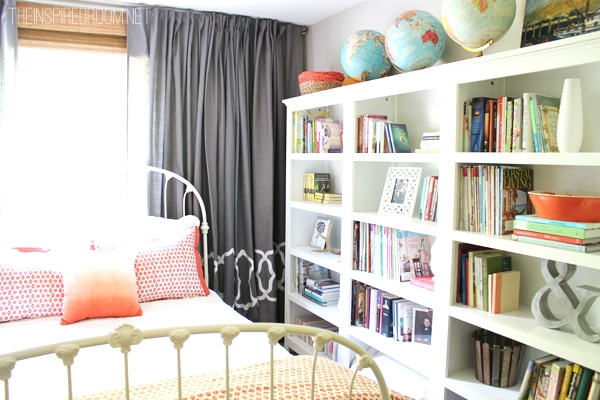 This is our daughter's room, all dressed up in a summery coral. We just finished the room and added the freestanding bookcases about six months ago. It doubles as a guest room and my little reading escape, so it is a room we are very happy to have! 


Since summer is ideally about being outside (especially since our weather is so lovely and not usually too hot like in many parts of the country), I spend a lot of time working in my yard or hanging out here on my front porch.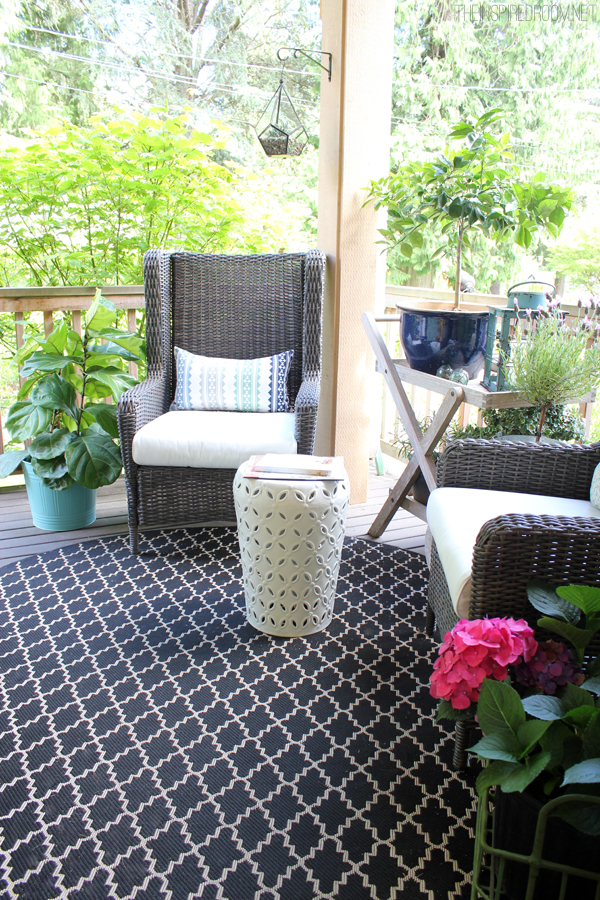 It's a great place to hang out and take the laptop for a change of scenery. You can read about our new outdoor wingbacks here and the fun faceted hanging terrarium here.
Soon I'll show you some updates to our back porch and patio area in back!
I'm getting so excited to see how each new thing helps transform our outdoor spaces, as well as the indoor ones!
If you made it all the way to the end of this post, thank you. It was picture overload and I didn't even get around to the entire house!
But I promise I'll have LOTS more to show you this summer :) so I hope you'll hang out here with me! I even have big news coming up!
**UPDATE: See my 2015 summer house tour here!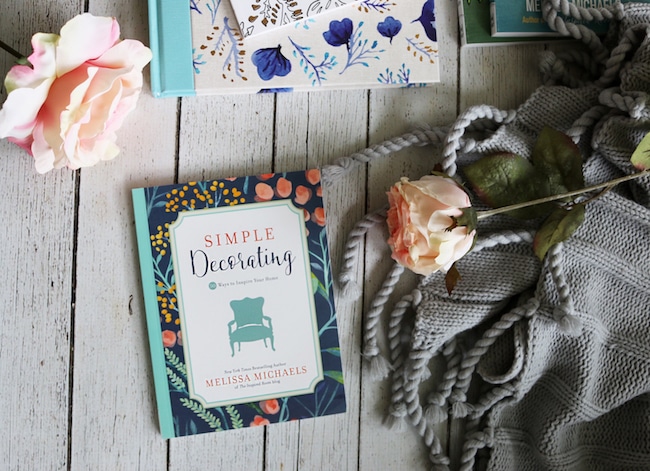 Jump-start your style and refresh your home with budget-friendly and practical ideas from my book 
Simple Decorating! 
You'll learn to embrace your style, reimagine your spaces, and transform hard-to-love areas into favorite destinations.
–
Thanks for stopping by! Be sure and visit the rest of the tours, all the links for each day are posted below. 
Here's the complete line up for each day this week's Summer Tour of Homes! Enjoy!
Monday, June 2nd
The Shabby Creek Cottage
The Nester
At The Picket Fence (Vanessa)
Thistlewood Farms
The Inspired Room
Tuesday, June 3rd
The Handmade Home
My Fabuless Life
Finding Home
In My Own Style
The Hunted Interior
Wednesday, June 4th
Inspired By Charm
Jennifer Rizzo
Madigan Made
Makely School for Girls
Funky Junk Interiors
Thursday, June 5th
Jones Design Company
Beneath My Heart
The Pennington Point
White Buffalo Styling Co.
Southern Hospitality
Friday, June 6th
At the Picket Fence (Heather)
Desert Domicile
Tatertots & Jello
Home Stories A to Z
Live Laugh Rowe