Last year I confided to you about my desire for a secret garden. Before you look at the photo above and gasp and tell me how awesome it looks, that picture you see above is not mine. You can find mine below as it looked last year before I planted it. Mine is still in process heheh — as are so many things at my house. IF ONLY mine looked like that!
But I did plant a few things last year and made a bit of progress on the secret garden. I actually haven't worked on my secret garden yet this year other than to start pulling weeds, but I will say that I was thrilled to see all of my vines, roses and hydrangeas that I planted last year have returned this year!! Happy surprise, nothing died!
My grandma had a beautiful garden. While she lived in a nearly below ground apartment, she created the most beautiful hilly corner flower garden you ever saw as you rounded the parking lot corner and peered down into her small plot of land. Never mind that it was too dark and sloped to plant. She created a beautiful flower garden in that very "it's not possible" space that thrived for years and years. Perhaps that's where I was inspired to want a flower garden of my own.
I lived in one 1920s era house years ago that had many established cottage flowers. It delighted me so much each year to cut my own roses and other flowers from the garden. I always imagined the woman who planted all those flowers and how much happiness they brought her. She may never have thought about the future ladies of the house being so grateful for the beauty she planted, but it was a gift!
Because my house now was a boring suburban plot of land with no charming anything to be found or discovered, it is up to me if there is every going to be anything of beauty here.
So now I envision plenty of flowers to cut and enjoy in my secret garden. Even though I have a very VERY small space for it and limited time to work on it, I dream of it being a perfectly charming place to stop and smell the roses. A place where I could invite you for tea if you were to visit! It might take me years to get it right but if we live here for the long haul, it will keep me plenty entertained every season just trying to make it a little more beautiful. I will enjoy watching it grow.  It's a slow process, much like the one we talked about yesterday in decorating a home. And even if we move before it is done, it will give another lady of the house a head start.
I spied this secret cottage garden on Traditional Home and it was too wonderful to not share. There are more pictures of this lovely garden on Traditional Home. I hope it inspires you as much as secret gardens inspire me! I ADORE that charming little garden house! What fun it would be to putter around in that potting shed!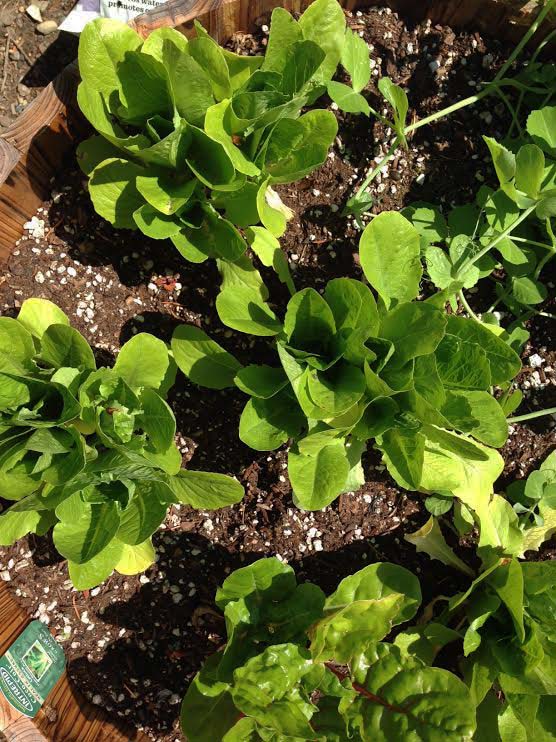 PS. Remember when I said I was going to plant my first vegetable garden? Well, I did! And, we had our FIRST TASTE OF THE LETTUCE WE GREW OURSELVES! It was delicious on our BBQ burgers last night. See my cell phone snap of the lettuce in my whiskey barrel garden?  I'll share more of our garden progress and the secret garden soon. #highfives #livingofftheland
Are you planting or tending flower or vegetable gardens this year?