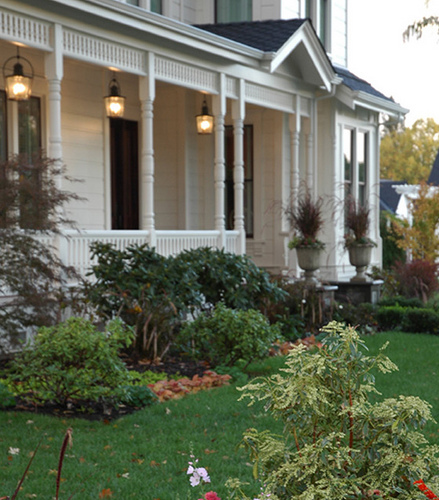 Farmhouse Style Cottage
No, this is not my new house! Nice, though, eh? I found this lovely Dream Home on HGTV.com and paused for a moment to enjoy the beauty. Of the many styles of houses I love, I have a white farmhouse in my mind as one of my potential dream houses. Silly, as I have never wanted to live on a farm. But I am drawn to farmhouses. The gorgeous front porch and details of this beautiful home got my little heart jumping for joy.
As many of you know, right now I am sitting among hundreds of boxes getting ready to head to a new home and a new life. Six days from now I'll be spending my first night in a brand new house! We FINALLY signed the papers and things are finally feeling more settled. No more wondering WHERE I am going! Hooray! It isn't a dreamy farm house like this one, but it will be our home, God-willing, for many years.
I was thinking today that my dream home is the place where my dreams and reality come together. While I might have all sorts of fairytale notions about dreamy places I'd like to live, there is no place better than HOME. I'll share more of what went into our home decision this time in a future post. I can tell you it is different than anything I have ever lived in before! Yet, I was unexpectedly happy with our choice!
I can't wait to invite you all over, through the power of blogs, to my new little corner of the world. It will be fun to tackle setting up a home with all of you a part of it every step of the way! Thank you all for sharing YOUR little corners of the world with me over the past year!  You have inspired and encouraged me more than you know.
Photos: HGTV
If you love this house, you'll think you died and went to heaven at this cottage farmhouse!