5 Coastal Inspired Kitchen Decorating Tips!
This kitchen is TO DIE FOR. I posted a link to an amazing House Tour featured by House of Turquoise the other day, but MAKE SURE you go back to see the FABULOUS kitchen and all the amazing photos!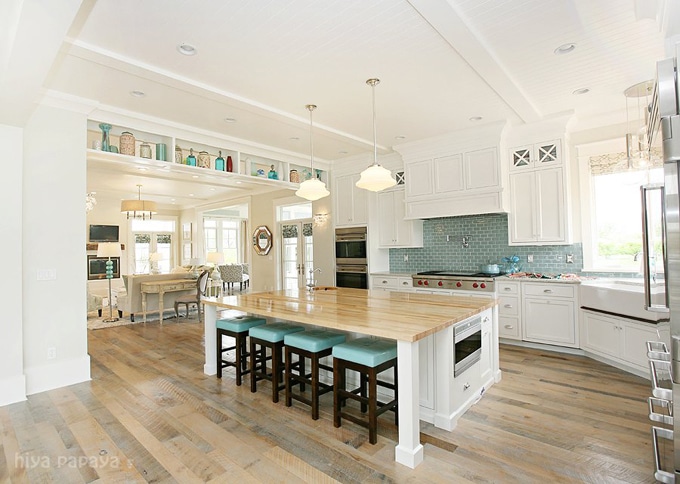 I had trouble keeping my eyes in my head and my heart from exploding from inspiration when I saw it. It has a recycled glass counter that I just ADORE. I'm not a fan of granite, so THIS kitchen counter made my heart do a few flip flops! You have to see the up close photo of the counter at House of Turquoise.. Amazingly beautiful.
Oh, and the  farmhouse sink! AH! Love it.
I'm sorry to keep posting about such a fabulous house. I know it is almost too much eye candy for one week. MAKE IT STOP! Maybe we'll have to find an ugly house to look at after this. You know, to balance things out a bit.
Remember my White Kitchen 5 Take Away Tips post?
Even if you think this kitchen is too beautiful for your budget, you can find inspiration for affordable 'take aways' to try in your own home!
This would not be THE INSPIRED ROOM if it wasn't for my absolute delight in finding inspiration in beautiful things! I  have a very old post on "Learning The Art of Design through Observation" you might enjoy looking at!

So let's think about this room, shall we?

5 Take Away Tips
1. DREAMY BEACHY PAINT COLORS
The wonderful beachy shades of blues and greens in this kitchen really set the mood.
2.BEAUTIFUL COLORED GLASS
Even if you cannot have a recycled glass counter top, you could add pretty glass bottles to your window sills or shelves bring the beauty of colored glass to your kitchen!
3. ECLECTIC MIX OF CHAIRS
The mixture of a bench and three different types of chairs add to the more relaxed vibe of the eating area.
4.VARIETY OF FABRICS
I believe I'm seeing three different fabrics on the roman shades. They all look lovely together and the fact that they don't match make the room all the more interesting and fun. Remember, things need to "go," not "match."
5.TEXTURE
You might not be able to include all the wonderful materials found in this kitchen, but you can find ways to add in some of the same basic elements in different ways to give a similar ambience. A beautiful wood table or sideboard from a yard sale or even beautiful wood bowls or accessories can be a texture substitute for the amazing floor, for instance.
What else do you see in this kitchen you could be inspired by (on a DIY budget)?
Be sure to visit House of Turquoise to see the whole kitchen tour (including the amazing recycled glass counters!) and the rest of the House Tour!
More Take Away Tip Posts:
White Kitchens: 5 Take Away Tips
4 Decorating Lessons from Anthropologie
Creative Curtain Ideas: 3 Take Away Tips

Learning the Art of Design Through Observation