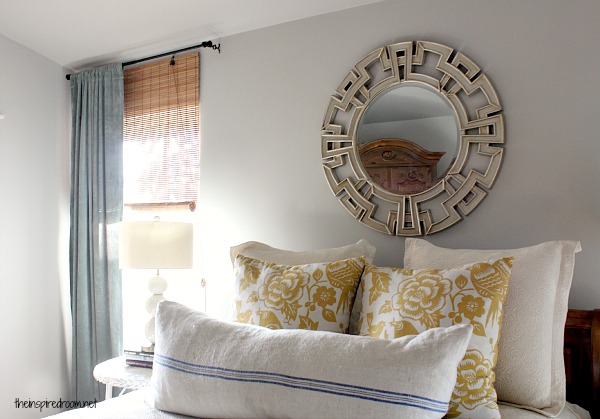 Four score and many moons ago, well, more like last June, I talked about updating my bedroom. Five months ago, we started many house projects. I have been on a mission to reorganize and redecorate my home to make it work better for us. And slowly but surely, we are making progress and things are coming together! YIPPEE!
Call me crazy for working on more than one project at a time, but I actually think it was a great decision for us and has worked out well for the long term. I'll try to explain in a future post why it has been good, but getting my rooms to flow together better and only buying what I love has been much easier when working on several spaces at once. I'll try to explain that process more in future posts.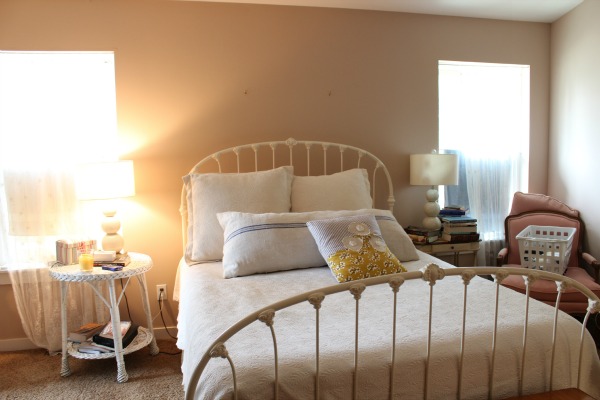 You can see how the room looked before. Kinda exactly like it looked when we moved in. Uninspiring. We just set stuff down, hung some ugly towels in the windows for privacy and moved on to other things.
It kind of drove me crazy knowing it could look so much better, but I just had too many other priorities so I simply averted my eyes when I was in my room. That is, until our 17 year old dog started having regular "accidents" on the carpet every day. ACCKKK!!!! Then, my sense of smell was involved. Averting my eyes was one thing. Plugging my nose was getting ridiculous, right? It was clearly time to refresh this room!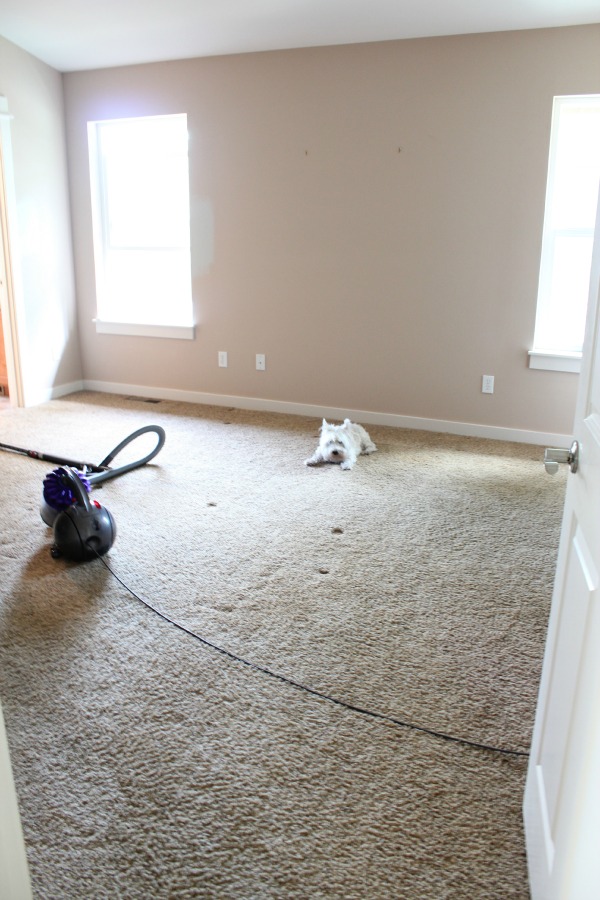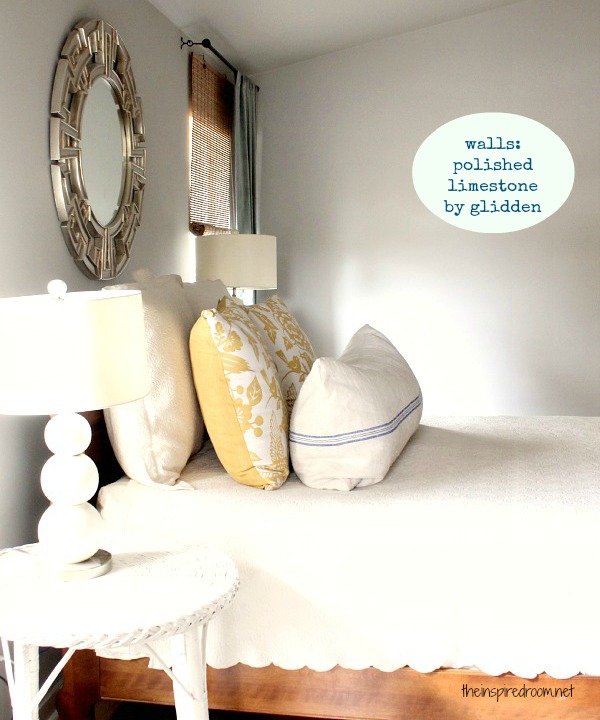 First thing we did this summer was to empty the room of all the furniture and give it a fresh coat of paint.
Buh-bye hideous swine walls, hello Polished Limestone by Glidden. It is a gorgeous soft gray with a hint of blue that is so soothing and pretty I can't stop staring at it! It sets just the right mood. We decided to paint the ceiling too in the same color since it is vaulted. The consistency really made the room feel like a cozy nest. Maybe someday we'll add a wood ceiling but for now I'm thrilled with how it looks.
You might remember I was working with Lowe's on a hardwood floor project in several rooms of our house and our bedroom was one of them! You got a little peek of the floors and room in that reveal post.
The wood floors made such a tremendous difference in how this room felt. Before laying the wood, Lowe's painted the subfloor with Kilz to make sure no odor would remain. Not only does it feel fresh and clean now, but the floors look fantastic! I'm so in love with them (Natural Hickory prefinished hardwood by Mohawk). I love walking around in my bare feet now! I'm excited to finally see my dream of a new house with charming features becoming more of a reality. I'm grateful to Lowe's for their support of this project!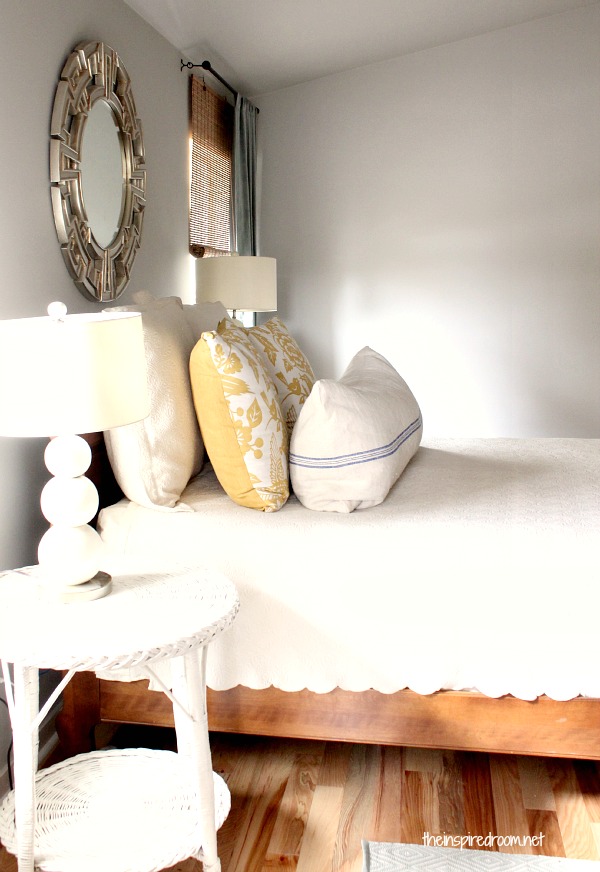 You might have noticed I switched beds! I didn't get a new bed, I simply moved my iron bed frame into my daughter's room/the guest room so she could have a frame for her bed. This sleigh bed was in our former guest room and because of its size actually works better in our room! Shopping the house is always fun when you can do it! And, in this case, it saved me some money! I love the textures of real wood in this room, balanced by the softness of my new velvety feeling curtains from World Market.
My bedding is still the same ol' bedding I've had for years and years. A matelasse coverlet and shams. They are such good quality they've lasted longer than I ever imagined. Again, money saved! Only new additions to the bedding are the two bird fabric pillows found at HomeGoods a few months ago. I already had the awesome giant grain sack pillow. I found the round mirror at HomeGoods as well, and used a gift card they provided me at their grand opening in my area to make it mine! Thanks HomeGoods!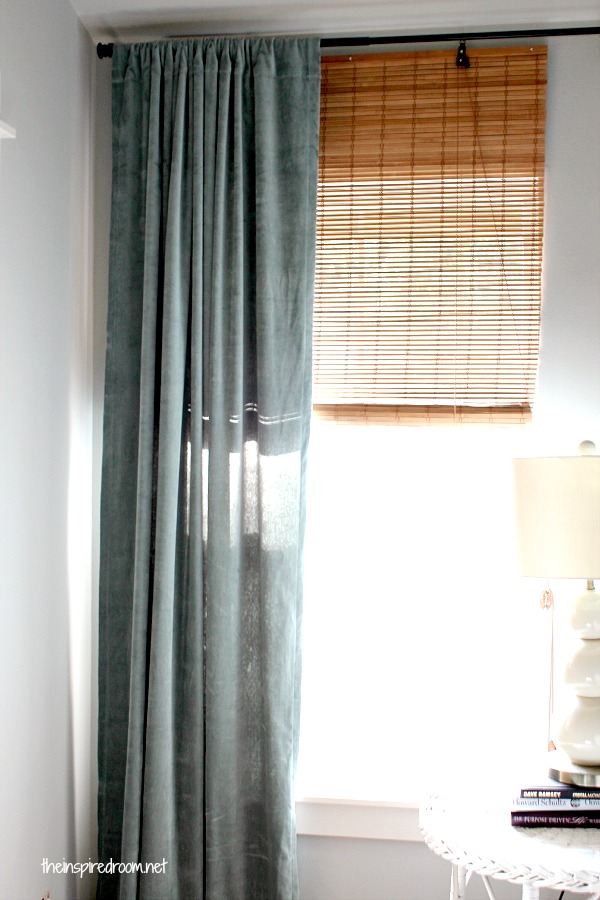 For light control I put up some bamboo blinds from Lowe's. They were so affordable and easy to install. And they work like a dream! I love how they roll up so you can see the roll in the front. Details, details but I love stuff like that! Layers and textures and details are my kind of fun. The blinds come rolled up in plastic and are called "HOME"  Style Selections (they have a bright green label that says Bamboo Rollup Shade).
I've been on the hunt for new nightstands. The ones I have are fine, but they are different heights so my lamps are all wonky and that kind of bugs me. I tried putting books under one lamp but then it felt kind of precarious. I was actually out looking for nightstands when I bought my settee instead! Ha! Does that ever happen to you? Oh well, I'm loving the settee so, back to saving money for nightstands.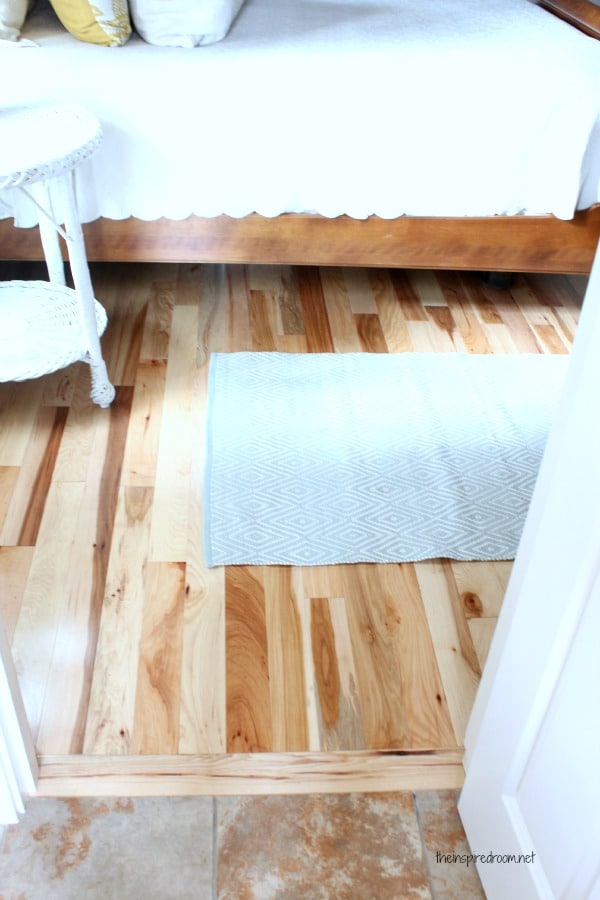 The fantastic blue patterned rug you see next to my side of the bed is a Dash & Albert rug that Wayfair provided to me (yay!). It was originally going to go in my entry but while we've been remodeling I thought I would put it in here for now. We don't want a full area rug because they are more maintenance since we have dogs, so a little one really suits us better.
We don't have very extensive shopping options here in our area (we live on a peninsula and often have to ferry over to Seattle to find things I like) so I've been doing more and more shopping online. Wayfair is a great online shopping resource, they have almost everything. I bought my entry lights from them as well!
You can also see in the picture above how the wood floors actually coordinate really well with the stone tile in our bathroom so that was a bonus too!
I have a fun plan for the long blank wall on the other side of the bed resurrecting something I already have once again, so you'll be seeing more of this room as it progresses! I'm really into adding new things layer by layer so I'm sure things will evolve more and more in time! But, I'm happy with progress and actually really love my room now!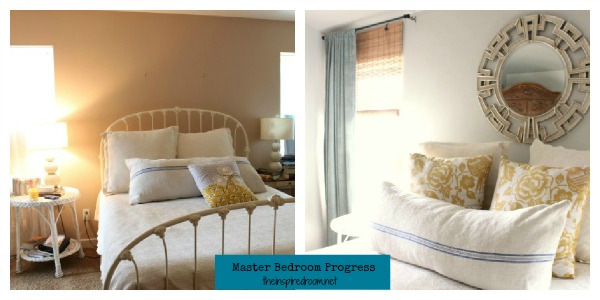 *UPDATE: See my bedroom in 2014 here! Here's a sneak peek >>