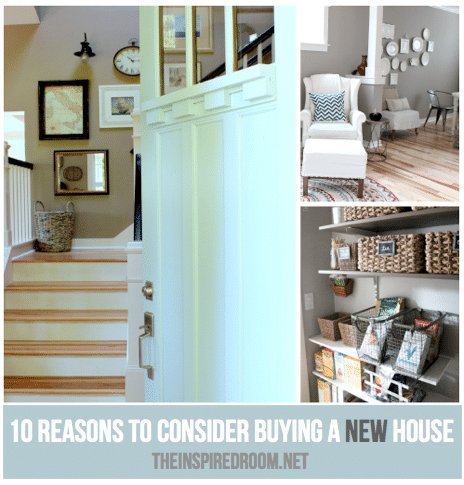 Lately I've been thinking back on our whole experience of buying and living in a new house. Was it worth it? How am I feeling about being in a new house? Did I make the right choice? Do I have any regrets? Honestly, there are so many reasons (and a few unexpected ones) why I'm really glad we bought new this time. I'm doing so many more things I've always wanted to do, and many of them are made possible because we chose to buy a new house this time. What? I know! Who knew?
When we first found out we were going to move four and a half years ago, my goal was to find an older charming house, of course — because that is what I knew, loved, and was comfortable with. But once we got here and started house shopping, we realized that was not going to be the right choice for us. Once we decided the area we needed to be in, the price range we were looking in, the move in condition we hoped for and the amount of time we would have to get settled in a home, it became pretty clear buying a new house was our best option. I was a little scared but I felt it was the right decision.
We toured so many new houses. And many of them didn't feel right to us, but we didn't give up. This was the first new house we've ever bought so we wanted to be careful to chose a home by a reputable builder in the area. We did our homework on what we needed to be aware of when buying a new home. And we thought through everything we wanted to do in the upcoming years and made sure we were buying a house that would accomodate our goals.
In hindsight, we are not only happy we made this decision for all the reasons we did, but there are a few other good reasons to have bought a new house we can see now as we look back at how it impacted our life.
So here are the 10 reasons I'm glad we bought a new house this time.
Obviously every house is different and not all new or old houses are the same across the country (and many older houses are affordable and move in ready thanks to wonderful previous owners!), but this is just our personal experience with this move, and what we've been happy about in our new house!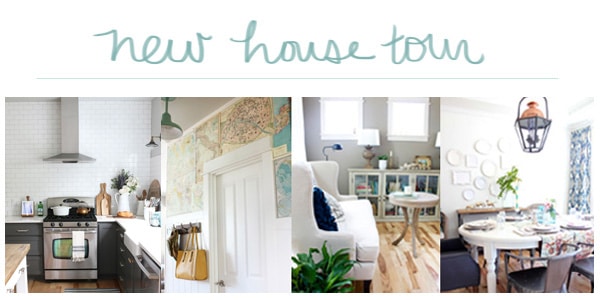 10 Reasons You Might Want to Buy a New House
1. The thrill of a want to do list.
In the past we've spent more time on a "have to do" list (repairs and safety updates) than our "want to do" (which involved pretty things and even travel and just having fun!).
That "have to do" list around the house wasn't the life I really envisioned for us this time around.  Yes, we have had to work harder than we ever have in our life (starting a church and running my business). BUT, we have also really enjoyed our "want to do list" thanks to less demands from our house. Even when we make updates to add charm to our new home, it is really fun to choose things we want rather than trying to make due after paying for so many necessary things. Best of all, the price tag for our "want to do" list has been considerably less than our "have to do" list ever was.
2. Energy efficiency.
We were surprised how affordable our energy bills are in this house! We are happy to report we no longer dread those winter energy bills. In our old houses we wore coats inside in the winter to save our heat bill. In this house, my favorite thing ever is that I sit comfortably by our gas fireplace without a coat on all winter long (well I do get up occasionally haha), and never worry about heat bill because it is so affordable. And best of all, I'm never cold! Being warm enough means I'm productive, comfortable and happy!
3. Safety.
Our new home is up to code and free of lead paint, asbestos and design features that are not safe. It's nice to be able to cross a few old worries off our list as life is stressful enough. Peace of mind in our home is important!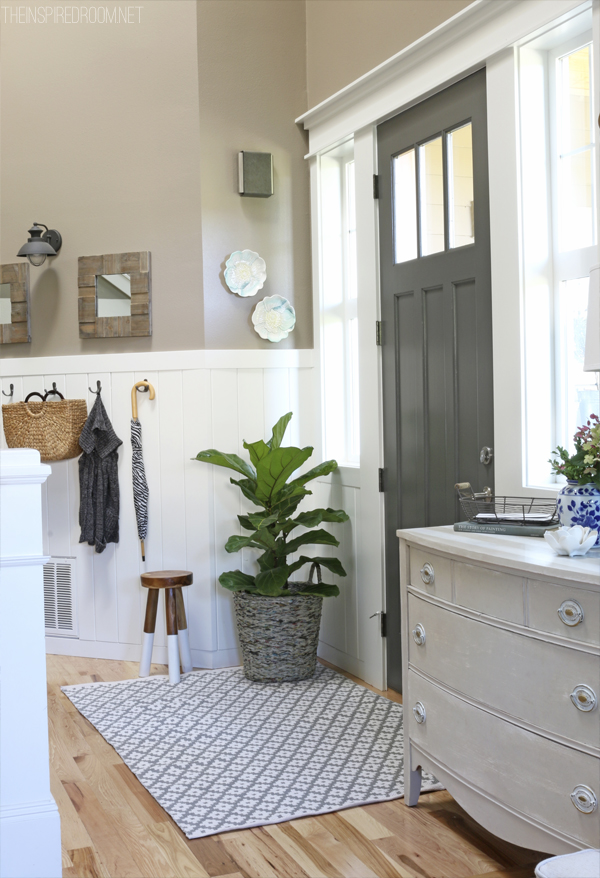 4. Less immediate out of pocket expenses.
Because we did our homework and bought a decently built new home, we didn't have to face any big repairs or remodeling costs in the early years of ownership. That was really nice for our pocket book as we got established in this new area.  Also our new house was already equipped for modern conveniences like electrical, internet and cable outlets and gas hook ups where many of our older houses required these updates in order to be set up to function with our modern lifestyle.
5. Time to focus on other goals and ambitions.
I love houses. For years and years, our house was one of our biggest time (and money) consuming projects and weekend hobbies. While we do still enjoy updating our home, we really aren't avid DIY'ers so the pressure is off with the newer house. We have been able to accomplish a lot of important things in the past three years we never would have been able to do if our time had gone towards to upkeep of an older home. We all only have 24 hours in a day, so every hour we don't spend working on our house or working to pay for it, means more time and money for other things we want to do in the world. It's awesome to have a well-rounded life!
6. Instant gratification.
I've always loved decorating, but so often in an older house that needs refurbishing (which unfortunately in the NW, the needy ones are usually the ones in our price range! You are lucky if you are in a more affordable part of the country!) there are so many things that need to happen before you get to that point of decorating. It was fun knowing in those first few years I could simply paint or furnish a room, rather than first having to strip 10 layers of paper or grime or replace carpet.
7. Ready to invite guests in.
If you've been following my blog all these years, you might remember that right away after moving in we invited new friends over to our house for dinner. That was our goal! There was no need to remodel or fumigate first — we had more time for people. Now I have to say that I believe you should never have to create the perfect circumstances to invite people in, but it sure made it easier on us to have a new house rather than one that needed a lot of work right off the bat. Our furnishings and home were still all in disarray after moving, of course, and our home was not perfect or amazing, but having things clean and new from the start definitely helped us to be intentional and focus more on others than our house right from the beginning.
8. Ability to personalize on a reasonable budget.
Because we are working with the structure of a new house, it is much more affordable to personalize. We could make some changes to our kitchen (you can see the kitchen remodel here) without having to buy all new appliances right now or deal with as many plumbing and electrical updates since everything behind the scenes was already up to code, appliances were still working and cabinets only needed paint (rather than all new doors and many cabinets). Definitely nice to be mostly just dealing with cosmetics these days!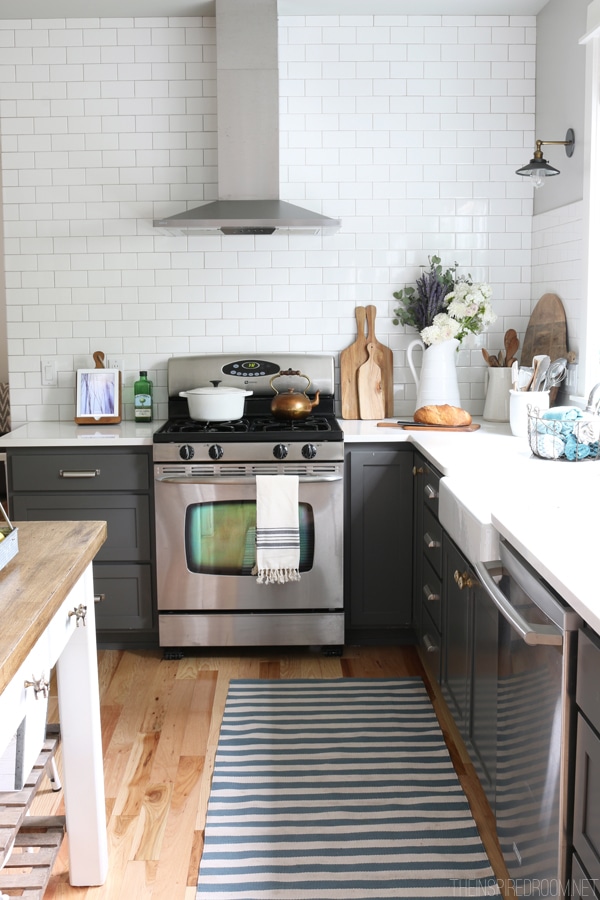 9. Standard affordable parts and repairs.
It is so nice to be able to run to a hardware store and find the part you need and look under the house or  in the "smart boxes" that newer homes have and see all the plumbing or wiring right where it should be (rather than find out it is hidden in walls you can't access or repair). So much money and frustration saved! It's the little things that make me happy. Haha.
I cannot tell you how many times we had to repair or update something in our old houses only to find out they don't make those parts any more, or it would be difficult to repair due to the age or layout of the house, or the steps to repair would require special costly improvements or unusual skills. Yes, many older houses have good quality features and there is something to be said about that, but in our case we can see quite a few benefits of the newer standard parts and ease of access for updates. SO nice.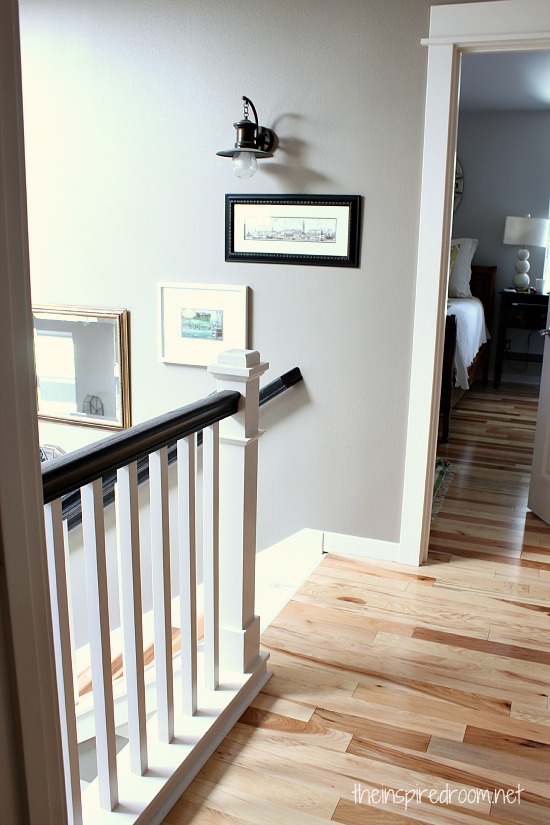 10. Modern layout and amenities. 
I love quirky old houses, but it is nice now having a home that is new and set up for the modern family. It sure makes living here quite comfortable. I love that we have big windows to let in a lot of light. Our rooms are more open to each other. We have a normal sized open staircase up to our bedrooms. Living in a new house means we have things like pantries and closets with ample storage and generously sized bathrooms with nice vanities. We have a walk in closet in our large master bathroom which connects to our master bedroom — no more running down the hall to take a shower or find our clothes in the cramped hall closet. We have a double garage for our cars junk.
I've loved many old homes and still have a great fondness for them, but after living here for four years I can definitely say there are some real advantages to newer homes that are worth considering. I'm very glad we chose a new house for this season in our life!
The only thing I would do differently if we ever move again and have the option is to buy a new house we can be involved with from the beginning, before it is built and decisions are made. THAT would be fun and amazing!
Have you ever built a brand new house or bought one? What are some of the advantages you've found to buying new?