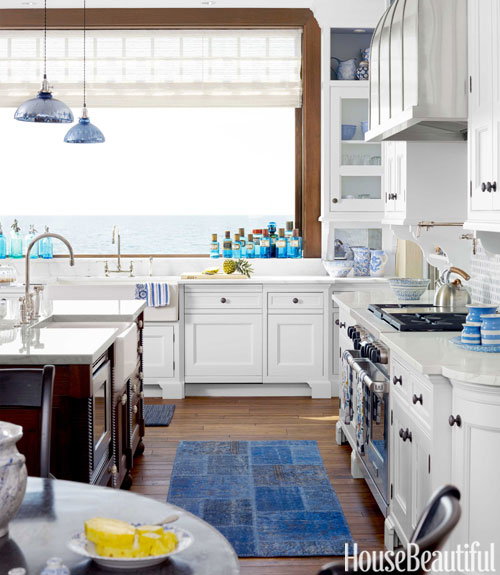 Blue & White Kitchen
I love kitchens. Have I mentioned that? I really think they are my favorite room in the house to design, as well as to BE in. I soak in so much inspiration from a pretty kitchen. Honestly, I would be tempted to move again just to get to design another kitchen for myself. Kidding. But not really. So many ideas, so few kitchens. And no, I'm not secretly planning a move. I'm happy here!
I think I love kitchens because there are so many design elements to capture my attention. I just like to look at pretty things! Counters and cabinets, knobs and sinks, faucets and lighting…oh my! My heart goes pitter patter. They don't even have to be fancy big kitchens to get my attention, small and charming works for me too!
Just a warning, if you invite me over and you have a beautiful kitchen I will not pay attention to a word you say. I'll be staring at all the details in the room and I'll be secretly hoping you'll leave me alone in there so I can stare and study each element without feeling awkward. Yep, I'm probably a kitchen stalker.
I just LOVE kitchens, I can't help it. I know what you are probably thinking right now, I'm sounding like the obsessed eHarmony cat lady on YouTube, except I'm talking about kitchens instead of cats! I KNOW!
So can we just talk for moment about the kitchen in House Beautiful this month? THAT VIEW. I die. Can you IMAGINE looking out at that view from your kitchen window? Doing dishes might even be FUN! Or maybe I'd be too distracted to do dishes.
And look at that gorgeous white cabinetry and the rounded shape of those fantastic counters? The wood trim around the window (THAT VIEW!), the base of the cabinets, the rustic wood floors, the dark wood island, DUAL farmhouse sinks?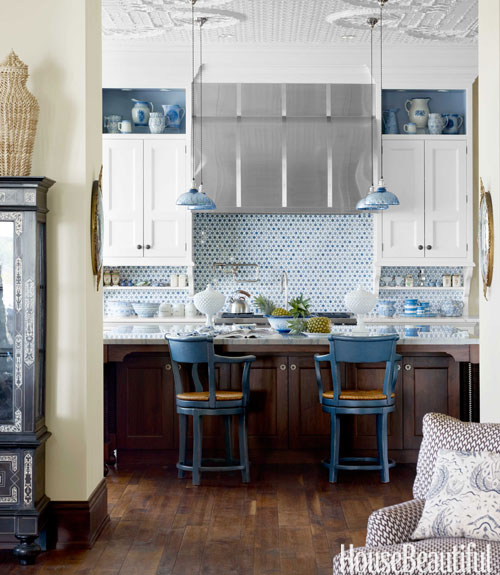 Blue & White Kitchen – House Beautiful
And look at that pretty backsplash tile and the blue barstools! Sigh.
But, truth be told, I am so happy with my kitchen. I'm very content right where I am. I feel so blessed when I'm puttering around in my kitchen! I almost don't even feel like working on other rooms in my house, I just feel so content in that one room. I would be happy in a two room house, as long as one of the rooms was a kitchen I could work on!
Do you have a favorite room in a house? If you could fix up only one space in a house, which room would it be?
Related kitchen posts:
Scroll through the kitchen posts on The Inspired Room
I love finding affordable "take aways" from kitchens:
Coastal Inspired Kitchen: 5 Take Away Tips
White Kitchen: 5 Take Away Tips
Have you checked out Room Tours? Blogger Kitchens!