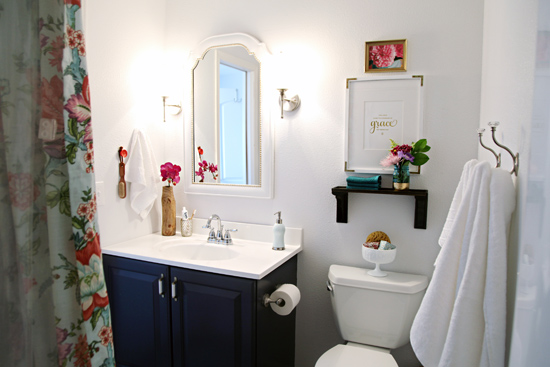 Lately I've been thinking about starting a bathroom makeover.
Maybe it is because I love my kitchen so much that I wonder what it would be like to love my bathrooms! Hmmmm.
I haven't done a real full bathroom makeover in SO long, maybe I'm just suffering withdrawals. We'll see.
I thought this was SUCH a fresh cute makeover from Jen at I Heart Organizing.
It definitely inspired me! She did the whole makeover in a week (what?)!
Go see all the bathroom makeover details and more photos at her blog!
. . . . . . . .
***More featured inspired rooms***

Small white kitchen
Classic black and white bathroom
Check out blogger Room Tours here!