Iplanted a little garden in a few whiskey barrels a couple of months ago. Since I promised to check back in and haven't for awhile, I thought I would give you a quick update.  I planted some strawberries for the first time in two of the barrels and I'll just admit right now, I really have no idea what I am doing so don't judge heheheh. I haven't had time to even study what to do so I'm sure I've done it all wrong. But so far we've had a few strawberries and there are lots more on the way! I think maybe I'm supposed to pinch off those little blooms, so I guess I'll research it a bit more before I talk about how to grow them. Maybe next year, ha! I am definitely not an expert but I do love container gardens and just learn and make mistakes as I go!
Lily, however, enjoys standing by the pot sniffing the berries, so I'm thinking she is pleased that we are growing them.
I also planted a few barrels with organic lettuce and kale and some with herbs. We have actually already eaten most of the lettuce already so I can't show you pics. Oops, blogger fail! But the good news is we enjoyed growing our own lettuce and almost felt like we were living off the land (well, at least we were for a couple of weeks with lettuce) so next year I will definitely plant tons more! We eat LOTS of salad at our house so we will graduate to some bigger containers next summer. I also enjoy cutting basil and other herbs when I'm cooking. It's fun!
I was surprised by these snap peas, they grew up so tall that I had to put a trellis in the pot to hold them up! I just kind of planted things at random so everything that happens is new and surprising to me.
But it's fun to be surprised!
Jack and Lily have been having a great time playing hide and seek in the bamboo plants (you may have seen the post about it on Jack's blog). Jack thinks he's camouflaged…but alas.  They have so much fun playing together outside!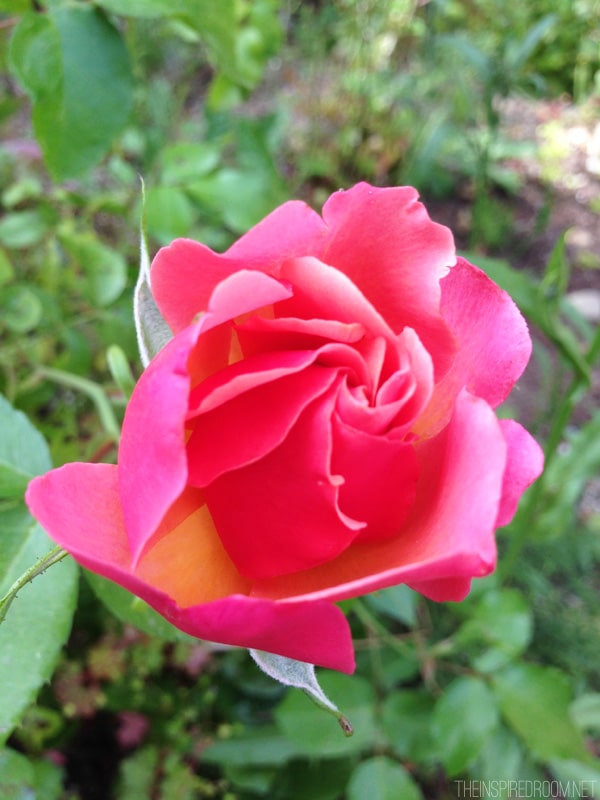 My roses are blooming and so pretty.  I'm not a rose expert either but I really enjoy having plants and seeing the flowers bloom. I love going outside to water them and trim out the old roses and do a little weeding. The roses smell DIVINE. I love bringing them inside.
These are actually climbing roses!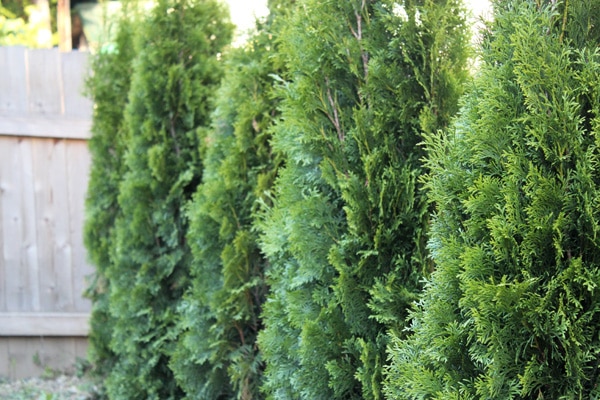 We planted a row of privacy trees to start filling in the backdrop of our yard along the fence. We got six or so trees at Costco at a great price. We still have a long way to go to get this formerly barren new house backyard to where it is the lush landscape I imagine, but one bit of greenery at a time! I guess I must be craving green inside and out since my last few posts have been about green?
All the other plants we planted last year are growing and doing well so far. Hooray! The white flowing tree is a hydrangea.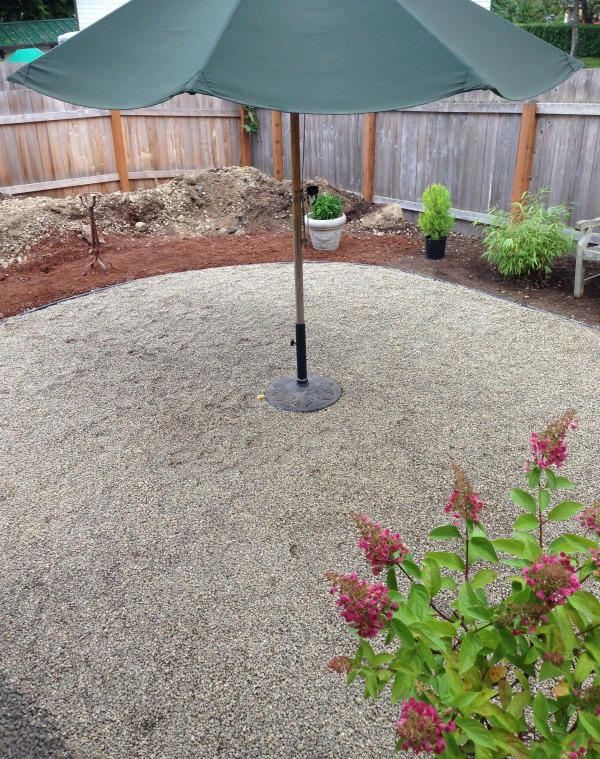 Here is what the patio looked like last fall right after we installed it.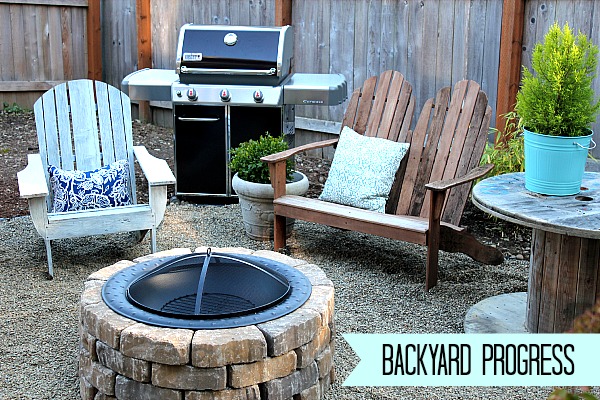 This backyard is definitely a slow going project. Our yard is full of rock so planting is more challenging than it should be. It's one plant a a time, but every little step makes a difference!
I'll take some new pics soon so you can see how far it has come now that we have more furniture out there and a little more greenery in the ground!
Meanwhile, if you missed the posts about the patio last year, you can find them here:
DIY Firepit & Backyard Progress
I'm a wee bit in love and inspired by my friend Sandy's backyard garden. It's magical! I've sat in it in real life and it's amazing. You can find her spring garden update here, and a whole bunch of gardening posts here.  and her sweet Fourth of July backyard getaway here!
PS. I have some great gardening books on my shelf and I also put them in my Amazon shop! Now that I have my own garden space I actually need to read the books and get some tips!
Happy Tuesday! Have you been out working in  your backyard?