Ladies. I am pleased to announce that swine has been eliminated from the walls of one more room in my house. Our laundry room has been pretty much neglected (in the design department, not in the amount of laundry that has been done here) since we bought this house. There was nothing horrible about the room at all, which is why it's stayed the same for all these years! It worked. It was functional. It was used. It is just that it was, well, swine-ish.
We decided we were ready for a little refresh, and the things we wanted to tackle were the fluorescent light, the unfortunate and most embarrassing state of our laundry sink which you'll see at the end of this post, and of course the offensive fleshy swine color painted on the walls. But all in all, this room doesn't need much to make it better than it was. If I could double its size, I would. But it's got a window and a closet so I can't complain. This is just mostly a paint refresh, so easy peasy!
My husband sanded down the cabinets last week, bless his heart, and painted them a pretty fresh coat of white (Dove White, the Benjamin Moore formula mixed in Glidden paint). We decided that a simple white palette would work best for the backdrop of this room since it is so small. We may change the cabinet handles in the future, but for now they original ones will serve us just fine and save us a little cash.
Our new light has been delivered and is waiting to be installed! We chose the Wallaby Flush Mount from Barn Light Electric and went with a fun emerald green color — to add a splash of something colorful and unique! The photo above was photoshopped for us when we were deciding on colors so it isn't an exact photo of the fixture — please keep that in mind. The color may be slightly off, but that's the general idea of the look! We cannot wait to get it hung and see that pretty pop of green on the ceiling. I'm not a fan of fluorescent lighting at all.  With a nice big window for natural light, our room will be plenty bright without the fluorescent. (If you missed it, I shared my inspiration for green industrial lights here).
I'm excited about the light because it will add a charming feature to our space and give the white laundry room a little more personality!
As a reminder for those of you who haven't been scouring my archives for before photos of this space (heheh) here is what the laundry room has looked like (minus the dirty clothes) for all these years.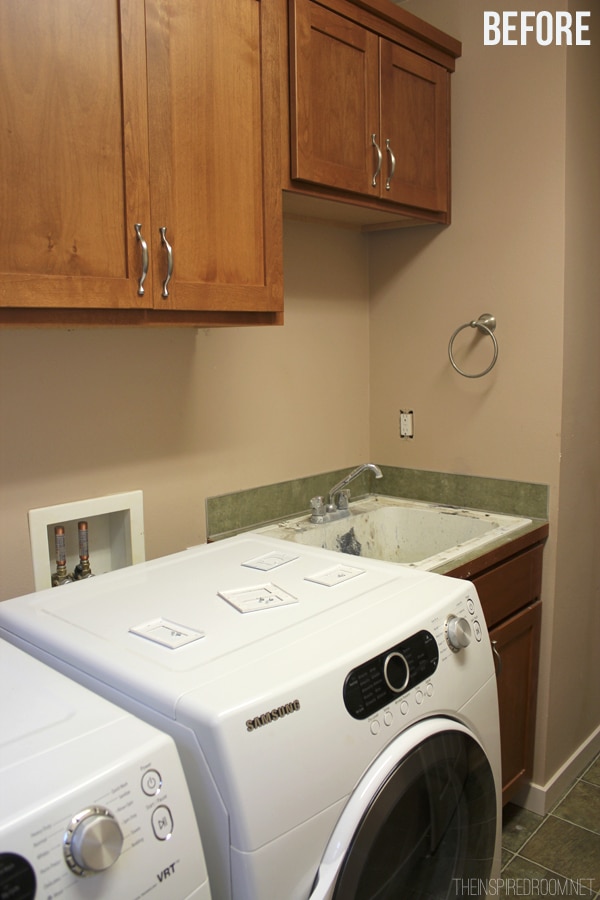 Inspiring, no?
Our laundry room is on the second level, in the same hall as our all of our bedrooms. I love the location of it. It makes keeping up with laundry pretty easy and contains it all to one level. After years of doing laundry in a basement, this was like a little slice of heaven. Swine heaven.
Now, for the reveal of our sink. Lovely, isn't it? Inspiring? You know you want to pin this to your laundry room inspiration Pinterest board. I realize I didn't really need to put the 'before' label on that picture…I mean, seriously. What if that was the after? Yikes.
This sink is clear evidence to the amounts of rooms and furniture we have painted since moving into this house. Good times. Yes, we could have done a much better job cleaning the paint while it was still wet…woops. Fail. But since these sinks are pretty basic and inexpensive, and we're not interested in taking a lot of time to scrub off the paint (if it's even possible), we will be putting in a fresh clean one next week to replace it. It won't be fancy, but clean and functional is our goal here for the time being.
We plan on hanging our ironing board on the opposite side next to our little white glass cabinet where we keep cleaning supplies. This will be a fairly small makeover, but a little has already gone a long way in making this space more enjoyable to use!
What's left of the swine now, you ask? We have a slew of swine closets, and a swine master bathroom. I can deal with the closets, but the master bathroom is next on the list for new paint! Raise your hand if you're going to miss the swine! #notme
I'll share more progress once we get the new sink and light installed!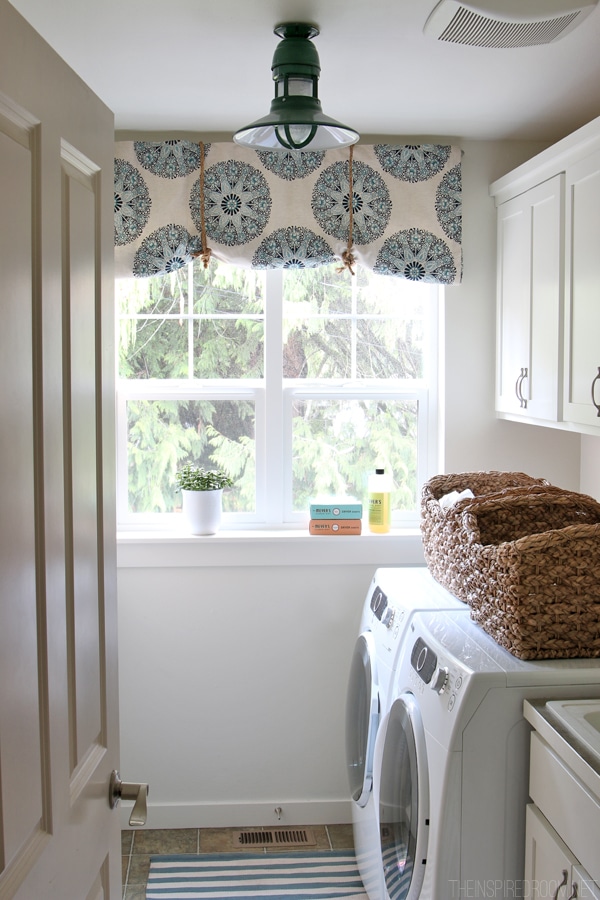 UPDATE: See the latest updates in this post and my DIY No-Sew Rolled Fabric Shade here!
Wallaby Flush Mount Pendant Details:
Shade Size: 12″ Shade
Finishes: 307 – Emerald Green
Guard Finish: Same as shade
Glass Options: Clear Crackle Glass
Socket Type: Standard Medium Base E26 Socket
Disclosure: Our new light fixture was provided in partnership with a favorite premier sponsor at The Inspired Room, Barn Light Electric.