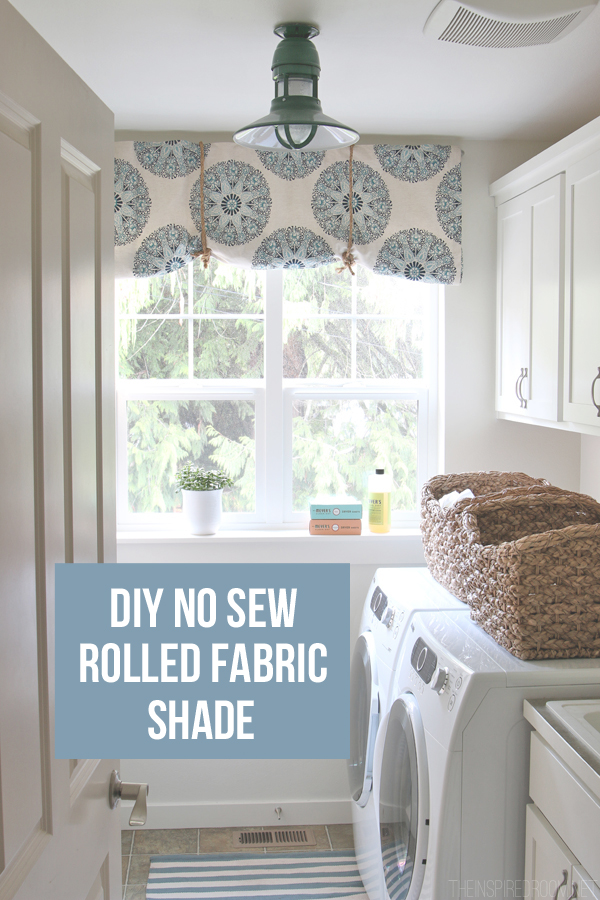 Thanks for all the nice comments on our laundry room progress! I'm glad you like it, I am so excited to be rid of the swine and feel like I have a fresh space to do laundry in! I promise to share more of the room as the details come together and I have a more "finished" room to share.
Meanwhile, I received a lot of questions on the shade so I'm happy to share a few more details! It is SO easy! It's not only adorable but it's NO SEW, NO STRESS and AFFORDABLE. THOSE THINGS ARE MY FAVORITE! You can have this shade up in a matter of minutes! In my laundry room, this is intended to be a stationary shade for extra pattern and softness on the window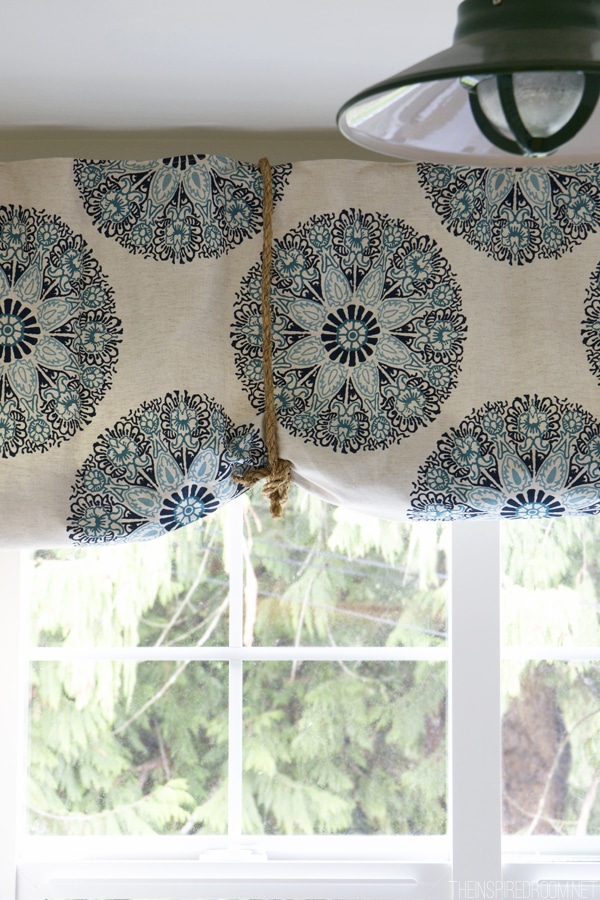 Here's what you need:
Curtain Rod

Any curtain rod will work, but we used this one from Target that is designed without brackets or finials. It is streamlined and especially perfect for a small space (and it will let the fabric look more like a shade, less like a curtain). You will hardly see the rod once you are done if you use this kind of rod!
Curtain Panel
We found our panel at Target, here's my direct link to buy it online. Or pick any pattern and color you like!
This is where you'll have to measure and then use your own discretion and judgement to adjust your fabric for your particular width and length of window.
You'll want to measure the width of your window and how much wall space you have available. Then you can determine how many panels and what width of curtain panel you need. Pre-made curtain panels come in various widths, often 48 inches or 54 inches. We used one 54 inch panel stretched out straight and we hung the rod a couple of inches outside of the window frame. If our window was wider, we would have used two panels or done some other modification such as folding the fabric and pinning it over the rod to make it work.
Of course, you could use regular fabric and just fold it over the rod or sew your own rod pocket or tabs.
Rope or ribbon

For the rustic look, we used rope we already had, but here's something similar.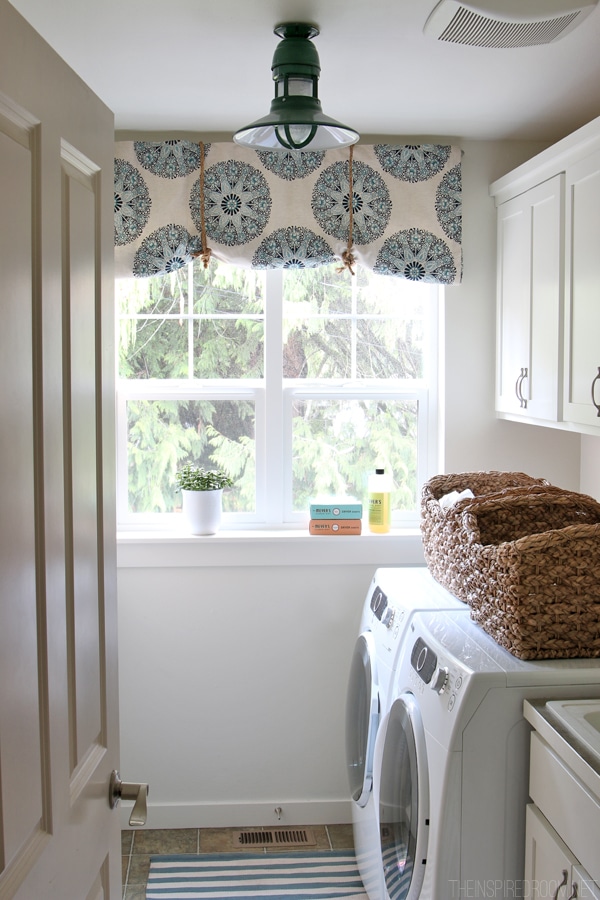 How To Make a New Sew Rolled Fabric Shade:
Step one: Hang curtain rod a couple of inches wider than your window opening, using wall anchors for stability if necessary. We were able to hang our rod up to the ceiling, giving the illusion of a bigger window and showing more fabric without blocking too much light.
Step two: Put curtain panel on rod and let the curtain hang down, covering the window.
Step three: Cut your rope or ribbon, perhaps about two feet long. You can trim the excess if necessary later.
Step four: Roll the fabric evenly (backwards), so the pattern will remain visible. You might need some extra hands for this step and especially the next one, depending on how wide your fabric is.
Step five: While keeping your fabric rolled (using an extra set of hands or pins) tie the rope around the rod in a knot or bow at the bottom of the rolled fabric.
Step six: Adjust curtain as desired. Step back and see how it looks so far! It's easy to roll the fabric a little tighter, higher or lower, slide the rope left or right and even adjust how the fabric hangs. If you don't plan to unroll the shade, you could even use push pins to help the fabric hang exactly right against the wall. If your rolled fabric isn't behaving, you could even roll your fabric around a lightweight dowel or cafe rod for added stiffness.
Step back and admire your new shade! :)