Whether you are already decorating for Christmas or still just looking forward to Thanksgiving and savoring the last lingering days of fall, it's that time of year when we really want to be inside nesting and getting cozy around the house.
Here are five simple ways to bring some cozy into your home right now and through the winter! Even if it is still 90 degrees where you are, I hope these ideas might give you a little bit of inspiration to do a little nesting this week.
Cozy Up the Entry
Take a look at your entry and front door. What could you add (or remove!) to make it more welcoming and cozy for the season? I love my hanging basket on the front door because it's the perfect size for gathering fresh greenery (or a mix of fresh and faux!). A furry blanket warms up the staircase or furniture, too!
Set up a Winter Baking Center
Do you do a lot of cooking or baking around the holidays? I don't bake a lot these days, but I do love a good meal and seasonal treats. I always find having a baking station set up ready to go helps inspire me! When I'm surrounded by my winter cookbooks and baking essentials, I'm much more likely to get in the mood to bake an old favorite or try something new. We set up a special baking station in each of our old kitchens and it is always one of my favorite spots in the house.
 You don't have to have a big or remodeled kitchen to enjoy a baking center, you can designate any cabinet or even a free standing piece as your baking center. I'm hosting Thanksgiving for our family in our new house and even though our kitchen isn't remodeled, I cannot wait to cook and bake some holiday favorites. It's just a cozy tradition to be in the kitchen baking and cooking together.
Layer Up Your Table!
Last year I fell in love with using these velvet table runners or fur blankets to add a really warm texture to our dining room. Dining rooms can feel kind of cold in the winter, so dress up your table with some extra layers. You can add appropriately scaled pillows and throws to your chairs, too, for a little extra cozy. (I got my velvet table runners at HomeGoods last year!)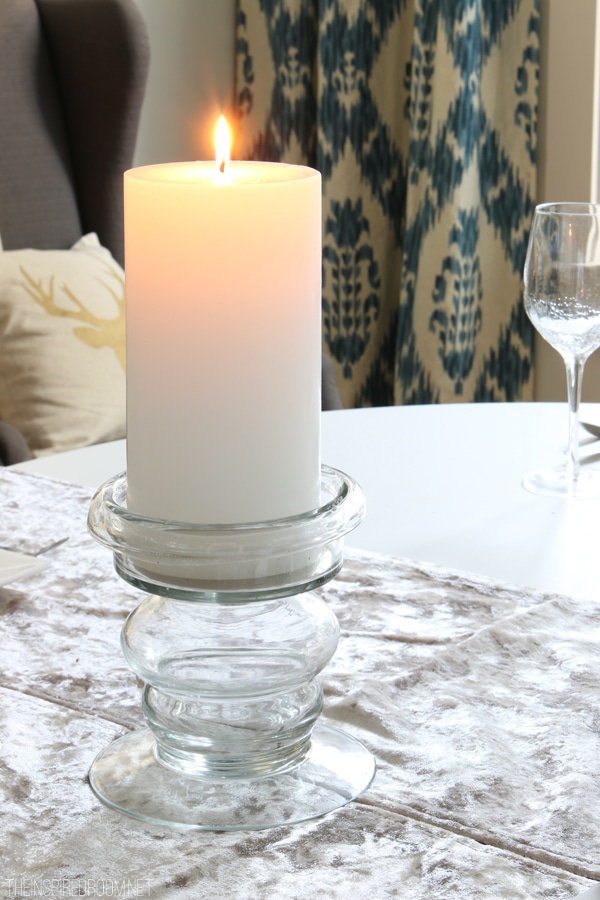 Evening Candlelight
Simply lighting candles (or using battery-operated candles) throughout the house makes a home feel magical this time of year! We have battery operated candles that are on a timer so we can enjoy the glow of candles every evening.
Gather blankets
I started collecting cute cozy blankets a couple of years ago and I'm so glad I did! It's been so chilly around here I've been layering my beds and sofa with extra blankets so there is always one or two handy. I love to curl up in bed or on our couch and easily grab a blanket to keep warm in the evenings.
How are you adding cozy to your house?
Related:
How to Create a Cozy Guest Room (my guide on eBay)
Cozy Decorating: Orange and Red
25 Ideas for Christmas Decorating
Shop My House (furniture, lighting, accessories and more)
My Christmas Shop (decor, ornaments, everything festive!)