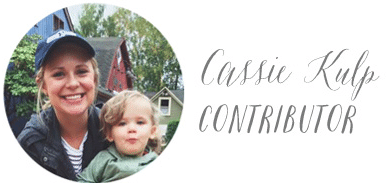 Hello Inspired Room Readers! It's Cassie here again. I am excited to be sharing the first of a three part blog series today. Although it feels like yesterday, we moved into our house just over three years ago. Lately, I have been reminiscing about our homebuilding process, the projects we have done, and thinking ahead to what we might want to do in the future.
 The exterior of our home midway through construction.
We live in an area that has pretty much only new construction or homes built in the last ten years. As much as I love older homes and their character and charm, I knew we would probably have to buy a newer home.
There are many pros and cons to buying a newer home vs. an older home (for Melissa's Top Ten Reasons for buying a newer house, check out this post). Buying a new/newer construction home has a lot of positives. There is less worry about the structural integrity of your home, water and electrical issues, and it is generally more turn-key. However, builder-grade homes tend to lack character, history, customization, and can have more limited options than if you were buying an older home and remodeling it.
There are definitely some tricks to know when purchasing a new construction home. Although I don't know all of them, I did learn a few things along the way. Here are some of the best and worst decisions I felt we made when we purchased our home:
Best:
We chose neutral finishes.

We were very lucky because we bought our home

right before the finishes were selected for it. This meant we got to choose almost all the materials for the inside of our home. We tried to choose a light, neutral pallet that would work with our style and what we had, and hopefully be something we could be happy with for a long period of time.

Lighting- or lack there of. We had the builder prewire lighting. We chose not to have the builder install kitchen pendants or a dining room chandelier, but instead prewire so we could pick something we really loved and install them ourselves. This meant spending less money and not having to settle for something we didn't like very much. 
We kept our upgrades minimal. We kept most upgrades very simple with the idea we could work on some things ourselves later. Builders tend to mark up everything, such as blinds, lighting, built-ins, you name it. We tried to only upgrade things that would be significantly more work for us, like the lighting, speaker wiring, and cabinets.
Our kitchen nearing the end of construction, with just prewired lighting.
Our kitchen as it looks today.
Worst:
The paint color we put everywhere. (See this post for more on this topic.) We didn't have them paint the ceiling and the walls different colors, but rather all a light neutral. It was much, much cheaper this way, but I now feel tied to the color of our ceiling, which has made choosing paint for various parts of our home more difficult. In hindsight, I wish we would have just chosen a truer white for the whole house. That way it would have still been more affordable, but also more versatile. 
The builder's can light choice. We probably couldn't have done anything about this, but the can lights in our home are these very hard to find high-efficiency bulbs. Every time ones goes out, I cry a little thinking about how difficult it will be to find and replace.
Pre-installed blinds. We had the builder install our blinds before we moved in because we just didn't want to have to worry about that right away. However, now I know we could have saved so much money selecting them ourselves. We also could have been more selective in what we put in- and the builder only had two options to choose from. 
So much greige! For reference, the color is Sherwin Williams' Accessible Beige.
I hope you find some of these tips helpful and can learn a little from my mistakes and experience. Next I am going to share a little of what we have done so far to create more character and warmth throughout our home. You can find that post here!
Until then,

More posts by Cassie:

Add Character to a Builder-Grade Home Part Two