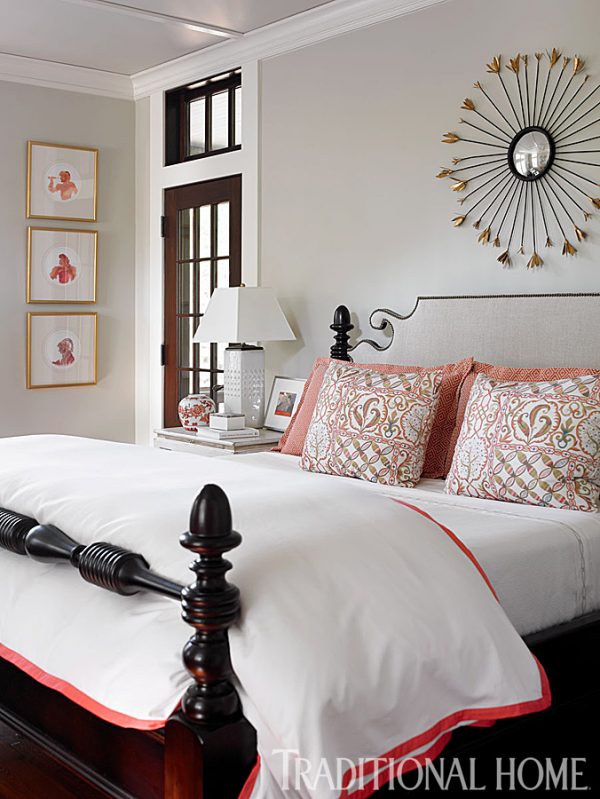 Pretty Bedroom Colors
Coral, black, and white / Traditional Home
As we are focusing for awhile on bedrooms in our Best of the Best series, I was thinking about the best bedroom colors. Of course, everyone will have a different description of what the "best" pretty bedroom colors would be! Your house, your lighting, your taste, your moods, your style, your room and your furniture can all play into your decisions for a bedroom color scheme.
Your bedroom should be your escape from the rest of the house (and the world), so most of all you should feel like it draws you there (whatever that means to you). Interestingly I find sometimes the aspects of a photo I'm really drawn to are not the same elements that I'm drawn to in my real life room. They might be the same if I pick a photo that has similarities to my space, but when you are actually in your own room you still might be working with or aruond other features or limitations.
Your own room has more dimension to experience than what you can see from a photo. Observe the size of your space, the angles and windows and textures and character. What works for your real life room is what matters!
Blue, white, black, green and pink / The White Buffalo Styling Co
Focus on taking bits and pieces and elements of any room you see pictured online or in a magazine to apply them to your space in a way that inspires you. Your room isn't just a pretty photo to look at when you head there at the end of a long day, it's a space that should nurture you and give you a sense of peace and rest.
Sometimes I find it is better to shut the computer down after I've gathered ideas from zillions of inspiration photos and just go with what my heart wants to see in the room that I'm in. My last bedroom was a gray/blue and it worked so well with our Hickory floors. Our new bedroom is painted a moodier charcoal plum! It's not a color I had have ever thought about using before. It (unexpectedly) just felt cozy as the room is so small and the rest of the house is so light and bright. I may get inspired to change it down the road and that's OK too, but I've never had a room I've actually loved so much, so no regrets.
Today I've gathered up a variety of pretty bedroom colors and color schemes that are all so pretty and fresh. Enjoy the rooms and think about what schemes you are drawn to and why.
What is it about each photo that inspires you and what parts of it would work (or would not work) in your own home? Then go stand in your own room and dream a little about what the perfect colors would be for your space!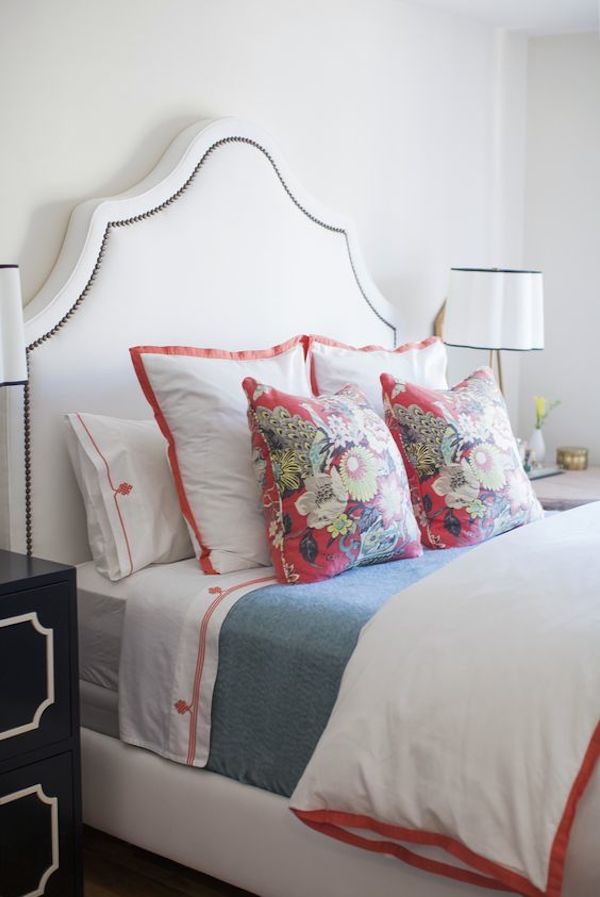 Black and white with coral and blue / Coco Kelley via Style Me Pretty / Photo by Katie Parra

Purple, blue and mint / Atlanta Homes & Lifestyles / Pretty In Prints June 2016
Sage green and white / BHG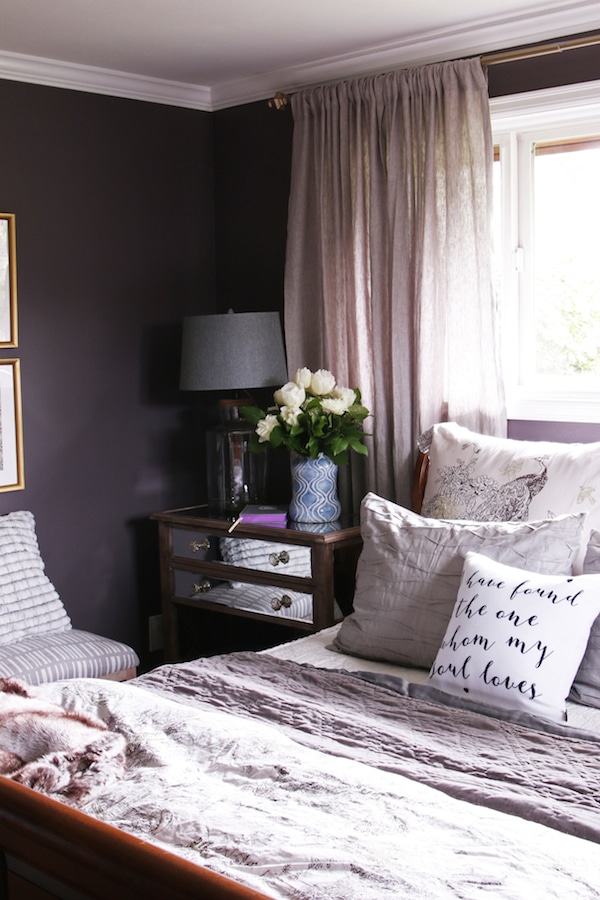 Charcoal-plum and neutrals / The Inspired Room

Dark teal green / Ave Styles / Photos by Rennai Hoefer / Rattan Bed Source

Orange, blue, white / BHG
Teal blue / Domino
Related Posts:
Best of the Best Bedroom Series: 9 Ways to Decorate Over a Bed
Best of the Best Kitchen Series