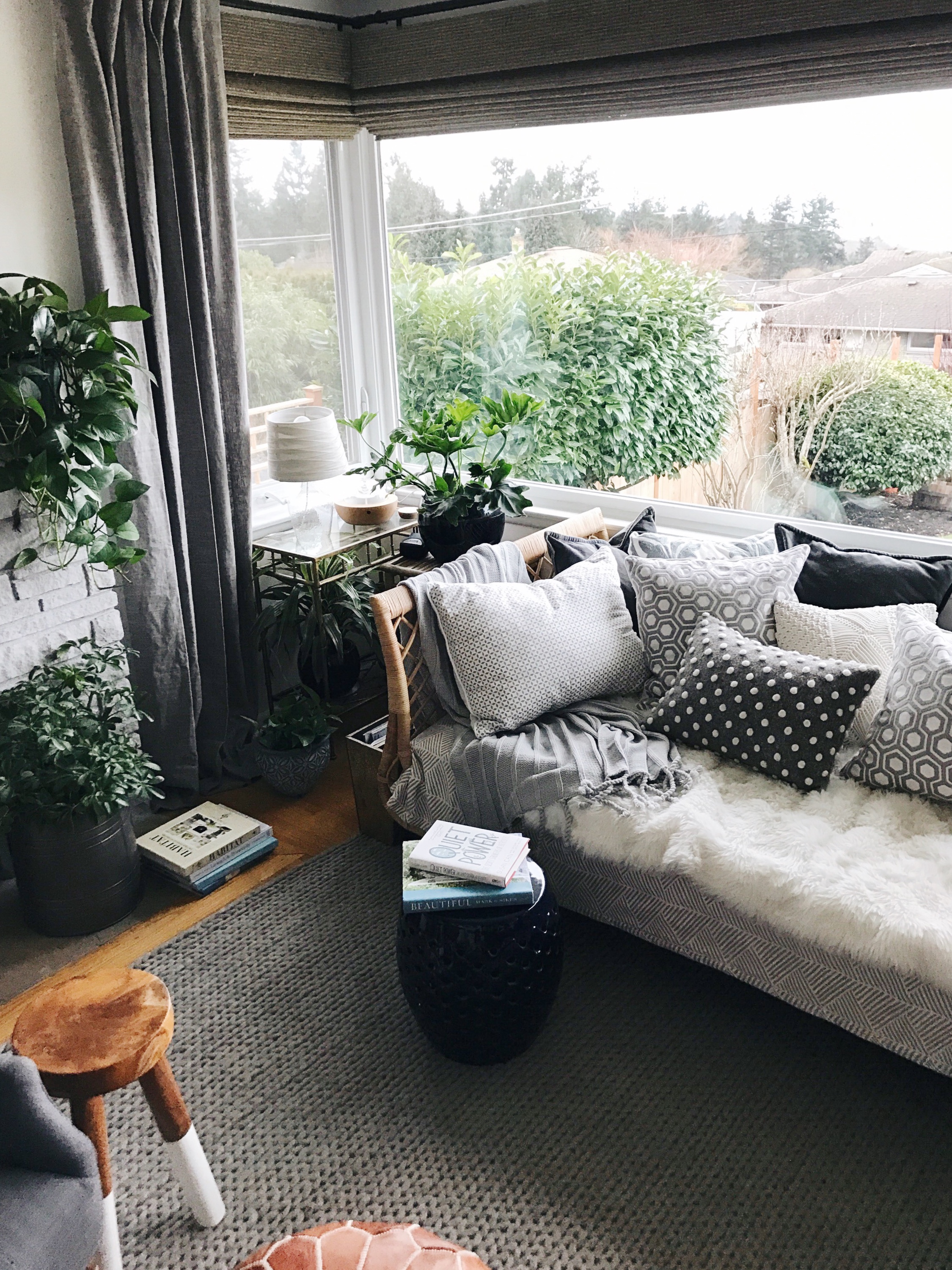 To order any window coverings from Select Blinds, be sure you use my special link HERE for the best possible discount! Plus if also put in my code INSP1RE5  you'll receive an *additional* 5% off the very best price offered anywhere!

Over the past year we've been slowly but surely working on infusing our own unique style into the architecture of this home. As I mentioned a few weeks ago, this summer we installed woven wood shades in our living room and dining room. We were pretty sure we'd love having shades, but we didn't know that we'd TOTALLY BE IN LOVE with how they'd impact the room.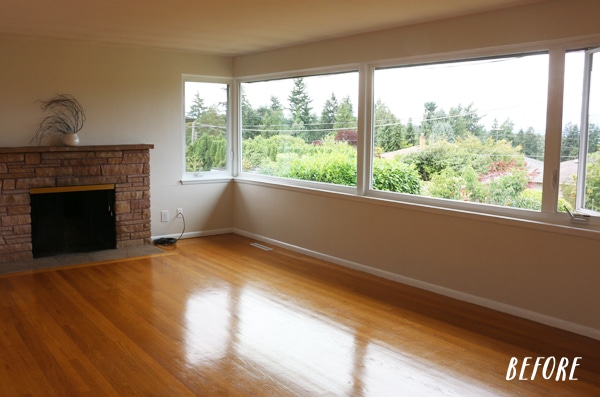 Remember where we started a year ago in this room? We haven't completed our plans for this room, but our new woven wood window shades really helped us take a step forward in making this house feel more like our home. Painting the fireplace was a great project to help us get started reimagining our space, too (find that quick makeover here).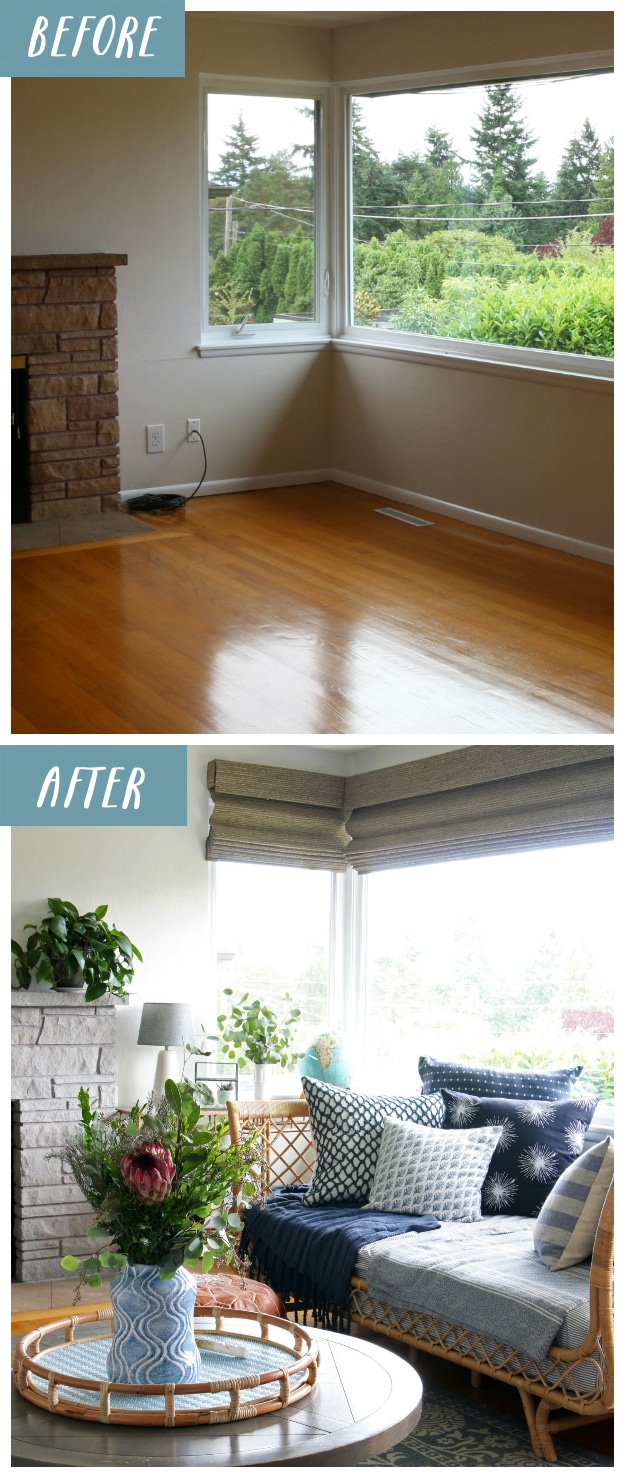 Of course, having our brick exterior painted last week was really significant style changer (have you been watching my Instagram stories to get sneak peeks?). And our upcoming 'coastal farmhouse' vibe for our kitchen remodel and the cottage-style Dutch doors will be giant leaps towards a brand new feel to our house this fall. I'll have updates on all of those things soon, but today, let's talk about the shades!
The shades we selected for this room are the Good Housekeeping Woven Wood Shades in Bali Abaca which are a medium to lighter warm straw colored and gray toned mix. We didn't want dark shades, but wanted enough color in the wood so they'd offer more interest to the room and help balance the textural and organic feel of other elements nearby.
What mattered most to me in my choice was how I thought the room would feel overall once the shades were in place, with all of the elements together. I'm so happy that these make the room feel just right.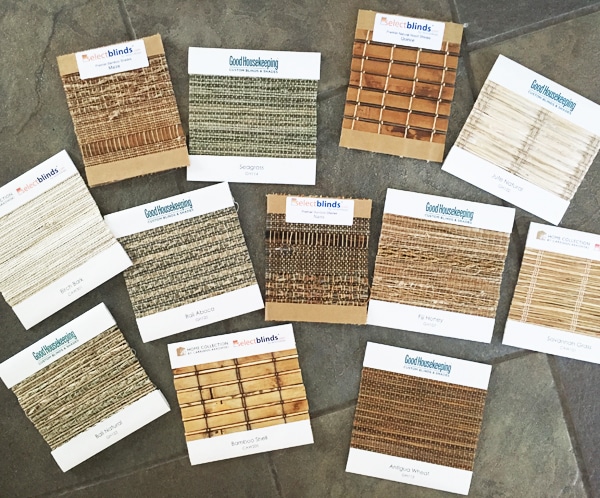 You can see the shades we selected in relation to some of the other contenders we got samples for above (it's the Good Housekeeping sample, second row down and second column over from the left). Some felt too light for our room and some too dark, but the ones we decided on felt just right.
The clean design of beautiful bare windows can be so beautiful, but I love to live in a home that feels comfy, private, warm and full of organically interesting textures. My heart always does an extra flutter in a room with wood or bamboo shades, so I've used them in many of my past homes, too. They are always a classic look, either on their own or paired with curtain panels.
Style is really personal so you can feel free to choose a window look YOU love. That's the beauty of your own space, it's an opportunity to make it feel just how you want it to feel.
Our shades in the previous home, above, can be found here
You might remember the bamboo shades we used in my old house, too. I just always love the layered textured look. We didn't have as much sunlight streaming in our old house, but the shades helped with privacy as needed and just made the rooms feel more cozy and finished.
We would be pretty uncomfortable in our new home without window coverings in our main living spaces. Our living room and the dining room look out over some glorious sunsets, mountains and water views, but with the bright wide open views to the sunshine comes too much blinding light on a hot day. We knew there would be a lot of heat on a late summer day (and there was!).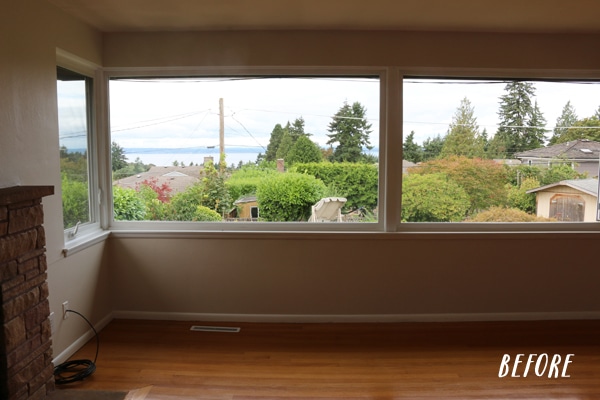 In the winter our large and wide windows across the back of our house provide much needed light therapy (we live in Seattle, in case you are wondering!), but big windows can also leave us feeling chilly or exposed. While we really don't have major privacy issues on those windows, I just always feel snugger and safer when I can pull down shades as desired.
We selected wall-mounted blinds for these rooms. They let in more light when in the raised position and offer more of the view because you hang them above the windows on the wall. Ours were placed slightly below the ceiling line to allow a little breathing room as well as leave a little space space to add a curtain rod or crown molding should those be desired.
Our shades are split into several different sections, allowing us to pull down only what part is necessary to avoid the glare (and only pull down as far down as we need to). Our rooms feel so much more comfortable with the shades pulled even a little bit if needed, and I know in the winter we'll feel a lot snugger, too.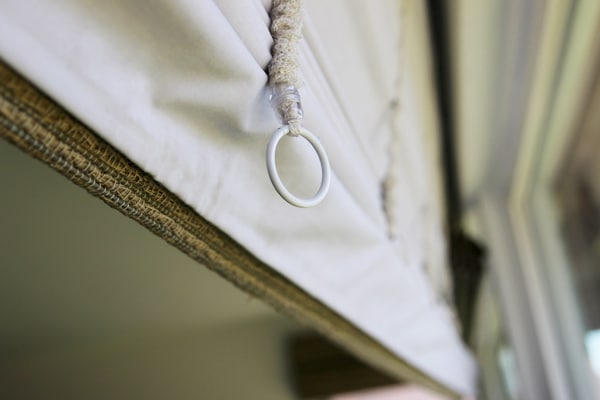 Unlike the shades we ordered for our last house, our new ones are cordless. I LOVE the cordless shades! Besides the safety of having no cords to put small children or pets at risk, the cordless shades can effortlessly be raised and lowered with a single ring in the center back of the blinds. Cordless shades also have a cleaner look (because you don't have the messy cord looping around a hook on the wall).
We really enjoyed being able to pull down the shades to keep the room cooler this summer. We helped control even more of the glare and heat by selecting a blackout liner, which is actually white fabric and looks fabulous.
The white liners look clean and beautiful from the outside, provide more privacy and in our case the blackout liners don't make our room feel gloomy at all because during the day we can choose to pull down only the sections of windows that are getting too much glare. We don't have to have a totally dark room if we don't want to.
Our blinds in our living and dining room are the Good Housekeeping Woven Wood Shades in Bali Abaca. Find them here. Use code: INSP1RE5
Our new shades were custom made to fit our windows so they fit perfectly, just as we hoped they would. I was actually a little worried we'd have trouble finding the right size, style or configuration of shades since we have such large windows, and two windows that are connected and one that is around a corner!
Even if you have unique window situations, don't fear calling them because the professionals at Select Blinds are really helpful! They eased all my questions about measuring and how they would hang properly, too. I ordered samples and even sent them photos of my room! They created the beautiful shades that fit perfectly.
I couldn't be more pleased with how they turned out. They are so easy to install, too (even for us as reluctant DIY'ers). We still have more windows to cover so I already have my eye on a few options I can't wait to order more this month.
Select Blinds also offers a variety of looks and styles as well as shutters for every room to help personalize your home.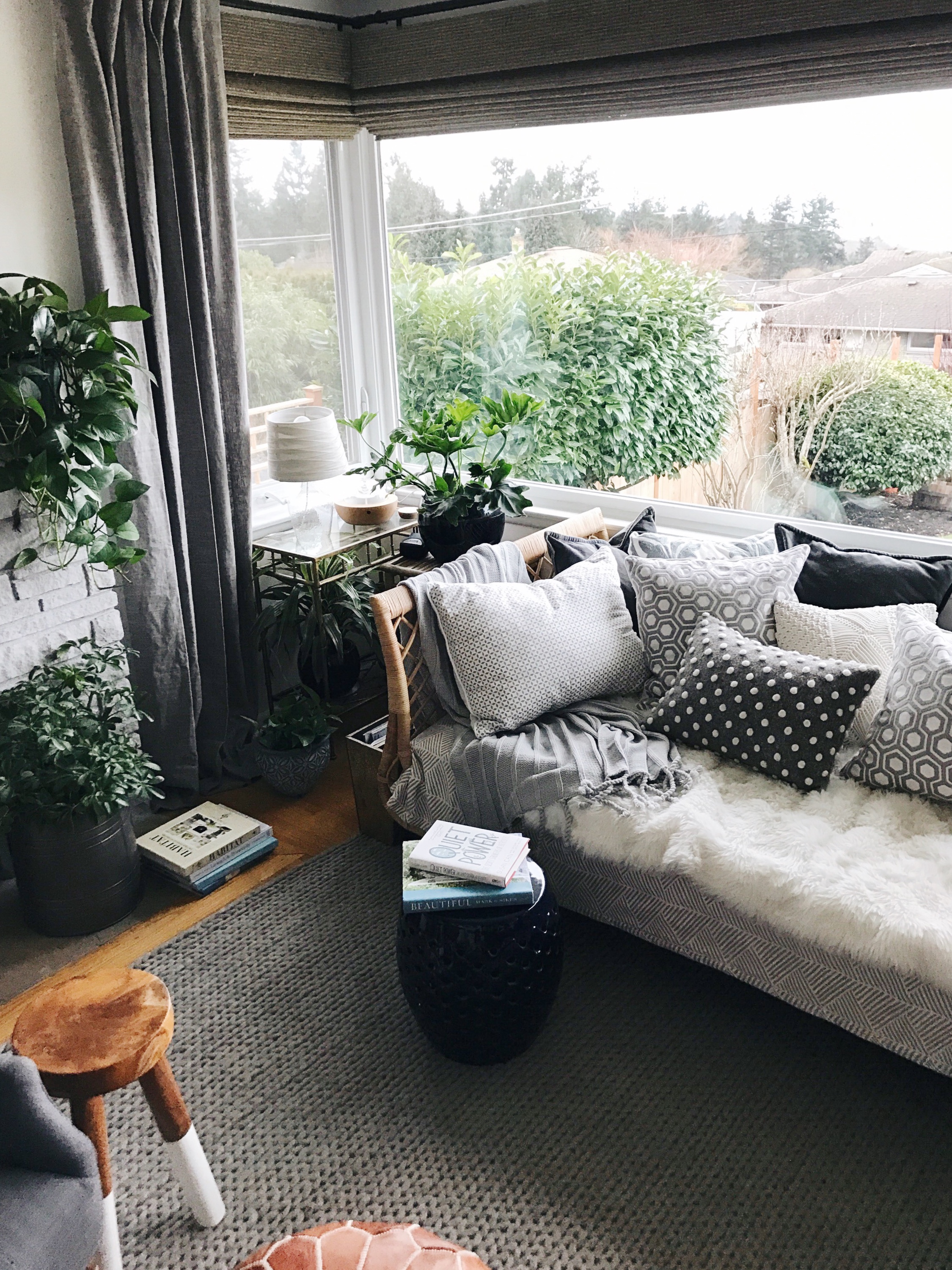 Woven wood and bamboo shades look great with curtain panels or without!
This is our updated space with curtain panels that soften the room.
HOW TO ORDER WINDOW COVERINGS:
To order any window coverings from Select Blinds, be sure you use my special link HERE to ensure you'll always get the best price out there. In fact, starting in September (right now) if you use my link when you order and use my discount code INSP1RE5 you'll receive an additional 5% off the very best price offered anywhere so it's THE BEST deal out there.
I have so much fun with each step of progress towards a cozier and more comfortable home, so thanks for letting me share it with you!


Related Posts:
10 Questions and Answers about My Bamboo Blinds and Curtains
9 Ways Blinds and Window Coverings will Transform Your Home
This post contains an affiliate link and my blinds were provided to me by Select Blinds.