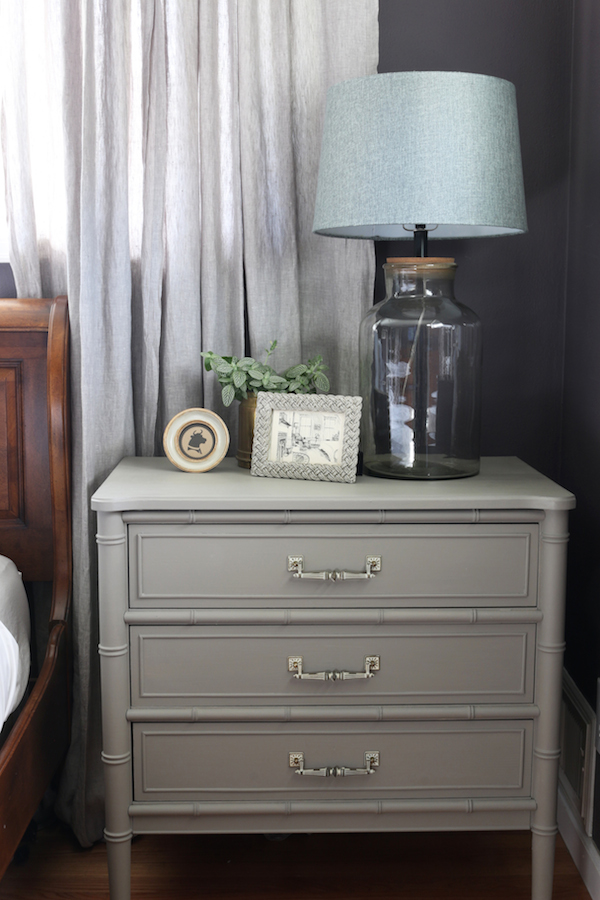 Painted Nightstand: French Linen Annie Sloan Chalk Paint
Months ago I found a mirrored night nightstand at HomeGoods for my side of the bed. Our previous nightstands were too big for our new little bedroom, so we had to start over. There wasn't a matching nightstand at the store where I was and I couldn't find one anywhere else. But I really wanted my husband's to be unique anyway, so I started searching for something he'd like for his side of the bed.
Before
It wasn't easy to find something that was the right size or height or that would be a good complement to my nightstand, but I finally found a vintage Henry Link three drawer dresser quite a few months ago (I found mine on One Kings Lane) that was almost right. The finish was originally super shiny and pretty yellow-ish so it didn't look right at all with anything we had in our room. But the size and style was good, so we decided that if we painted it, it would be great for our small bedroom.

Of course, we were distracted by other projects so we didn't get around painting it until a few days ago. As I mentioned, the surface was shiny, but we really didn't want to hassle with any sanding or primer because nobody's got time for that (at least in this house, ha). So, Annie Sloan Chalk Paint came to our rescue again! We last used it on our stone fireplace and it was wonderful, so we had confidence it would be the perfect choice to update our nightstand.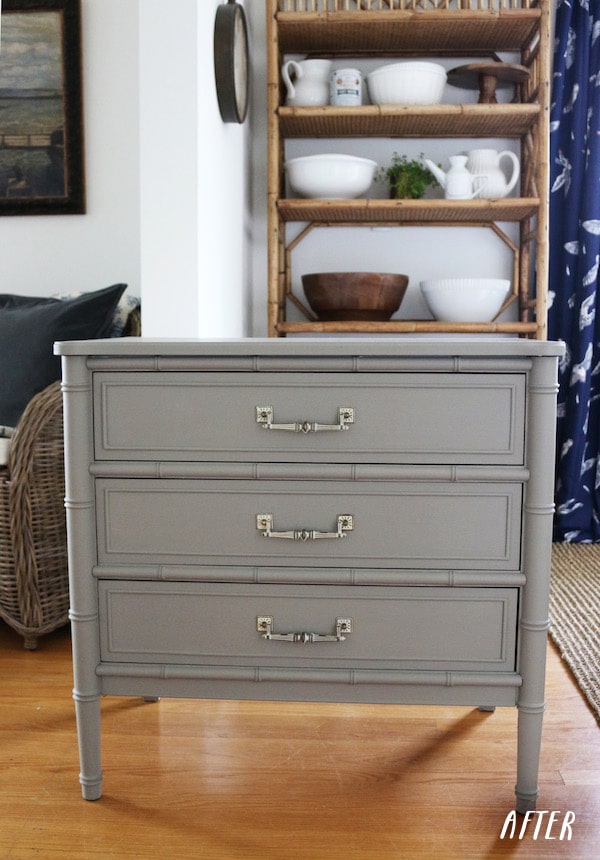 After
This time we tried a new color of Annie Sloan Chalk Paint, French Linen. We thought it would look especially lovely in our dark plum bedroom (Black Frosted Plum by Glidden) and would be similar in tone to my grayish wood nightstand. We couldn't be more pleased with the color or how easy it was to transform this piece! We painted on two coats of paint with a brush and then finished it off with a top coat of Annie Sloan's clear wax. If you prefer a shabbier look, you can sand some of the edges a bit after you paint it.
Little by little this room will get done! I'll share the entire room makeover so you can see all the details in one post when I get through checking the last few things off my to do list for this space.
Have you transformed any furniture lately?
More posts by The Inspired Room:
How to make your bed so it makes your day