This post is sponsored by Aquascape®.
Patio design and opinions are my own.
You guys, I can hardly contain my excitement. We have a new patio pond and bamboo pouring fountain ON OUR SIDE PATIO (and don't miss the giveaway for an Aquascape Patio Pond, below)!
Oh wait. Do you even remember our side patio? It's the area just outside our kitchen, beyond the Dutch door. I'll eventually do a follow up post with before and after images in one place, but just for frame of reference as you look at the rest of this post, go see where we started. I can hardly recognize this space!
door to the patio from our kitchen
Most of you have probably forgotten about this outdoor space or given up hope of ever seeing it again. It's fine. I totally understand. I almost gave up on it, too. It was not the smoothest of projects we've had done, so there were far too many hiccups along the way to continue talking about it.
It's still not finished, but, we were able to make it look a lot better than it did even a few weeks ago. And a patio pond could make any space better than it was, don't you think?
We've lived in this house now for not quite two years. Even though this space is just outside our kitchen door, we weren't able to really use it that entire time. When the sun came out a couple of weeks ago, we knew we were over dealing with an incomplete project and we didn't want to miss out on another season out here.
I'll explain more about the issues with the patio, what's left to do and I promise to show you more of the space and everything else (plus the before and progress) down the road another post, but incomplete and imperfect can still be beautiful enough to enjoy, right?
So that's exactly what we had the chance to do this past week. Seattle has had some glorious weather, y'all. While we had a pretty bleak gray winter even by Seattle standards, a week of sun made up for it all. It reminded us of one of the reasons we live here! The outdoors here can actually be nearly perfect. No bugs (well, an occasional bug) and no humidity around these parts.
We actually had sun longer than a week, so it was gratefully enough time to set up the space and really enjoy it for the very first time. Yes, we had to just avert our eyes from the undone and do a few quick creative concealments, but once we got past those inconveniences, we were determined to make this space prettier and more inviting.
I've decided in this house that "progress" is going to have to be the new "after."
I've always wanted a patio pond and fountain, so the visual of sitting outside by the sound of water became my inspiration to press forward and get this patio into shape.
Even though we live in a big city, we are in a very peaceful part of Seattle and on a really quiet neighborhood street. No traffic, no city sounds. Just the sound of seagulls making their way to the Puget Sound (which is in view beyond our backyard) and the birds chirping in the trees. It's really wonderful and we feel grateful to live here.
But we do have neighbors and one right on the other side of our fence. Because this is in the small space in between our two homes, I thought it would be nice to play up the private peaceful oasis ambience as much as possible.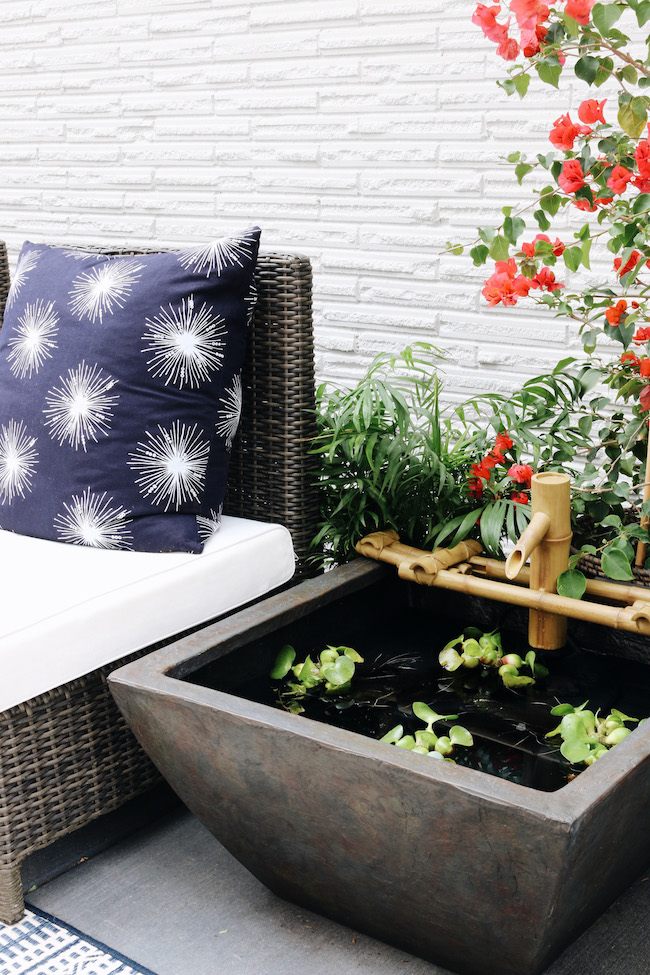 Plus, Jack (our six year old Goldendoodle) still has some social anxieties. Ha. He's always on the lookout for funny business. When other dogs walk by or start barking (even on T.V.) he loses is ever-lovin' mind, so I really wanted this to feel as soothing as I could for everyone's state of mind.
An Outdoor Room
My first plan of attack out here last week (after the concealments and clean up) was to set up the space like a real room! An outdoor room has similar elements to an indoor room. This will be a space we can use through the summer and fall, so unless it's going to rain a lot, we'll leave it set up as much as we can. If it rains I just try to bring in cushions. I've forgotten to bring them in (at our old house) before and they were fine.
We started with a rug (find it here) to define our conversation area. Then we pulled together our sectional (the same one from our old house, it's still in great shape other than we lost a couple of cushions somehow in the move). You can find this sectional here and other new versions here.
The pillows are a mix of old and new outdoor cushions. The blue star looking ones (above) from here aren't actually outdoor pillows (they could be, but I'm not sure), so we won't leave them out in case they fade. They are on the shadier side of the patio, though, so they are probably fine, too.
An umbrella brought some shade to the sectional and more privacy from neighboring houses, as well as acting as a "ceiling" to our space. I think a "ceiling" always makes an outdoor space feel more comfortable, so it could be an umbrella or a nearby tree, awning or pergola. Someday maybe we'll add a pergola, but for now, the umbrella works great. The umbrella also added personality because STRIPES!
Plants add flowers, greenery and texture (they are not all actually planted and will need to mature to get the full impact, but they make a big difference already!). Garden stools add function (where else would I put my coffee in the morning?).
You can shop all of the sources from this outdoor space here.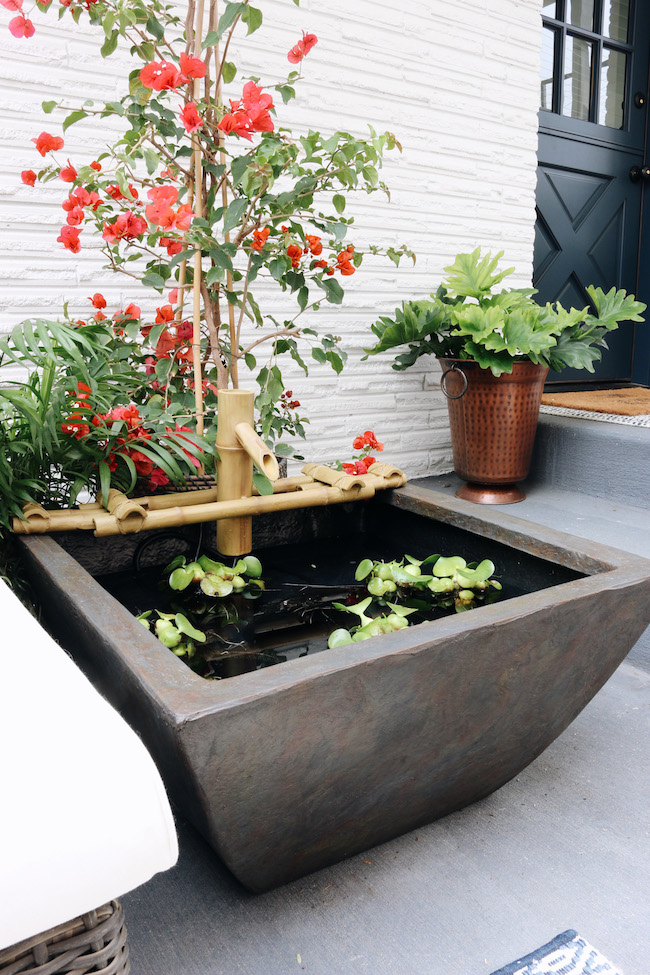 Patio Pond
But even more than all of these elements, I was looking forward to setting up the patio pond. It is really a beautiful focal point in this space! I can hear the bamboo pouring fountain from the kitchen, too, so it really invites people to come outside and sit awhile.
You can watch and listen to a short video clip to hear the sounds below (if you don't see the video embedded, you can watch it here).
This pond/fountain was so easy to put together. We're not skilled DIY'ers, so if we can do it, anyone can. Aquascape provides instructions with the patio pond and even a video for how to install it here, but it's basically a basin and a separate pump and spout that you just set in the basin. It's simple!
Decorate Your Pond
We actually have two similar but unique bamboo spouts with pumps we can choose from (you can see both in this post). I actually bought one long before we moved, before this side yard project ever got started. Yes, indeed, I've been dreaming about this fountain for a long time! You can put a spout at an angle or set it across the back, it's up to you.
The floating water plants came from our local garden store. You can add a variety of plants (the pond even has a shelf for plants, I can't wait to add more!). You can also add lights or even fish (follow the instructions for exactly what you'll need and how to prepare your water). Here is a video with helpful instructions! A patio pond really is a pretty cool feature in an outdoor space!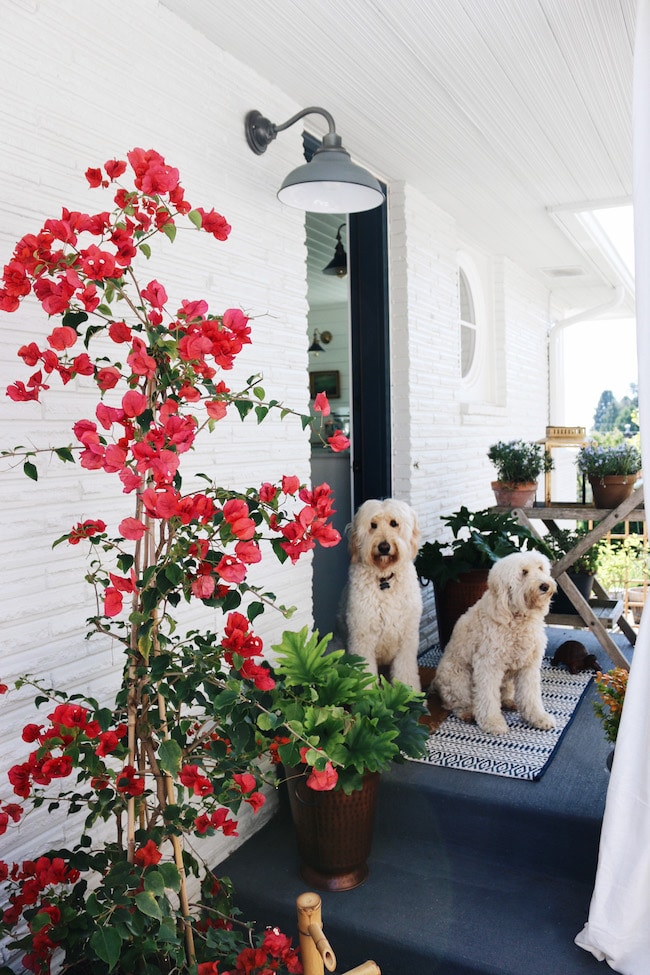 Don't let those innocent faces fool you. I don't think we can trust Jack (or Lily for that matter) with fish in a pond, so, enough said.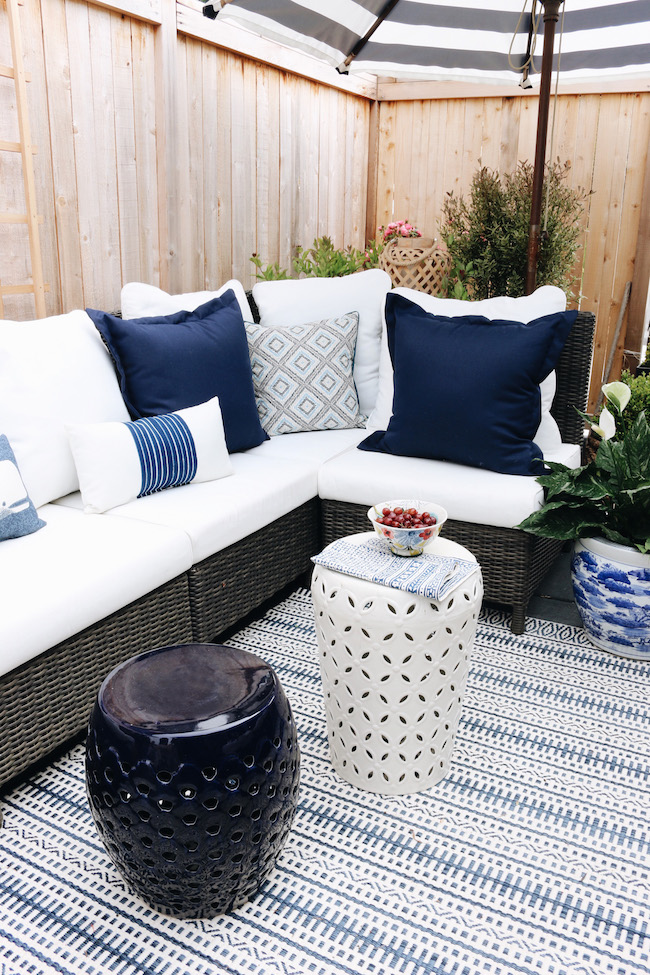 I know I will be out here all summer working or chatting or relaxing by the pond. This space is perfect for a morning quiet time space or for ambience during evening dinner, too.

We're so happy to have this space ready to use this summer. It's a dream come true for our whole family. I'll share more details about the patio in a future post.
ENTER THE PATIO POND GIVEAWAY!

Be sure to enter the Aquascape Patio Pond giveaway in my blog comments, below! You do NOT have to have a website or blog to enter (Winners can be from U.S. and Canada only). One winner will be selected June 15, 2017. 
How to Order a Patio Pond:
If you want to set up a patio pond and fountain of your own this summer, you can find details and ordering information from Aquascape (check out everything else they offer, too, including other types of fountains and ponds!). You can also find the pond on Amazon here (mine is the 27 inch in gray slate). 
Other outdoor sources from this post can be found below.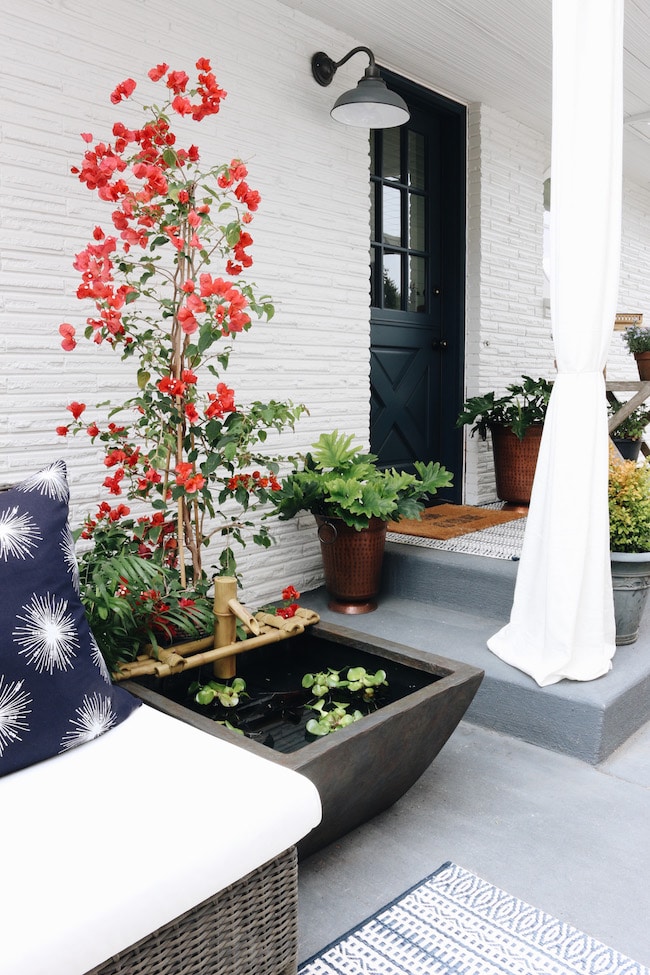 OUTDOOR FURNITURE AND DECOR:
You can shop all of the outdoor furniture/decor sources from this space HERE.
PAINT COLORS:
The house paint color is Reserved White Glidden and the Dutch Door is Blue Note by Benjamin Moore.
Related Posts:
P.S. I will share in much more detail on our patio project in an upcoming post, including the dyed concrete. Basically it was supposed to be dyed before it was poured, but in an unfortunate series of mishaps, only half of our patio was poured with dark concrete! The other half was white and had to be dyed afterwards, so YES, you can dye an existing patio! I'll explain how and what and the pros and cons when I get the next post ready!