When I was looking through my Christmas tour posts from years past to share in this post, one tour I didn't share on my list was this one from way back in 2013! I thought it would be fun to have a little five year flash back.
At least it is kind of fun for me to look back on some of my earlier tours because it reminds me that while we are in a completely different house, a lot of things sure stay the same!
Even though in blog or instagram-land "changes" in a home seem to be the norm (and I love change!), I can see in many ways I'm actually quite comfortable with consistency and "sameness." I might even prefer it. While I love to evolve, I don't tend to change my taste or style dramatically over time.
I may be in a different house, but I always feel at home with a familiar sense of simplicity. I tend to keep many of the same furnishings. I still use many similar elements in every house. And, I still use the same type of Christmas decor I've always used (garlands, greenery, wreaths, twinkle lights). I guess as much as I thrive on change, I feel most at home with consistency.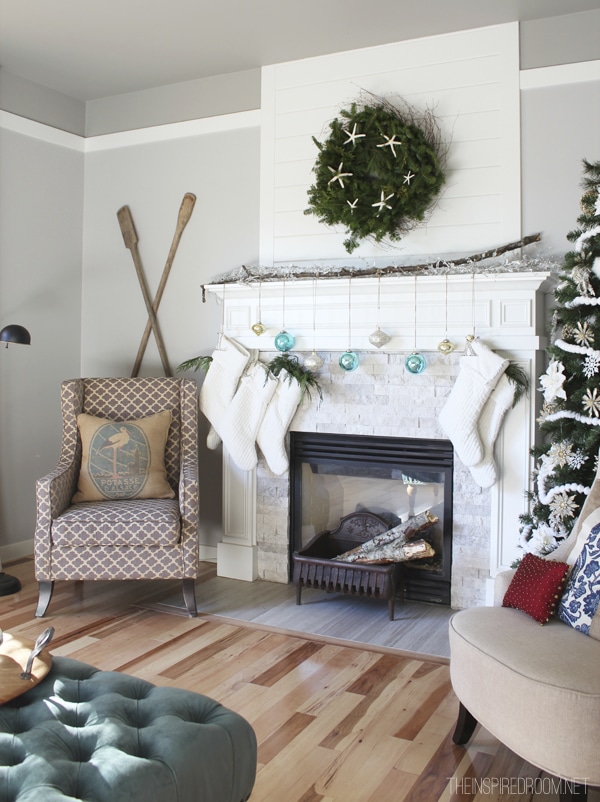 I shared a few photos from my 2013 Christmas house tour in this post today and SEE MORE OF THE TOUR HERE >>> 2013 Christmas tour here.
And if you want to see my current little house, this was last year's Christmas tour.
Stay tuned for scenes from THIS year's Christmas house, coming up soon! 
Do you think you are more likely inspired by change or consistency in your home?
Do you change up your Christmas decor every year or tend to stick with familiar classics?
***If you didn't see my story and the amazing 30% discount on preserving your family's memories, you'll find the post and deal here! This would make such a special gift, so don't miss it!
**Find my 2018 Christmas decorating and gift guides here.
*I'm so honored to have The Inspired Room bool featured at Lowe's stores across the country in their Trim-A-Tree section! I can't wait to find it in my local stores. I'll be going to search of it this week! Have you seen the display featuring the book? If you do, snap a photo and share it with me on social media (tag me @theinspiredroom)! I'd love to see it (bonus points, make it a selfie!).