Welcome to our home, sweet friends! I'm absolutely honored that you would take the time to visit us in this busy season. Come on in!
We put together a fun little Christmas video of our home for you, so you're invited to take a peek at it now or before you go! Click to open YouTube to watch full screen!
If you are new or haven't stopped by in awhile, I'm so glad you're here! In case you're wondering where in the world we live, we moved to this little brick house in Seattle just a little over two years ago. It feels like home to us, we really love it here. Our backyard overlooks Puget Sound and the Olympic Mountains. I feel like we have the best of two worlds, city life and a very quiet retreat with views of sunsets, snowcapped mountains, and the water.
Kitchen Remodel Details / Small Tree – Balsam Hill / Wreath & Dish Towel – Birch Lane
We remodeled our kitchen and worked a few other projects this past year, so this is actually our first holiday season where we don't feel like our house is torn apart. :)
We have plenty more projects we hope to work on in this house, but for now we're just settled in and feeling snug as bug for the winter!
Mug
I definitely try to make our home to feel a little more magical and memorable at Christmas. We mostly focus on savoring those meaningful intangibles that matter to us the most. Our faith, family, pups, old and new traditions and memories. But to create the mood, I love to sprinkle in a bit of Christmas sparkle through the house with a bit of greenery, a few little trees, cozy textures, twinkling lights, special seasonal items and even a few whimsical mementos here and there.
Thanks to the hustle and bustle of modern life, I feel like it's tempting to start to skipping traditions or not even put out Christmas decor in an attempt to slow down the pace. But even though we don't hold onto a lot, it's still important to our family to bring out a few special things that spark family stories and memories from years gone by. There is something comforting and nourishing about those familiar Christmas traditions!
All of my non-Christmas kitchen remodel sources are here.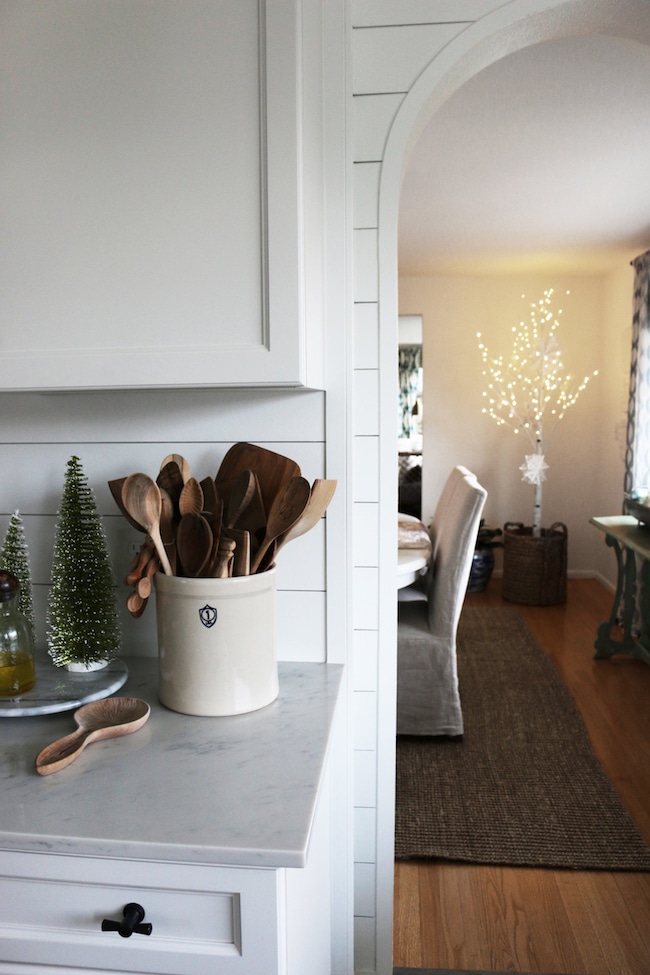 Yes, if you are new here, we do have two Dutch doors in our home! They are my favorite so I couldn't stop at adding just one. You can find the details on both of them here. The boxwood wreath and cute tree doormat are from Birch Lane.
Lights – Barn Light Electric (more details in this post)
This is our little front entry hall! The boxwood garland is from Birch Lane (I can't remember where I got the boxwood stars, I've had them for a few years now. They keep beautifully!).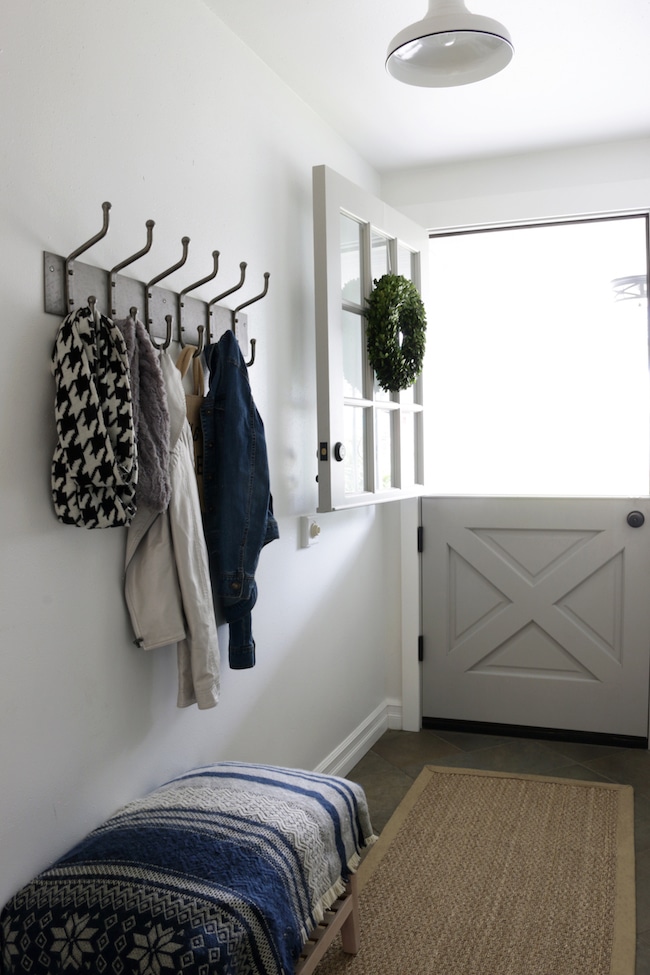 The botanicals were from Ballard Designs, but they are unfortunately no longer available. Here is a post with lots of other botanical sources, though! The little bench was from Target a few years ago (I just threw a winter scarf over it for coziness).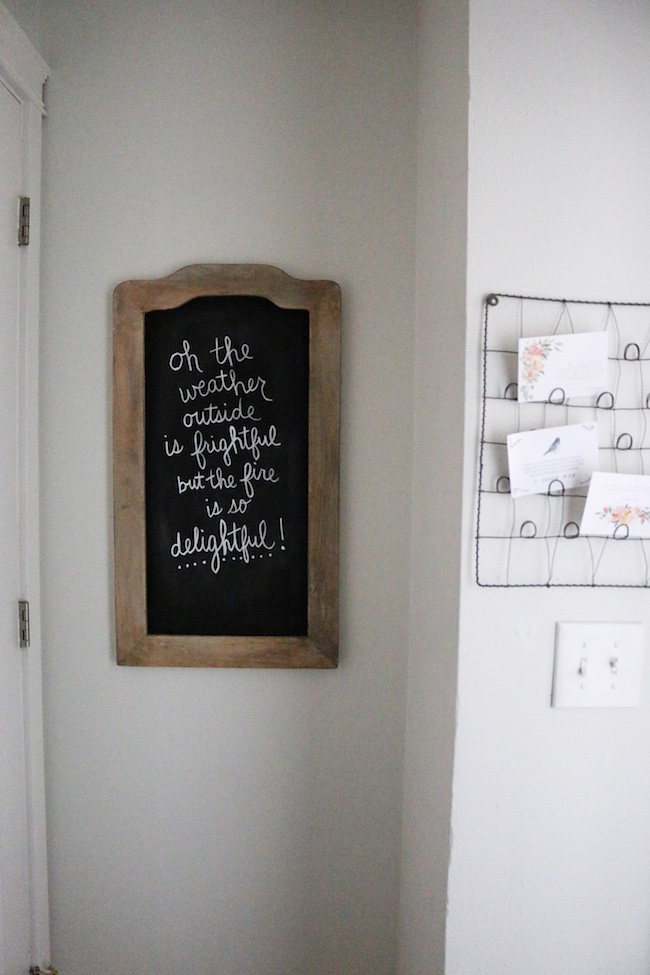 Framed Chalkboard / Zinc Card Holder
AWWW!
I've literally wrapped two gifts. Only two. Plus I have one gift bag, which I don't know if I can technically count as gift wrap. I still have time, right?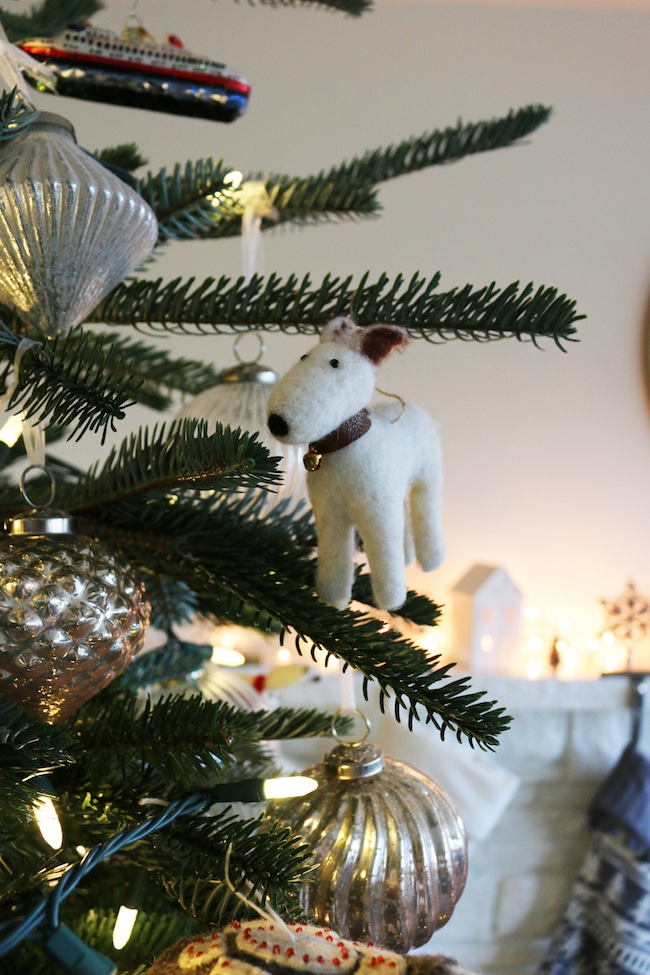 Our tree is informal and just like our home, it is never too serious!
Even though our dogs STILL dismantle the tree and eat our ornaments (Jack is 6 1/2 now, so I'm really not sure when he will get over his puppyhood), we still try to salvage a few animals for the tree. This little guy is a new one and I put him WAY up high for safety.
Woven Shades (discount code!) / Rattan Day Bed / Knit Blanket

Sectional: Interior Define 110″ Caitlin Chaise Sectional in Narwhal Mod Velvet
I don't know about you, but pups in red flannel scarves bring me joy.
Galvanized metal houses Birch Lane / Shop more Christmas houses here / Lamps
We always have our diffuser going with winter blends. Our house smells like Christmas right now (Christmas Spirit blend and Peppermint oil)–it's heavenly! (Info on the diffuser can be found here).
White Velvet Stockings / Houses – Target / Footstool – Birch Lane

Tree and tree collar – Balsam Hill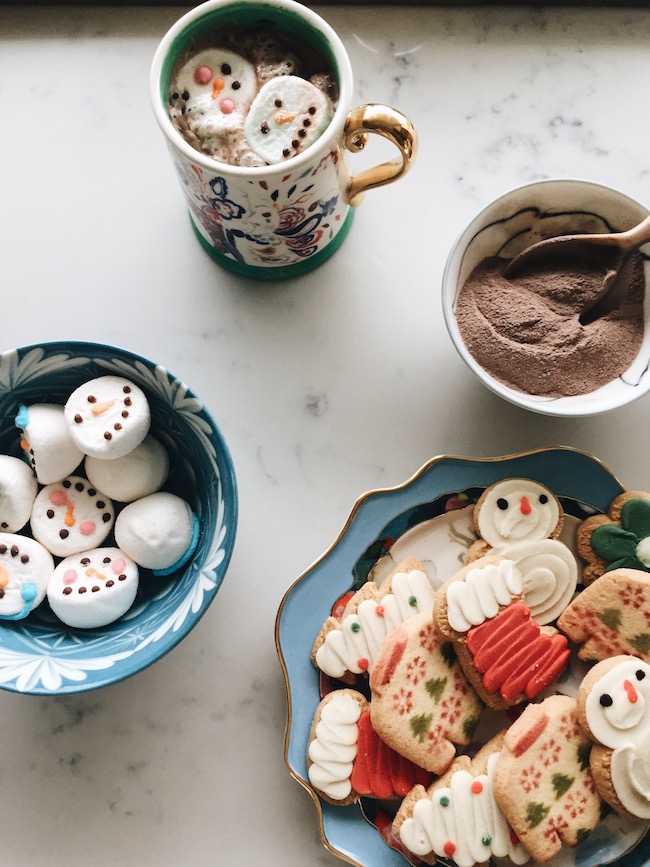 Guest Bedroom Makeover / Chandelier / Curtains / Let it Snow Pillow is from Birch Lane
My son's room is looking pretty festive with his tree, but I didn't manage to take any Christmas photos of our little master bedroom for this post.
If I get inspired to take some photos I'll share them in a future post. I did put up a couple of table top trees in our room so it feels very cozy! I'll probably want the little trees to stay up through the winter, I love the white lights at night (honest confession, we left a white birch tree up ALL YEAR in our bedroom this last year!).
Tin Luminaries, Doormat & Wreath – Birch Lane
Before I let you go, I couldn't resist sharing one more photo of Jack.
It just makes me laugh every time I see it. I feel like he's got the whole "the best way to spread Christmas cheer is by singing loud for all to hear" thing down. Don't you think?
If you didn't watch our video Christmas tour, don't forget to scroll up to watch it or click here!
I'm joining in with a small group of friends who are offering virtual Christmas tours this week, so go pay them a visit! Their homes are so pretty and welcoming.
Just a Girl
Home Stories A to Z
Honey We're Home
Tatertots and Jello
Hi Sugarplum
A Thoughtful Place
Not Just a Housewife
Pretty Handy Girl
Centsational Style
The Inspired Room
320 Sycamore
Thrifty Decor Chick
MERRY CHRISTMAS TO ALL!