Christmas Display Shelf – House Log Holder
Some of you may have noticed the other day that there's a little stand on my counter. In case you were wondering about it, today I'll share the story.
As we were setting up our first bit of Christmas decor before Thanksgiving, I thought back to how we had decorated our open shelving in our previous kitchen. It was so fun to have shelves to style especially during the holidays.
In this kitchen we decided not to install wall shelving (sorrow), but I knew from the beginning that I could get creative with a free standing unit.
I've been keeping my eyes peeled for the right piece, but so far I haven't found the right one.
You might remember seeing this photo above. I shared it on the blog years ago as well as featured it in my book Simple Gatherings. It is showing a nesting table I repurposed on my counter as creative stand for a dessert bar. I later used it on a counter in our bathroom, so it sure came in handy!
Well, that idea sparked a simple idea for this house!
Unfortunately, I think I lost that particular table in the move or left it at my old house. Womp, womp, womp. I've been a little sad about it ever since.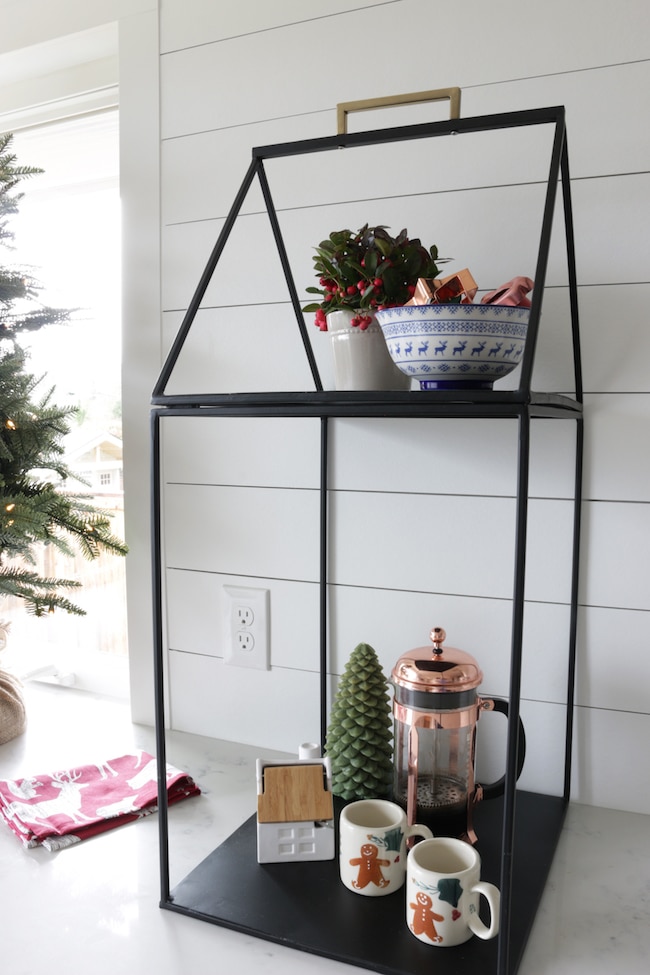 Well, my mom and I were shopping at Target right before Thanksgiving and I saw this log holder sitting on the floor in the Magnolia Hearth & Hand section. I had seen it online and thought it looked so cute, but this was the first time I saw it in person.
I knew it would be adorable sitting by the fireplace or door stacked with logs, of course, but my mind wandered to some other possibilities. The nesting table image popped into my mind at that moment! So, I decided I wanted to try the log holder first on my counter to give me a little display space for Christmas!
WEIRD?
OR … WHY NOT?
I decided that it should be a WHY NOT?!
I know, I can't seem to use things in normal ways. Bless.
But if loving this is wrong, I don't wanna be right.
It won't be a permanent feature in here, so WHY NOT enjoy it for now? It was so simple. And, it brings me joy to see this little spot of festivity every day.
I kind of love it.
And who doesn't enjoy a festive little coffee or hot chocolate stand, especially this time of year? 
It doesn't take much effort at Christmas time to make any space feel more magical. It's like you get to live in a storybook for a few weeks of the year!
And isn't magical how Christmas should feel? 
Sources and Details:


Log Holder / White and Wood House Canister / Copper French Press / Runner / Kitchen Details / Kitchen Shiplap FAQ / Herringbone Floor Details