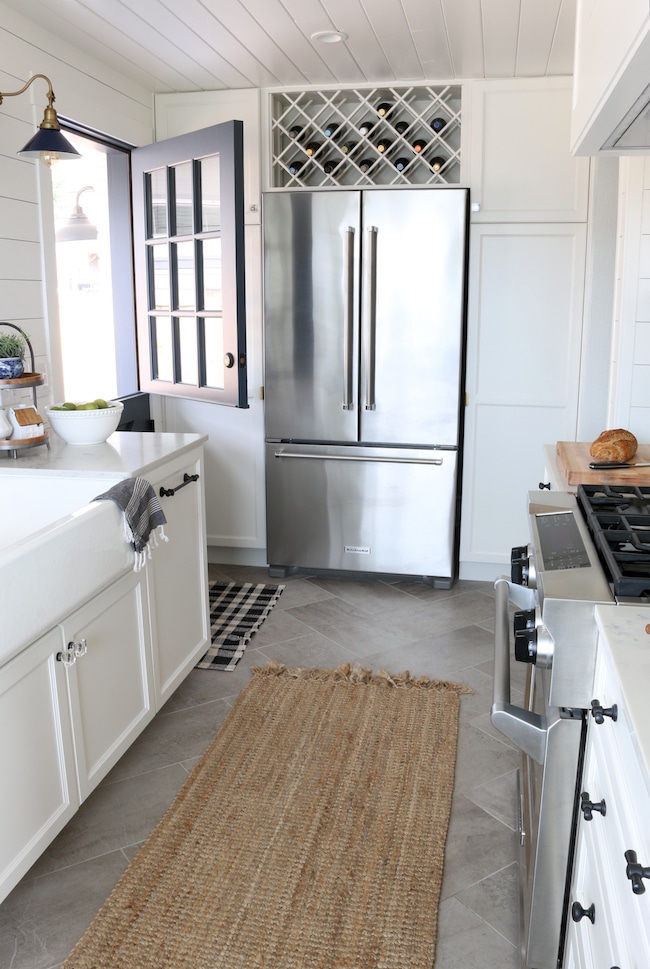 Are you remodeling this time of year? This will be my first Thanksgiving and Christmas in my new kitchen. Last year we had a contractor literally in our kitchen ON CHRISTMAS EVE hanging our Dutch door. I was so happy he was willing to do that, but I'm pretty excited to have the kitchen finished and to myself this year. I can't wait to set up my Christmas kitchen!
But before I get going on all that festive stuff (soon, though, YAY!), I've had quite a few questions about my kitchen flooring. I somehow neglected to do a post specifically on the herringbone floor tile. I know some of you have also asked about a post on our cabinets and lighting, too. Great ideas! I will for sure get to those topics, but it may be January before that happens :).
We debated for months about what to choose for our kitchen flooring. There were so many options! Each one had its own benefits. As is the case with many remodels, there were many additional factors to consider such as cost, coordinating with connecting rooms and an exterior door. It was so hard to decide.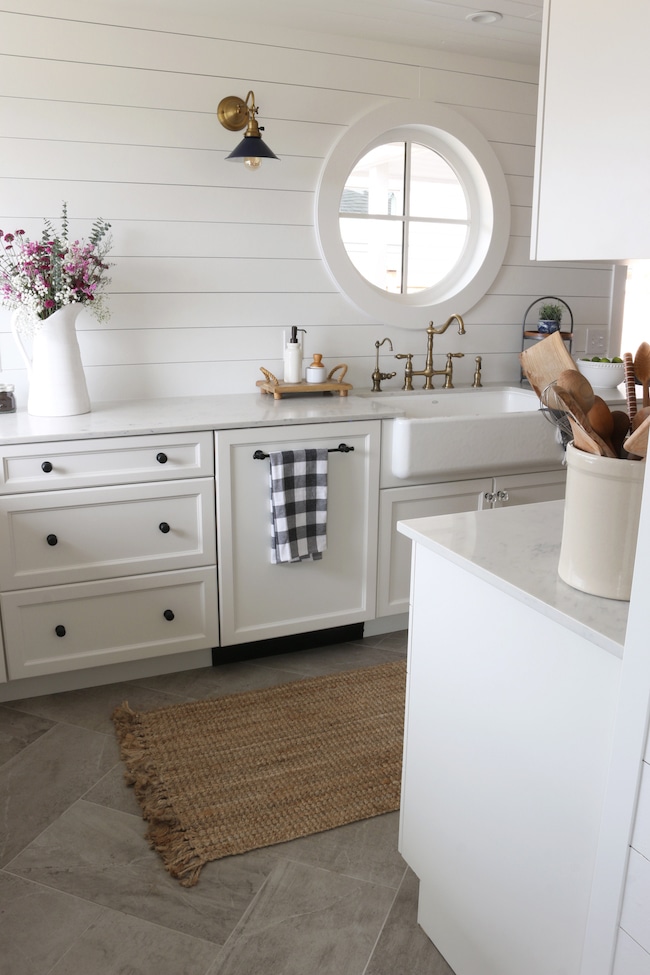 But to make a long story short, we decided on a fairly neutral porcelain tile. I wanted to be able to update my look in here throughout the seasons. That meant I needed to have a flooring that could look amazing on its own (especially for those summer months when we don't even need a rug!) but that also set the a perfect backdrop for rugs and runners in a variety of textures, patterns and colors.
This particular tile is a great neutral with beautiful coloring and texture on its own. Because our kitchen is a galley layout, we thought it would also be nice to have flooring that gave a sense of movement in the space. Laying the tile in a diagonal pattern helps your eye to keep moving, which can make the narrow space appear wider and at least a little larger than it actually is. We decided to have our tile laid in a herringbone pattern.
You don't have to buy a specific "herringbone" tile to accomplish this look. We didn't! Our tiles are individual, large and rectangularly shaped (12x 24). At first we were thinking to use small tiles but we are so happy we went large which makes the pattern bold but simple and easy on the eye.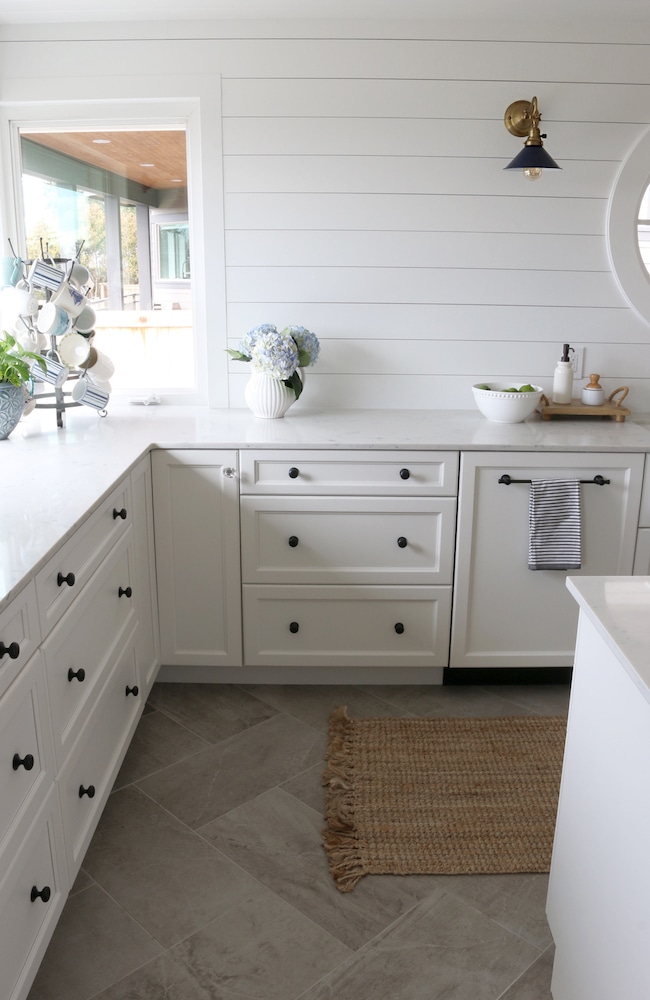 The tile installer laid the individual tiles in the herringbone pattern. Our tiles actually start under our cabinets, but you can also often lay tile after cabinets are installed (just make sure you will be able to pull appliances out once the tile is laid, if you decide to go that route.).
You'll find the tile we used linked below. We had a choice between polished and unpolished tile. Our original thought was we didn't want a shiny or slippery tile, but our contractor suggested polished. It is such a matte finish it doesn't look shiny at all. We've been super happy with it! It really is so easy to clean but it hides all the dust and dirt really well until we're able to clean it. That's a perfect kitchen floor in my opinion! :)
Are you remodeling a kitchen right now or planning one in the near future?
You can find my kitchen remodel posts linked below if you need any tips or inspiration.
If you missed the kitchen reveal, you can find it here!
HERRINGBONE TILE FLOORING:
Daltile Imagica ig97 Haze ColorBody Porcelain (polished)
RUGS:
Black and White Dash & Albert Rug

FULL KITCHEN SOURCE LIST:
Our galley kitchen remodel sources
KITCHEN REMODELING TIPS AND POSTS:
Shiplap Walls Behind Stove & Sink
Kitchen Remodel: Four Design Tips
How we chose our kitchen appliances