Choosing a sofa for your home can be a daunting process. They are an investment that can make or break a space, so it pays to do some research before you make a final decision.
I know when I was shopping for my white slipcovered sofa last year, I went back and forth about a million times. Seriously. So many options, details, decisions, and so much pressure! I'm glad we took the time to weigh all the options though–I really love what we ended up with.
Here are 11 designer tips and helpful considerations for selecting the perfect sofa!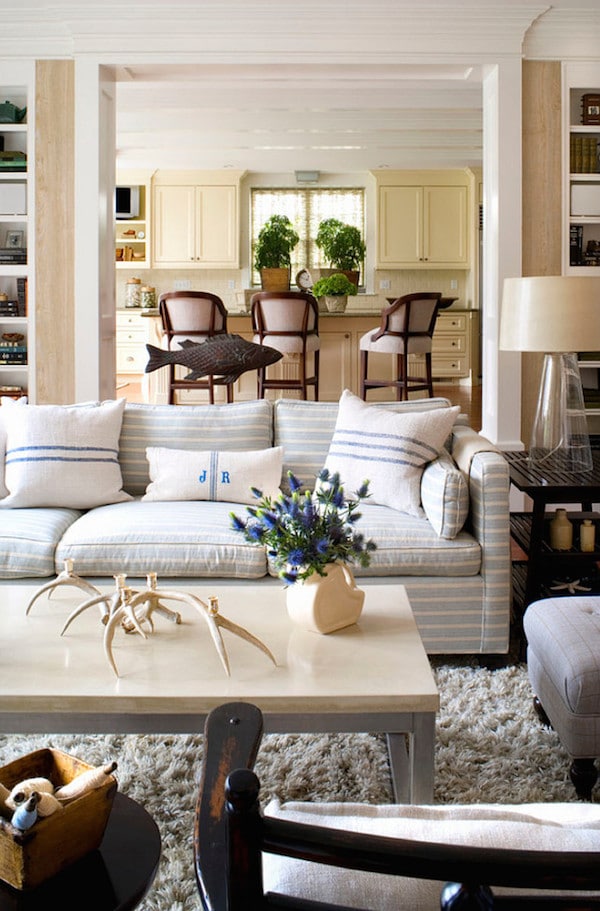 Select the right size – When shopping for a new sofa, make sure you select a size that makes sense for your space.
Use a template in your own space (try painter's tape on the floor, or even boxes set up to simulate) to determine what size and shape of sofa will offer the most function without overwhelming your room.
Consider the depth of your sofa – What is the purpose of your room? A deeper sofa will be versatile enough for you to curl up on or to add pillows in the back for casual conversation. Shallow sofas might be fine if you will be sitting up straight or in a more formal space, but they aren't always as comfortable for relaxing.
Do you have a chair or sofa already that is super comfortable for you? Take a measurement of the cushion (measure from the back of the seat cushion to front) so you can find a similar seat depth in a new sofa.
Solid sofas are versatile – While you might be drawn to a patterned sofa, in the long run a pattern can hold you back as styles change or if you want to change your decor style.
For the most bang for your buck and the most versatility in design, save fun patterns for throw pillows and buy a neutral sofa. But if you're feeling daring and can afford to get a new sofa later, go for the pattern if that is what you love most.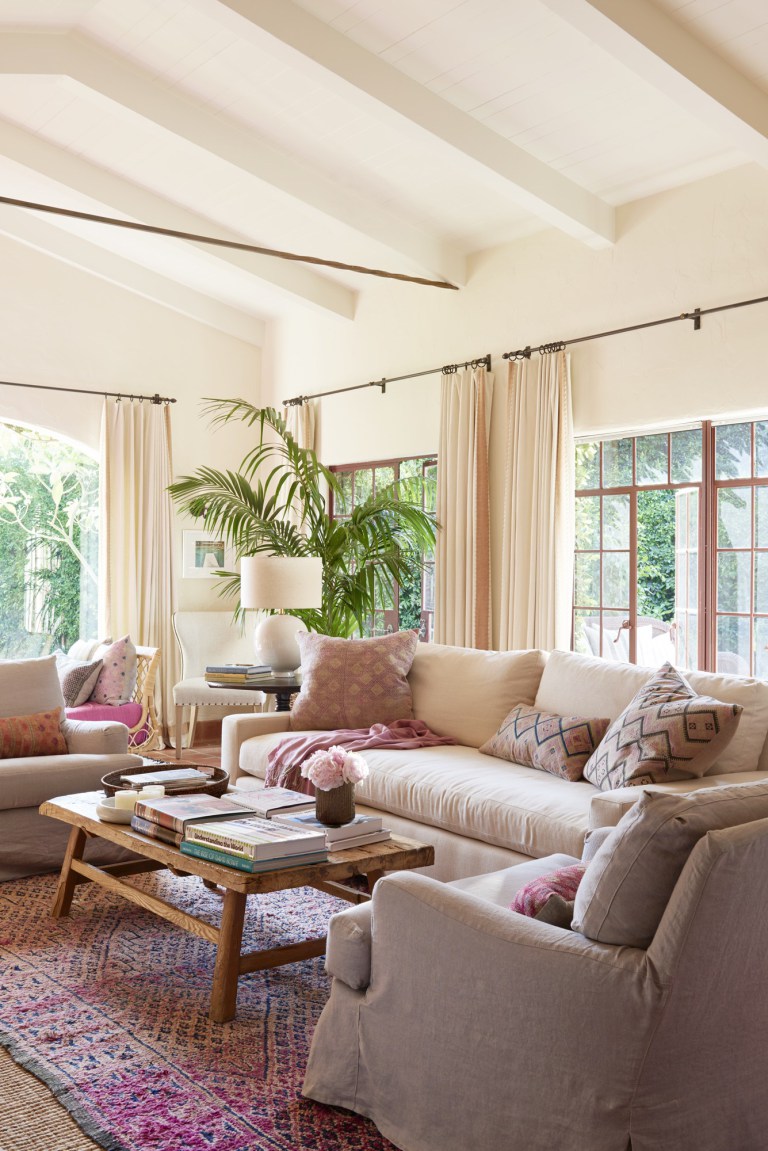 Know your comfort level – Down filling in loose back cushions will eventually be less full and need regular fluffing to look their best. Down tends to look more casual, but it can be very comfortable! If you want a more tidy, streamlined look and less fluffing, look for a tighter back sofa or one without back pillows. Consider a sofa with removable back cushions, or a deeper sofa, if you will be using it for sleeping or napping!
Consider the upkeep of a sofa style or fabric choice- Do you want a slipcover that you can pull off and throw in the washer? A fabric that will more easily hide dirt? Keep in mind that some fabric is delicate and not easily cleaned. Indoor/outdoor fabric or performance fabric has come a long way, so if you want a low-maintenance fabric, there are plenty of options that are attractive, soft and easy to clean.
Visit a showroom- Even if you are ordering online, visit any sofa showroom. Try sitting on sofas just like you would at home, curling up, getting up and down, etc. Rearrange pillows on the sofa the way you would want to at home. Look at various sizes, shapes and design features. This will give you a better idea of what you really want!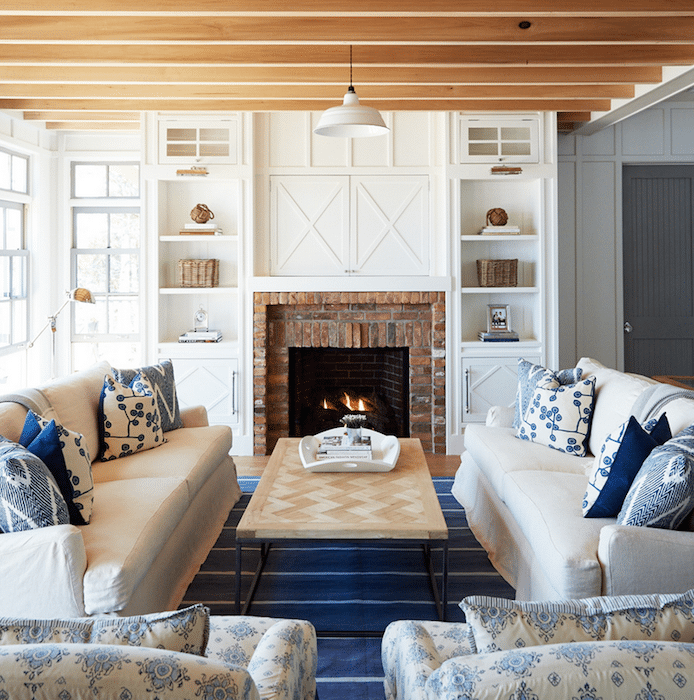 Look at the height of the sofa back- When you are shopping, notice that some sofas are extra low backed while others have high backs. If you have a larger space or a room with high ceilings, consider a higher back for more presence. High backed sofas can make a room feel cut up if the sofa will not be placed against a wall.
Consider the shape- Tufted backs or rolled arms will feel more formal. Straighter lines will feel more modern. Rounded shapes can feel traditional or even cottage/country. A streamlined style with a straighter back, narrow and straighter arms will make the most of a small room. An overly bulky sofa can take up too much space.
Legs or no legs? This is a personal style preference! Some sofas have slipcovers or skirts that hide the legs. Others have choices for leg style or finishes. If you have a lot of furniture pieces with legs, you may decide to have a sofa with a skirted bottom to soften the look.
Look through inspiration photos to find rooms you like. Take note of whether or not the furniture and sofas you like show legs or not.
Design the whole floor plan. As you consider the size and layout for your sofa, make sure you leave room for your side tables, coffee tables, console tables etc. A sofa that is too big for the space will make other furniture pieces difficult to place.
Order samples. Order upholstery samples online or ask for them in the store. Take it home with you so you can see the fabric in your own room and in various lighting conditions. Carrying a sample with you can help you select other furnishings, throw pillows, rugs and paint colors.
Shop my favorite sofas:
---

---
Have you bought a sofa recently?
What are your best tips (or mistakes to avoid?) in shopping?
Preorder my new book, But Where Do I Put the Couch?: And Answers to 100 Other Home Decorating Questions
RELATED POSTS:
My White Slipcovered Sofa: FAQ