Whether you fully love your home or not, I think focusing on gratitude for what you have (and can do!) is a helpful practice.
What are five things you love about your home?
Scroll down for ideas if you are struggling to answer this question!
NOTE: we are sharing answers this week in our new free community group!
If you're not a part of The Inspired Room Community yet, click here to join. You can go in the group to share your answers and if you want to you even post a photo of your home!
If you aren't on Facebook, that's OK! Just share in the comments of this post (below)! I'd love to hear about your home!
I'll go first:
5 things I love about my home:
The view of the Puget Sound and mountains.
My Dutch doors.
My kitchen.
The warm happy feeling we get from being here (we felt this even before we moved in and made it our own!)
My outdoor areas.
Those are just a few of the things I love! I am so grateful there were some things I liked about this house before we moved in and that I've been able to make some improvements in the past four years. I definitely love my home more than I used to, but there are still things I don't particularly like.
It's hard to be a dreamer and a house lover, you know? There are so many houses I would love to live in! It really helps my contentment level to focus on gratitude for what I have and what I can do with what I have. :)
Maybe you really DON'T have anything you love about your home. Perhaps you aren't in a situation where you can make your home what you want. Or maybe you have very few things you like or have a long ways to go in making your home a place you actually could love.
Ask yourself this:
What are five things I COULD DO this year to fall more in love with my home?
Don't let a lack of funds prevent you from the joy in making the place you live right now your home. You might be in a season when you have to wait for what you really want. I've been there. No matter what your situation is, come up with five things you think you could do, things that are in the realm of possibility this year. Even if they are very small things, it can inspire you to have ideas in mind. I find I need to come up with some creative things I can do or I start a downward spiral towards discontentment!
I am asking myself what things I CAN DO this year, too. Even if you love your home, it's fun to have new ideas in mind! Making progress on my home in keeps me happy and out of trouble :). Stay tuned for ideas, plans and progress!
What five things do you love about your home? Or what are five things could you do this year to love your home even more? Let's chat!
+ + + + + + + + +
Dwelling and my new Dwelling Well wellness journal will motivate you to create greater well-being in your home! Let's do this together! I'm sharing what I'm calling My Year of Dwelling Well here on the blog, in our Facebook community, on text (have you texted me yet?!) and my Instagram! Wherever you follow me, you'll get insights and tips to keep you inspired. Join in anywhere and share what inspires you, too! #myyearofdwellingwell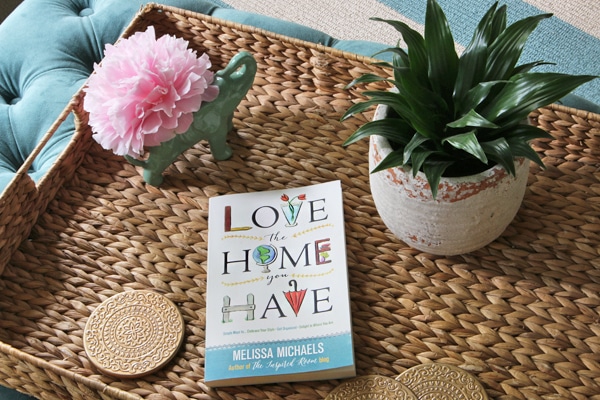 My New York Times bestselling book Love the Home You Have will inspire you to find more contentment in your daily routines and the home you live in.
---