Who doesn't want to feel more joyful at home? Maybe you are experiencing the winter doldrums or just feel like you wish spring would hurry up and get here already! Winter can be hard for many of us! It's dark. It's chilly. Spring is still many weeks away.
There are so many practical and inspiring things we can do for ourselves that will positively impact how we feel at home, not only in winter but all year round!
Today as a part of "My Year of Dwelling Well" we are going to begin a helpful three step mini-series called How to Find Joy at Home! (*Update* Click HERE for the full series!).
I've written many books about the home and the importance of how we feel in it. If you want to explore these topics further and get inspired to make changes in your home, well-being and daily routines, grab a copy of Dwelling and my new Dwelling Well Journal to follow along with us this year as we learn to Dwell Well.
How to Find Joy at Home (A Simple Guide)

Create Your Happy Morning Routine
Start with Intentional Morning Solitude:
Years ago I asked author Alexandra Stoddard to tell me about her favorite daily ritual. Without hesitation she answered, "Morning Solitude." She said solitude in the mornings sets the tone for her whole day. I feel the same way! Like me, she feels her best when she does not rush to connect herself with the world upon awakening.
Even if you only have a few minutes to find a happy frame of mind, commit to starting your morning with silence, prayer and meditation. Don't pick up the phone, don't scroll the internet or turn on the TV. Get up a few minutes early if you have to, it's worth it to have time to feel gratitude for this new day and the blessings in your life. I know when I'm focused on the good and feeling grateful, my perspective and state of mind improves!
Surround Yourself With Happy Morning Sights, Sounds and Scents
Consider it an essential self-care ritual each day to make sure all of your senses receive a dose of morning happiness.
A happy sight

Whether it's a tidy bathroom, a clean and polished kitchen sink, or fresh spring flowers on the coffee table, your morning eyes will thank you for bringing more joy to your day. Prepare at least one happy sight before your head hits the pillow so you can wake up more inspired and happy in your home!
A happy sound

Music is so powerful. The right songs can lift our mood like nothing else! Create an uplifting morning playlist you can listen to as you get ready for the day. What are your favorite songs for a joyful mood? What songs inspire you in this season of your life? Share your favorite songs in the comments of todays' post!
A happy scent
There have been many studies on the benefits of plants and scents on our well-being. I'm a huge fan of incorporating essential oils into my daily routines. I've found these pure plant oils not only uplift my morning mood but improve my health, life and home every single day.
I highly recommend these oils. They help my family tremendously with everything from morning to evening, including better sleep, balancing hormones (both of my daughters used to have really bad periods and now they are a breeze!), keeping our immune systems strong, a healthier digestive system, better quality skin, and so much more. Many other essential oil brands are tainted with preservatives and fillers and will NOT bring you the same health benefits! When you use my link (get anything you want, no starter kit required!), I'll provide you with lots of resources to help you learn how to use everything. You and your home will feel so much more joyful with these oils, I promise!
3 diffuser blends I recommend for a happy morning:
Cheerful Wake Up: 3 drops peppermint, 3 drops Stress Away, 2 drops Lemon
Healthy Home: 4 drops Thieves, 3 drops Citrus Fresh
No Worries: 3 drops Valor + 3 drops Stress Away
Click HERE to order any oils from Young Living! No starter kit required–you can get individual oils at 24% off. Details here!
How do you start your day, do you have a routine?
Create your own happy morning routine and let me know if it inspires more joy at home!
Tomorrow in our series How to Find Joy at Home we'll focus on Three Intentions to Set a Joyful Daily Mindset.
+ + + + + + + +
Joyful Action Steps:
1. Design and practice your happy morning rituals, let me know how it goes!
2. Share photos of your happy morning rituals and home on Instagram (tag me @theinspiredroom and use the hashtag #myyearofdwellingwell).
3. Don't have your oils yet? Let's fix that! Grab your daily oils right here and you can be a part of my wellness group Dwell Well Collective!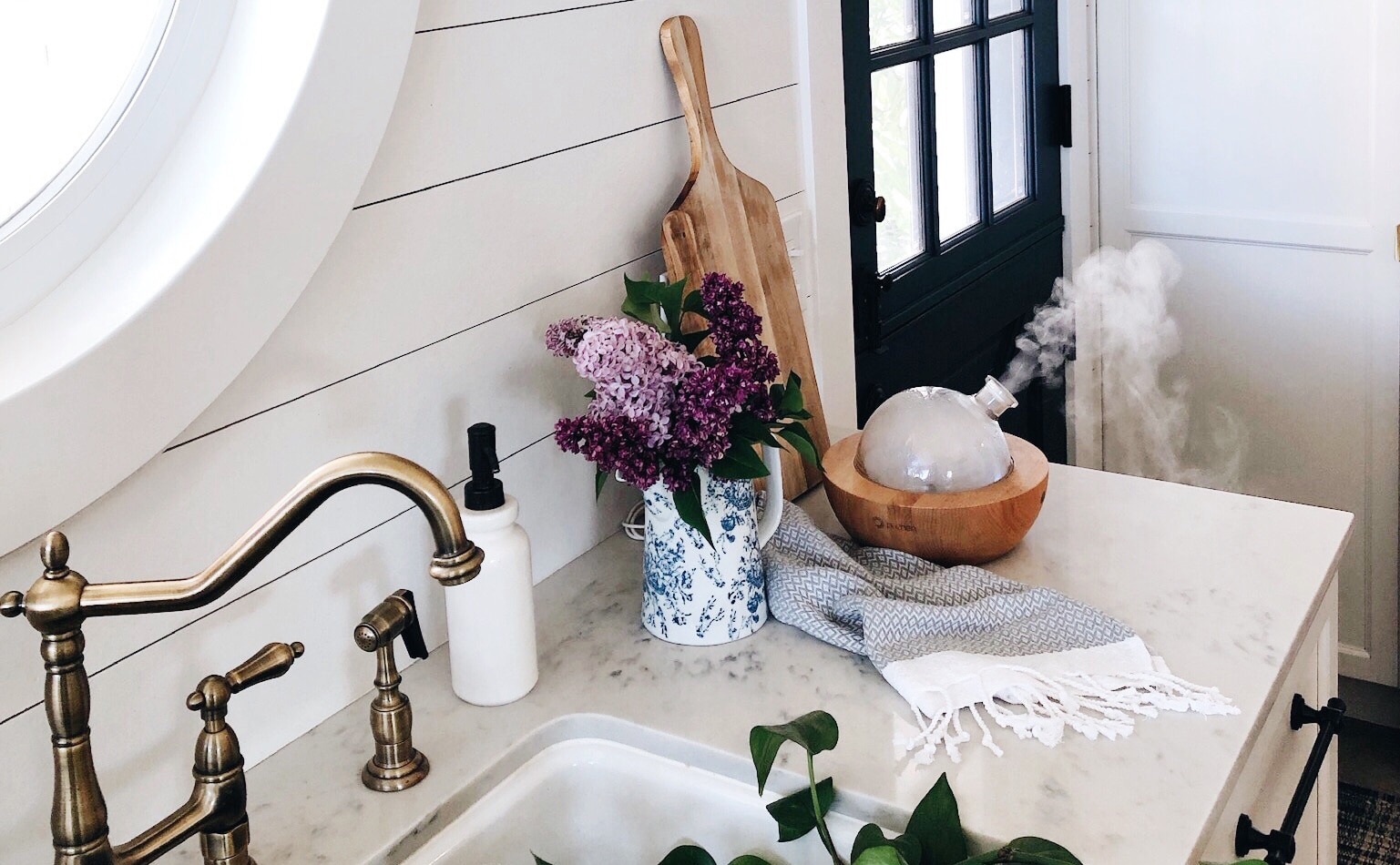 Sleep, emotions, skin, digestion, focus, cleaning, hormones, immune support, for helping sore things, for a dreamy smelling home without toxic fragrances/perfumes/candles/sprays…just a few of the ways we use these oils every day for a happier healthier home!
Get anything you'd like from Young Living HERE and you'll have access to my favorite oils and non-toxic household products at wholesale pricing, as well as an invite to my wellness group Dwell Well Collective!
Already in the Dwell Well Collective? Post your favorite morning diffuser blend in the group!