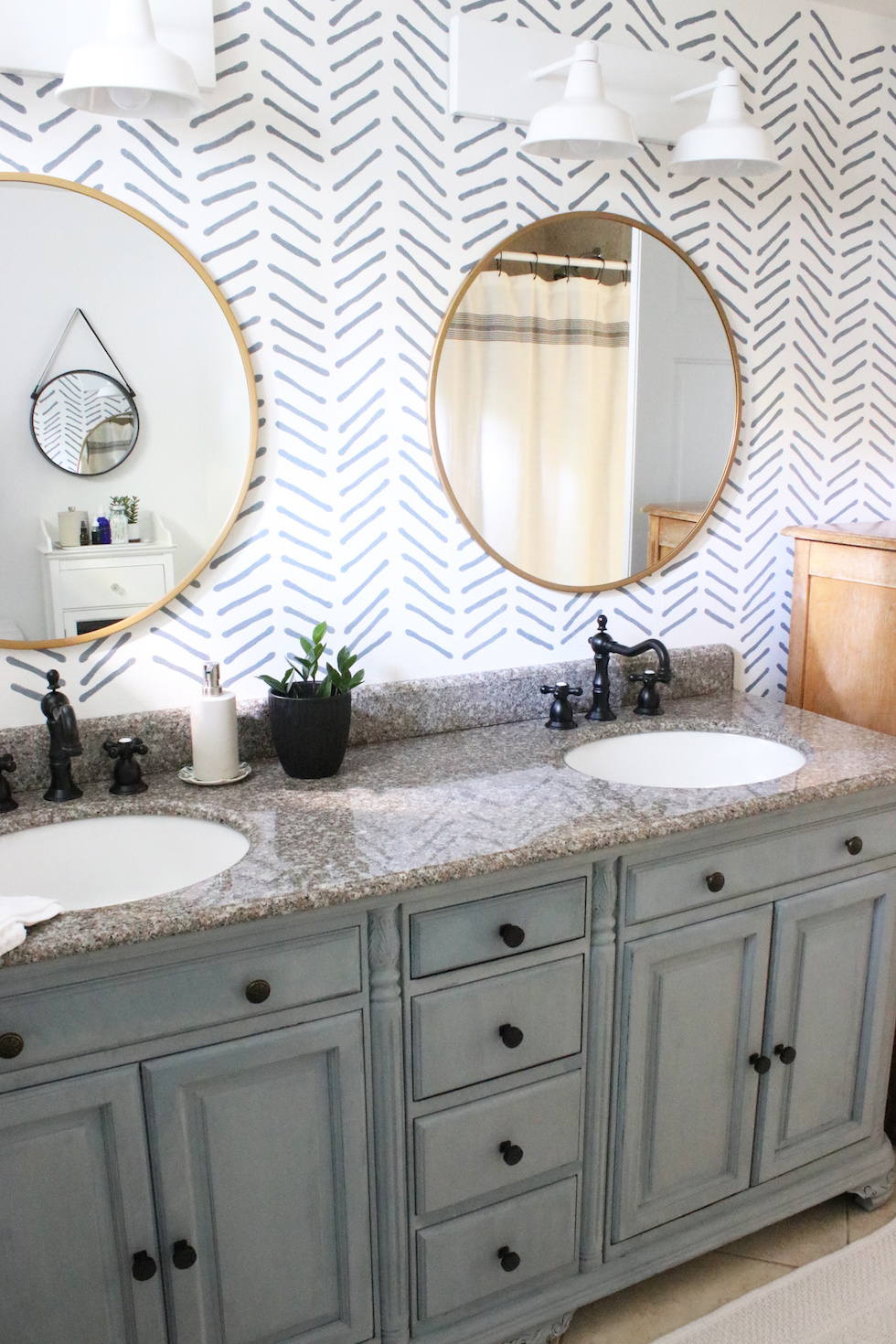 I have so appreciated all your nice comments on the simple makeovers around our house lately! Today I wanted to do a follow up post to our bathroom makeover reveal so I could answer a few of your more specific questions.
If you missed the reveal post with all the bathroom makeover details, you can see that here.
I had a lot of questions on the vanity and stencil so today I'll share a few more details.
As a refresher, here's the bathroom before!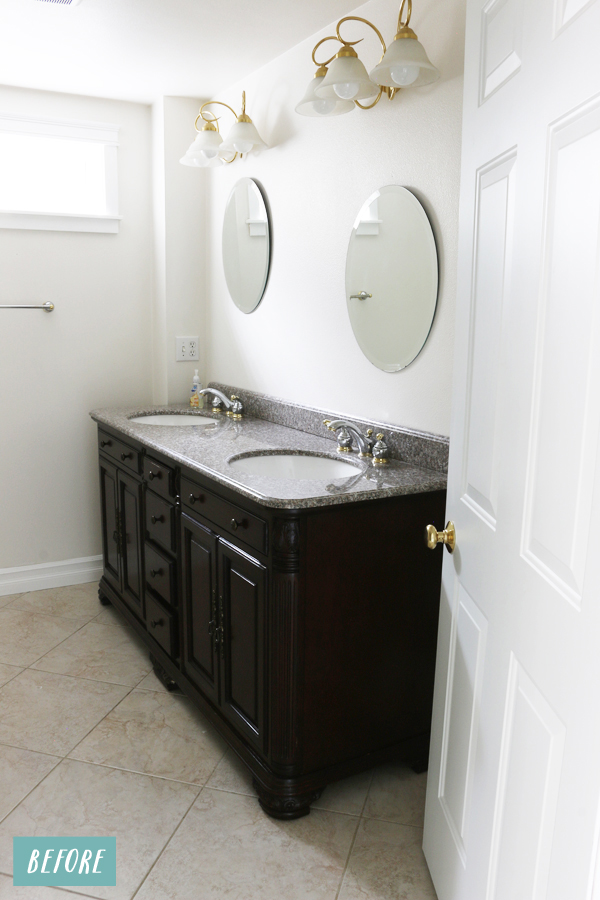 The painted vanity details.
We painted the vanity with Miss Mustard Seed's Milk Paint in the color Bergere. It isn't chalk paint, but it's similar in that it gave the vanity a cottage, antique furniture vibe. The only preparation we did on our cabinet was cleaning the vanity. Then we taped off the counters, removed the hardware, and covered the whole cabinet with a few coats of milk paint!
We could have sanded it a bit first (it's a very glossy piece!) but we didn't because it has so many ornate details it would've been a pain to sand. I'm sure sanding would have made the application even better, but we did mix in a Miss Mustard Seed bonding agent which helped it to stick. Courtney used the same milk paint in the color Marzipan on a wood armoire recently without sanding and without the bonding agent, and it stuck just fine without it, so it might depend on the finish.
This post shares more details on surface preparation suggestions! This page has more info about using the paint, mixing colors, techniques and finish options. We didn't do a finishing coat on ours yet, but I think we will add that soon.
The stencil details.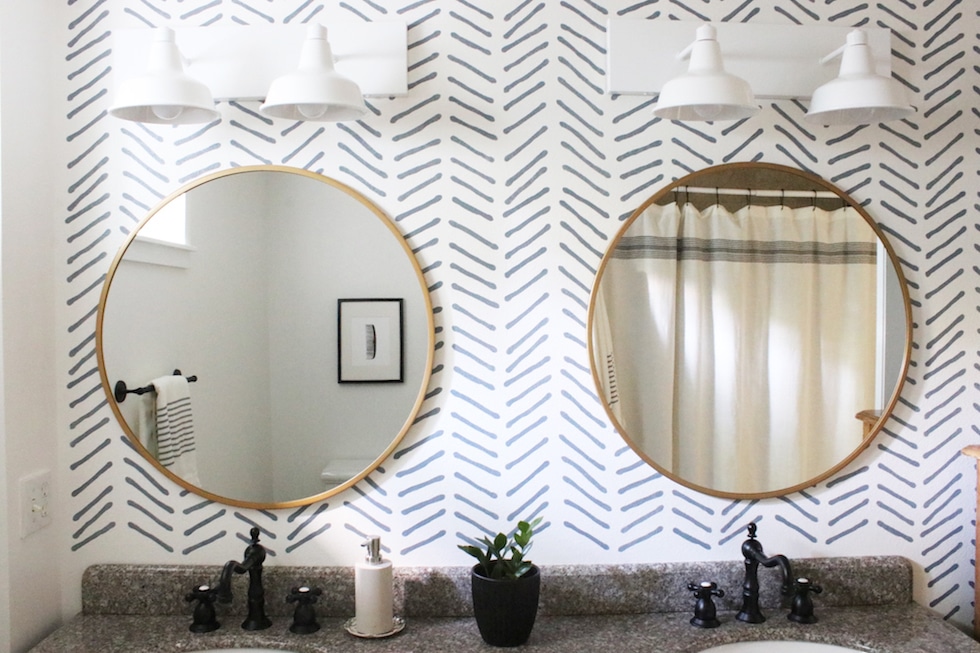 We painted the walls Simply White by Benjamin Moore (the same white as most of our upstairs). Then we used this stencil (which reminded me of this Serena & Lily wallpaper I love) and painted it with Night Sky Grey by Glidden, the same color as my son's room. We used these stencil brushes.
My husband is the one who painted with the stencil. He had never used a stencil before and it was a pretty simple project for a beginner! The stencil came with helpful instructions, so be sure to refer to those. We are not stencil experts :).
The graphic below shows how you can line it up to make a continual pattern! Luckily since the stencil has a hand drawn look with intentional imperfections, it is very forgiving! That's one of the reasons we chose this one, we wanted it to feel hand drawn with a more carefree pattern. There were even a few tiny sections my husband hand painted instead of using the stencil (like around outlet switches), so you can make it work in any space!
We only stenciled the one wall, but it would be cute on more walls if you wanted to go all around the room.
I love how it gave the look of wallpaper on a budget and so much easier if you don't have perfectly smooth square walls. And if we don't like it later, we'll just paint over it!
I rounded up lots of cute stencils and decals HERE.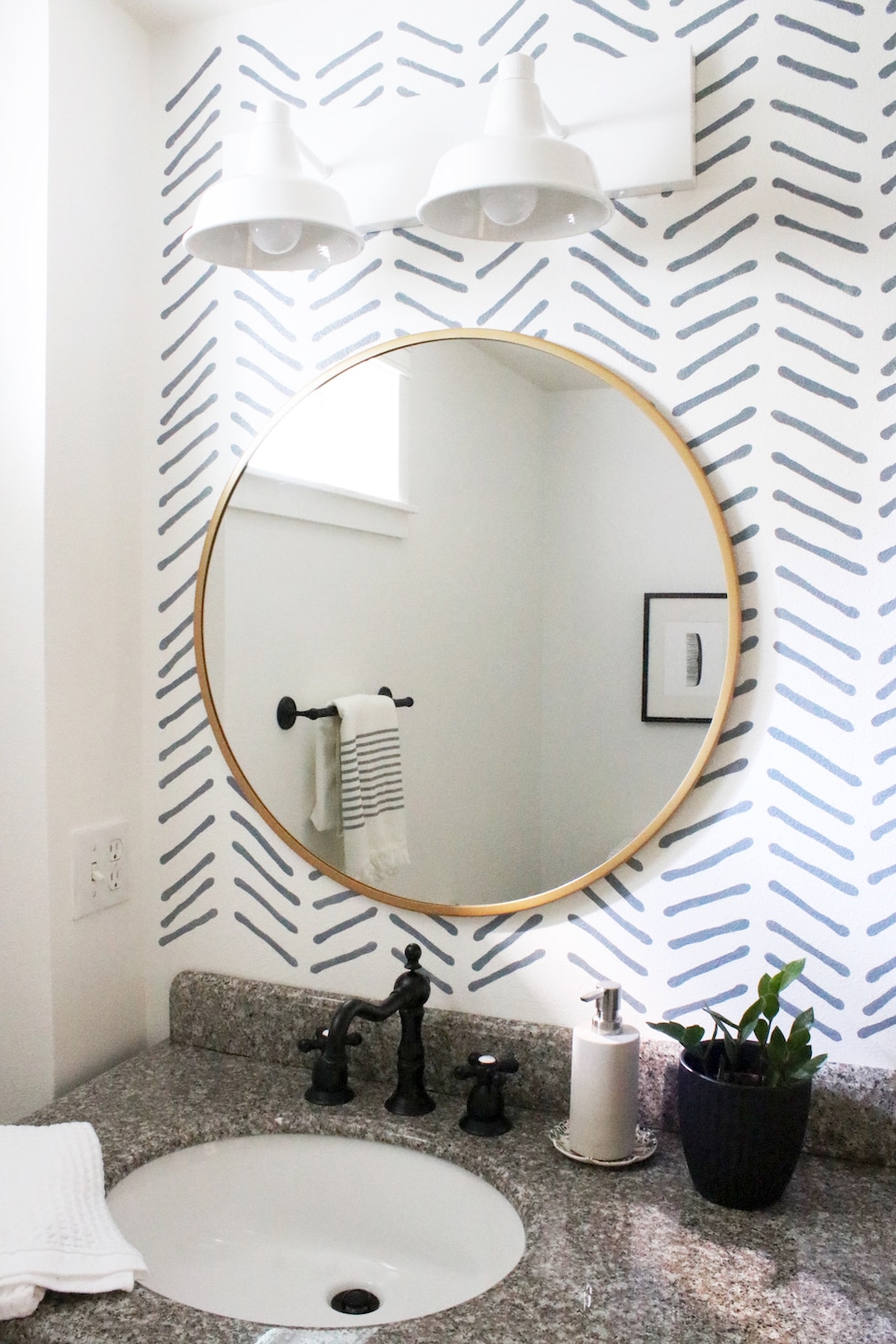 If you missed the reveal with all the bathroom makeover details, click HERE.