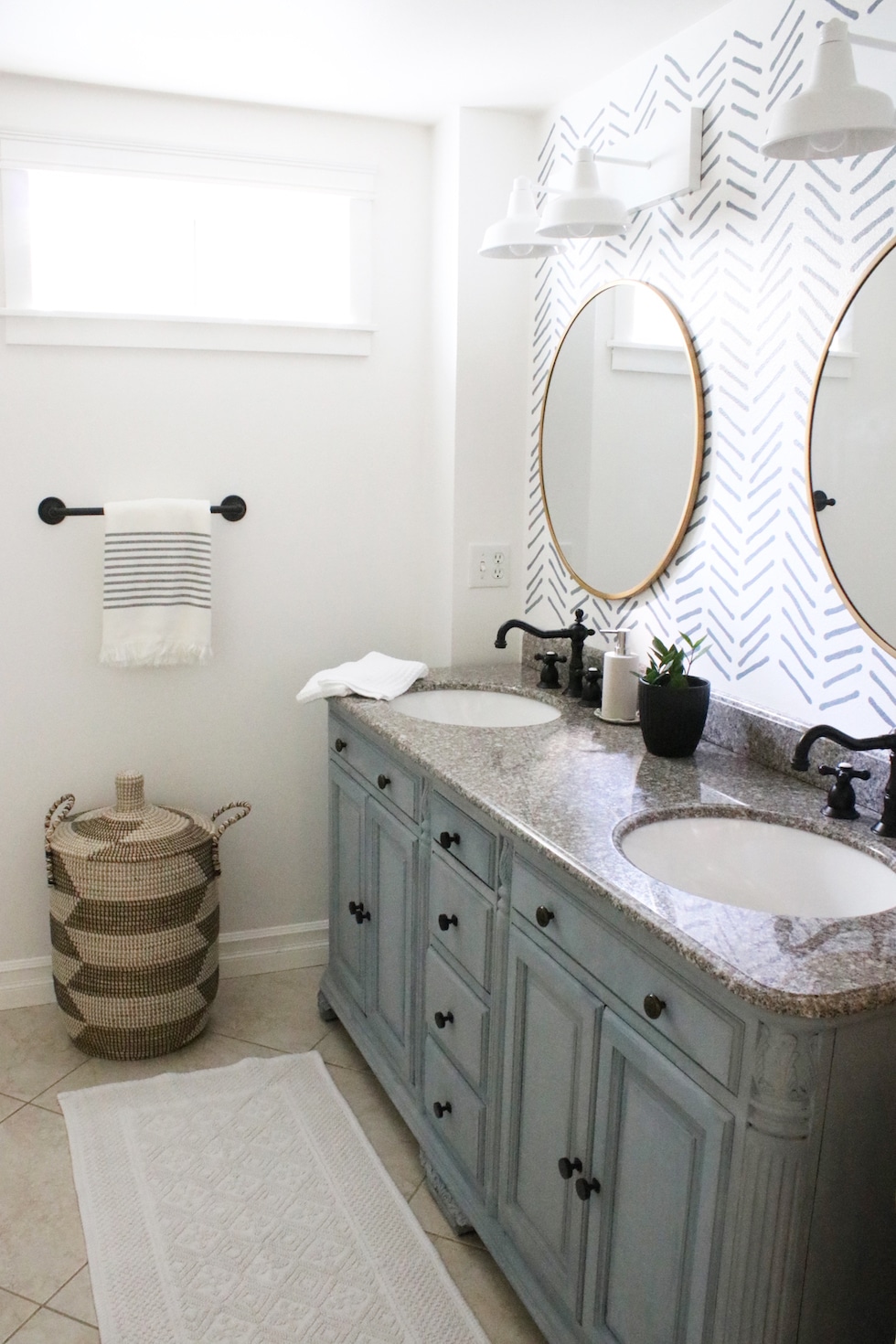 A few weeks ago we had a rather boring bathroom in our basement. I had wanted to redo it ever since we moved in, but it wasn't high on our priority list. When our daughter Courtney decided to move into our lower level this year, we started thinking about what we could do to make it "better than it was." That perspective was SO FREEING! Instead of settling for a room that didn't inspire us simply because we couldn't make it perfect, it gave us permission to get creative.
When my blogging friends and I decided to challenge each other to a Makeover in a Month project, it gave us the motivation to make it happen! While we technically had a few weeks to finish this space, in reality we were so busy that we actually only had a few hours to work on it, stretched out over the month :).
We decided to leave the vanity, countertops, sink and tile as they were and focus on just a few simple changes. (You can see our bathroom mood board here). But I have to say, we are SO happy with how it turned out! It's fun, quirky and far more in keeping with the coastal cottage vibe we want for our home.
All it took to give it more character was a little paint, charming new faucets, mirrors, and the most adorable wall lights! And look at it now! I hardly recognize it. Yay for simple changes!
Remember what it looked like before?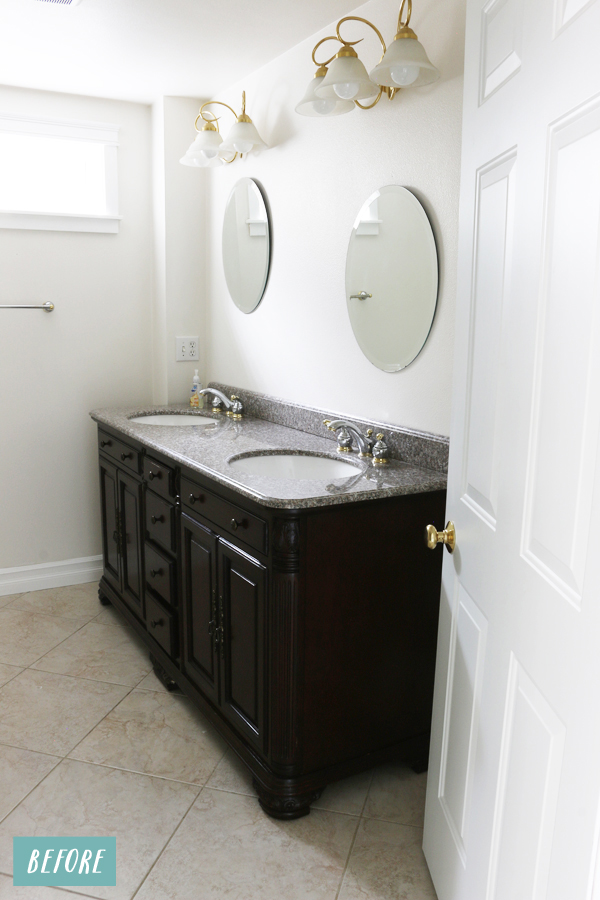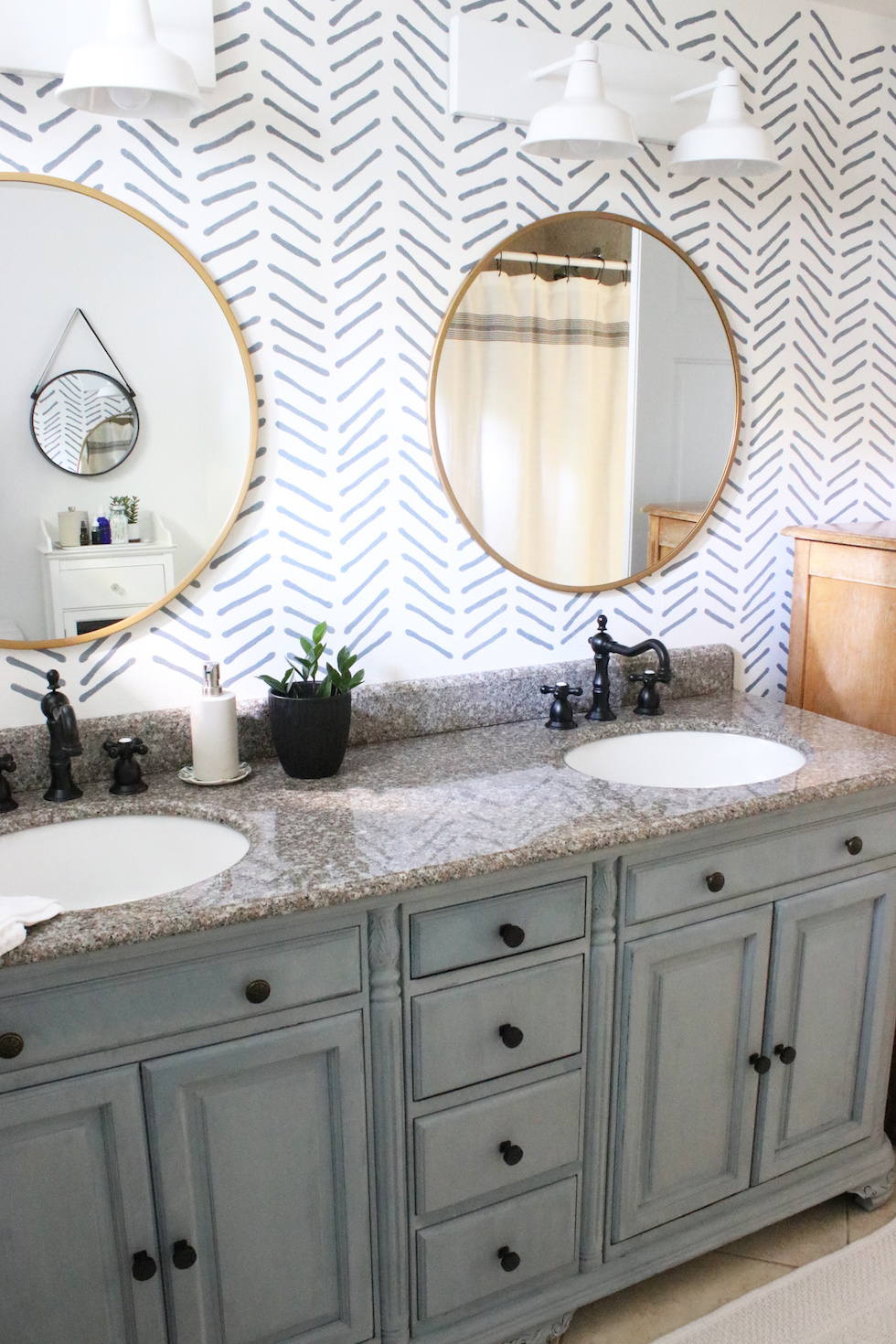 We didn't want to do anything permanent to the walls so paint and a stencil were the way to give it a fun personality.
Our inspiration for using this stencil came from this Serena and Lily wallpaper I love!
Since we weren't changing out the vanity or counters in this makeover, we knew we had to find just the right faucets to bring style to the space. The stone counter has flecks of black and a bluish gray, so the matte black faucets and the bluish paint on the vanity pulled it all together (and even made the marble floor look better!). The faucets are SO ADORABLE! They feel amazing to use, too.
We installed a Kingston Brass faucet in my kitchen remodel a few years ago and I still love it, so when I saw these I knew they'd be perfect for giving this vanity a brand new look.
A snazzy new vanity would have been wonderful, but we decided to picture the one we had as if it had been an old cabinet turned into a vanity, and that made me think a little more creatively about how to accomplish that look.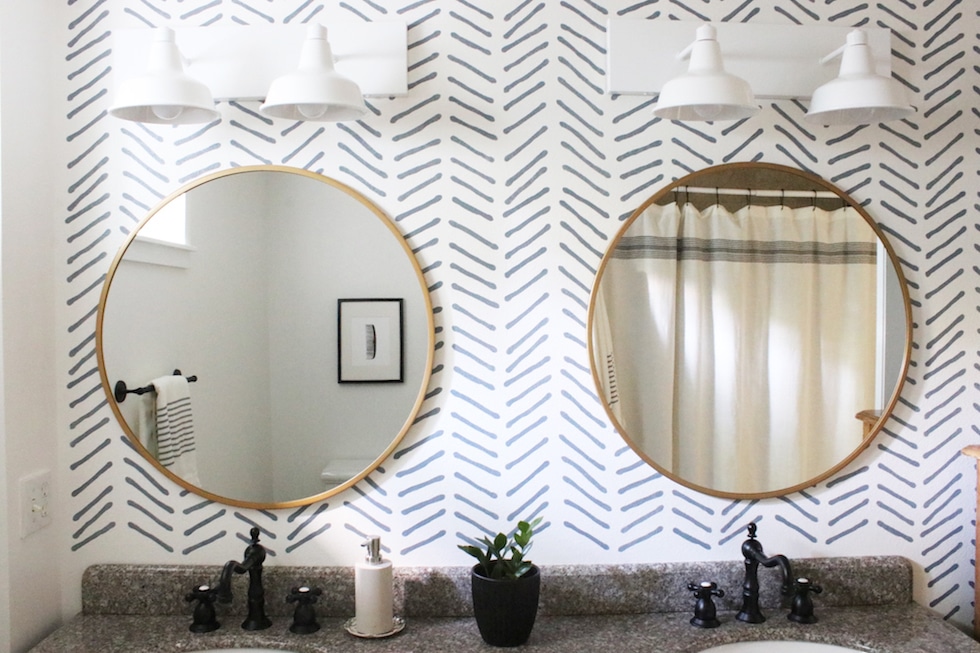 The white wall lights we installed above the vanity are my favorite! We went with the Austin Double Straight Arm Vanity Lights from Barn Light Electric in powder coated white. They have lots of gorgeous color options! I LOVE Barn Light and have had many of their fixtures in my homes over the years (see several of my other light fixtures from Barn Light here). I am SO happy with how these transformed the space. They set just the right mood.
We switched out a few other things in this room like the towel rods from Kingston Brass (to match the faucets), a new Kingston Brass toilet lever, and added the shower curtain and towels. The little white cabinet with the glass front is one I put in a bathroom makeover in my home 20 years ago! It was from Pottery Barn–here is a similar one.
While there are still things we could do, we are very proud of what we accomplished in a month! It makes us happy when we walk in here! Now, to tackle that mint green and pink bathroom. :)
Do you have any spaces in your home that could be better than they are now? Maybe challenge yourself to a makeover in a month and see what happens! You can see the other bloggers who are doing their own makeover in a month projects, below. Everyone's doing a totally different space, so it's fun to see all the things one can accomplish in a short period of time.
Check out the other Makeover in a Month Bloggers:
Miss Mustard Seed
My 100 Year Old Home
Thistlewood

Thank you to Kingston Brass and Barnlight for the partnership in products for this makeover.
Click HERE for more of our home before and afters! (Transforming our 1950's brick ranch into a charming coastal cottage)
Related Posts:

Have more questions about the painted vanity and stencil? Click HERE for another post!
My favorite bathroom vanities
My mint and pink bathroom
Create a Spa Bathroom Atmosphere and Detox Bath Recipe
How to Add Character with Light Fixtures
Small Kitchen Remodel Reveal
Kitchen Remodel: Four Key Design Tips


SOURCES:
Check out the other Makeover in a Month Bloggers: