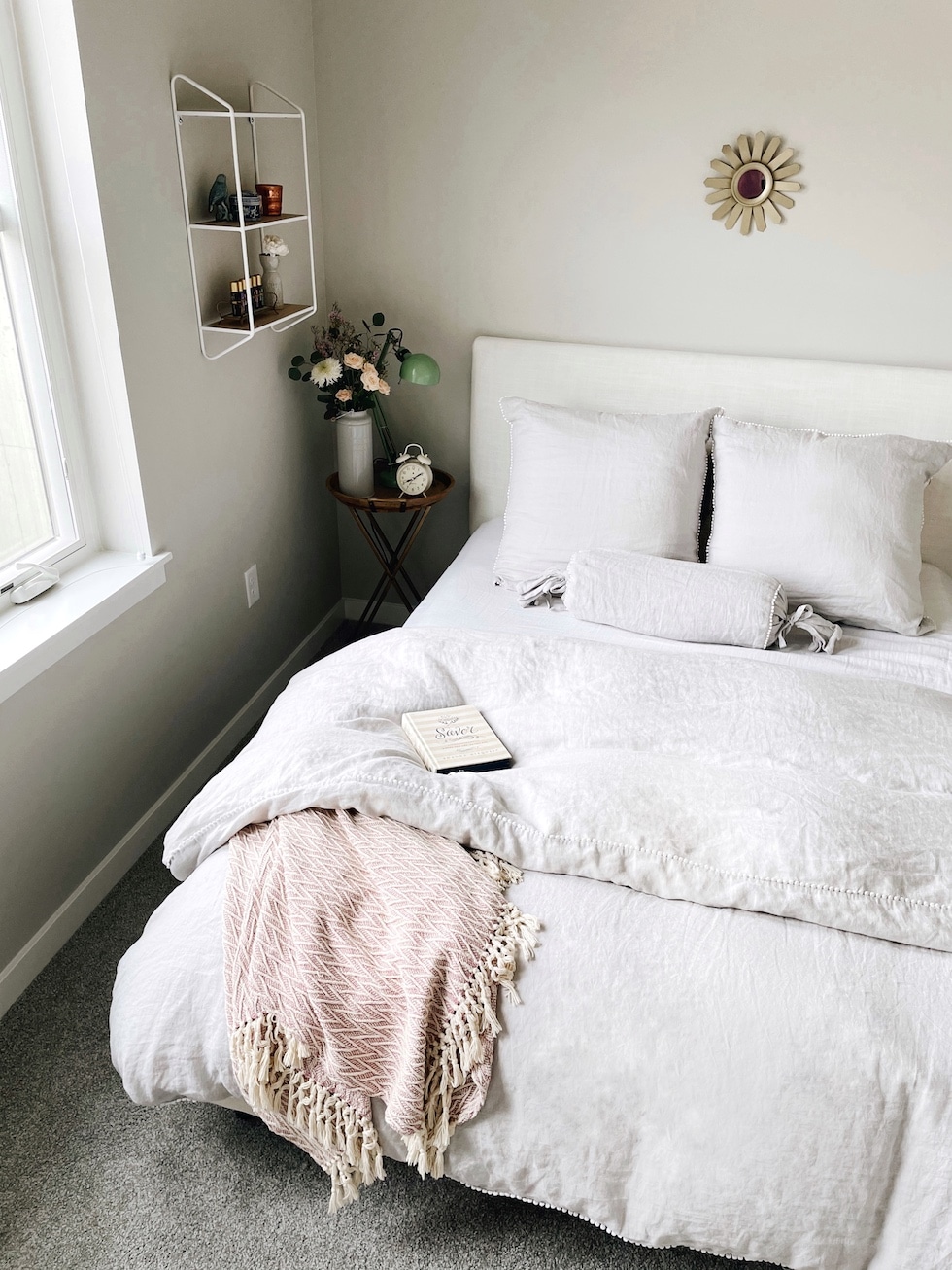 Hi! It's Courtney back again today to share with you my apartment bedroom! As I mentioned in my empty apartment tour post yesterday, this is my first time living in an apartment with a totally separate bedroom. My first apartment was an "open one bedroom" so the space was open but had a partial cutout wall that at least separated it from my living room. But now that I know the joys of a bedroom that is completely separate from my living space (with walls and a door!) I have to say…it is pretty nice!
My apartment is only 500 square feet total, so I knew before I moved in that the bedroom would be a very small space. That is fine by me! Simple and cozy was the goal, but I wanted to make sure my furniture choices didn't make it feel tighter than necessary.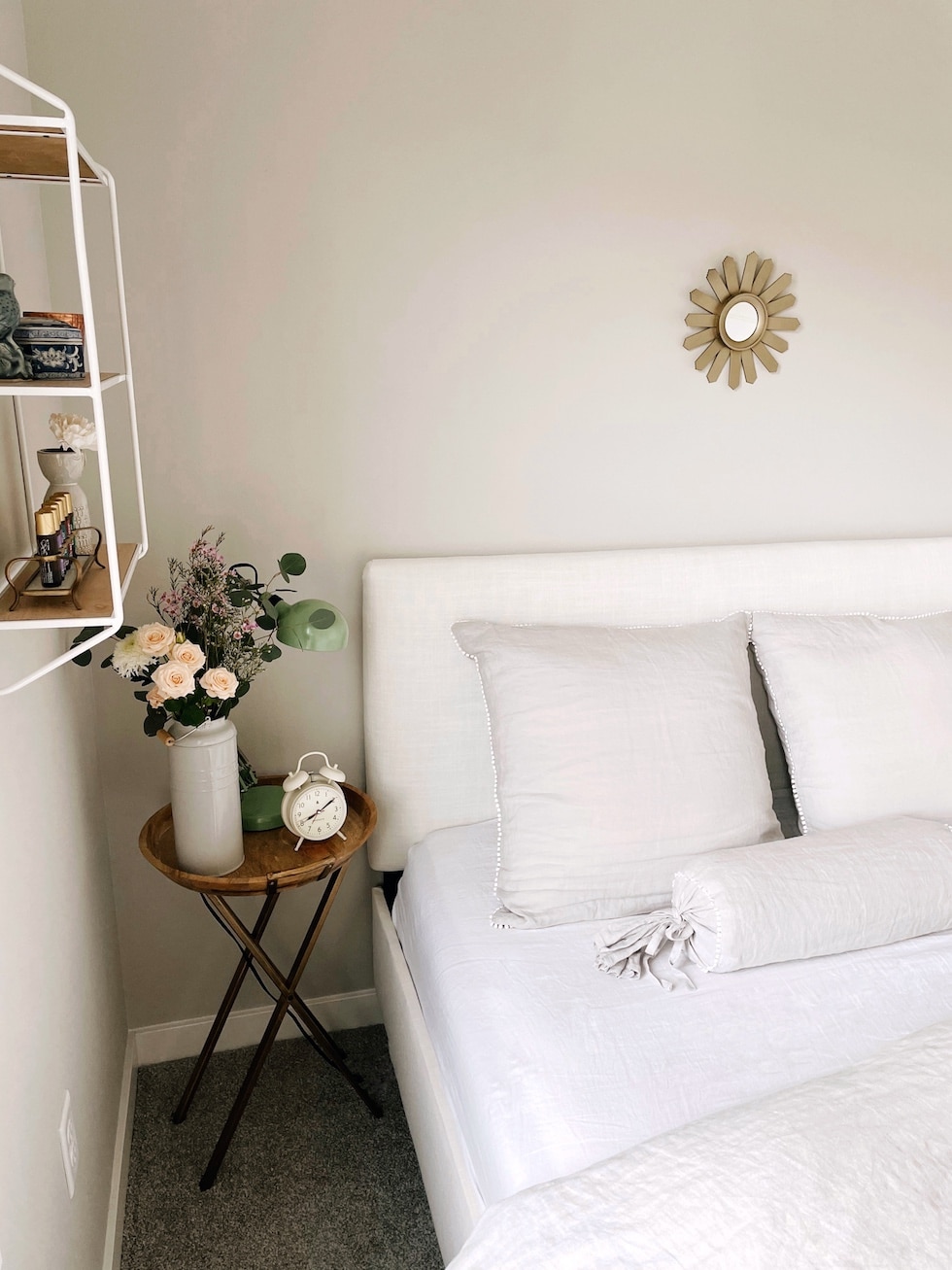 I have a pretty ivory iron bed that I could have brought with me, but I decided for this room I would look for a bed without a footboard. Even though the iron bed's footboard was pretty open, it was just more of a barrier than I wanted to feel in such a small space (although that footboard was perfect for visually separating my old apartment's open bedroom!).
So, the bed hunt was on! It was surprisingly difficult and overwhelming to find a bed within my budget that I was excited about. I'm pretty sure I looked at every bed on the entire interwebs, ha! I ordered fabric samples and went back and forth on many options. At one point I had this pretty wingback bed in my cart but panicked last minute (it was a final sale and I wasn't sure I was ready to commit to that kind of investment!).
Eventually when my move date was approaching and I really needed to make a decision, I found this simple upholstered platform bed on a big sale (you can see it below in my mood board!). It actually reminded me of one I had liked at a higher price point, so this was a great 'look for less' find.
I had a few fabric choices for the bed. My apartment walls and carpet are both a light gray, so I wanted to make sure I got a lighter bed that wasn't the exact same color. I chose 'Zuma White' without even getting a fabric sample first, so I just hoped for the best and it turned out to be perfect. It's not too white, just a nice off white in a soft textured fabric.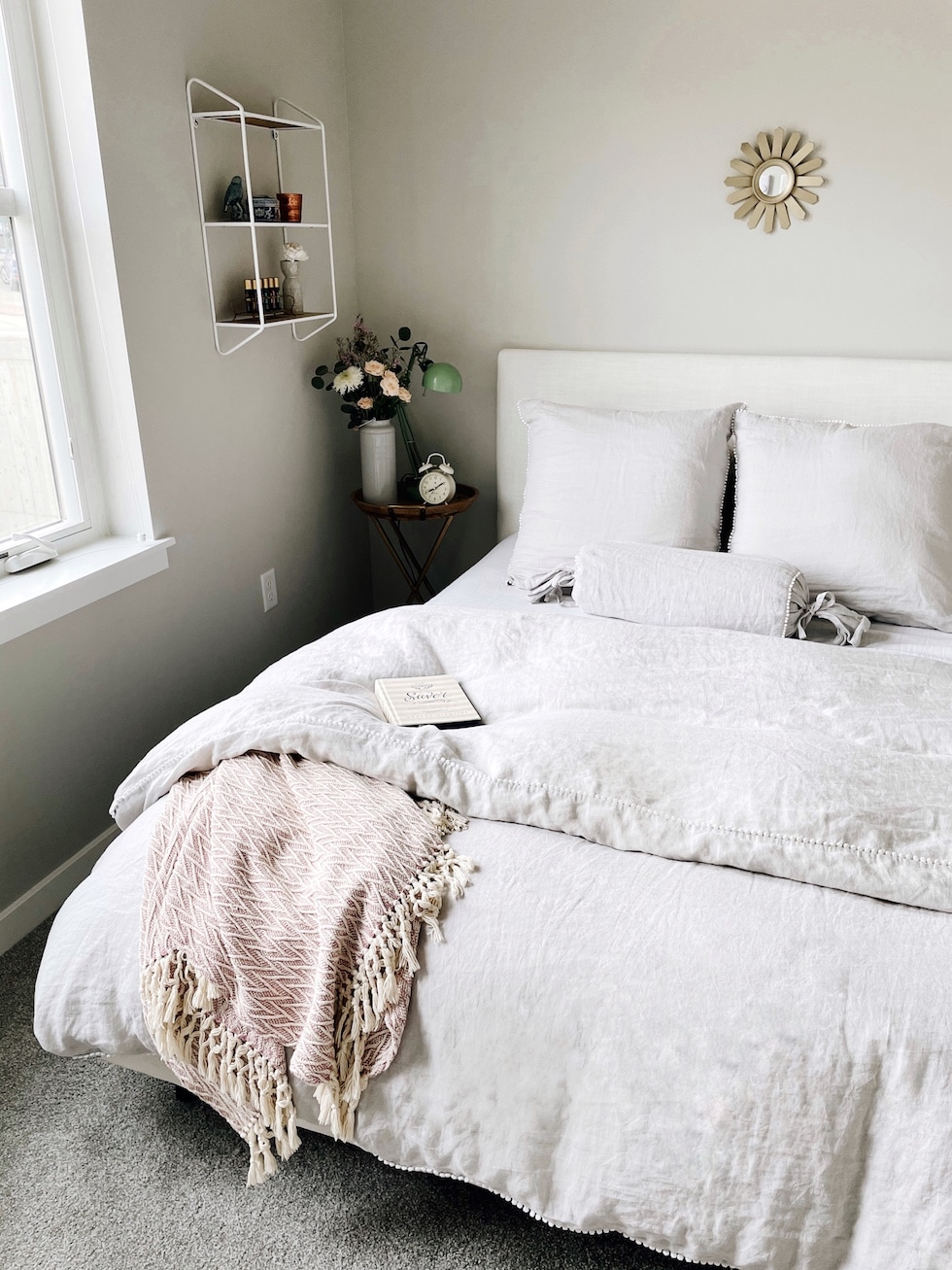 I was impressed by the bed quality and it was relatively easy to put together, too.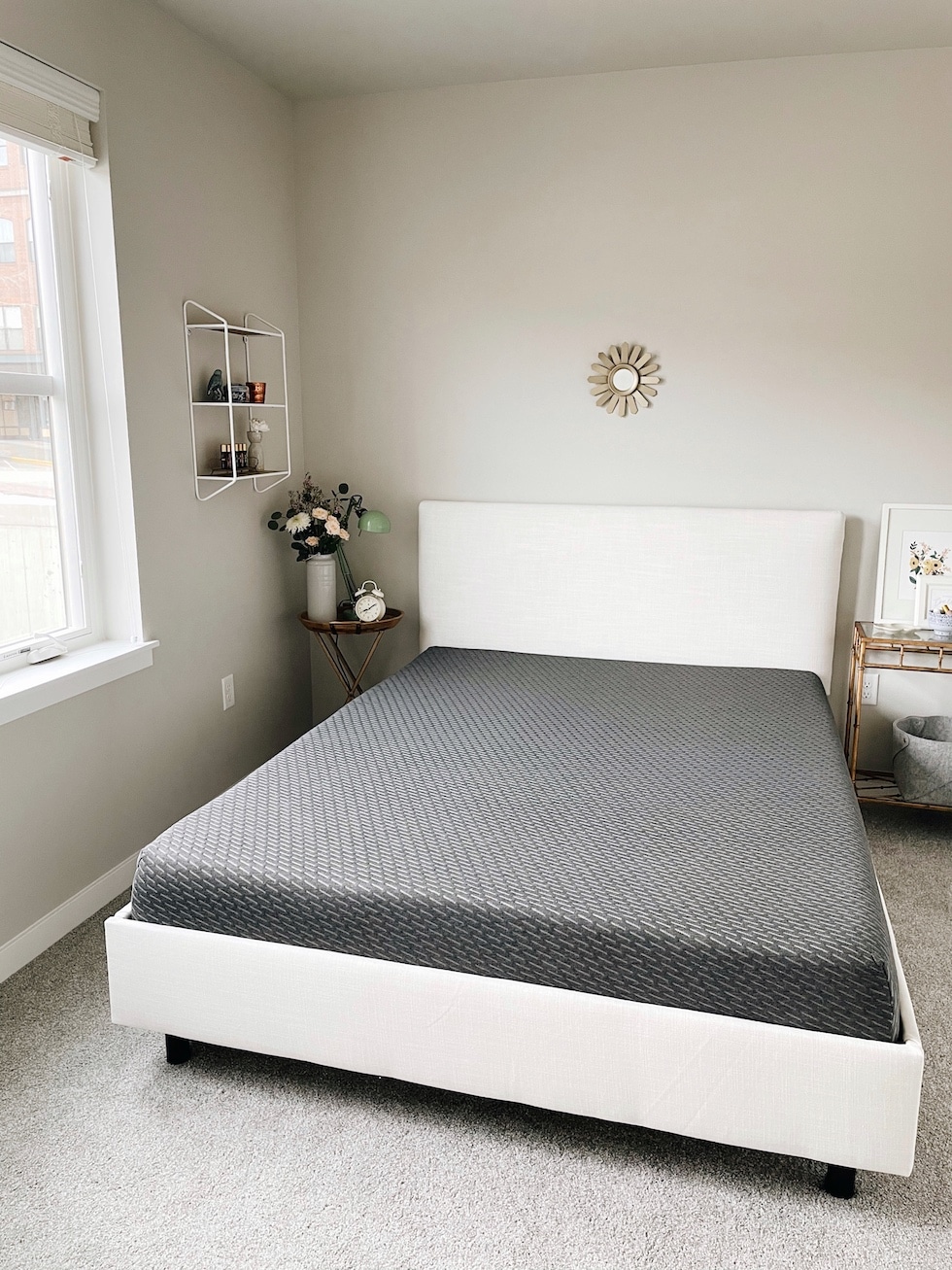 I started searching online for a mattress that could be easily shipped straight to my apartment when I got the keys. My preference was to find one that was made with healthier materials (some mattresses are full of chemicals that aren't good to be breathing in). As I researched the options I found Tuft & Needle. Their mattresses were Greenguard Gold certified (meaning their mattresses satisfy the strictest chemical emissions standards tested for by UL Environment), in addition to other safety certifications.
It was just what I was looking for, so I chose the Mint Mattress with Down Alternative Pillows.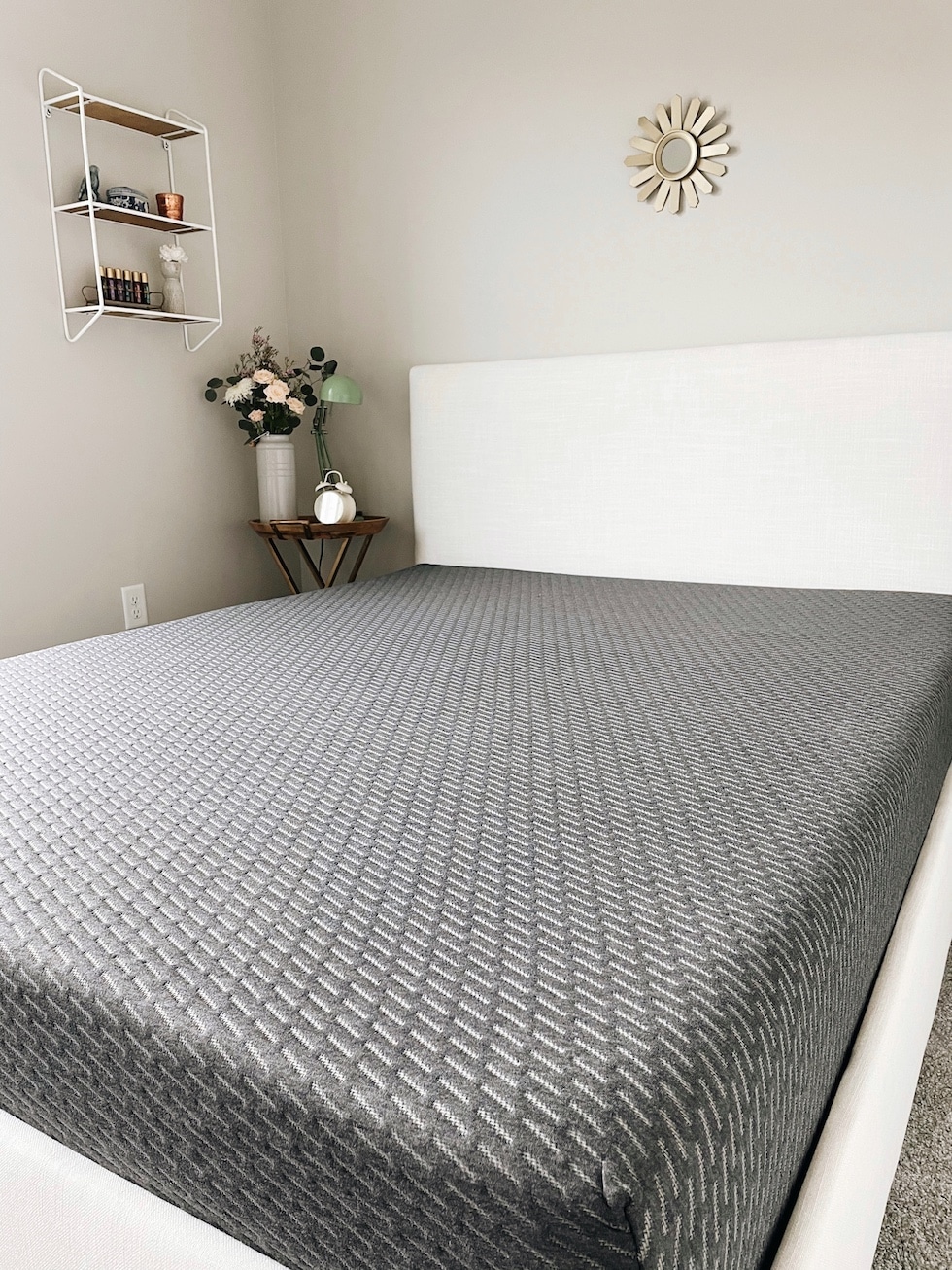 The mattress arrived at my apartment door in a box, I easily unpacked it myself and just watched it expand before my eyes! It was so simple. The Mint Mattress and the pillows are both very comfy and really great quality. I've been super happy with them so far and would highly recommend Tuft & Needle if you're looking for a new mattress.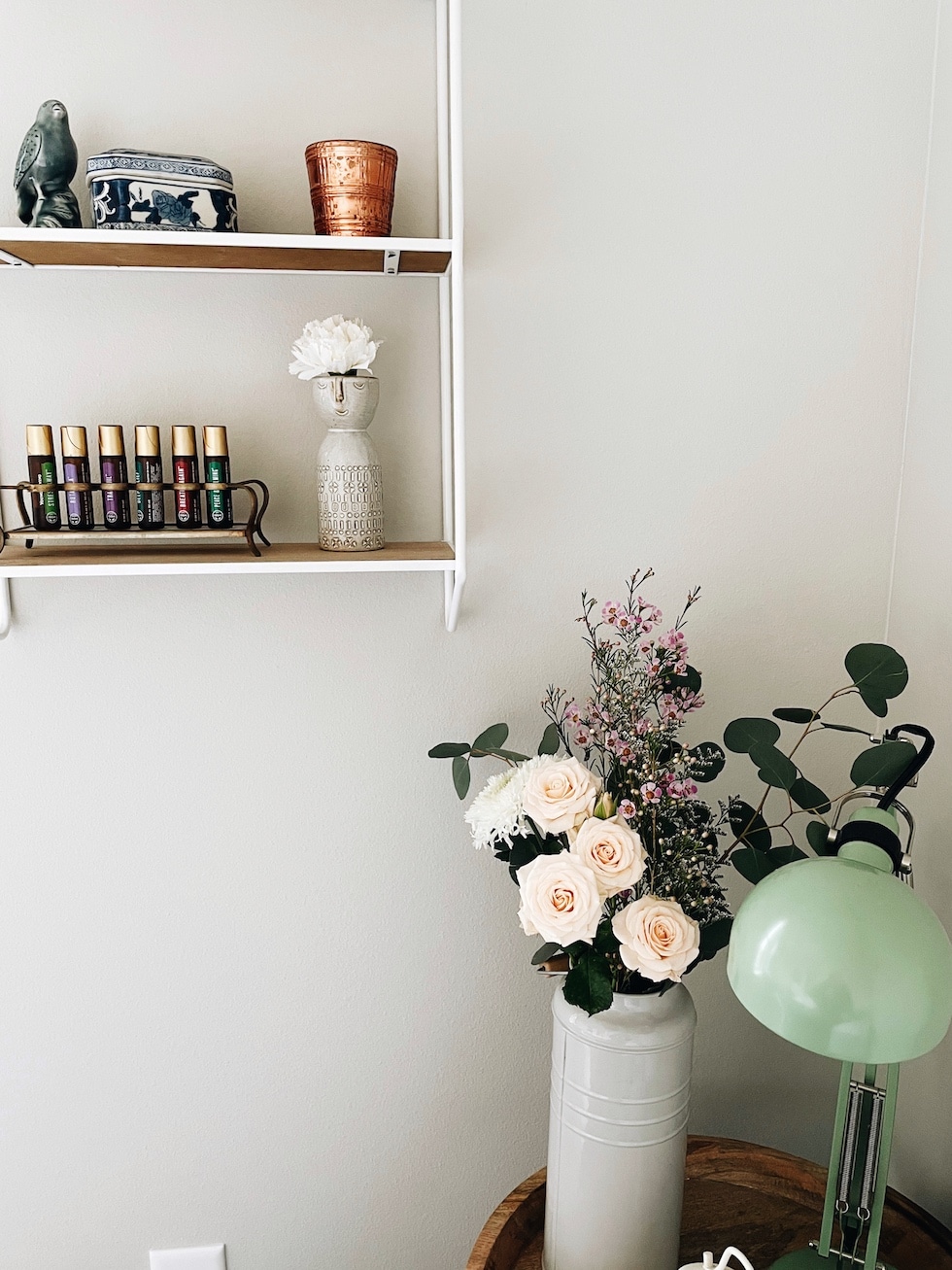 I purchased this shallow wall shelf without a specific plan for where to put it, but I knew it was versatile and there was bound to be a good spot for it somewhere! It ended up being perfect on this wall next to my bed. I love that it provides a little extra storage and display space for pretty things. I also used it as a perch for some of my most reached for essential oil rollers (I keep them in this lipstick holder).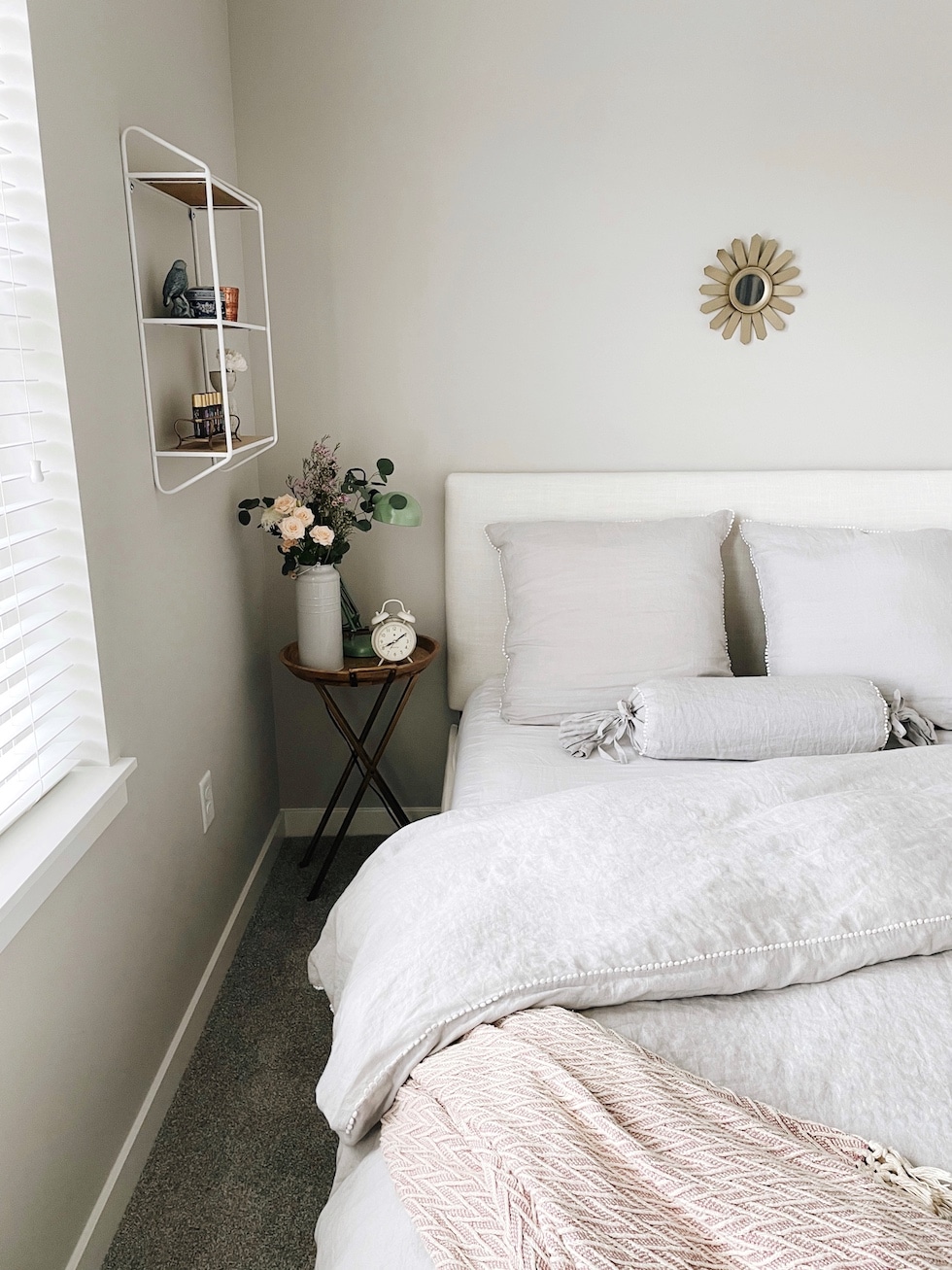 My bedding is this linen duvet and shams with pompom trim (mine is the Light Grey color), and the optical white linen sheets. Super cozy! I shared more about this bedding a couple years ago in this post.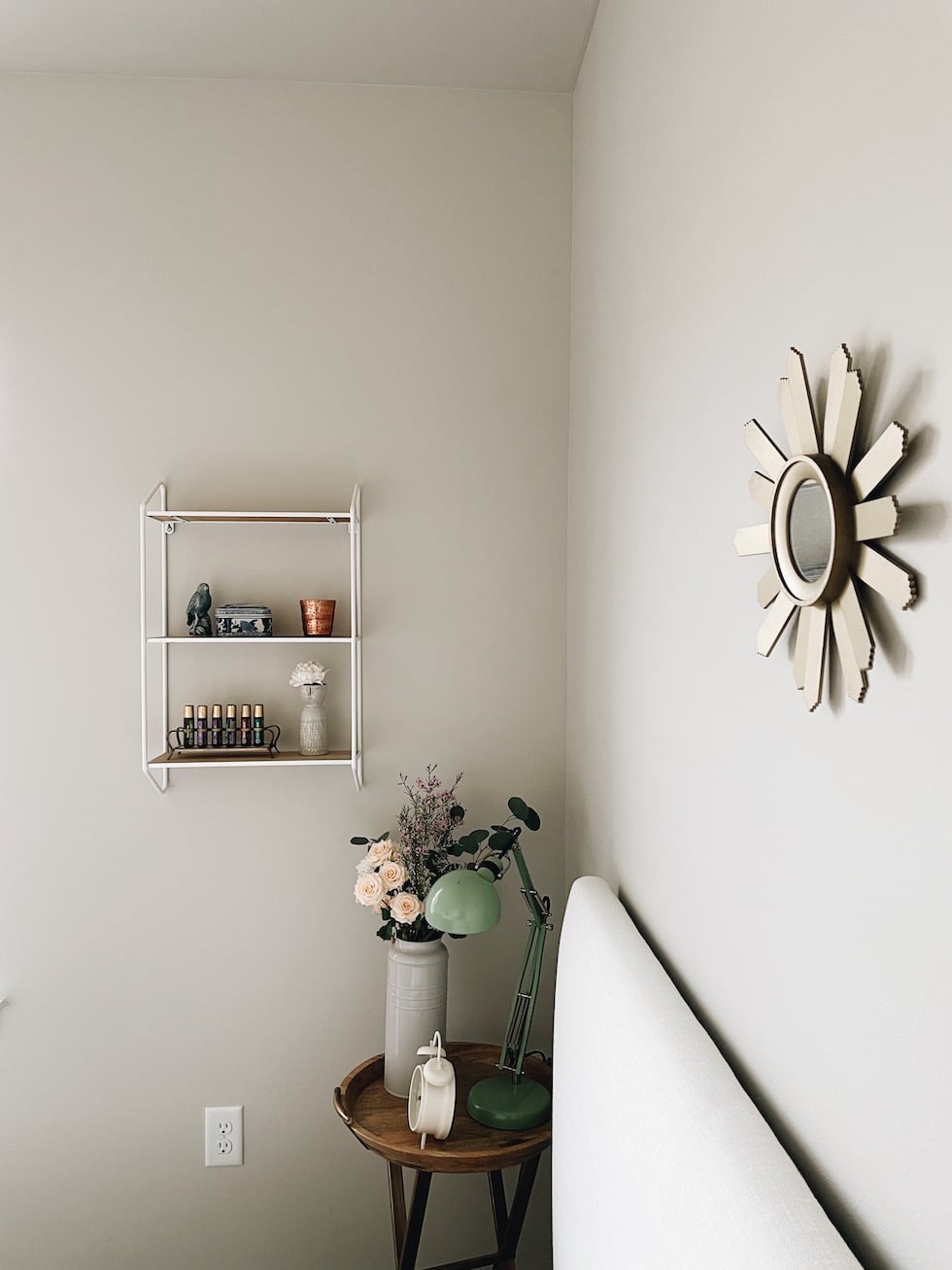 My nightstands are both ones I'm borrowing from my mom! This tray table doesn't provide a lot of storage so I may swap it out eventually, but I do love the warmth of the wood and how it's nice and airy for this small space. The little mirror above my bed was once a set of 3 from Target or Home Goods many years ago–it was actually once a part of my mom's family room gallery wall you can see here. My mom gives some pretty great decor hand-me-downs ;) and I love taking the same decor and finding new ways and places to use it.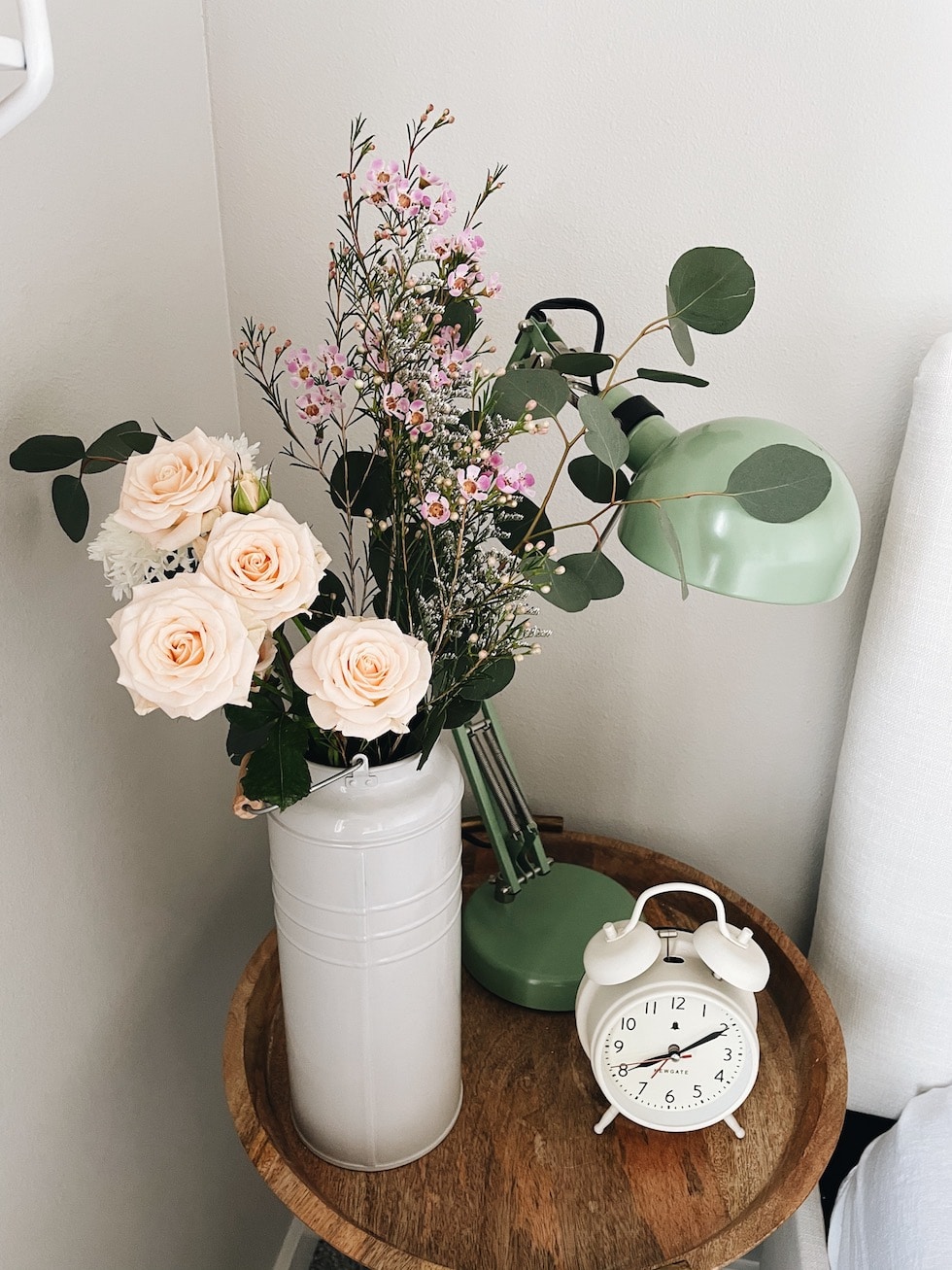 I've had this little white alarm clock for years and the mint green lamp is the Forsa lamp from Ikea. (Ps…I made this pretty bouquet with flowers from a local florist just down the block from me–I love living in a town with fun places I can walk to!)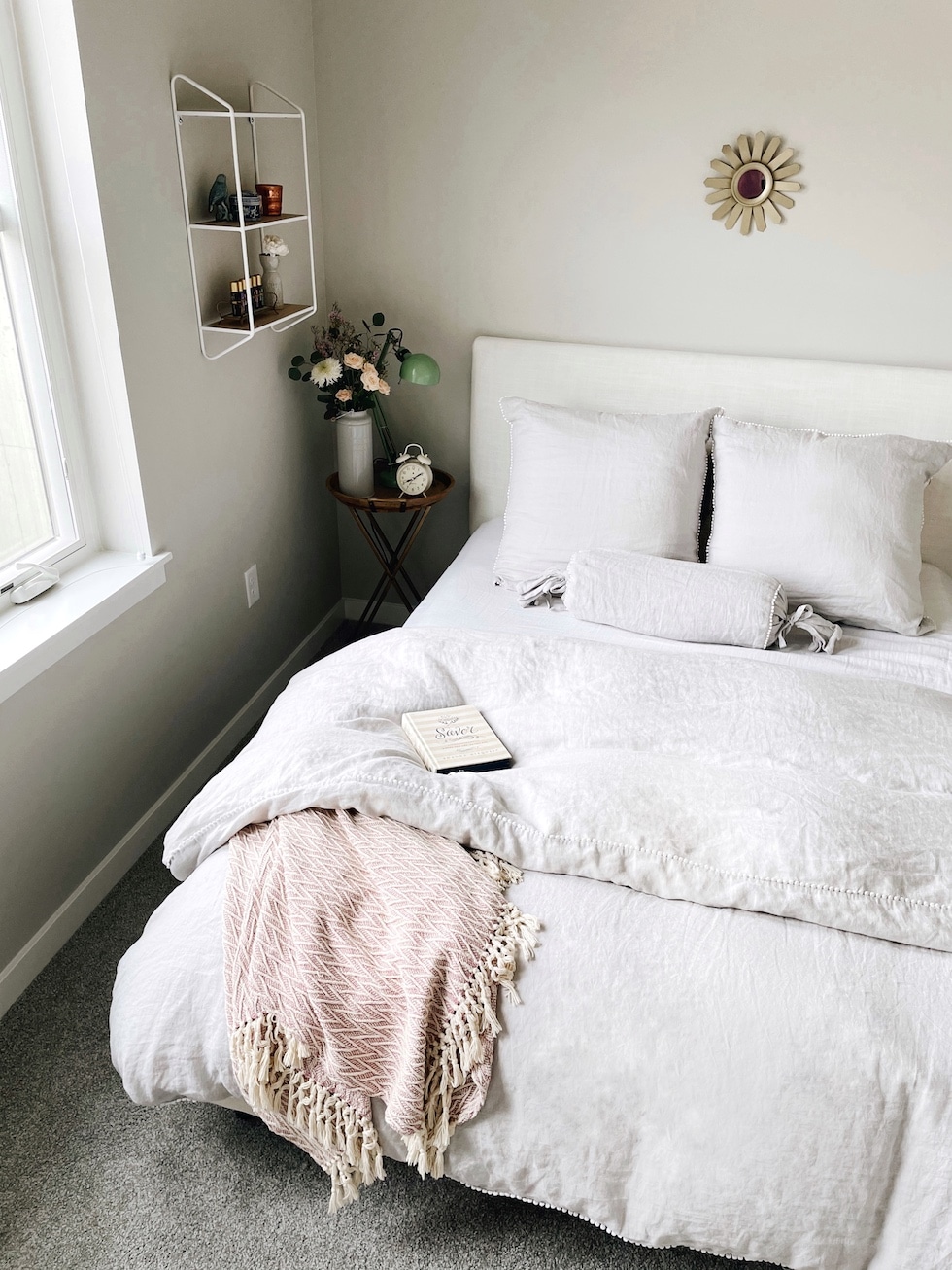 The rest of this room is still a work in progress since I just moved in about a month and a half ago, but I am loving how restful and calm it is feeling so far! I definitely look forward to nestling into this cozy space every night.
If you missed yesterday's post, you can see my empty apartment tour and the rest of my design mood boards here!
Thanks for letting me take over the blog over the last couple days, friends. Hope you enjoyed these peeks at my new place–I'll definitely be back to share more as I continue to get settled! :)
Click to follow Courtney on Instagram for more apartment updates and behind the scenes!

Thank you to Tuft & Needle for gifting the mattress and pillows!