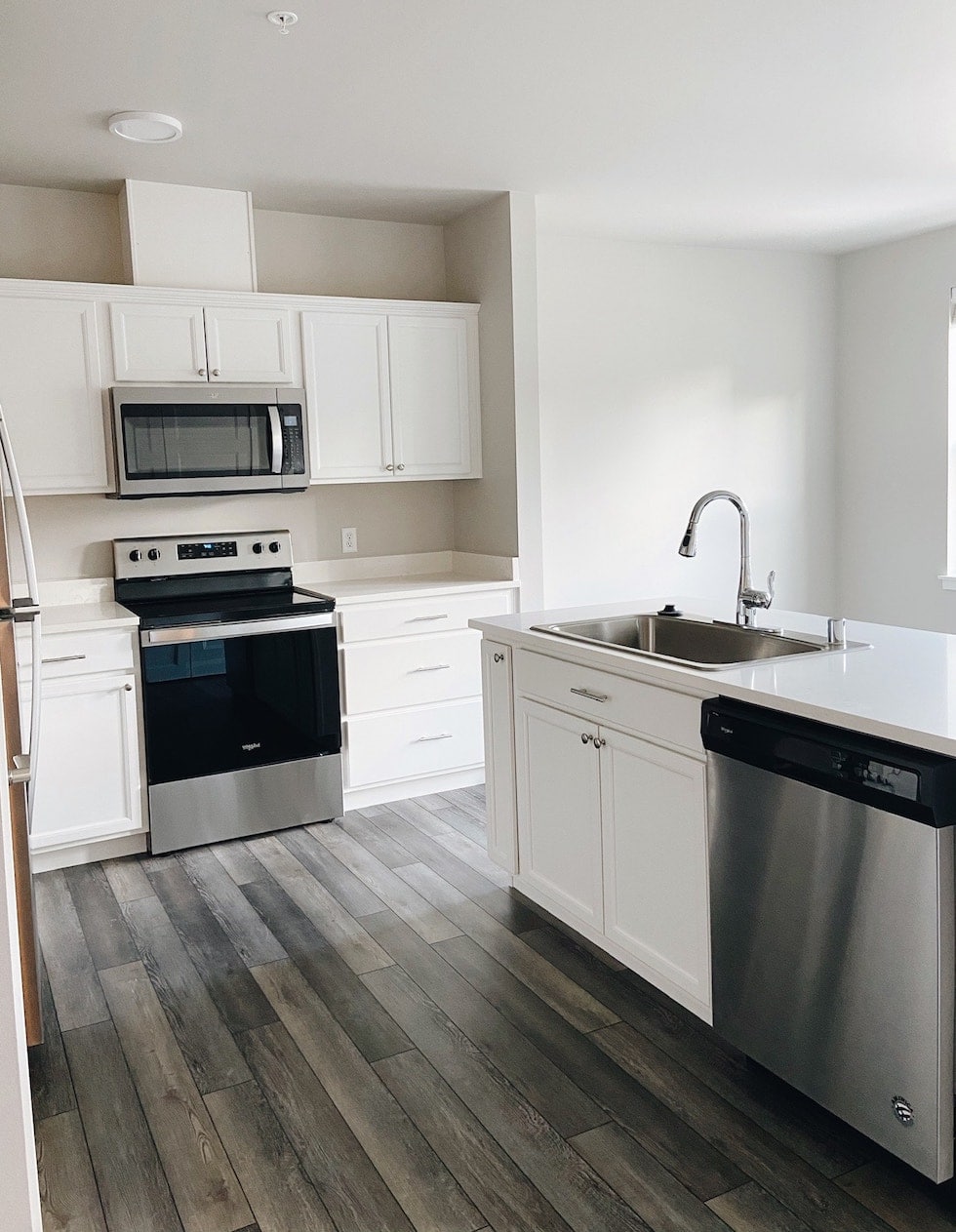 Hi friends, it's Courtney (Melissa's daughter) here today! After living in my parents' lower level apartment for the past year, I am now all moved into my new little apartment up in Bellingham, a cute town by the water in Washington!
Today I wanted to give you the empty tour of my new place, as well as share three mood boards with my design plans! I've already settled in and made a lot of progress in the last month and a half of living here that I can't wait to share on the blog. Tomorrow I'll actually be right back on the blog sharing my cozy bedroom, so be sure to come back tomorrow to see that!
If you've been following my Instagram stories, you've already seen some of my progress so far–so if you can't wait ;) you can look through my Instagram story highlights for some peeks!
A bit about the apartment before we take a look around! It's a 500 square foot one bedroom, which is actually about 100 square feet smaller than my previous 'open one bedroom' apartment in Seattle. If you want to see my old place, you can take a tour here.
I had signed my lease for this apartment back in June 2020–before the building was complete. The construction had many delays due to the state of the world, so instead of moving in mid October, my move in date turned out to be mid January. But it was worth the wait! There is so much I love about this apartment and town and I'm really grateful to be here. Bellingham is only an hour and a half north from my parents' home in Seattle, so I've enjoyed being able to easily head down to be with my family for a day, the weekend, or several days! It's been great having a home base now in both cities.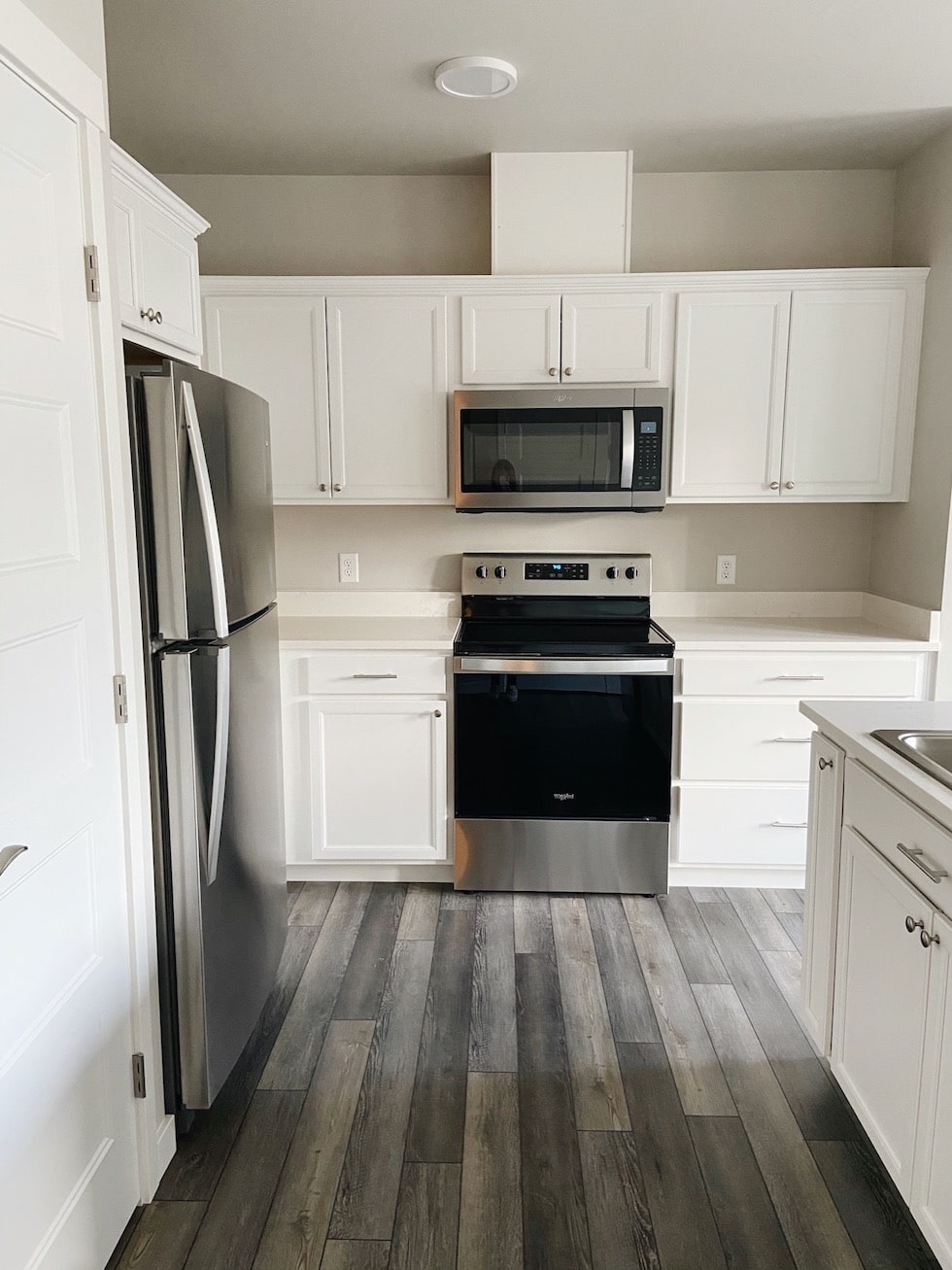 Okay, now for the tour! First things first, the kitchen. I was very pleasantly surprised by the size of this kitchen for an apartment–especially at only 500 square feet. I love all the finishes they chose, they were a perfect blank slate!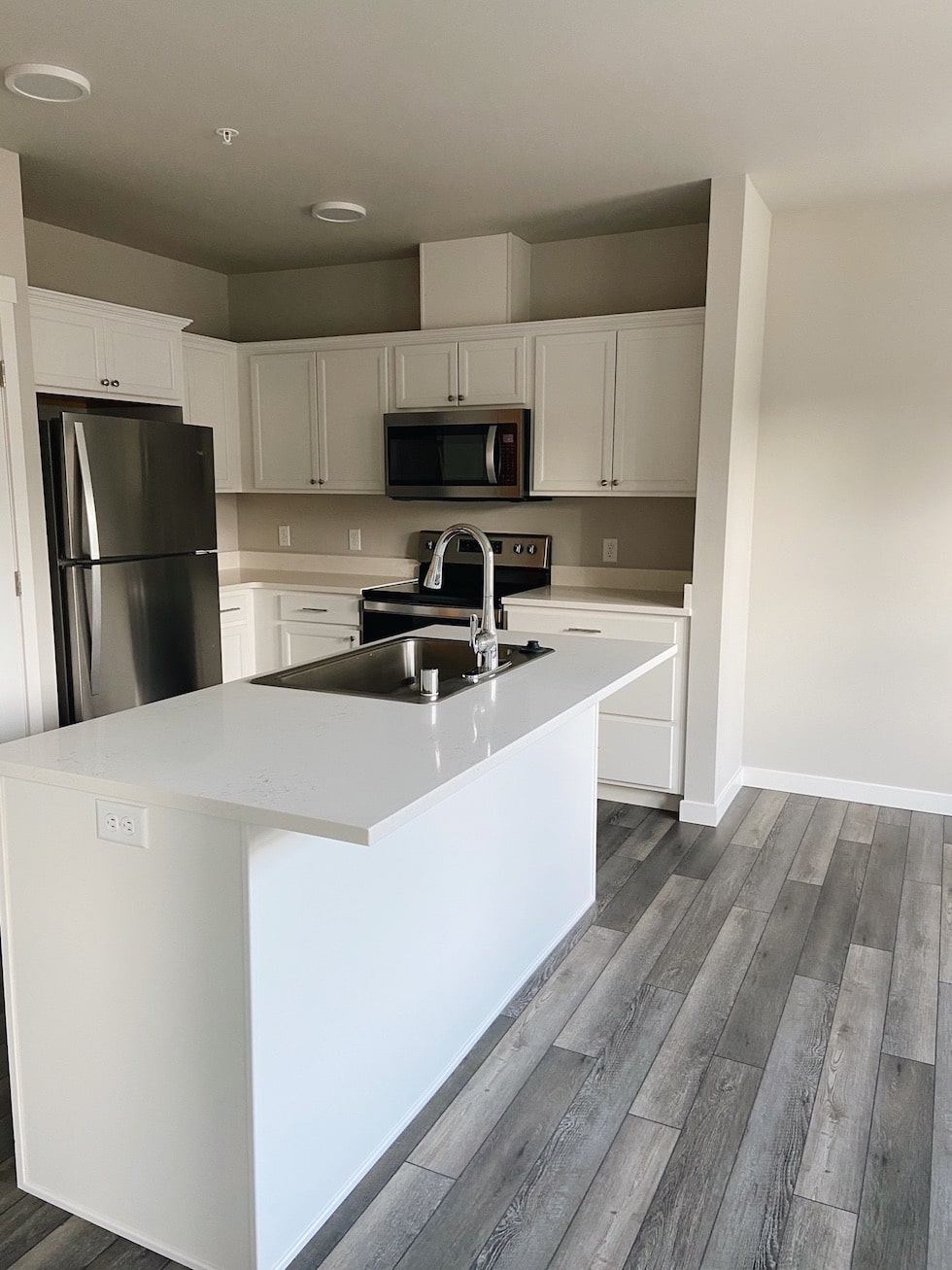 I knew by the floor plans that there was an island (also unexpected for this small space!) but I didn't know until my first tour that there was space underneath for counter stools. That was a great perk!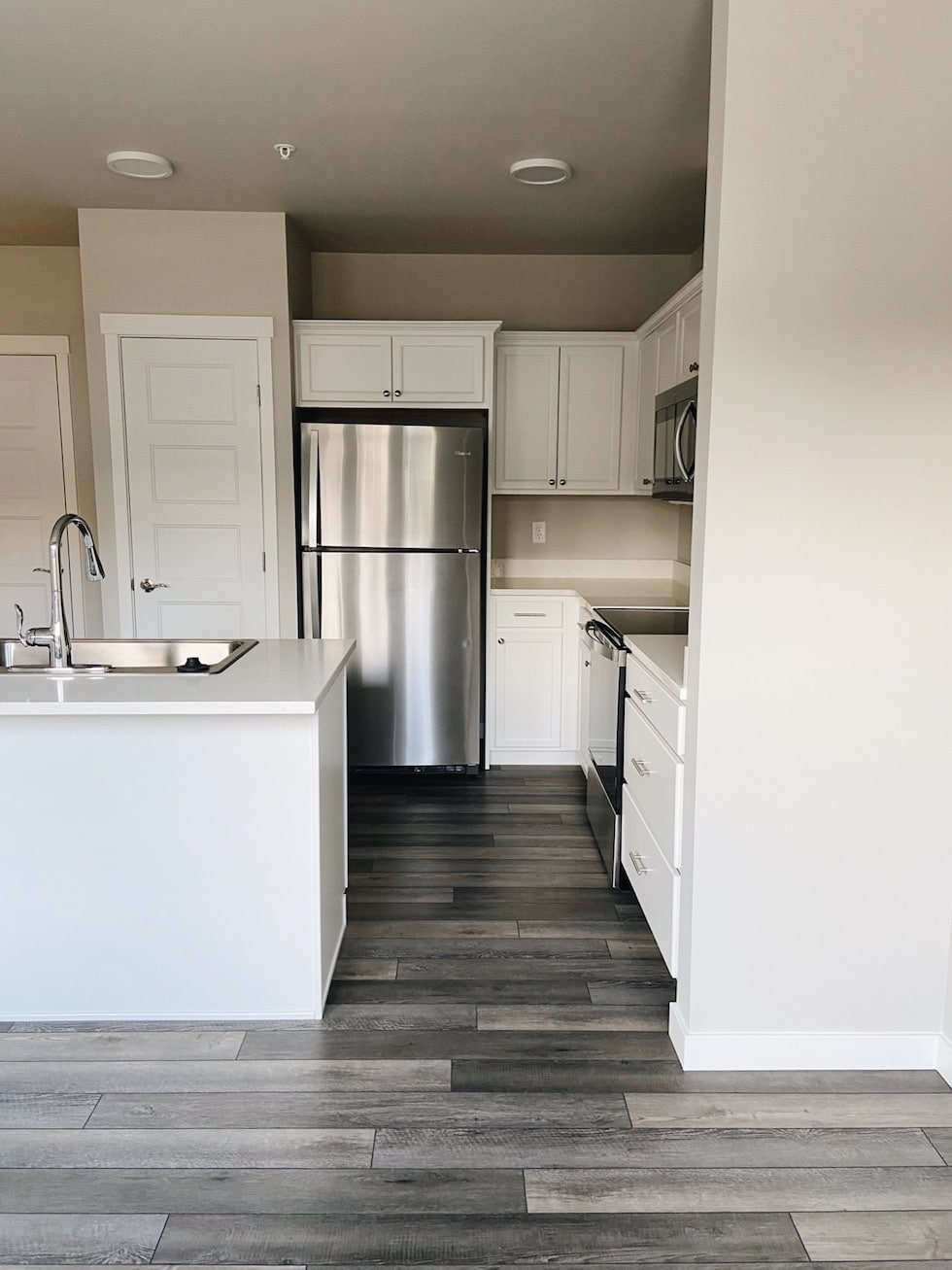 Another feature I really love is the shaker door style. That door to the left of the refrigerator would be amazing if it led to a pantry closet, but alas…it's actually just a water heater–ha! At least it's a cute door, and the kitchen has plenty of storage for my needs!
Beyond the island is the living room!
The living room is narrow but pretty long (that back nook wall is a bit under 8 and a half feet wide, and the room is 14 feet long). I had several ideas for how to arrange this space, and have just come up with an arrangement I really love.
That back wall is where this pretty Target cabinet will be going when it arrives this week (see my room mood boards at the bottom of this post!).
The double doors next to the island are where my side by side washer and dryer are, with a wire shelf above for storage.
Beyond the living room is my bedroom! This part was particularly exciting for me as my previous apartment in Seattle was an open one bedroom (basically a studio but with a cutout wall that separated the bedroom from the living room). You can take a tour of my old bedroom here,
This bedroom is a little under 9 and a half feet wide, and 12 and a half feet long. It has a good sized closet in here as well. It gets lots of natural light from two big windows.
I've been loving having a separate bedroom with a door (ha, it's the little things). I'm excited to show you tomorrow how cozy this room has become!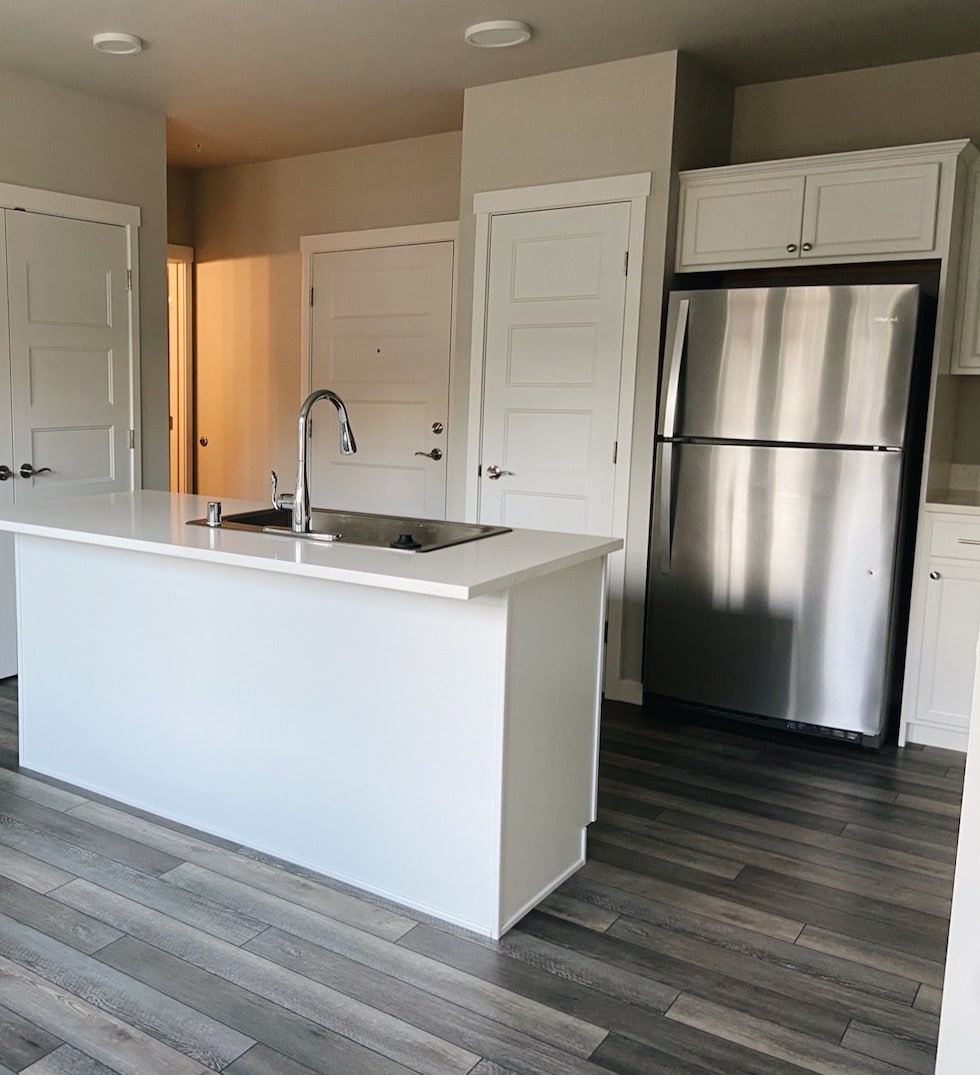 Then back into the living room/kitchen, you can see the entry door.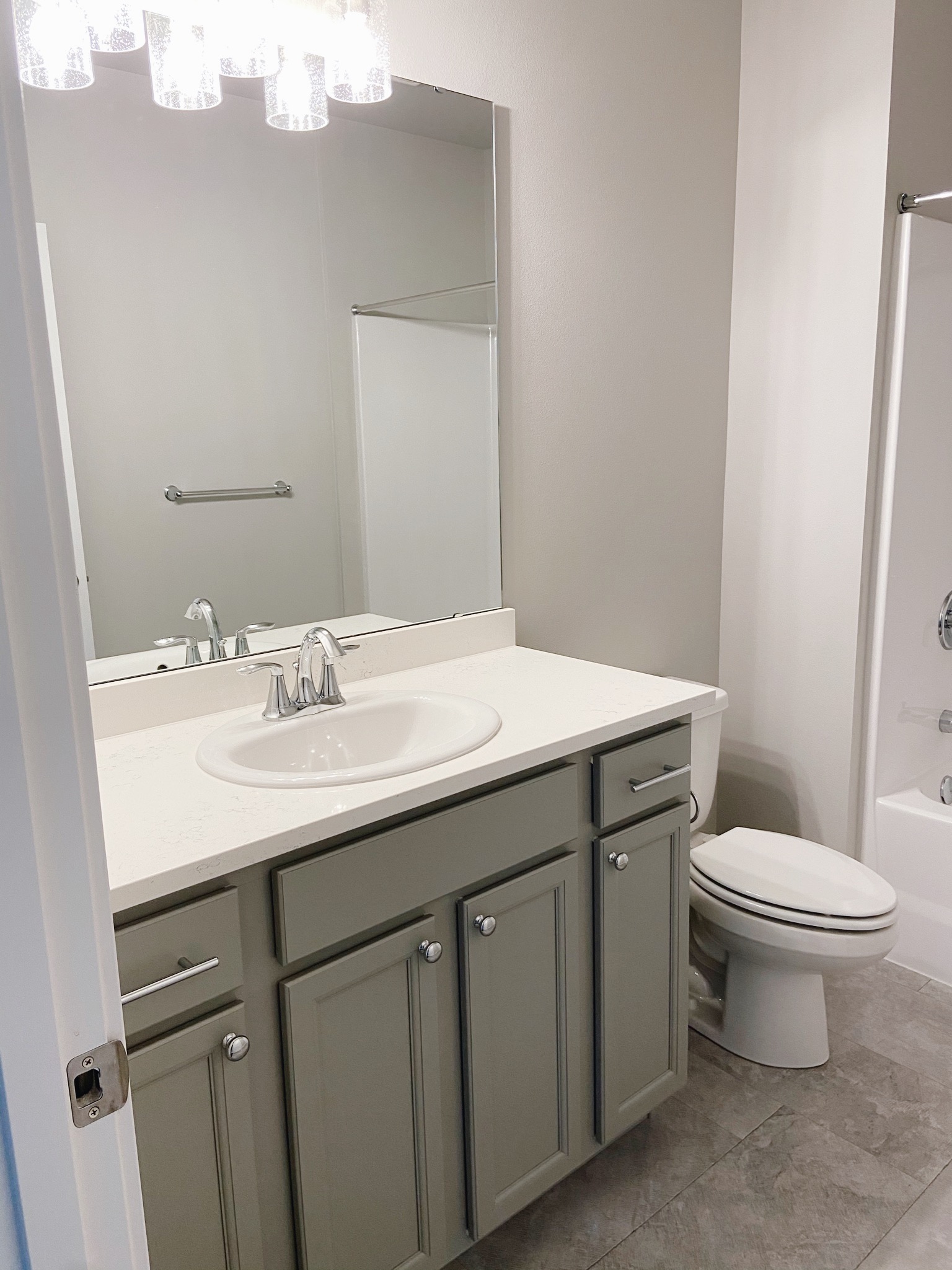 To the right of my entry is my bathroom. I really love the vanity and the tile in here!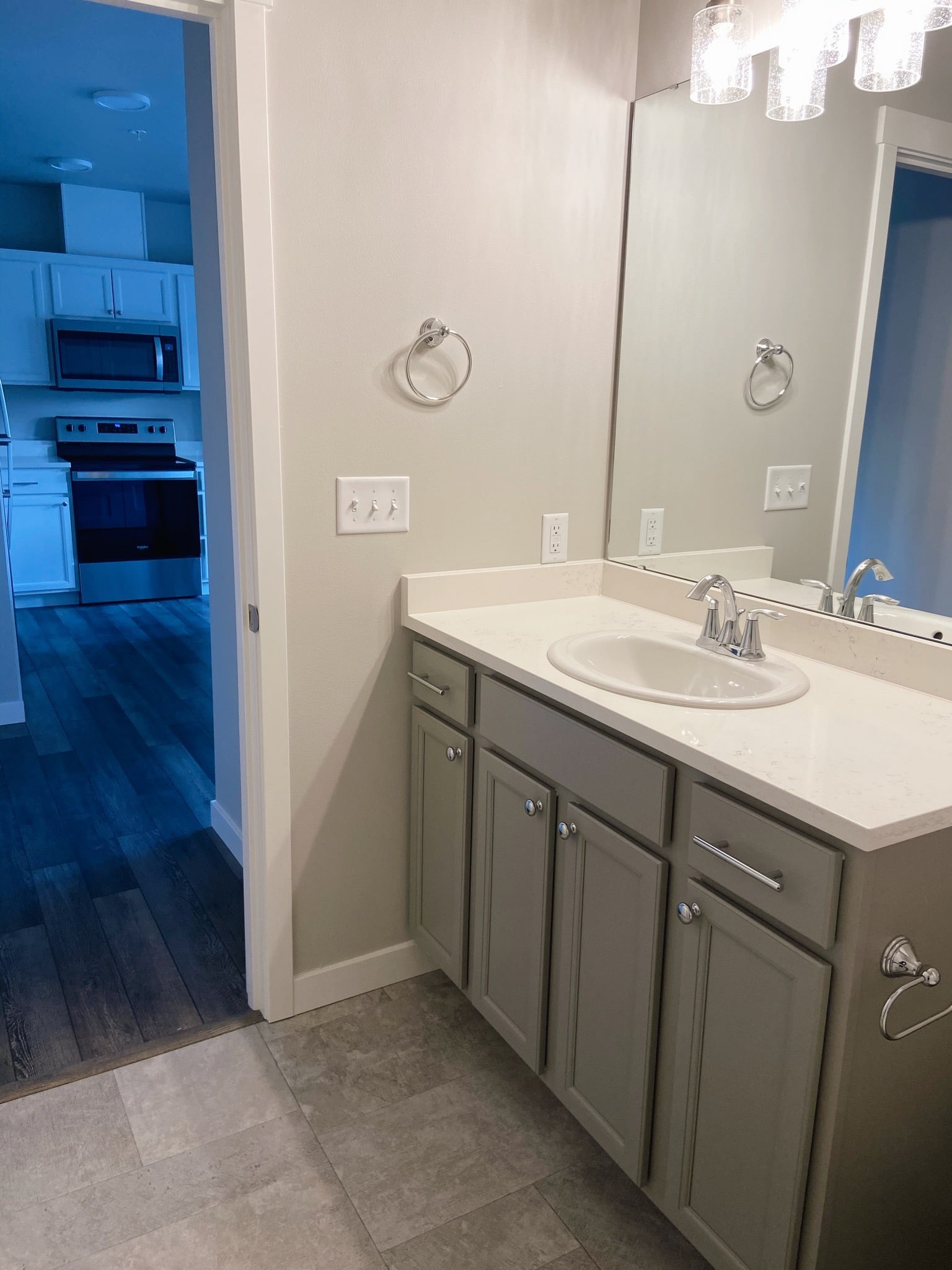 Okay, that's the quick tour! :) It's been about a month and a half now since I moved in–I've settled in quite a bit so far and am absolutely loving it! Let's take a look at my mood boards to get the vision…
The Living Room: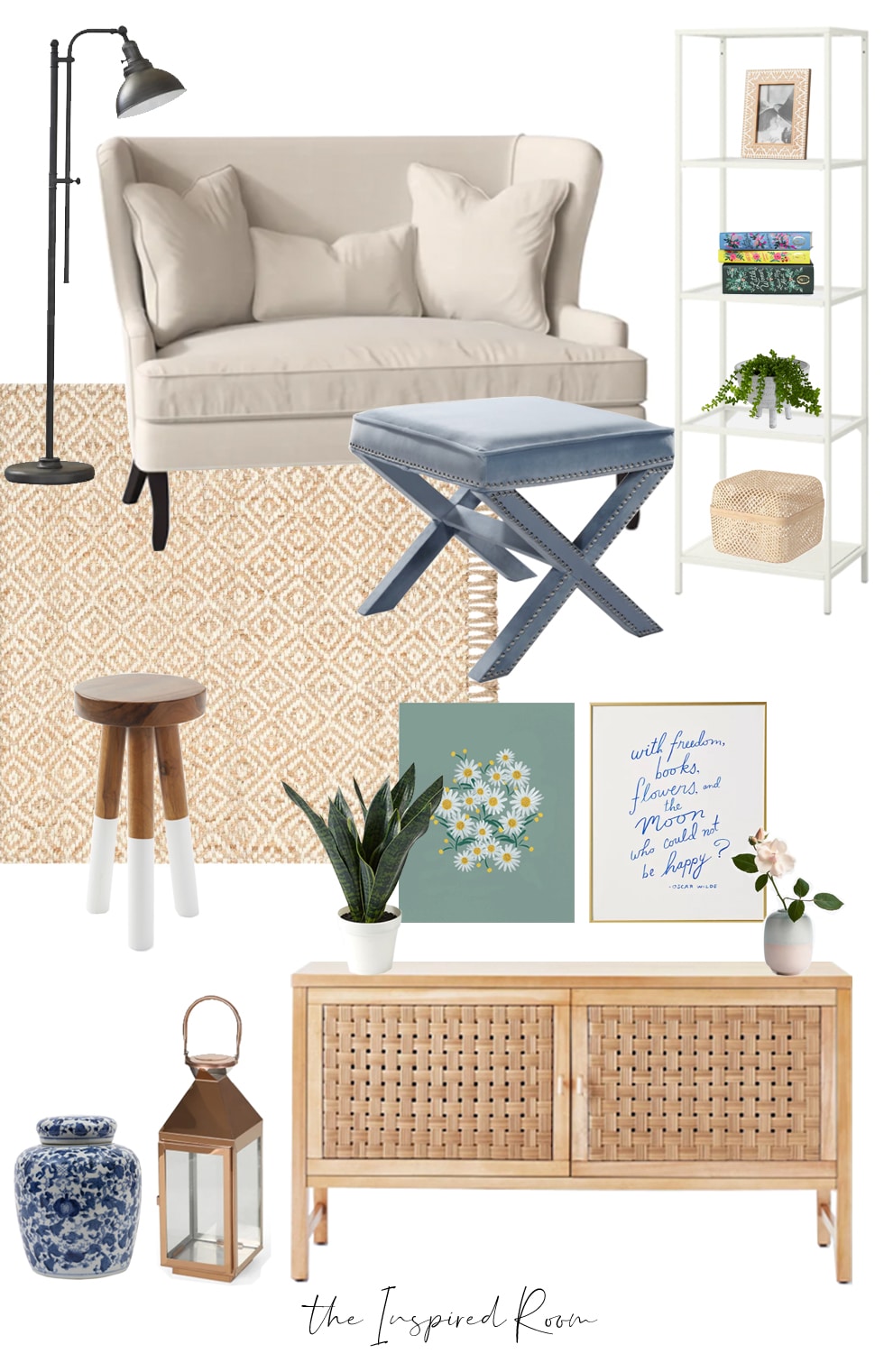 Living Room Sources (scroll and click the thumbnails below):

This wood woven door console arrives this week and I cannot wait to see it in my living room!
Other sources: White Ikea Vittsjo Shelf
---
The Kitchen:
Kitchen Sources (scroll and click the thumbnails below):

---
The Bedroom: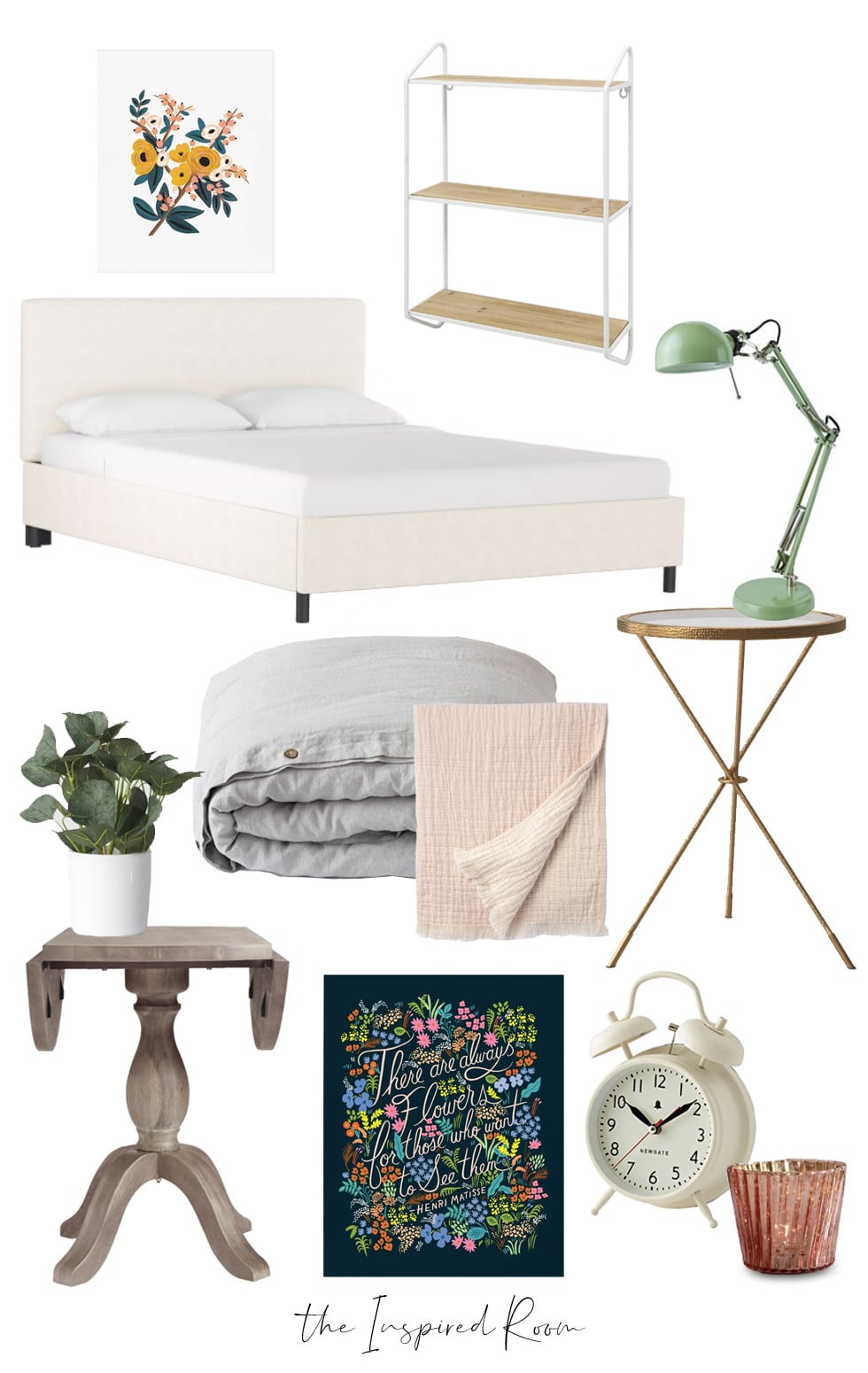 Bedroom Sources (scroll and click the thumbnails below):

Other sources: Mint Green Forsa Lamp from Ikea, not sold anymore but here's a similar!
---
That's the vision–it's coming to life more each day! I'll be back TOMORROW to show you my cozy bedroom all set up. *UPDATE* Click here for the bedroom tour!
If you can't wait to see more of how my apartment has come along so far, you can follow me on Instagram where I've shared some already! Watch my story highlights and reel videos (here and here). You can also see some of my charming new town in my 'Bellingham' story highlight.
Thanks for taking the tour today! :)
Related Posts:
Courtney's Small Apartment Bedroom Tour
Courtney's Apartment Tour (500 Square Feet)