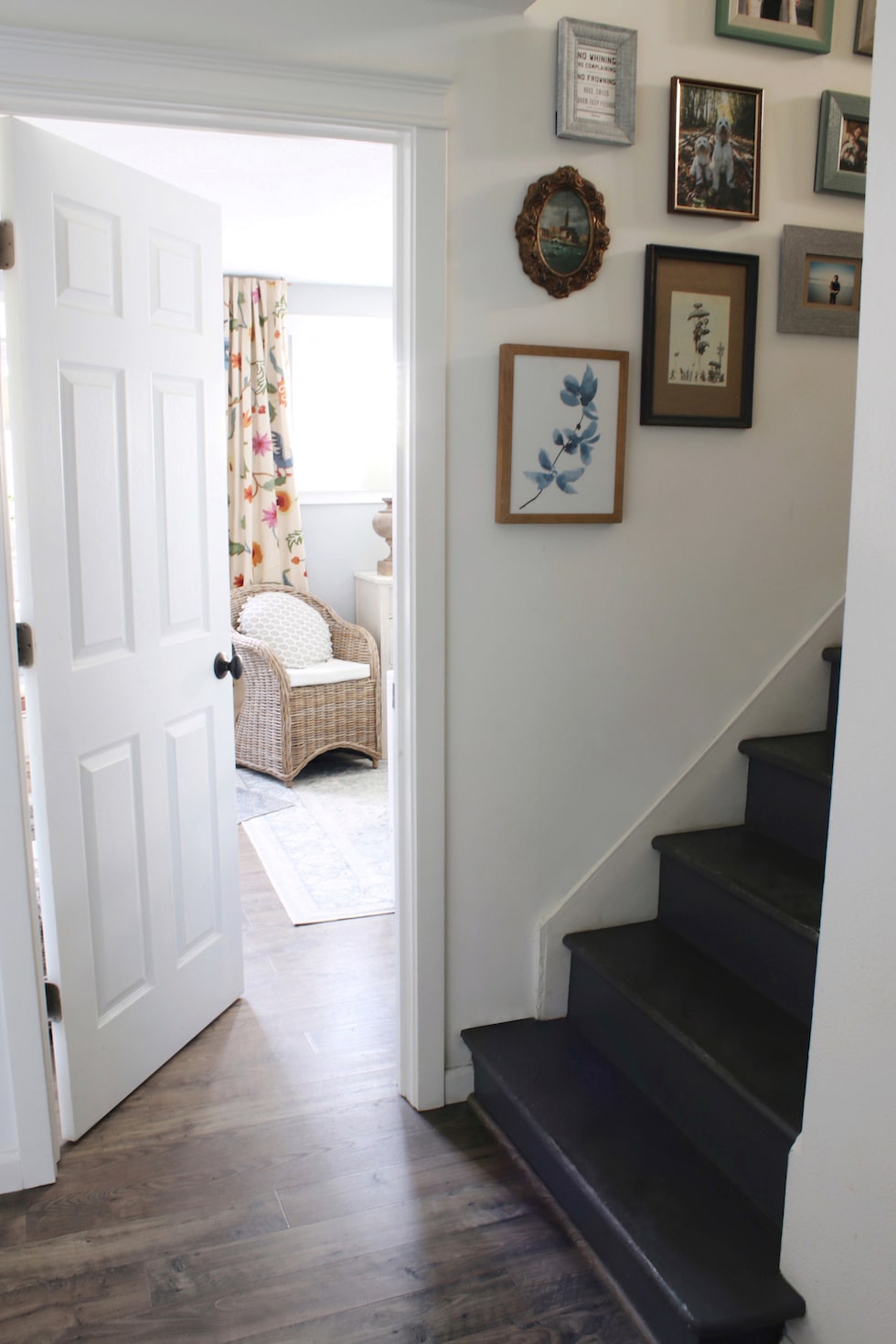 Hey friends! I have a fun post for you today, a little peek at an area of our home we don't show very often!
Here's the backstory if you're new here or need a refresher :). A year ago our daughter Courtney moved out of her Seattle apartment and moved into our lower level. She's lived on her own for years, but we were excited to have her come stay with us as long as she wanted to!
This was intended to be a relatively short term situation, but little did we know when she moved in, we were just weeks away from the first "stay at home order" for Covid here in Seattle in 2020. Long story short, she has been living at our home for almost a year now (along with her brother who also ended up at home after they sent college students home last spring). It was a blessing for us to be together in 2020, but now that we are beginning a new year, she's ready to head back out!
I'll let her tell you the story of her little apartment space and what's next for her!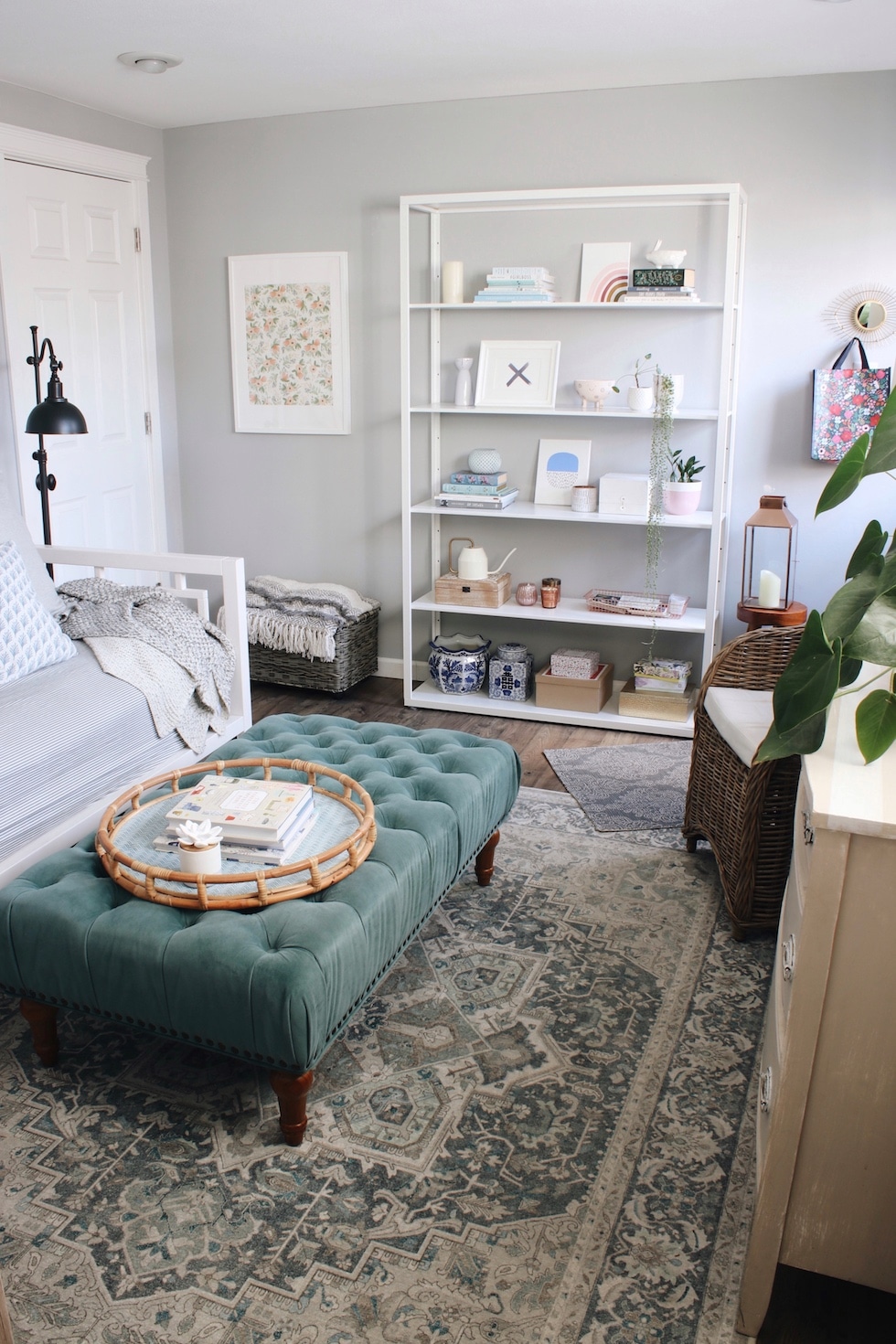 Hello everyone! Courtney here. I'm excited to be here today showing you the cozy little basement space I've been living in for the last year! Moving out of my first apartment was bittersweet for me–I loved living there but knew I would be happy if I took some time to save and prepare for my next adventure (what that was going to be, I didn't know at the time!).
Obviously I had no idea that we would be about to experience the crazy year that we did in 2020 (that definitely wasn't an adventure any of us were expecting to go on, ha!). I am incredibly thankful for the way that timing worked out. I had just gotten all settled in here right when the pandemic began. I couldn't believe how blessed I was to be safe at home here with my family instead of alone at my apartment.
With all the changes in the world, some of our basement apartment design ideas adjusted as well! We originally considered turning the basement laundry room into a kitchen that I would use while living here. But when my brother came home from college, we decided that wasn't necessary and we decided to eat our meals together as a family upstairs instead. Again, that quality time together has been such an unexpected blessing I'm so thankful for.
We did still give the basement bathroom a simple refresh this summer and love how it turned out! If you missed that you can see the makeover here.
I'll show you around more of the space!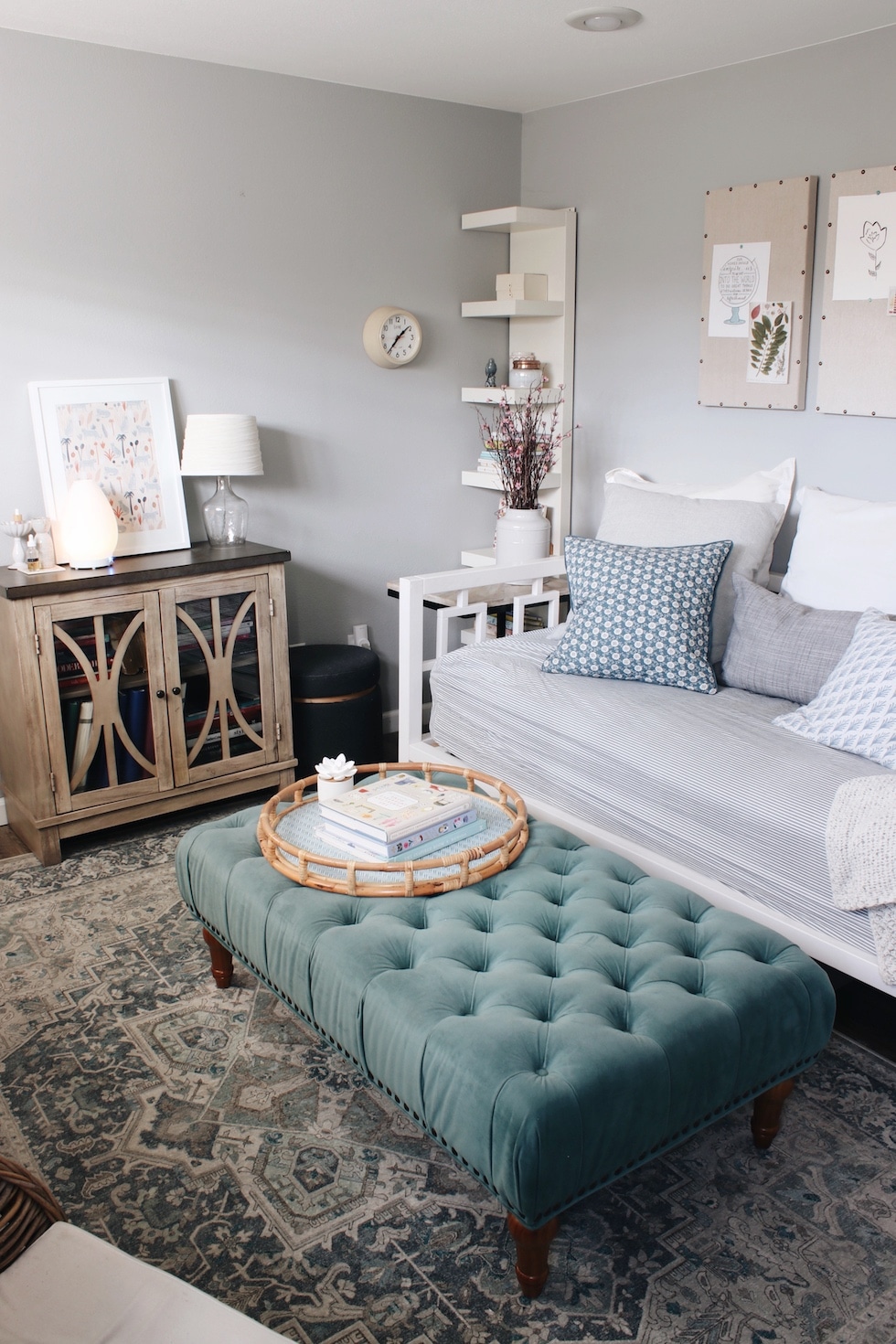 If you recall, when my parents originally bought this house, the basement was basically one huge carpeted room with a white brick fireplace. We had a wall built to create a separate office, and installed new floors. My little living room here with the daybed used to be where my mom's desk was (you can see that here).
The paint color in here is Coventry Gray by Benjamin Moore. It's a lovely pale gray with just a hint of blue!
I've had this daybed for years–it was my bed back when I lived in a tiny bedroom at my sister Kylee's townhouse (tour that small space bedroom here), and it served as my couch in my old studio apartment (you can take that tour here).
I got it here, but it looks like it's not in stock anymore. This one is similar, or this one with a trundle.
One of my favorite parts of this basement is how full of natural light it is! It's definitely not a dreary lower level–it's quite cheery with sun streaming in even on those darker Seattle days. We added white plantation shutters a few years ago down here which add nice architectural detail and privacy.
These fun curtains add to the cheery feel of the basement as well. My mom got them here several years ago–they used to be in the navy office at her old house. We love them in here!
Now heading into the adjoining space, where my bed and closets are!
This armoire has been in this room since we moved in here. We used to keep linens in it, but when I moved in I started using it as a closet. It was a natural wood that I recently painted with this milk paint in Bergere. I love how it turned out! I'll share the before and after and more about that in a separate post soon. (Update: click HERE for the armoire makeover details!)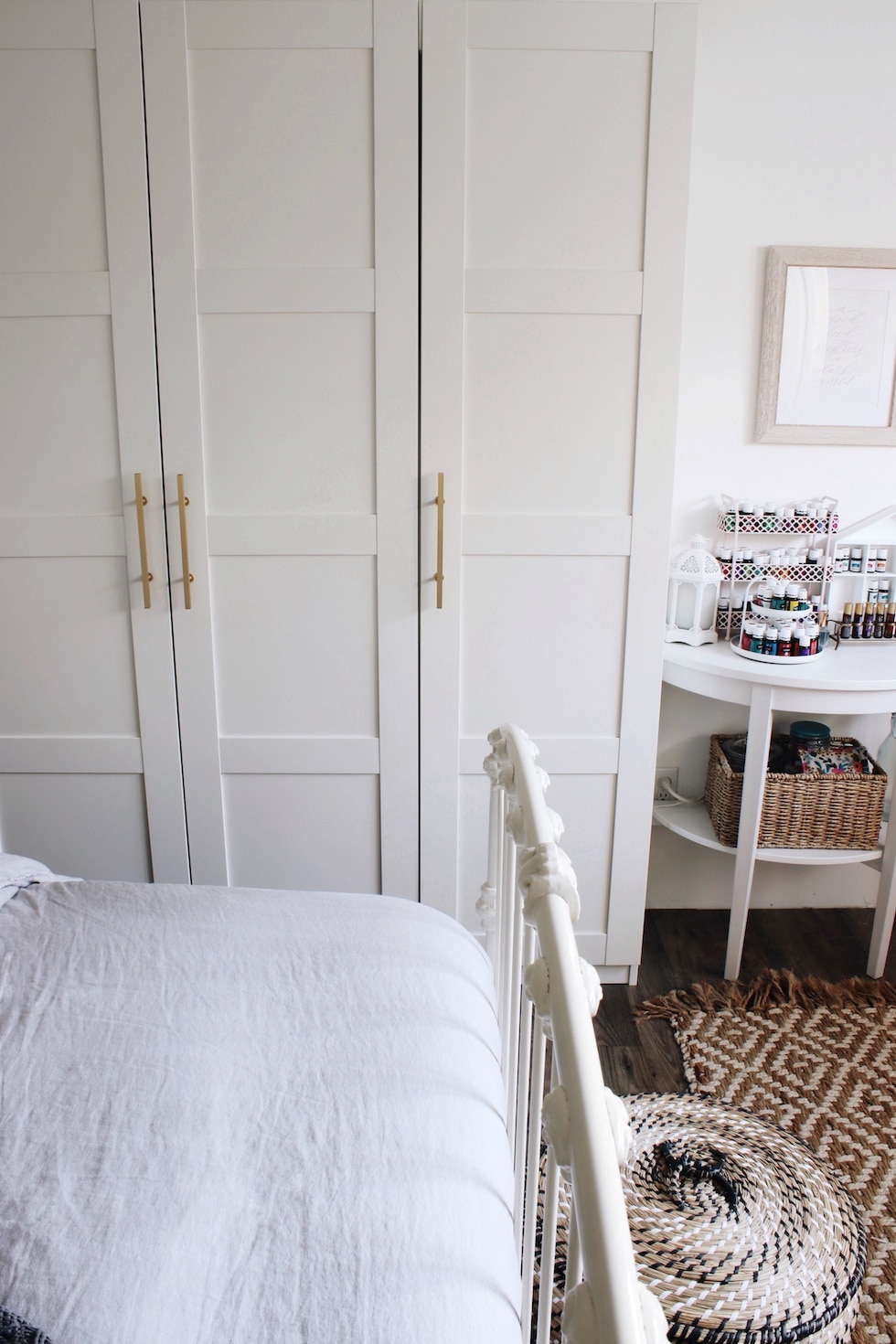 I already had one narrow PAX wardrobe, and to add more closet space I purchased a new double PAX wardrobe to add next to it when I moved in. These have the Bergsbo doors.
Here's a peek of the inside! I love that you can customize the inside of these wardrobes to suit the storage you need. I chose several shelves, a soft close drawer, and those hanging bars. If you get a deeper PAX wardrobe you can choose a horizontal hanging bar instead of the bars I have here. I wasn't sure how well these would work for hanging clothes, but it ended up being perfect and such helpful storage.
Note…these closets are usually a lot more full of clothes than these photos (more on why later in this post!).
I love the 'kind of built-in' look they give this space.
I ordered these handles separately in the 10.5 inch size. They're a bit spendy especially if you need several, but really beautiful and nice quality! Here are similar ones on Amazon, I can't vouch for the quality but they are a much lower price.
One of the 'design challenges' of this space was the mirrored wall on the back of the room. We have lots of ideas for how to cover it, but my temporary solution when I moved in was to hang a tapestry over it. And that's how it's stayed. :) It definitely isn't perfect, but much better than the full wall of mirror! I got the tapestry here.
The blue door was wood when I moved in, and I brightened it up by painting it Airway by Benjamin Moore.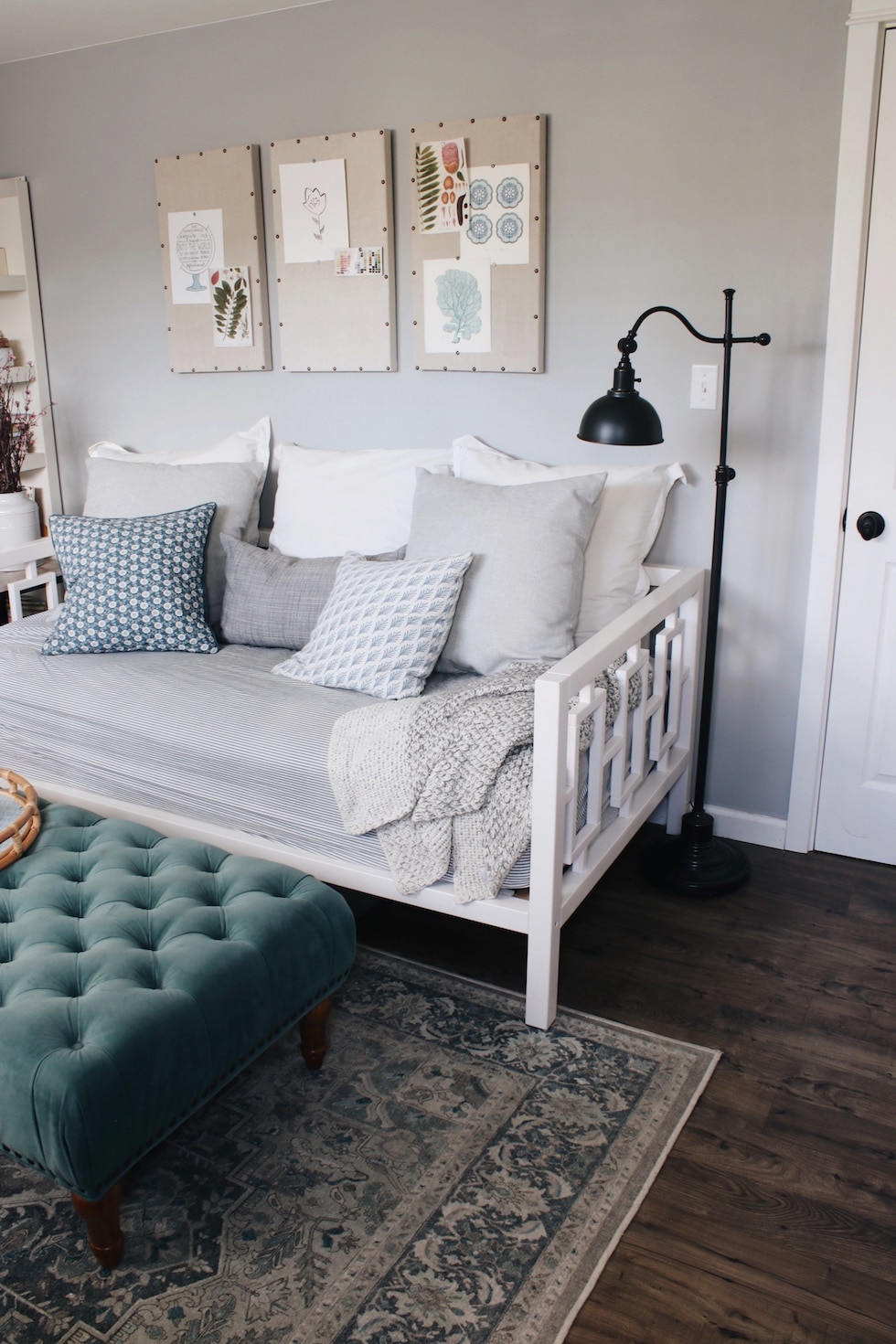 The rug in here is this washable one from Ruggable. We love it–they're definitely a great rug option to consider if you have pets or kids! We're getting a Ruggable runner for our kitchen soon too.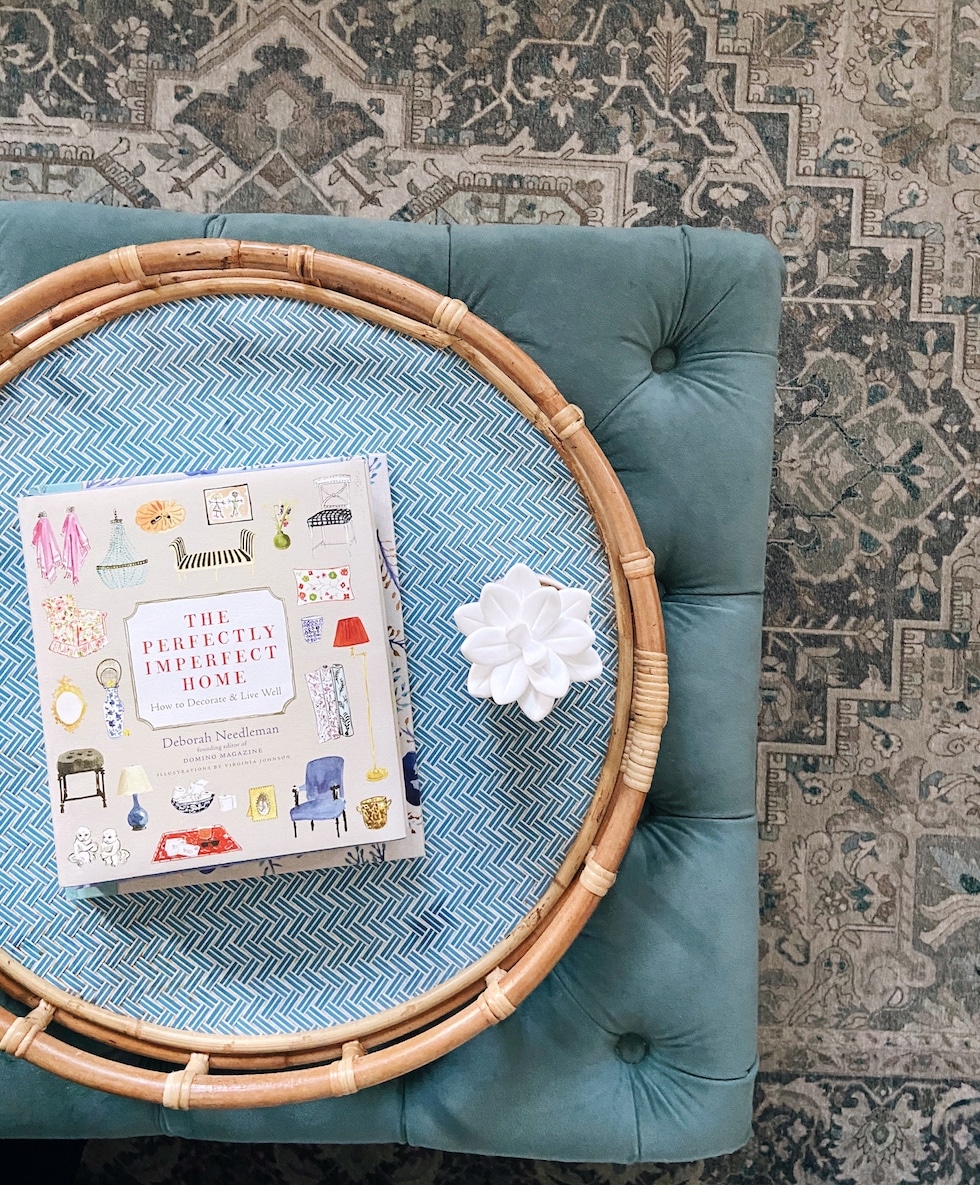 I've spent a lot of time on this daybed this year, ha! It's my go-to evening relaxation space and also my sometimes 'work from home office'.
The small narrow shelf by the daybed is called the LACK wall shelf unit from Ikea. I've had it for years!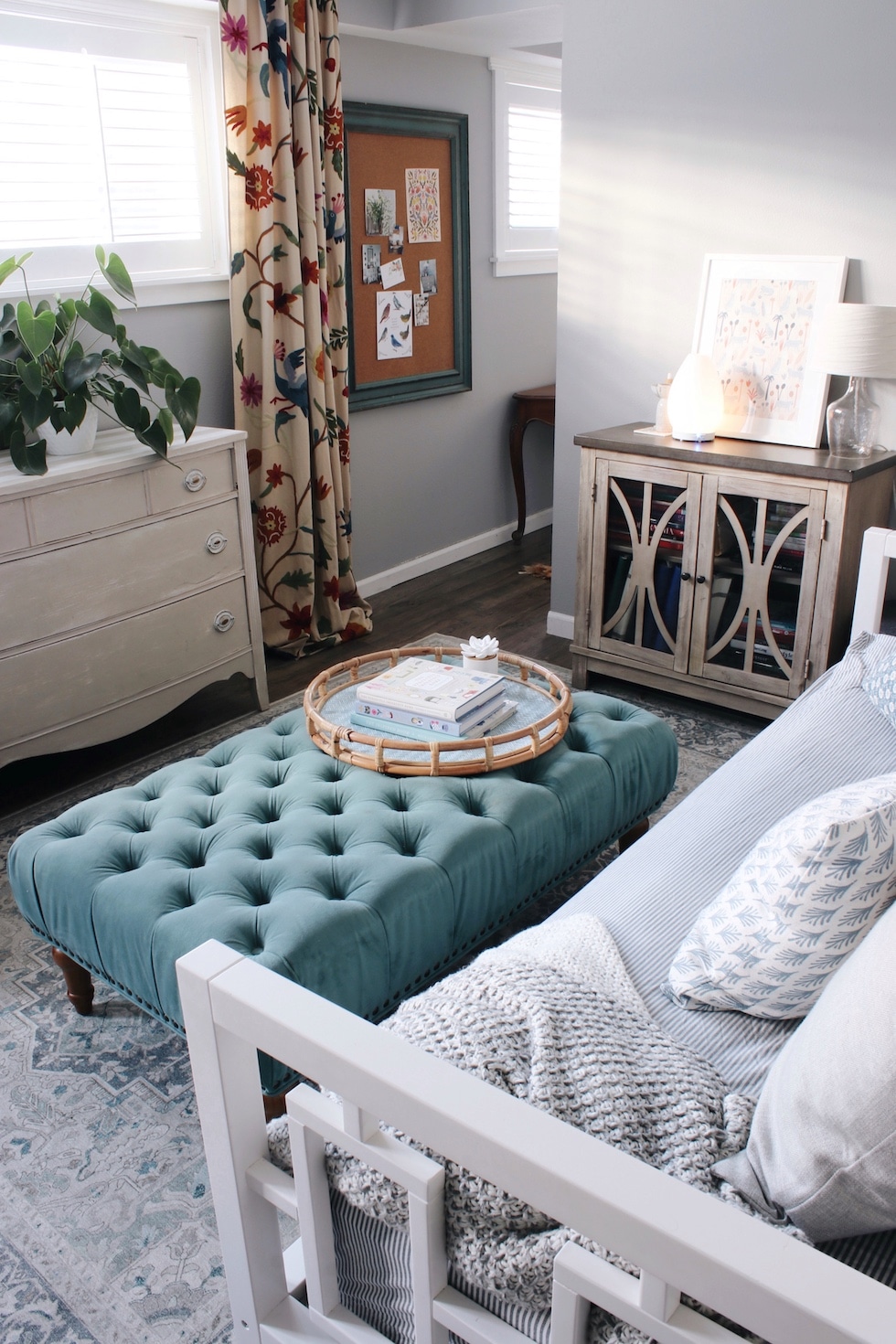 Okay friends, that's the tour! I have loved making this space my cozy little home (when I'm not hanging out with my family upstairs!). The extra time I've had living with my family here this last year has truly been so special.
Time has flown by this year, and now I'm about to be heading onto my next adventure. :)
In the next couple weeks I'll be moving up to a charming town by the water in Bellingham, Washington! I have a brand new apartment that I'm so excited to settle into. It's a 500 square foot one bedroom, so my small space design skills will continue to be sharpened, ha! But it's very cute and I'll definitely be sharing the empty tour of it with you here soon!
You can also follow me on Instagram where I've already shown peeks of my new apartment in stories, and will continue to document the move and share updates! Thanks for following along!
UPDATE: You can take a tour of this space after I moved out here.
UPDATE: You can now take a tour of my new Bellingham apartment here!