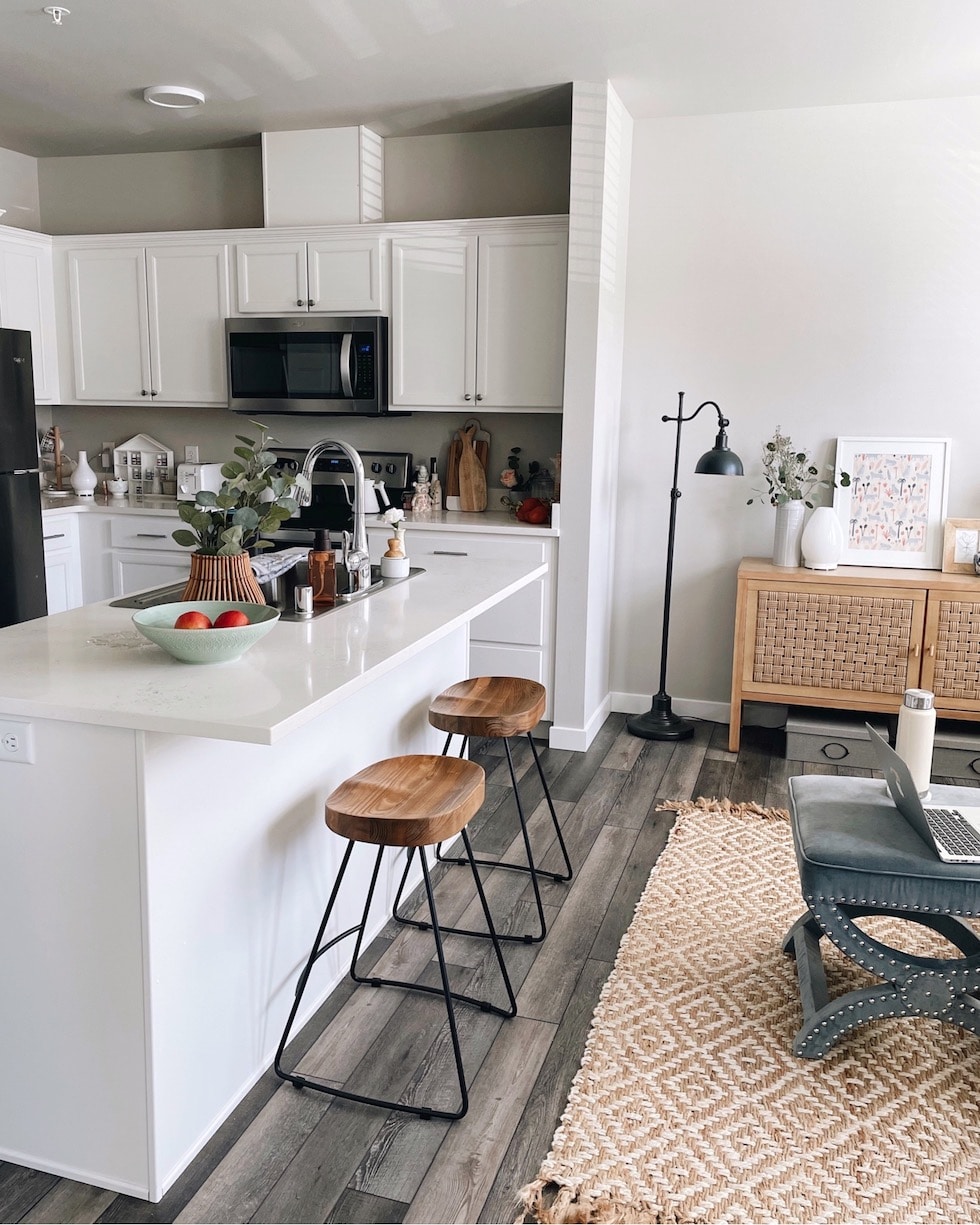 Hey guys! Courtney (Melissa's daughter) here today. I'm here today to give you a tour of my new 500 square foot apartment! If you're new here, in January I moved up to Bellingham, a beautiful and charming city by the water. Recently I showed you my empty apartment tour with mood boards for my design vision, then I showed you my bedroom, and today I wanted to give you a tour of you how my apartment is looking now after living here for a few months. It's getting pretty cozy in here…I'll show you around!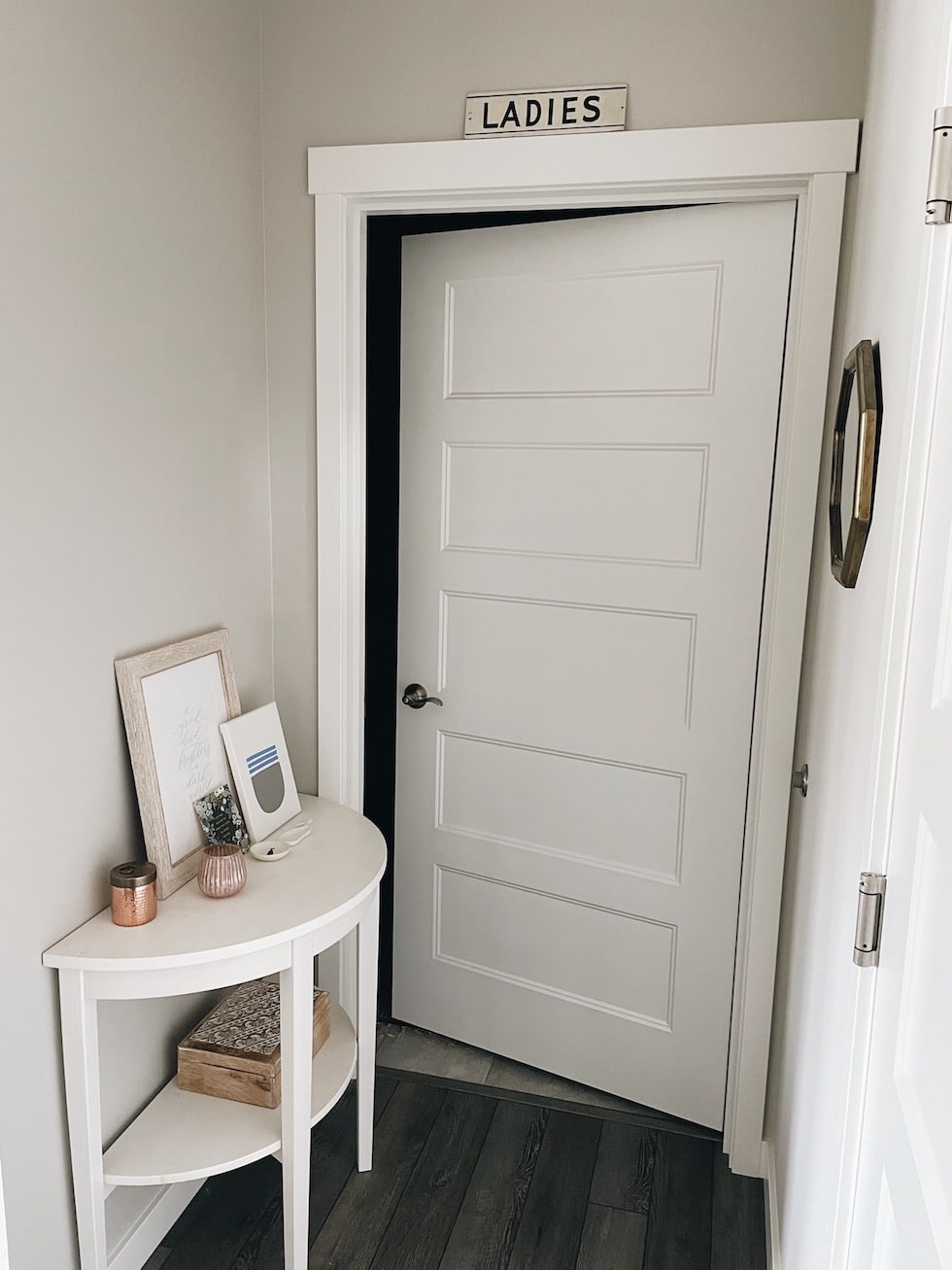 Here's my entry! I didn't think I would have room for an entry table in this tiny space, but I was happy to discover that my half round entry table from my old apartment worked here too! (Click here for a similar table). It cuts into the bathroom doorway a bit there, but that's okay with me…small space things, you know? A table always makes an entry more welcoming, no matter the size. Now if only there was an outlet on this wall for a little lamp…I may have to try my mom's magical rechargeable bulb trick (click here for that)!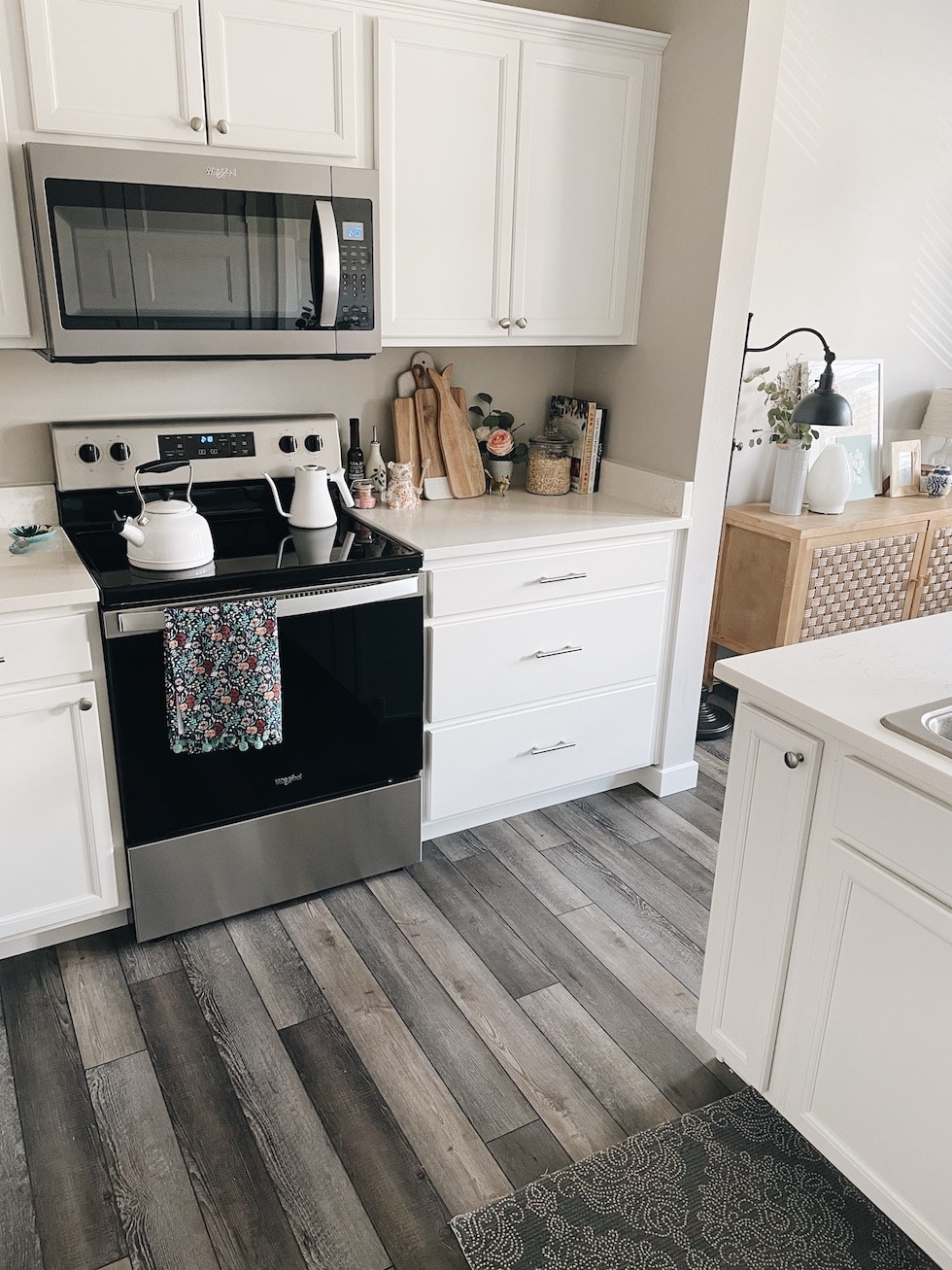 To the left of the entry is my kitchen. My last apartment kitchen was just along one wall, so the layout and size of this kitchen feels like such an "adult" kitchen now! I really didn't imagine a 500 square foot apartment would have a kitchen like this so I'm really thankful for that.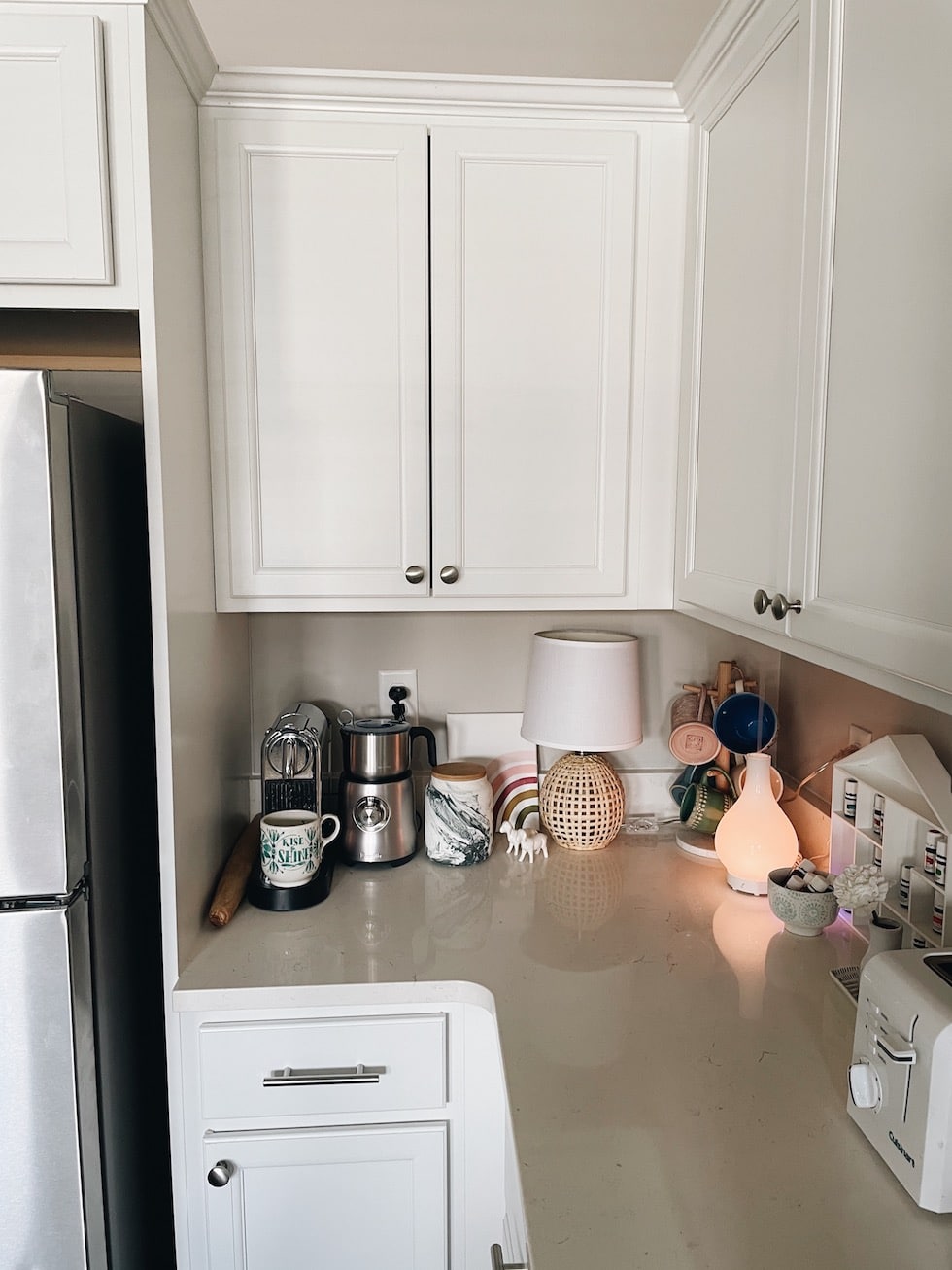 Of course it wouldn't be home to me without a coffee station! :)
I have had this coffee maker for several years and it's still going strong. I got this milk frother/steamer for Christmas (I had to have my own after using my mom's daily when I lived at her house in the basement apartment!). It use it to make my oat milk lattes every morning and I love that it's stainless steel (instead of the nonstick coating some have!).
I keep some of my mug collection on a mug tree similar to this one. I love choosing a different mug every morning (got that from my mama…ha!). We've rounded up lots of our favorite mugs here.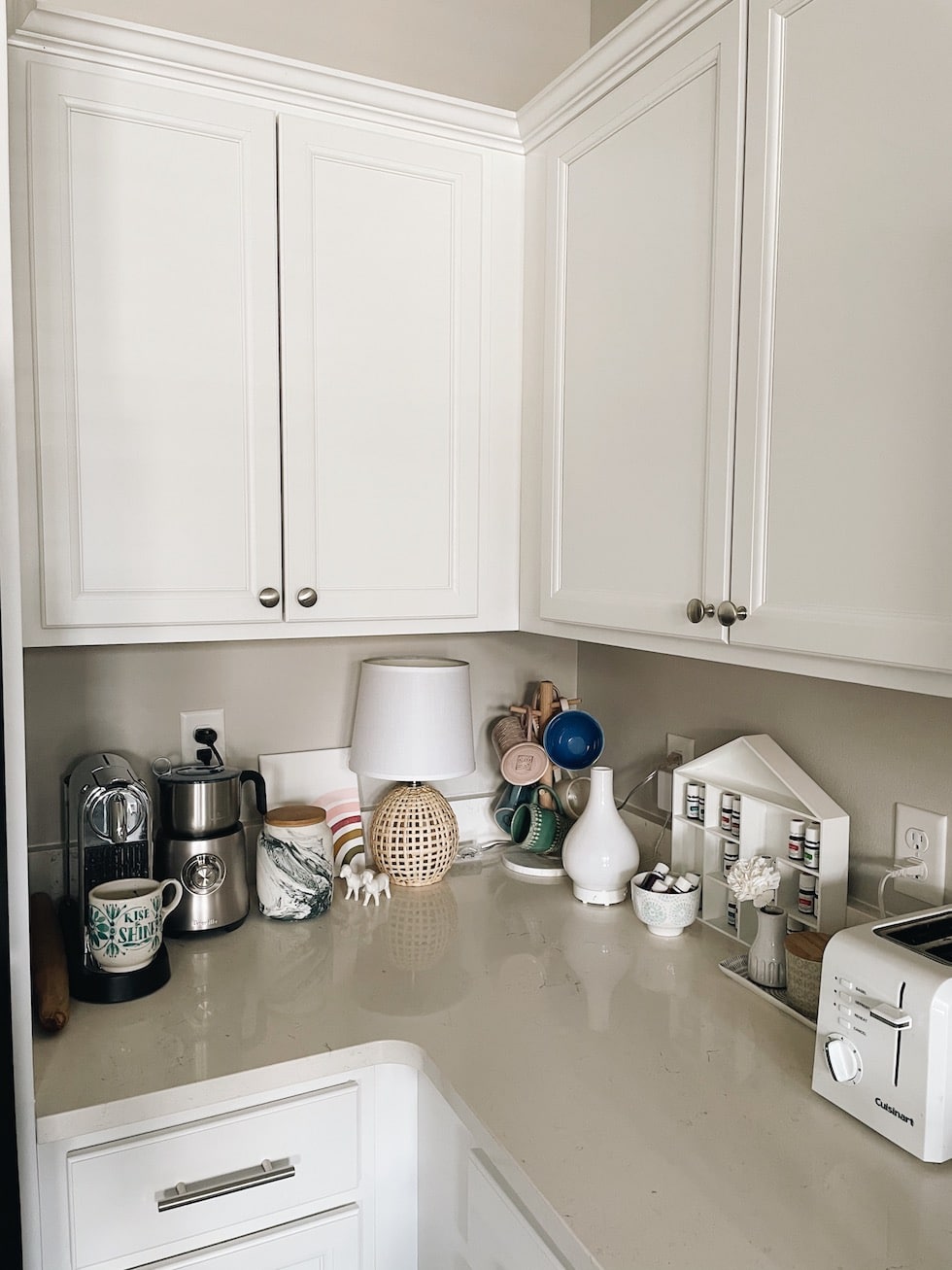 I had been on the hunt for a small kitchen lamp for my kitchen corner and I fell in love with this rattan lamp from our Affordable Target Lamps post. I love that it adds texture, color, and the nicest warm cozy light for the evenings. It's out of stock unfortunately but you can find similar rattan lamps and other mini lamps HERE.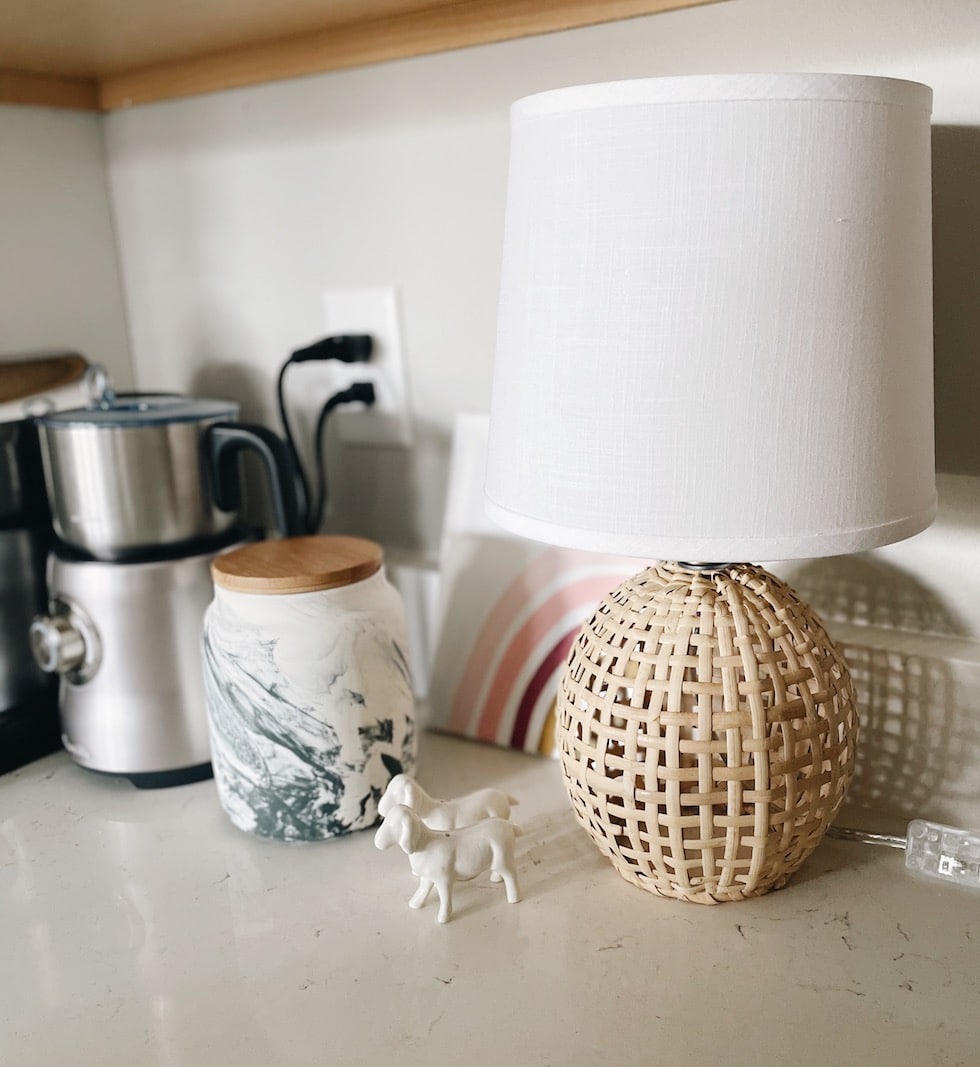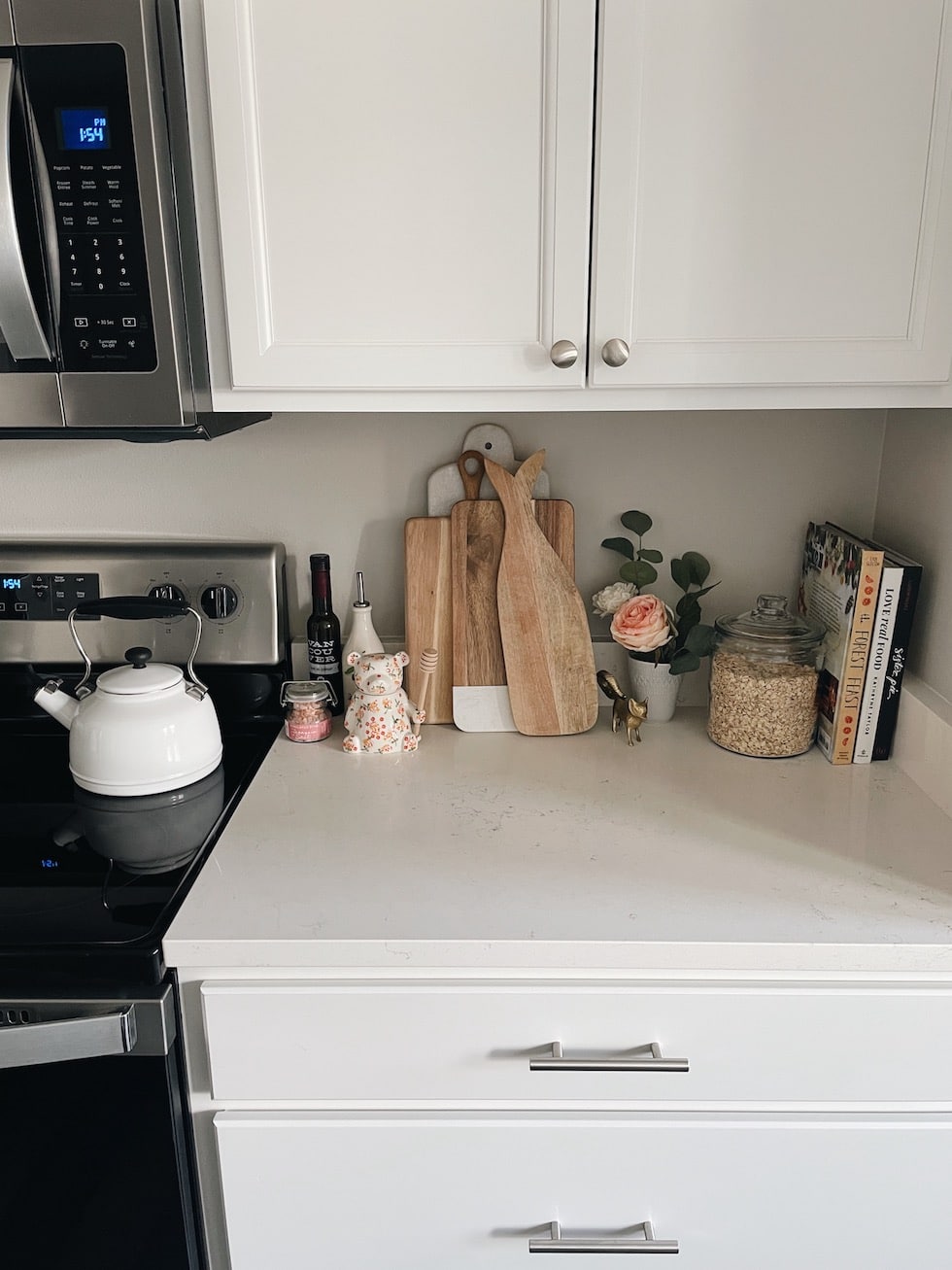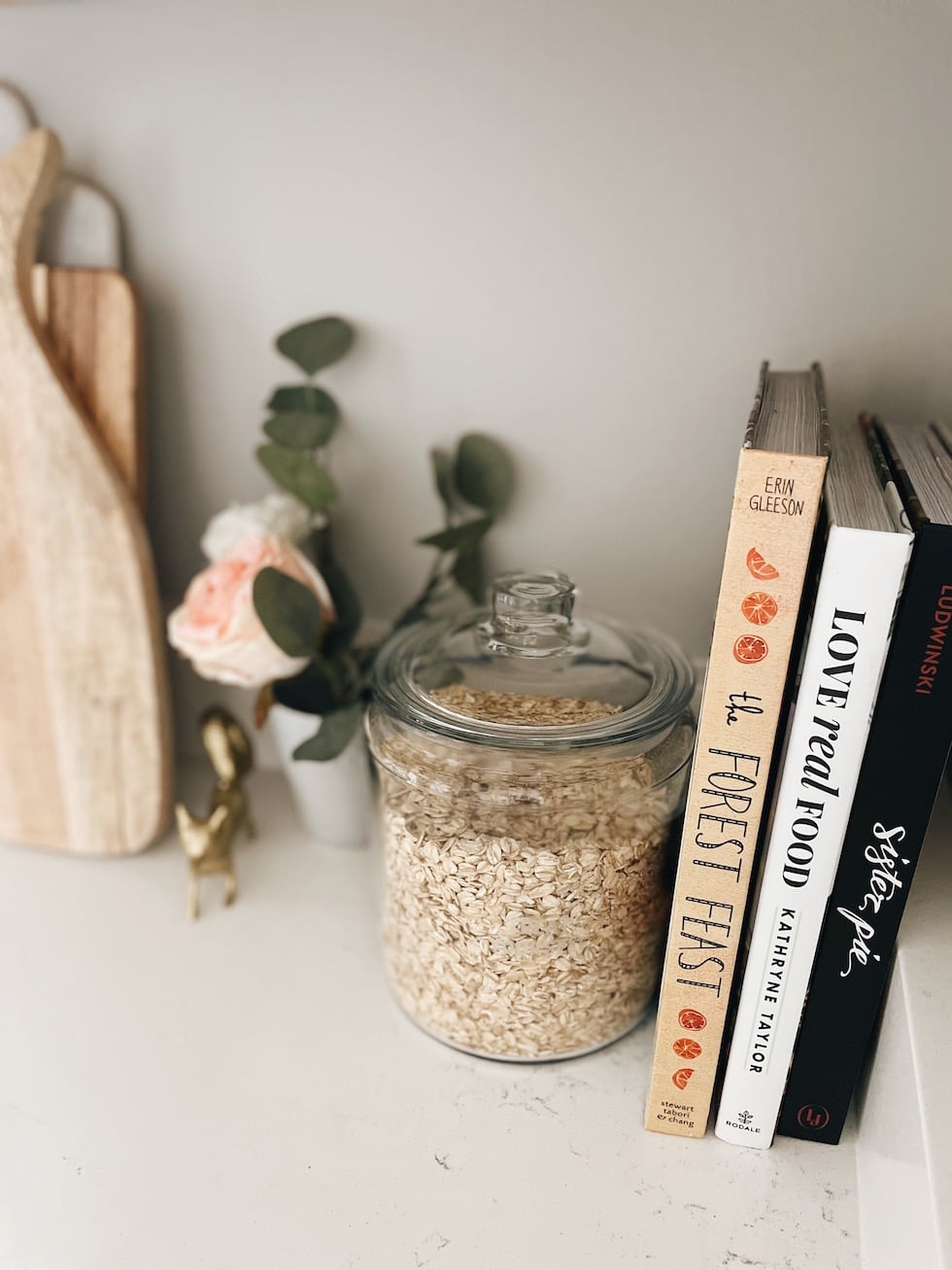 Click here for a roundup of kitchen canisters.
The island was an unexpected perk in this apartment!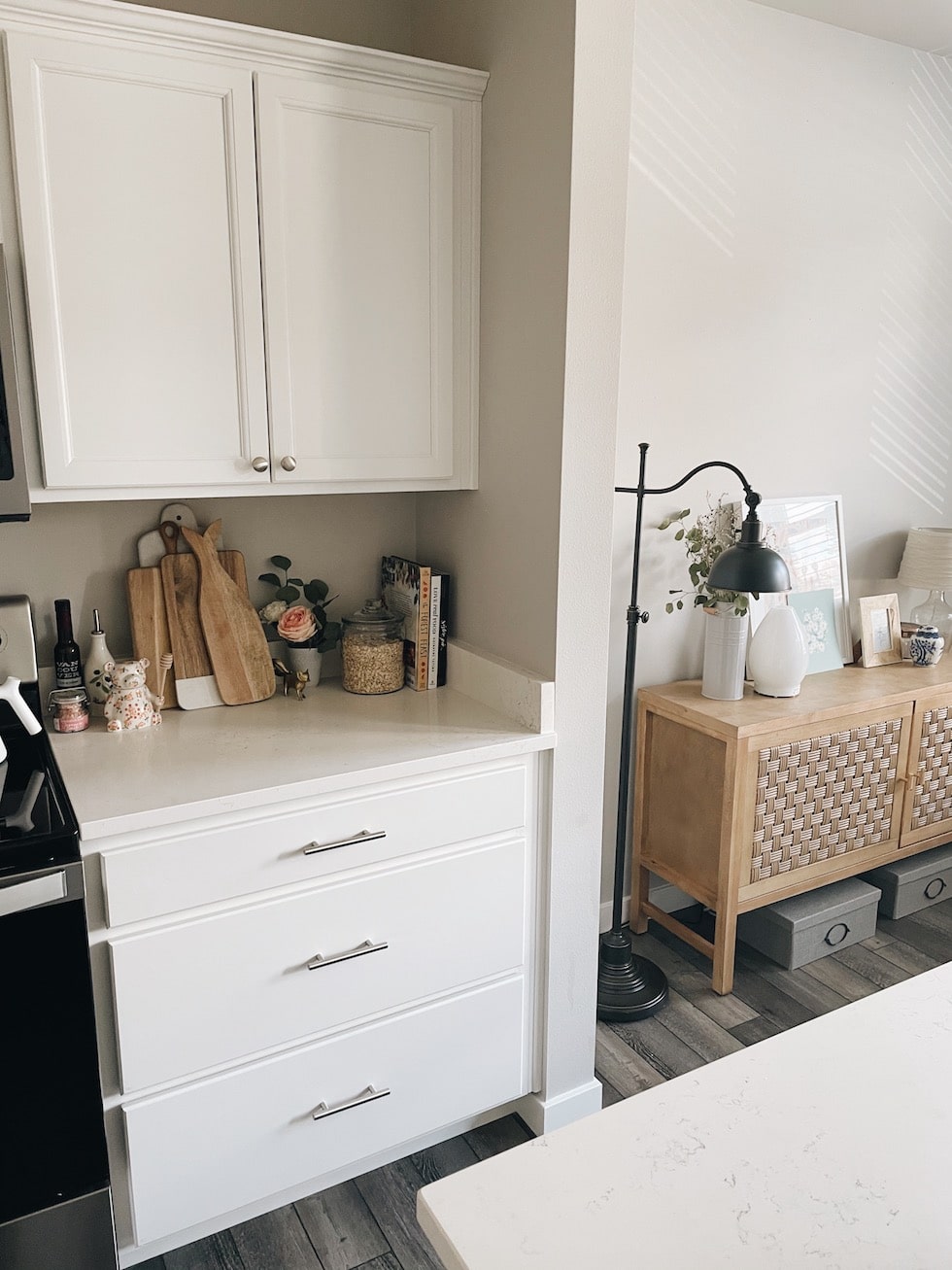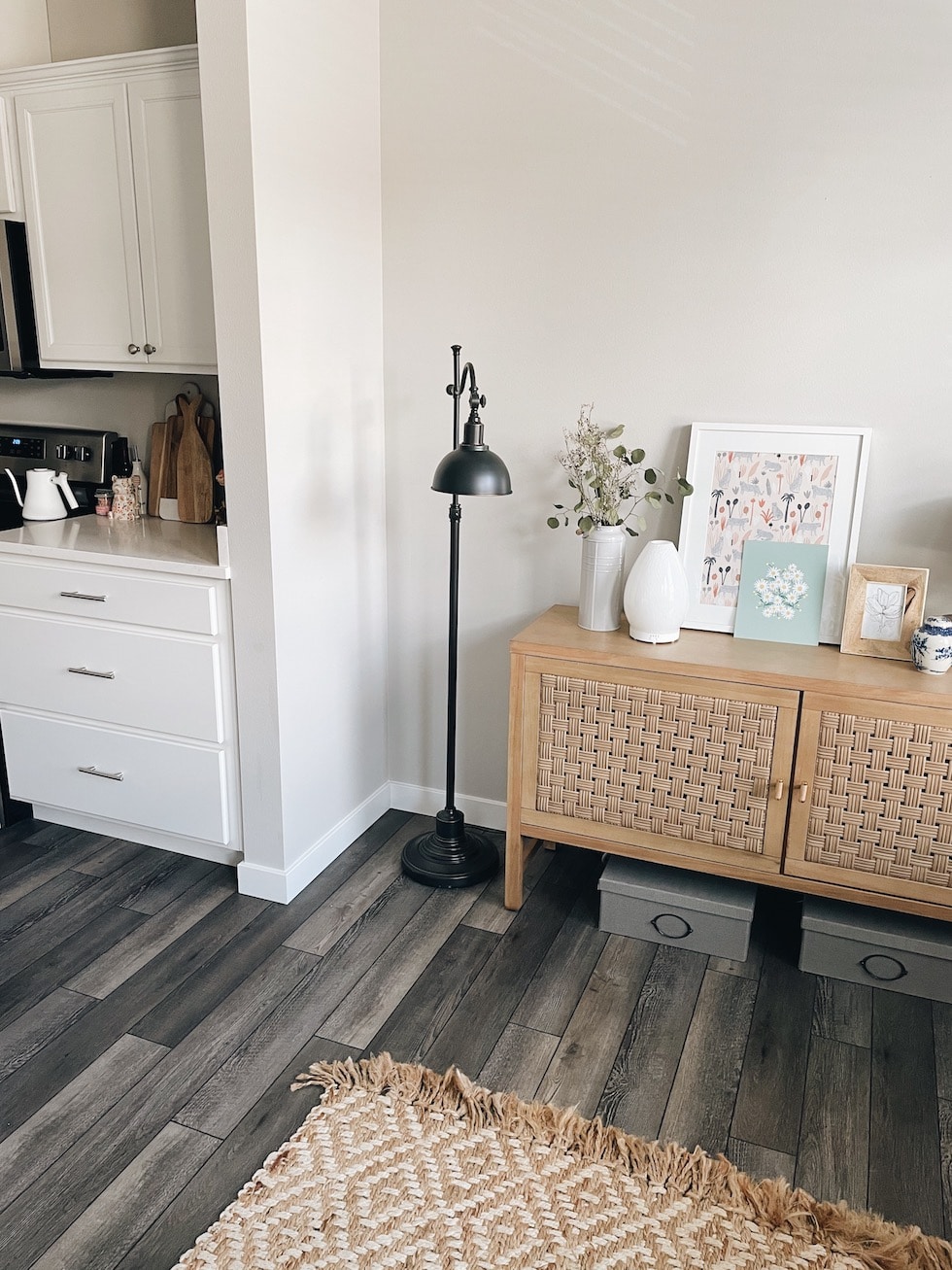 This woven console cabinet was a love at first sight situation for me…when I saw it online I ordered it immediately! It looks like it's out of stock, but you can find details HERE (I'm hoping it comes back!). It was a great price for the quality and size and has great storage shelves inside. This apartment has less storage than my old place, so this has been a life saver for things I used to keep in a closet and desk.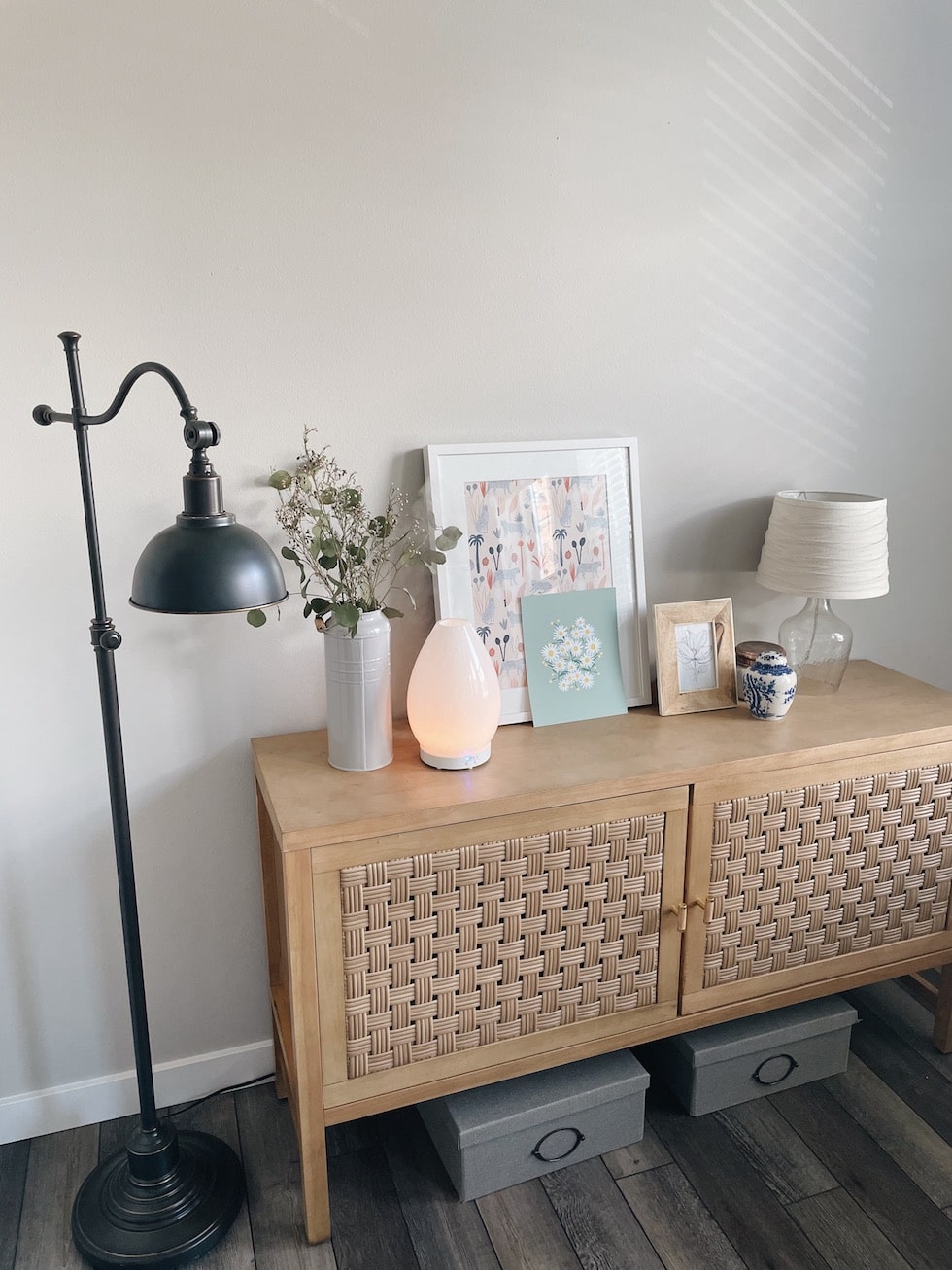 My black floor lamp is out of stock, but here is a similar one.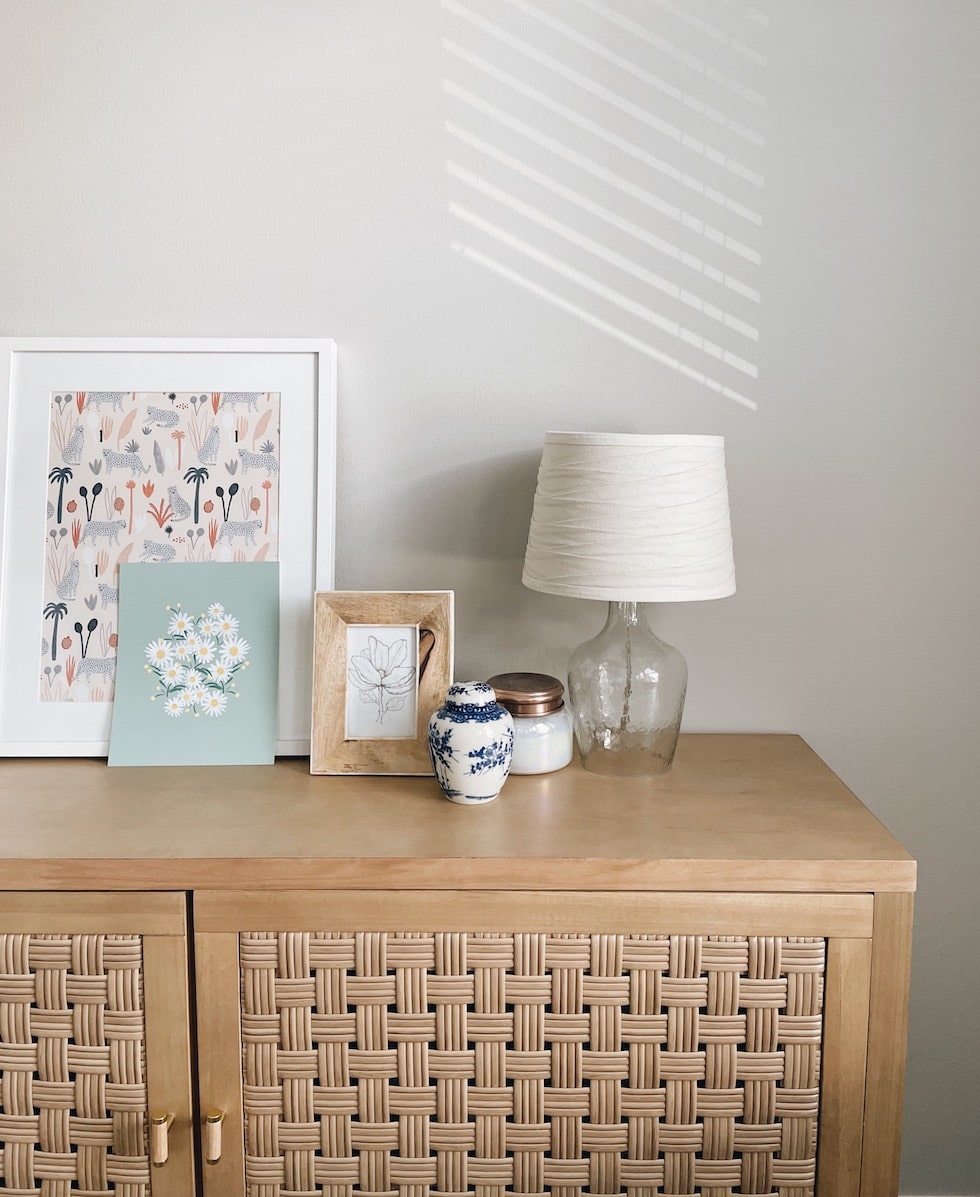 Since my apartment is brand new and all of the existing materials are gray and white, I knew I wanted to add character and warmth through my furniture and accessories. I love the texture and color this cabinet brings to my space.
By the way, this cabinet is part of the new Studio McGee line we shared about here.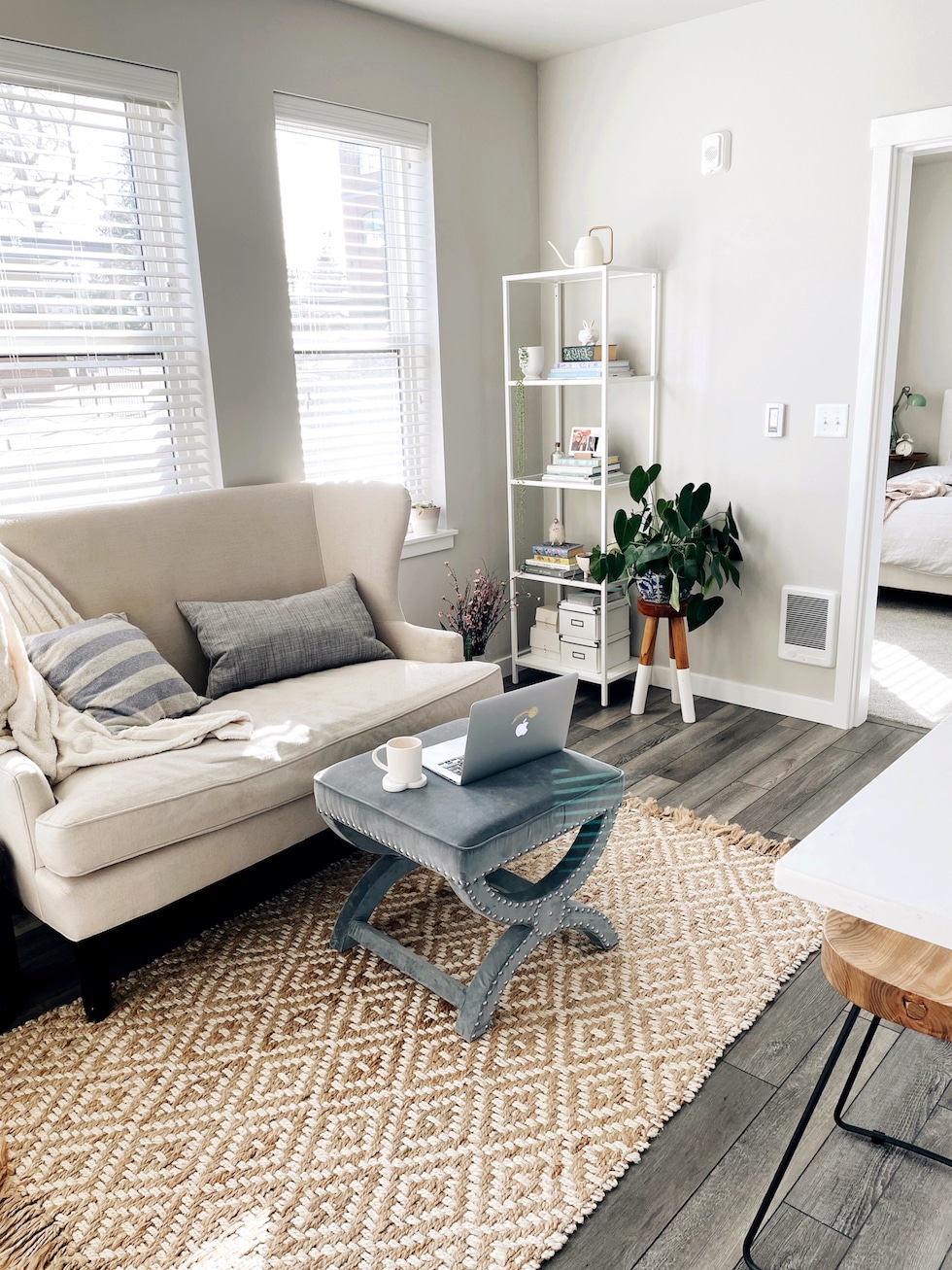 You might remember this wingback linen settee if you've been following along here for awhile! My mom had it in her house for years and it turned out to be the perfect piece for my small living room.
I originally had it on the wall where the woven cabinet is, but as I lived here for a bit I decided to try it against the window. I assumed I wouldn't like it there, but I actually loved it! It didn't block too much of the window and made much more sense of this long narrow room. The higher back actually gives a nice sense of privacy as I sit on it too!
I've had this woven patterned rug for years. It really cozied up this space and I like that it tied in the honey tones of the cabinet, stools, and rattan lamp. That ottoman is another 'hand-me-down' from my mom–here is a similar one! I like that it doubles as extra seating for guests, too.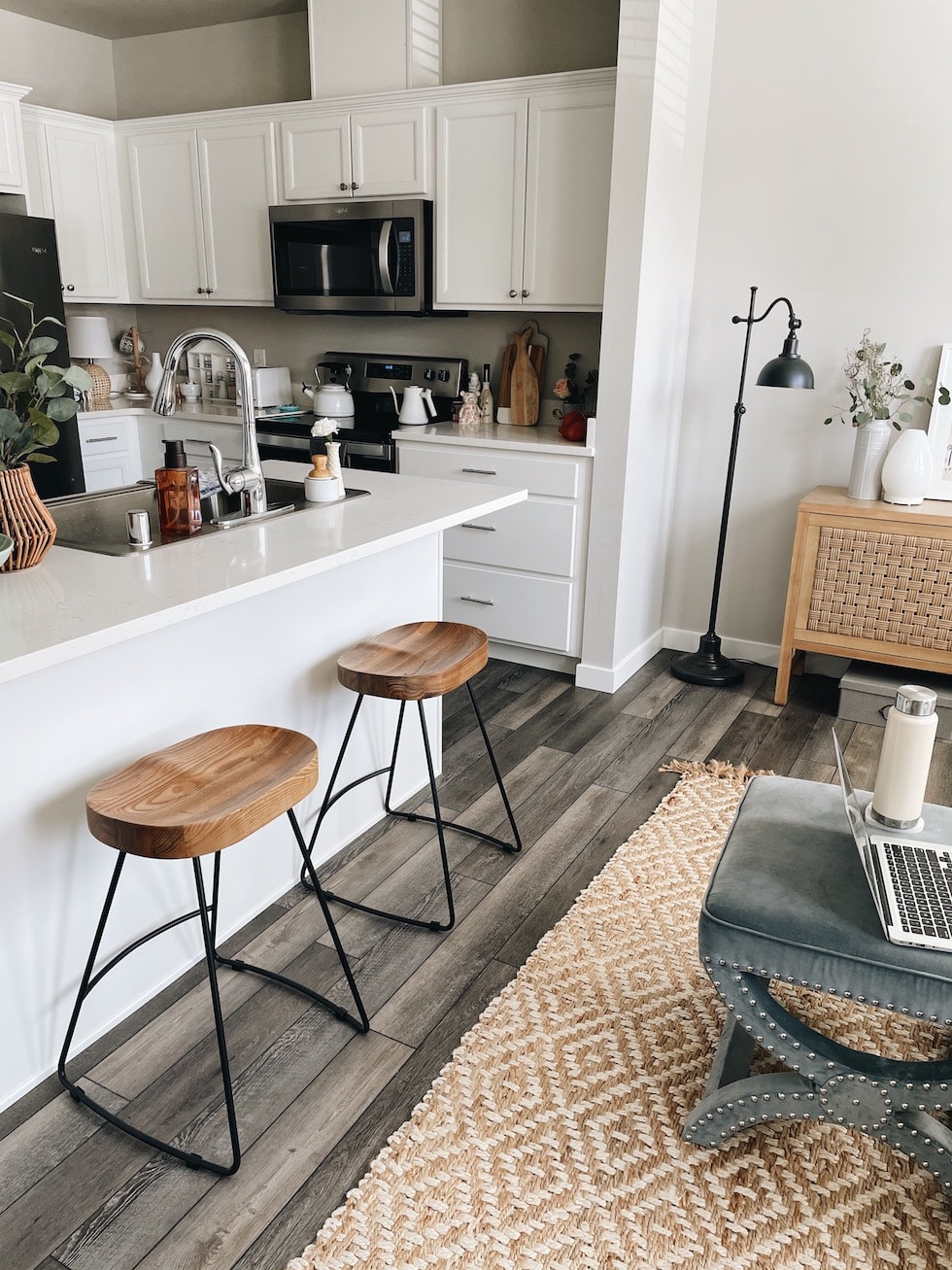 I was so happy that my island had space for counter stools! Mine are these ones (they come in three colors–mine is the natural). The warm wood and black metal legs add some nice contrast to the space.
I decided to not have my dining table and chairs in here or a desk to save space–so I often sit on these stools to eat and work. I do still have my drop leaf dining table in my bedroom (currently using it as a TV stand), so if I do want more dining space I can easily move it in here.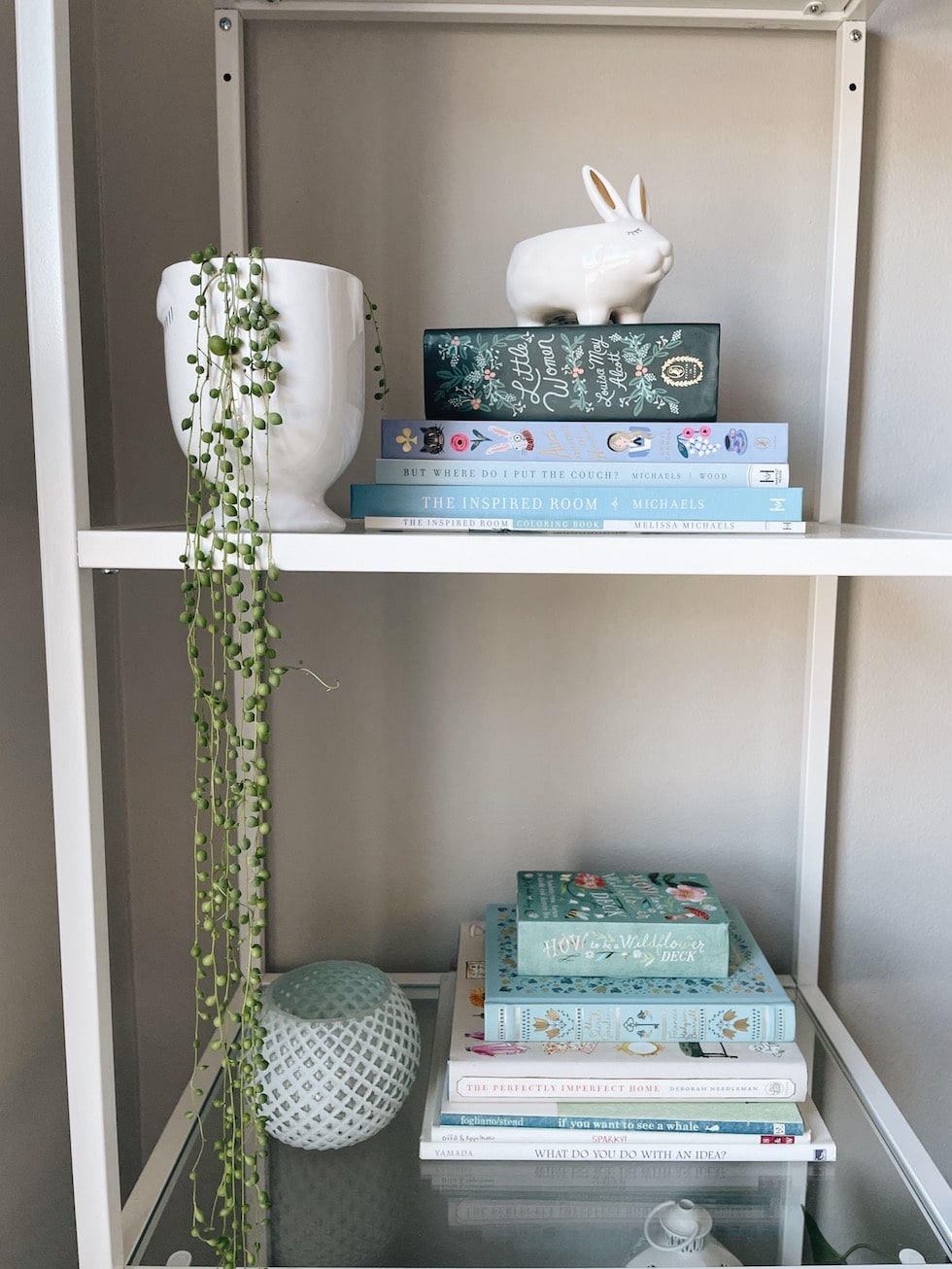 My beloved string of pearls plant (Rapunzel) has survived my moves! She's been through a lot over the winter (ha) but she seems to be doing okay now. This is the cute face pot she's in.
This white metal and glass shelf is this one from Ikea. Vertical storage is a great idea for maximizing storage in a small space!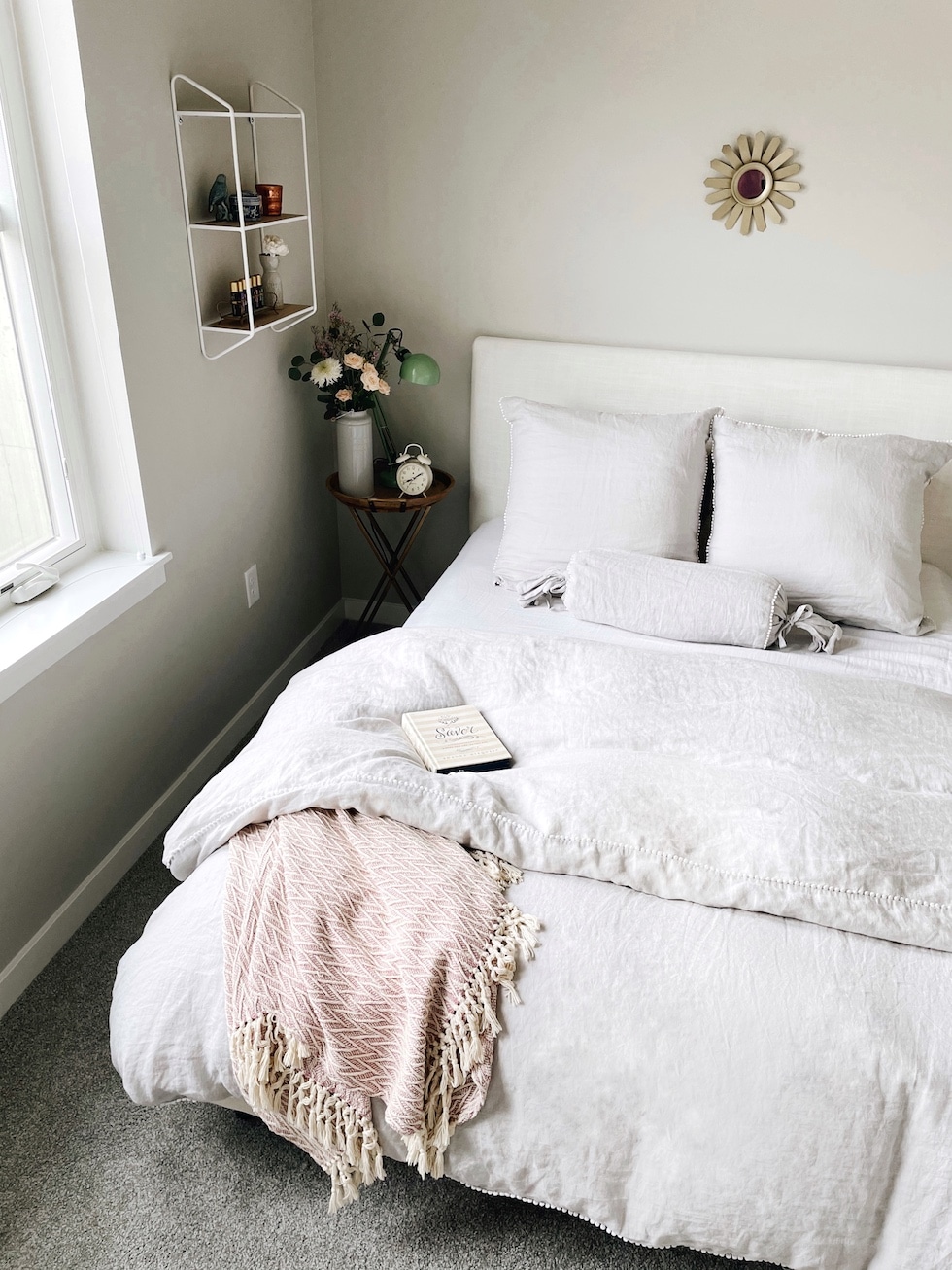 This is my bedroom! I ordered this simple upholstered platform bed on sale–I had scoured the web for beds and had such a hard time deciding but I've been really happy with this one. My duvet is this linen pom pom trim duvet in light grey, with these white linen sheets.
My mattress was kindly gifted from Tuft & Needle (the Mint Mattress with their Down Alternative Pillows). I love it–it's very cozy and I love that it was able to be shipped right to my door in a box! It's actually 15% off right now for their Spring Sale. I shared more about the mattress here along with more bedroom details and photos.
Heading back out to the kitchen and entry…behind these double doors is my washer and dryer! You can see my old apartment laundry closet here.
Here is my bathroom! To the right of this wall I have a woven laundry basket and a cute tiered cart that I'll show in a future post with some small space organizing ideas. Here's a similar shower curtain!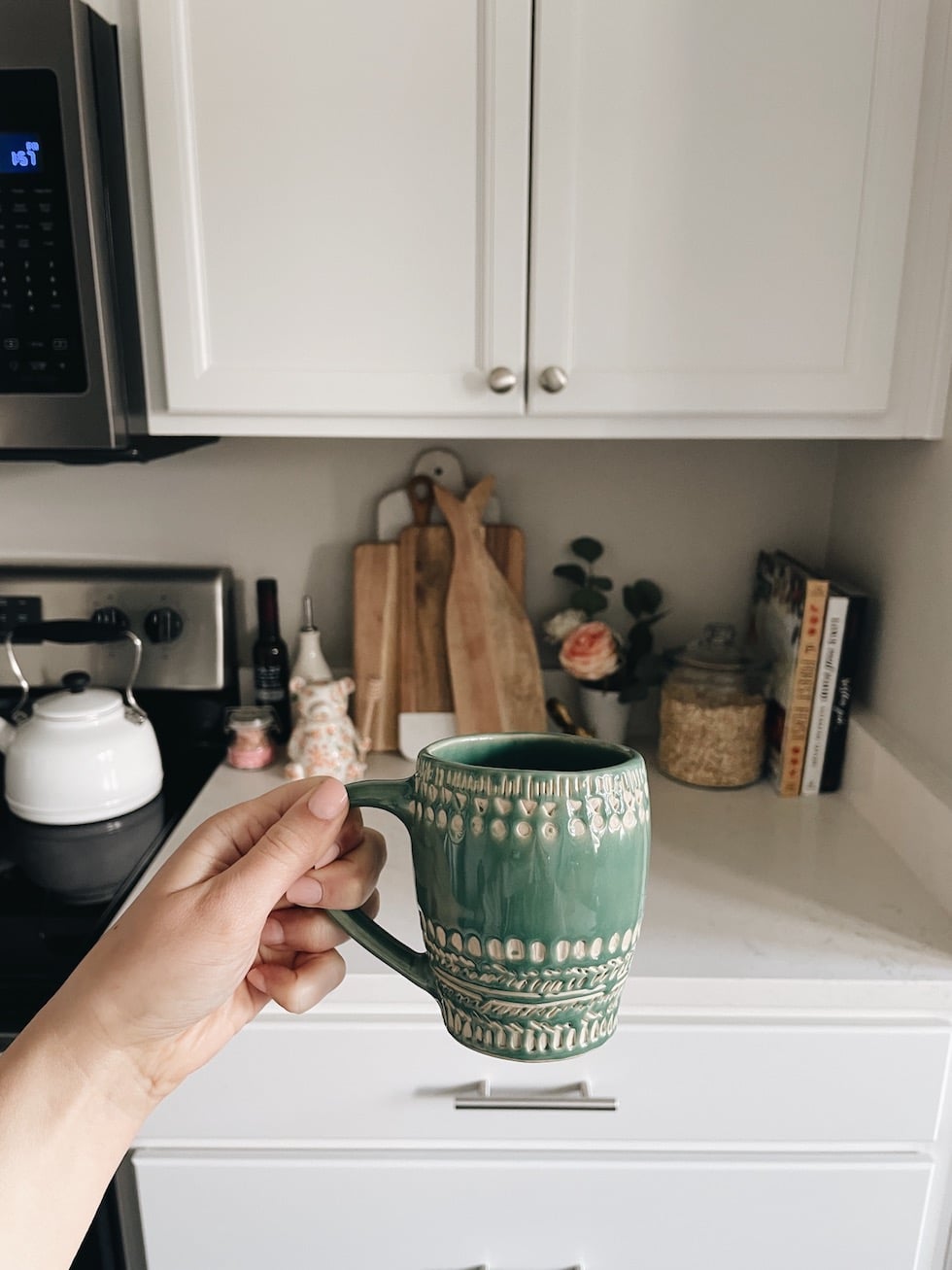 Thanks for joining me on the tour of my little home! I have lots more plans and ideas for this apartment and plan to share some small space decor / organizing / rental tips with you soon as well. :)
In the meantime you can follow me on Instagram stories for apartment and life updates! I love sharing bits of my life there and connecting with you all. Click here to follow and say hello!

Scroll and click the photos below for sources:

---
For more of my apartment decor sources, click here!
Click here for Similar Rattan Lamps and other Mini Lamps
PS…as much as I am enjoying settling into my cozy apartment here, what I'm enjoying even more is getting out to explore all the absolutely breathtaking nature in this area! I'll have to do a separate post showing you around some of my favorite spots. I have felt incredibly blessed to have magical soul refreshing places like this just a hop skip and a jump outside the doors of my home. I've shared lots of videos of the area here if you want to see some of my adventures! Thanks again for following along!