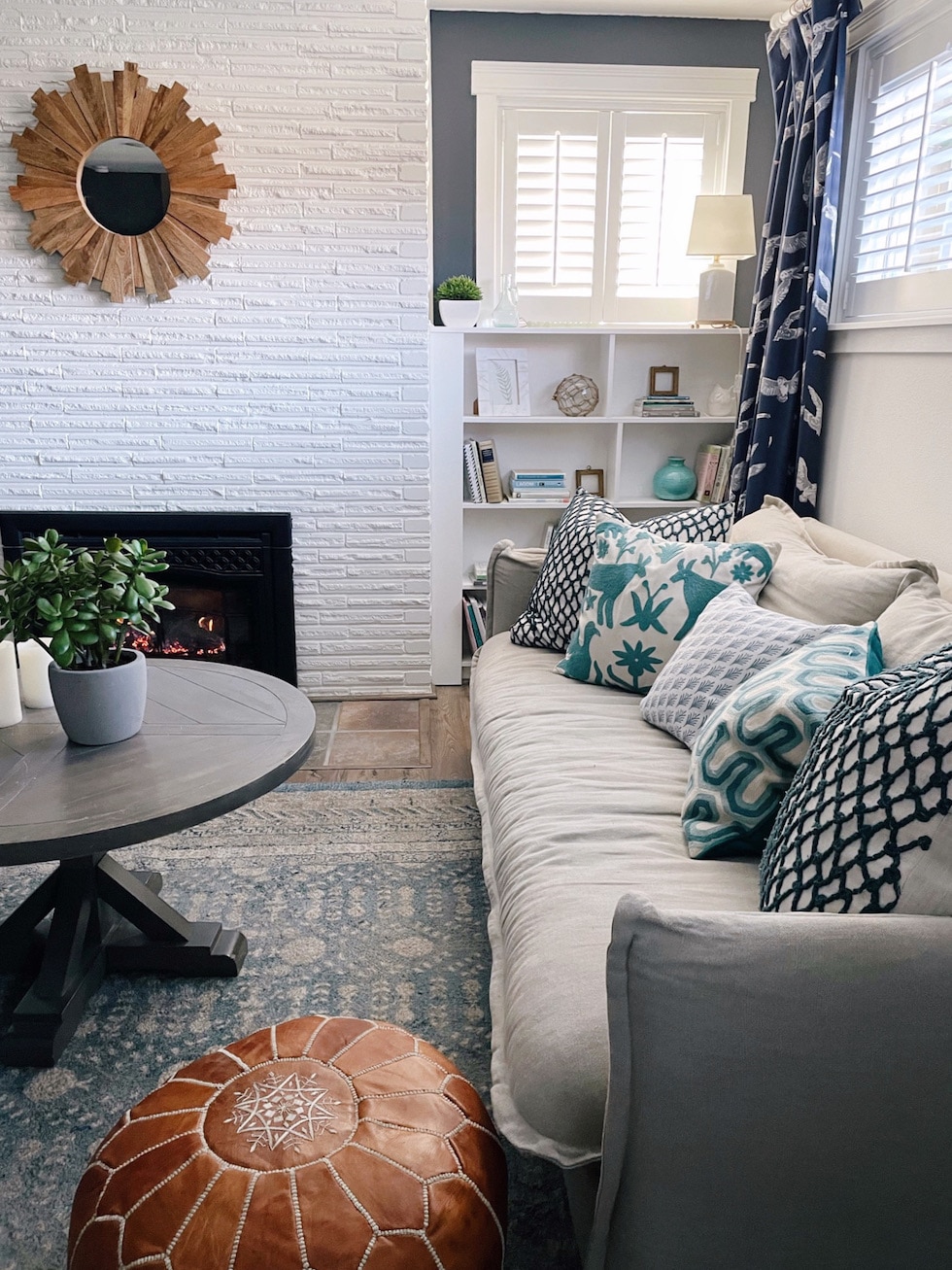 One of the things we loved most about this house when we first looked at it was that it had a basement! I wasn't really looking for one (not all homes here have them), but with a small home having a nice basement is definitely a plus. Although in many houses we looked at they seemed like damp, dark, or possibly rat-filled spaces hahah! This one was clean, cozy and filled with natural light. No rats! PRAISE! We changed out the carpet and added new flooring when we moved in, which also really helped this space feel fresh and welcoming.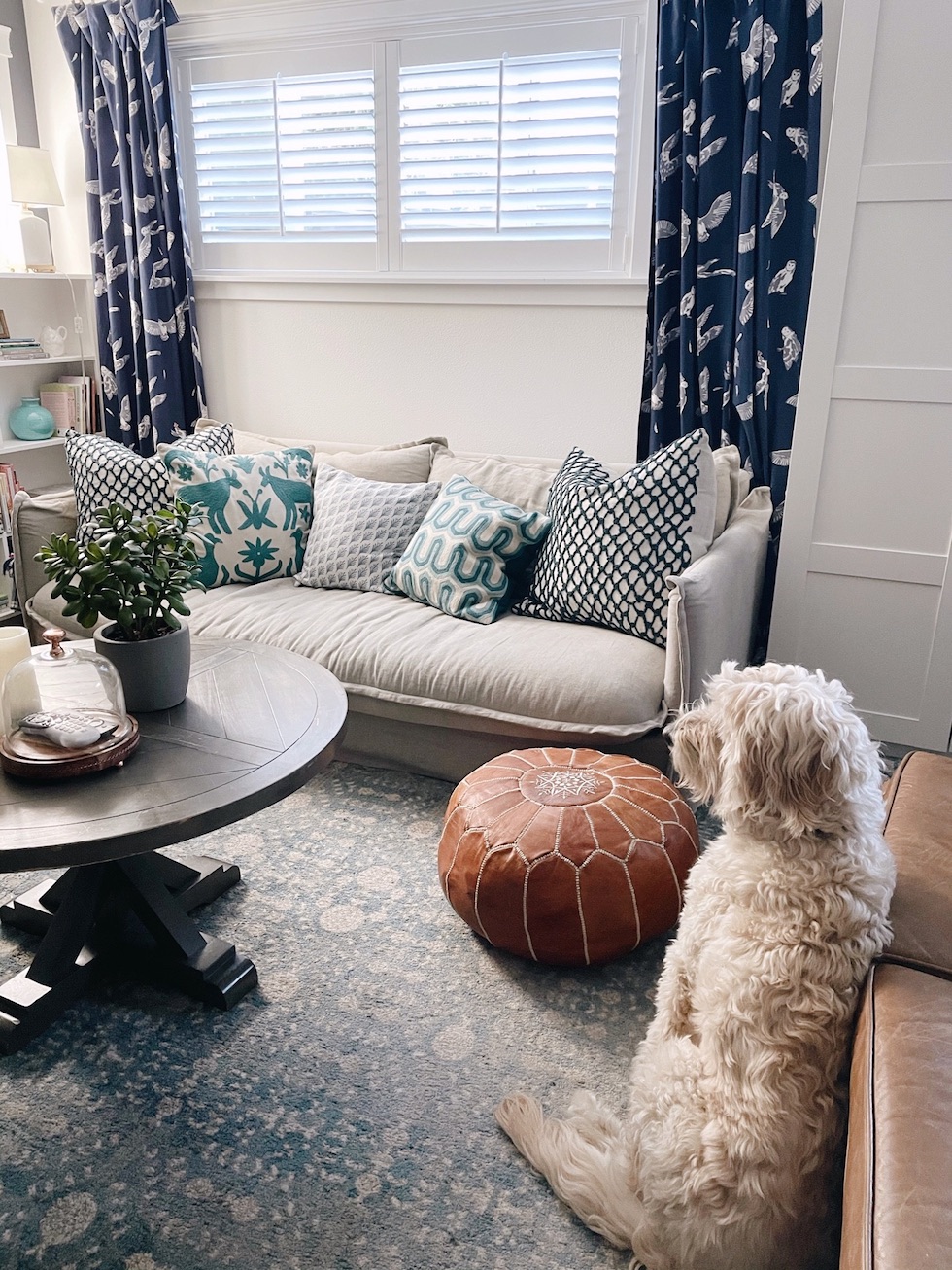 Our house is 1500 square feet, but with a finished basement we gain some very helpful extra living space. We often rearrange how we use these rooms, so it's always very practical and functional for our current needs. It's obviously not a fancy basement, but it is comfortable and serves our needs! I really enjoy having my work areas down here, and especially that I have plenty of cozy places to write away from the noise of the other parts of our home.
All of our furniture is second hand or pieces we've had for awhile. You'll probably recognize many of the things from our previous home or various phases of this one. I'm a fan of using what you have and collecting things you love along the way. I find it all works together, if you love it. :)
It's fun to play around with options and see what you can come up with. But of course, if a combination doesn't seem right to you, it's no big deal. Try a different arrangement or move things you love to different rooms, paint things, or let them go. It's all a process.
I'll do another post soon with more of the staircase makeover, which you can get a little peek of in the background here.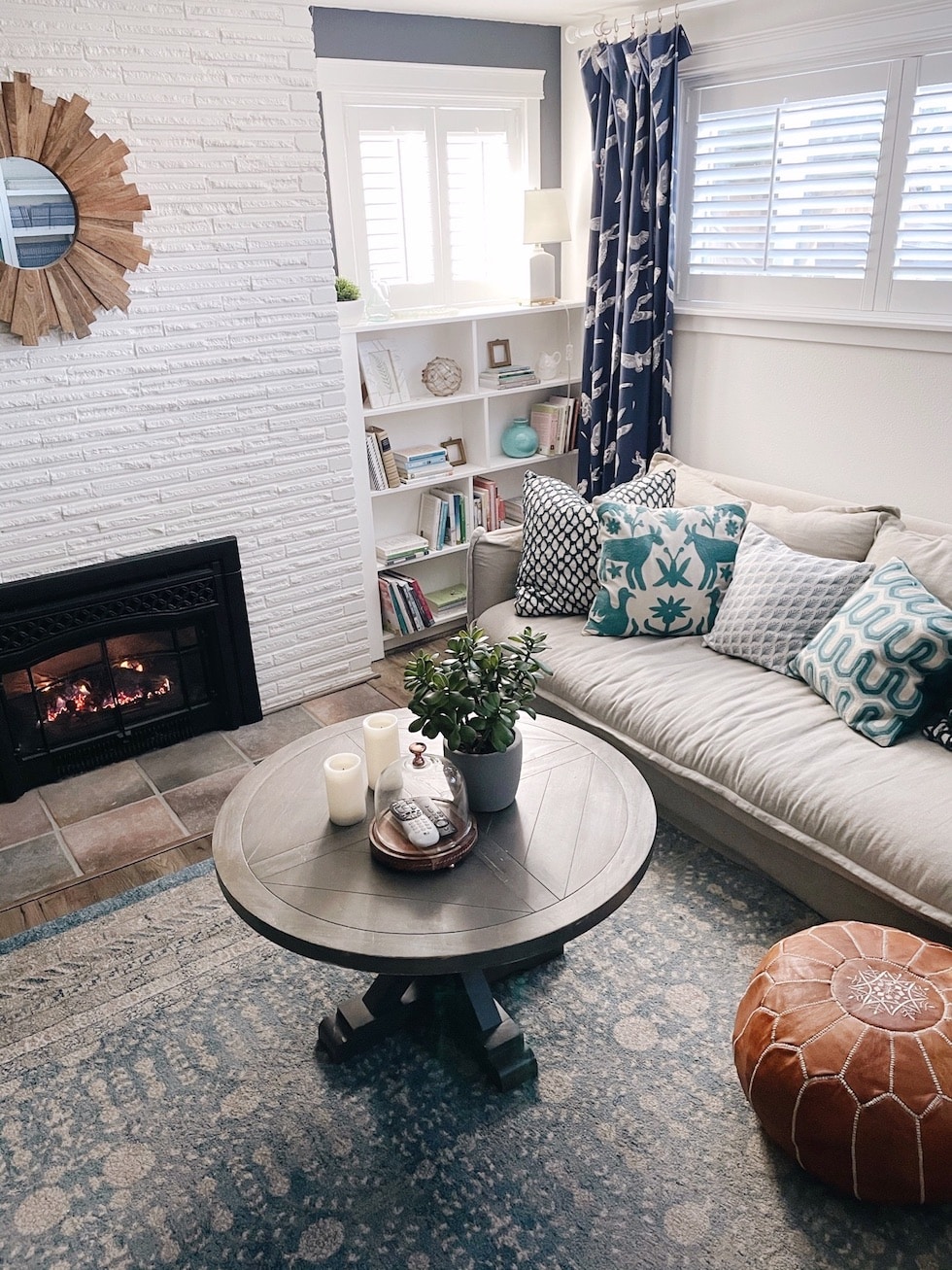 My oldest daughter Kylee and her husband sold their townhouse this week, so they will be staying with us until they figure out their next steps. It's nice to have room for them! She has a lot of plants so we were able tuck them in here and there and put them on the shelves around all of my blue and white things! We had set this room up while our other daughter Courtney was here so most of it hasn't changed much.
If you missed yesterday's post about my daughter Kylee and her husband moving in here temporarily, click here to catch up!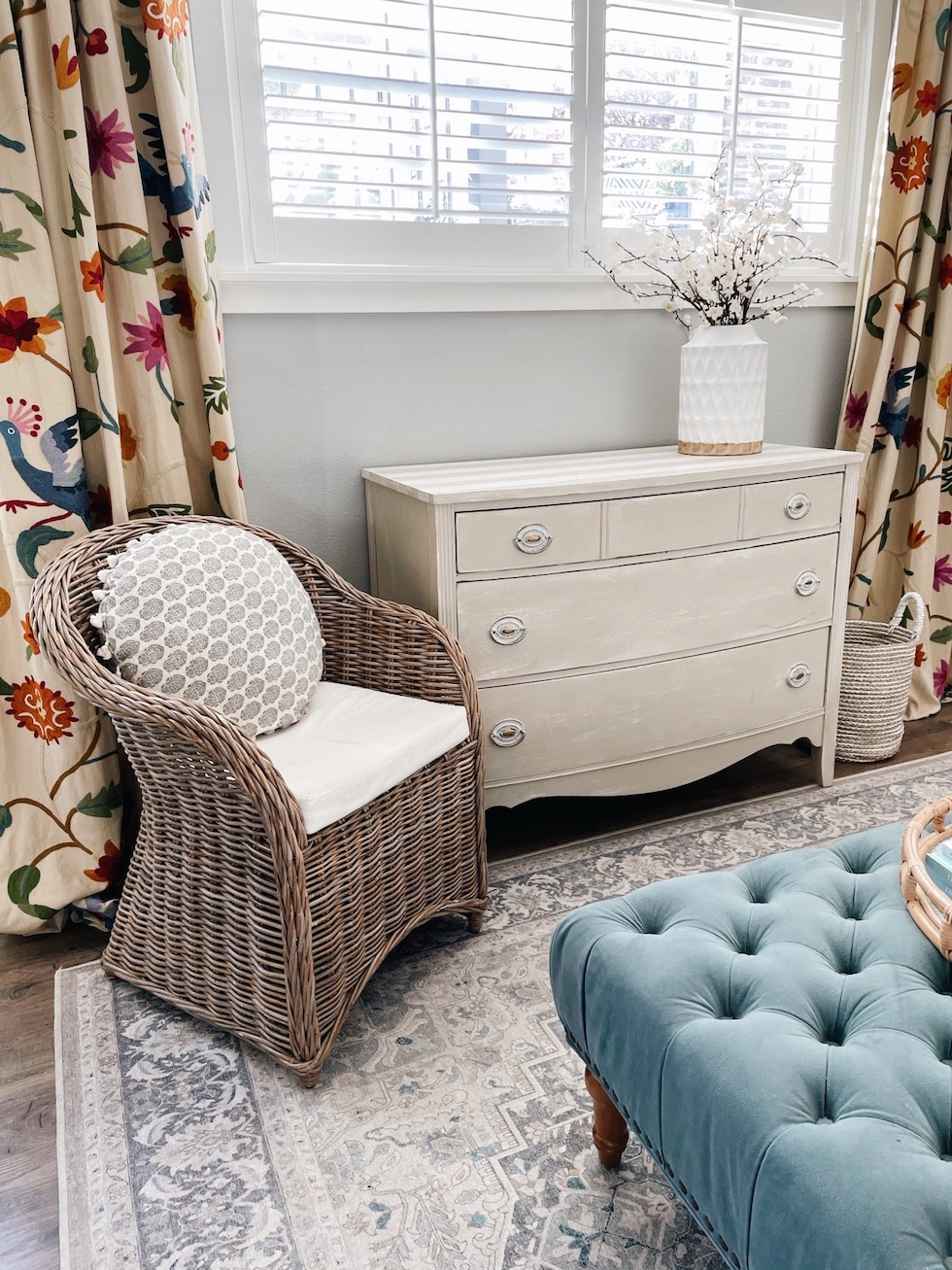 This is my quiet writing room. I just shut the door and curl up on the daybed! I had those curtains in my office at our old house, and they still make me so happy! Decorating should be fun, yes?
We would love to add built-ins in all of our lower level, but for now, freestanding pieces are holding all of our office, business and decorating supplies!
I've had this iron bed since our girls were little. I still love it! We plan to repaint the rest of the walls down here and add paneling at some point, but I hung some art we weren't using elsewhere to bring a little more interest to this wall in the meantime. The curtains behind the bed are my temporary creative concealment idea for the mirrored wall!
Normally this wood cabinet is where my printer sits, but to make the room cozier it's currently a quilt cabinet and the printer has been moved to the other room. The white Ikea Pax cabinets hold all of our oils supplies! I'm feeling so organized! I'll show you the inside sometime.
I'll show you more of the staircase makeover soon, it's turning out pretty cute! Almost as cute as all of these faces :). Notice that Lily is often missing from the group photos. She's an introvert and is usually off sitting on a cozy chair by herself. She's really been enjoying the spring sunshine we've been having here! Follow us on Instagram to see more!

Scroll and click the images below for details

---
More Sources:
Navy paint color: Hale Navy Benjamin Moore
White brick paint: Simply White Benjamin Moore
Guest room paint color: Coventry Gray Benjamin Moore
Neva Sofa from Sixpenny in Jasmine Rice. Read more about our sofa here.
Our leather sofa we've had for years is this one! Ours is the loveseat in Toffee (which isn't a color option anymore but there are several that look similar).
Similar blue and white pillows.
Knit weighted blanket on daybed.
Patterned curtains — mine are out of stock but I got mine HERE and there are similar options…and find MORE similar curtains here
Rug source in daybed room (Click here for my thoughts on Ruggable rugs and favorite styles).
White painted armoire makeover details.
Gray patterned tassel trim rug in guest room (one of my two rug designs for Annie Selke–see details here!)
Blue and white floral bedding in guest room
Navy white check shams in guest room
See another part of this room here in our rechargeable light bulb post!