This weekend I shared quite a few inspiration images for functional and livable spaces (if you missed that post, you can find it here)! Today I thought I would share one of my own favorite functional spaces, my home office. Now, for those of you old timers here, you know this office is from my old house. While I have not yet beautified my new home office, I will be using my old office as inspiration for the new in many ways. My decor might change, but the lessons learned will still inspire me for my new home.
I featured this room and many photos in The Inspired Room book, of course, but today I wanted to give you a little peek at my office and offer a few of my own takeaway tips that you could use if you're setting up your own creative space or home office.
1. Designate a special space to be inspired, organized and creative.
Being self-employed, I realized years ago that I needed to have a home office to keep me sane, organized and creative. If you are serious about a home business or just want to keep the family organized, make it your mission to set up designated space somewhere in your home (even if it is just a small corner of a bedroom).
2. Surround yourself with inspiration.
I need to be inspired by my own working environment so I can focus on the new tasks at hand. When I was setting up my office, I thought about the colors, the textures and the items I wanted to see around me. I hung inspiration boards above my desk. It all mattered to my productivity and sense of well-being!
3. Find organizational systems you can live with.
Having organizational systems that I actually use makes all the difference in how organized I feel! If I buy all the pretty bins and boxes but never use them, my office really isn't functional at all. When I find I have systems that I don't use, it is worth the effort to try something else until I find what does work for me.
4. Create a homey environment.
While I run a real business from my office, I still want the office space to feel comfortable, as it is still a part of my home. I found furniture pieces and accessories for my office that brought in my style and personality but served double duty for organization of necessities, such as my second hand store rattan shelving unit and my antique secretary desk. I put a large lamp on my desk for ambience and a comfortable chair for working. The homey and creative environment made me want to spend time in my office, so I'd say it was a WIN for PRODUCTIVITY!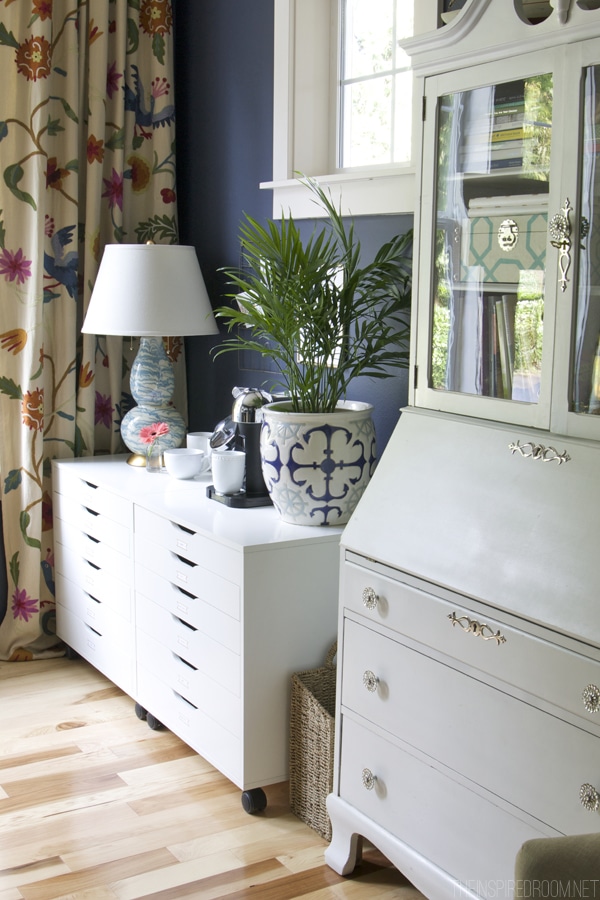 Do you have an office space of your own?
Sources:
Wall paint color – Hale Navy by Benjamin Moore
Desk – Pottery Barn
Botanical prints – Poppy Talk
Blue swirl lamps – Target
Linen chair – Restoration Hardware
Linen pin boards – HomeGoods
More sources from this room and others can be found in my shop!
Get more simple ideas for decorating a home you love in my books, The Inspired Room and Love the Home You Have.