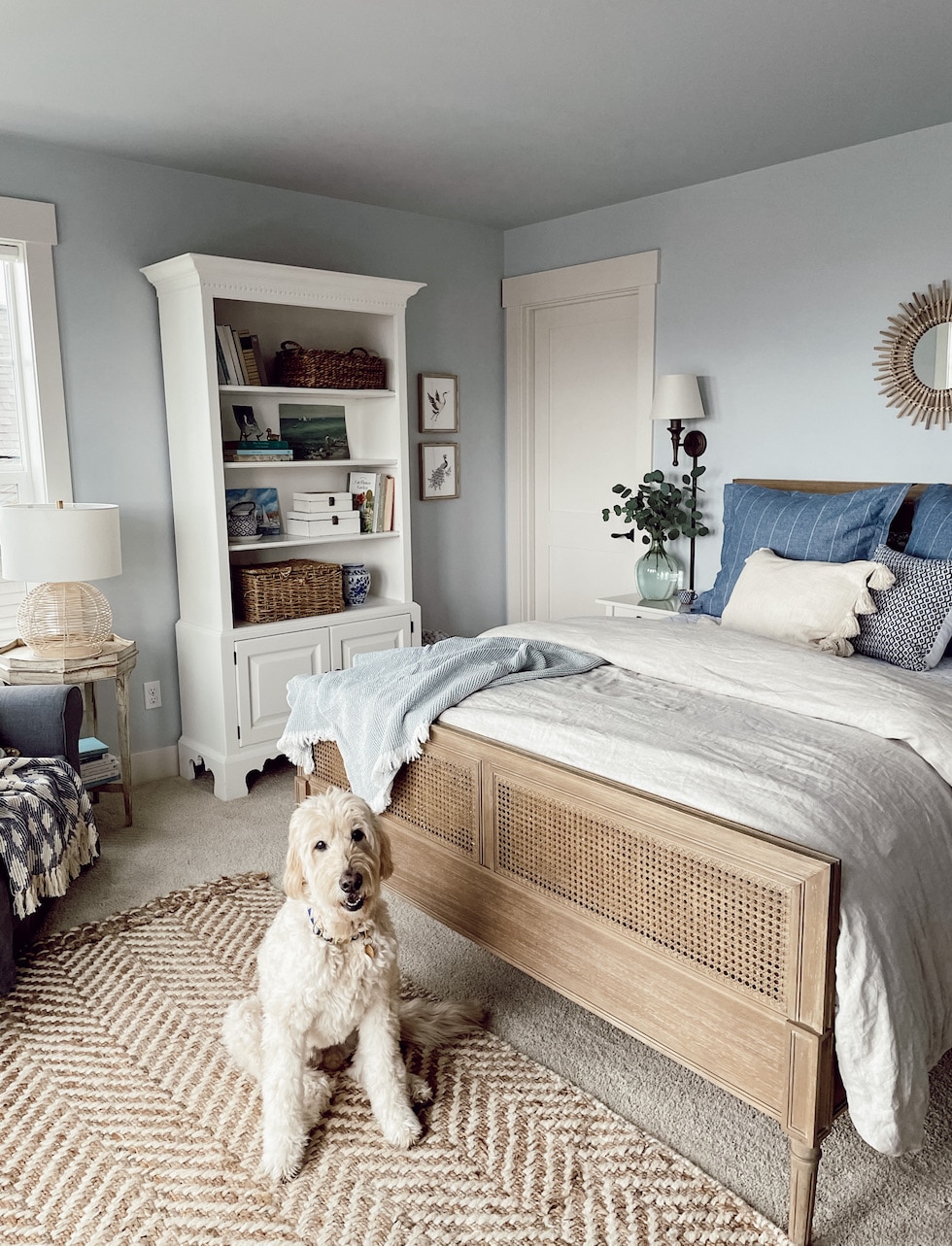 I am so excited to share some recent updates to our bedroom! Today I'll show you the simple and budget-friendly changes we made to create a cozier sanctuary for the winter months with a few wonderful new additions from Walmart! Walmart makes it so affordable and easy to update your personal design style and your home for the season.
Thank you Walmart for sponsoring this post!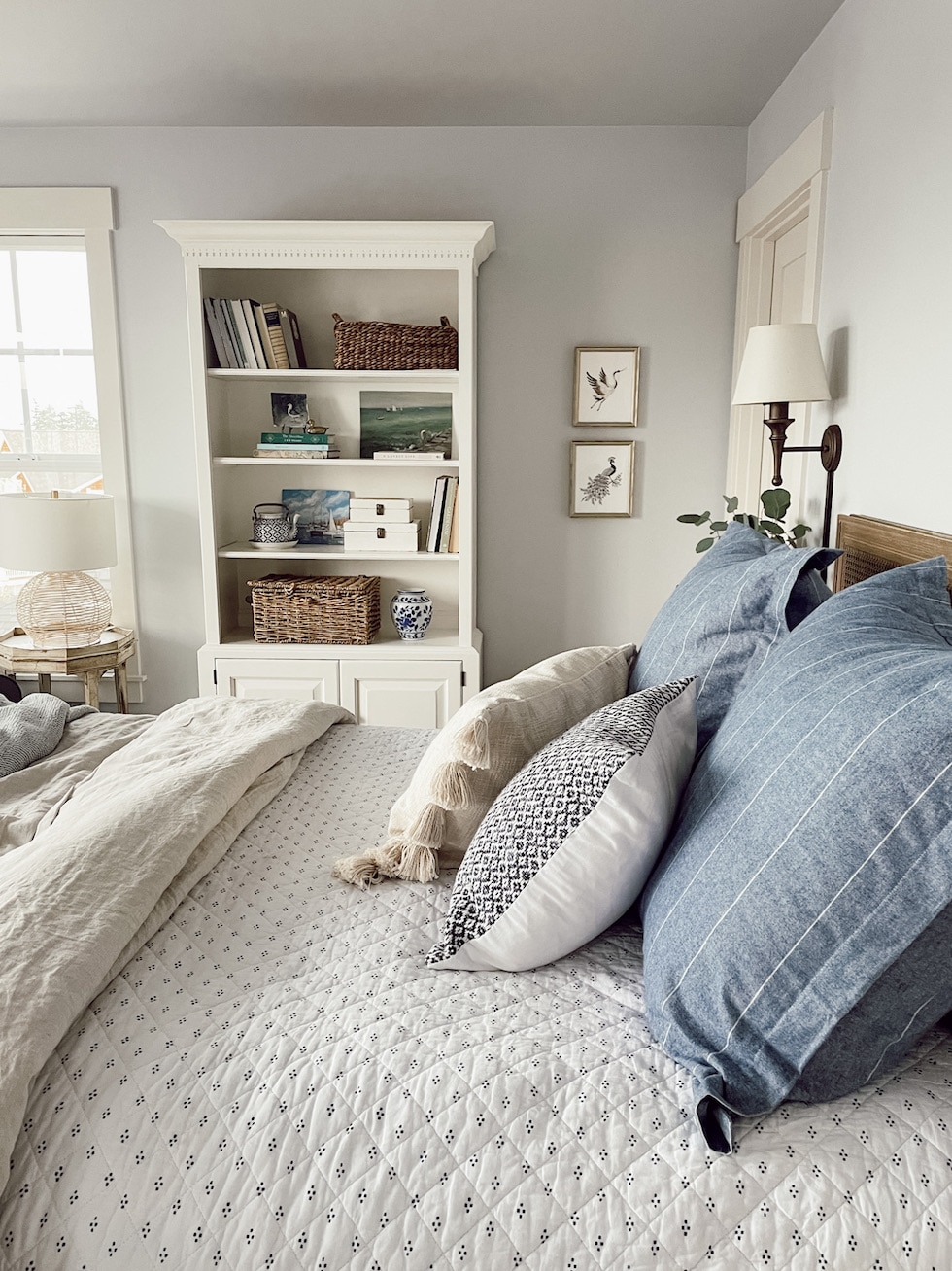 I love mixing and matching existing and new (or new-to-us) pieces to make any house feel like home. For the month of January I decided to focus on getting more settled in our new bedroom. We moved in when we sold our other home in October, but other than bringing our furniture here, we hadn't made any particular effort to make this room feel like home until this month!
Designating our bedroom as the project I wanted to work on for A Lovely January (learn more and participate in A Lovely January HERE!) gave me the extra motivation I needed to move forward but also to keep things simple! I know we will continue to make this space ours over time, so there was no hurry or pressure to do it all. Giving myself permission to work with what we have now and to update what we can really inspired me!
Here are three simple updates that can make your bedroom a winter sanctuary:
1. Create a Mood-Boosting Ambience
One of the most important updates I always make to any winter room is to set the mood of the space. There are many ways to do that, but particularly in the winter I think the lighting is especially significant! I know for some people it's maybe more exciting to get new bedding or paint colors or built-ins or wood floors, or whatever it is that might be on your design wish list, but if your room is only lit by a ceiling light (or no light!) it's never going to feel restful, warm or inviting.
We feel fortunate to have wonderful natural light in our bedroom through windows and double glass doors, but lighting up the corners around the space with lamps is so significant to how the room feels on a cloudy day or in the evening.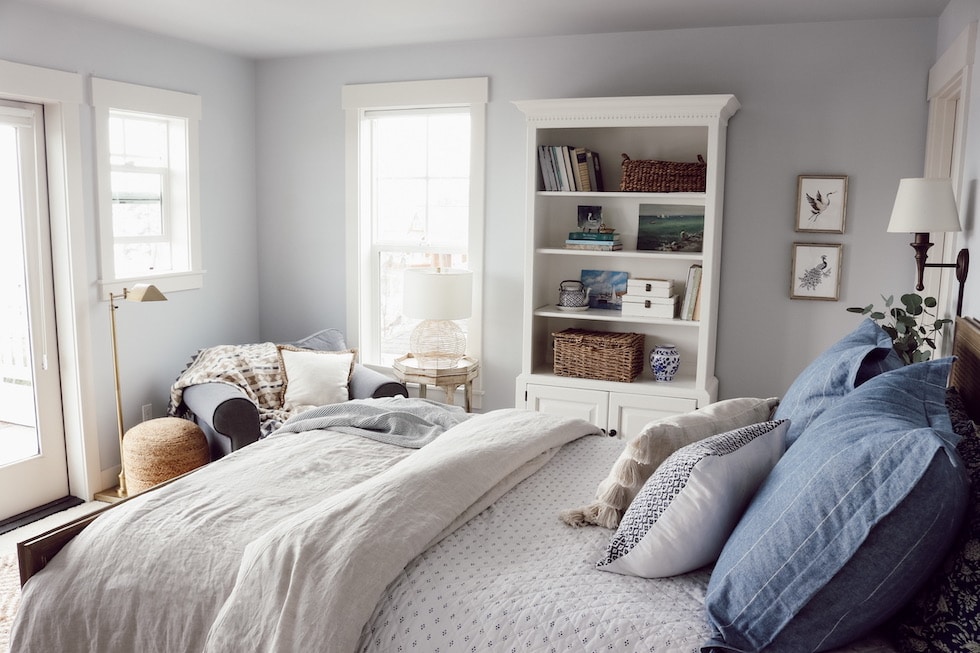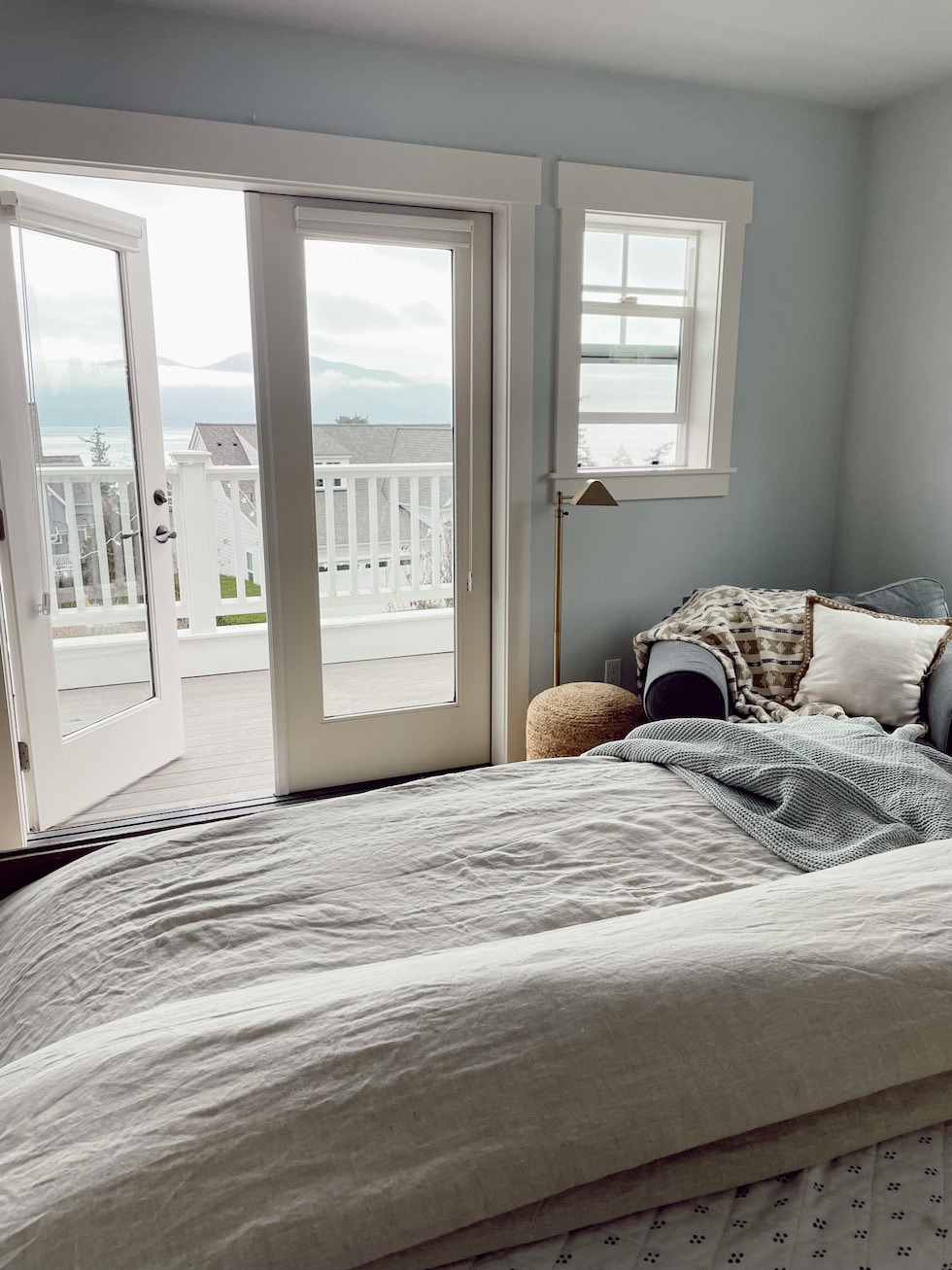 You might remember that I recently ordered a wonderful brass pharmacy lamp through Walmart that I absolutely love. It's good quality, so stylish and it's made such a difference when reading or working in the corner chair (a chair that was already in the house when we moved in!).
I also found a very cute rattan table lamp for the other side of my chair. As wonderful as a task lamp is for reading or a project, it didn't light up the whole space enough in the evenings so the addition of the table lamp made the whole corner feel more cheery. The round shape of the lamp looks nice on the table, giving it a more finished intentional look.
Last year we added a beautiful bird/floral lamp (from Walmart too!) to our room and I am still in love with it. I really like the design and color it brings to this new space.
This month I started looking for plug-in wall sconces for by the bed. In a future project we will likely wire in wall sconces all over the house, but for now plug-in was the way to get the immediate benefit.
Our bed is on a short wall in between two doors. With a queen sized bed we barely have room for tiny nightstands. The lamps we brought from our old house took up so much room on those little nightstands that they both visibly and physically made the space feel even more crowded and cluttered.
I wanted wall lights in a classic traditional design with a simple linen shade for added warmth in the room. Ideally with the way they are situated near the doorways, I didn't want any that would stick out too far into the room. These new wall sconces are perfect!
The wall light finish is a soft bronze, which looks wonderful with the textures in our room. They are a similar look to black (and complement other black hardware and accents) without being as harsh.
Lighting has totally transformed the feeling of our room. And even better, they actually make me feel so much more at peace in the room! I love them.
2. Add Design Details that Pull Together Your Personal Style
What colors and textures do you love in the winter time? I feel most at home with a calming relaxed comfortable style, one that isn't boring but feels refined, pulled together and intentional.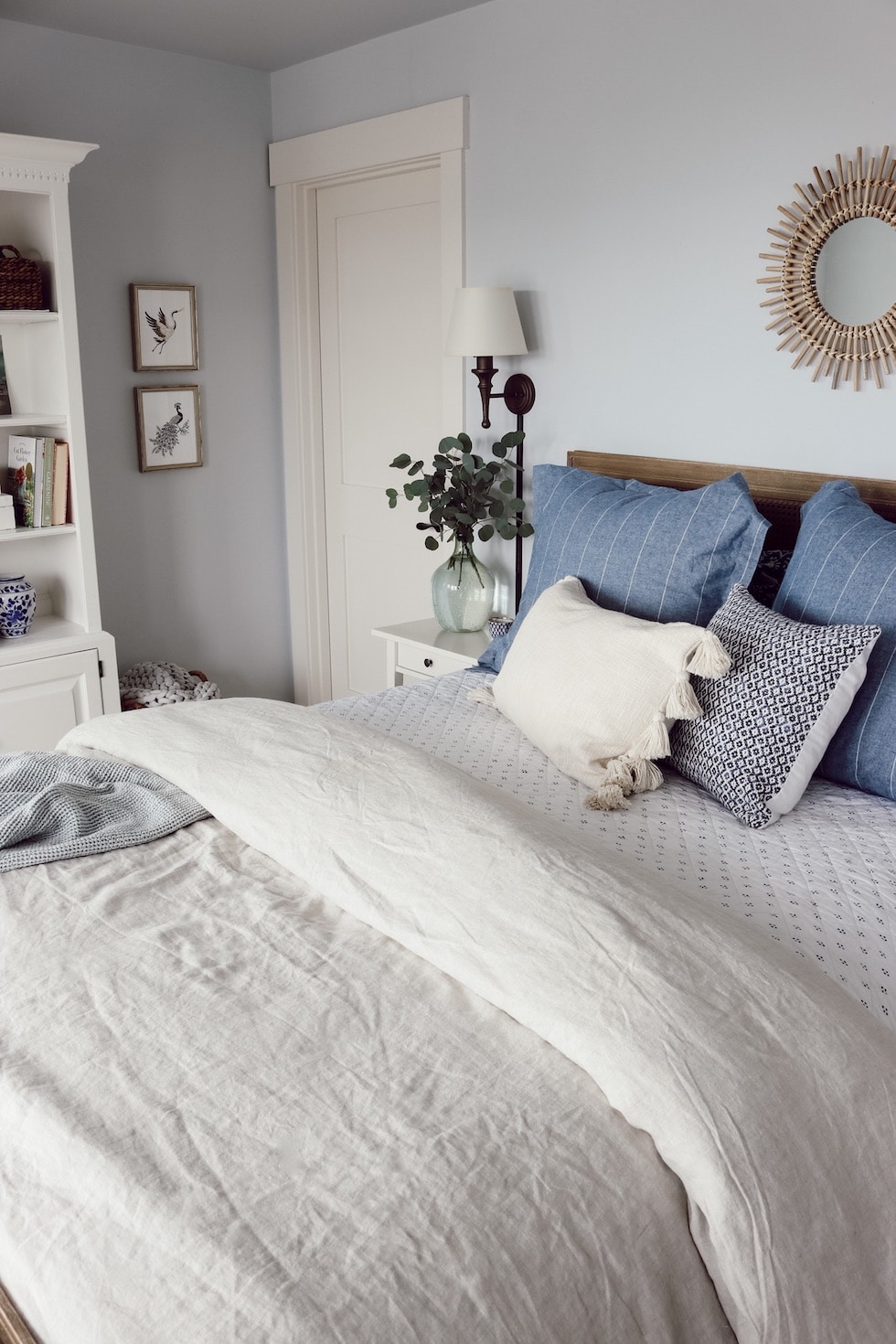 My favorite design defining details in a room will add layers of texture, pattern and color. Thankfully you don't have to design a room from top to bottom all at once for it to reflect your style, you can do this over time. In fact, even if you could redecorate it all at once I think it is more likely to feel cozier, more authentic and personal long term if you allow the elements in it to evolve over time. Otherwise your room will eventually feel more like a stagnant time capsule version of you!
I found a few new darling pillow covers (love texture, colors and detail of the tassels!), a warm chunky textured sisal rug and a really pretty blue cotton throw blanket all at Walmart to add to our existing pieces. These new elements really helped updated our look and pull together our cozy winter style!
I also found a neat picture frame that you can easily switch out a "floating" piece of art, a picture or a quote, so it will be easy to update it for each season.
3. Find Ways to Add Both Beauty and Function
An inviting winter room won't just just be pretty to look at, it needs to be functional too. That's a huge priority for me! If you're like me you probably spend more time curled up in your room reading, relaxing, or working on hobbies or projects this time of year.
This new little jute ottoman from Walmart is not only an adorable and textural addition to the design of the room, but I can actually use it to put my feet up or to set a book down! It's been quite handy already.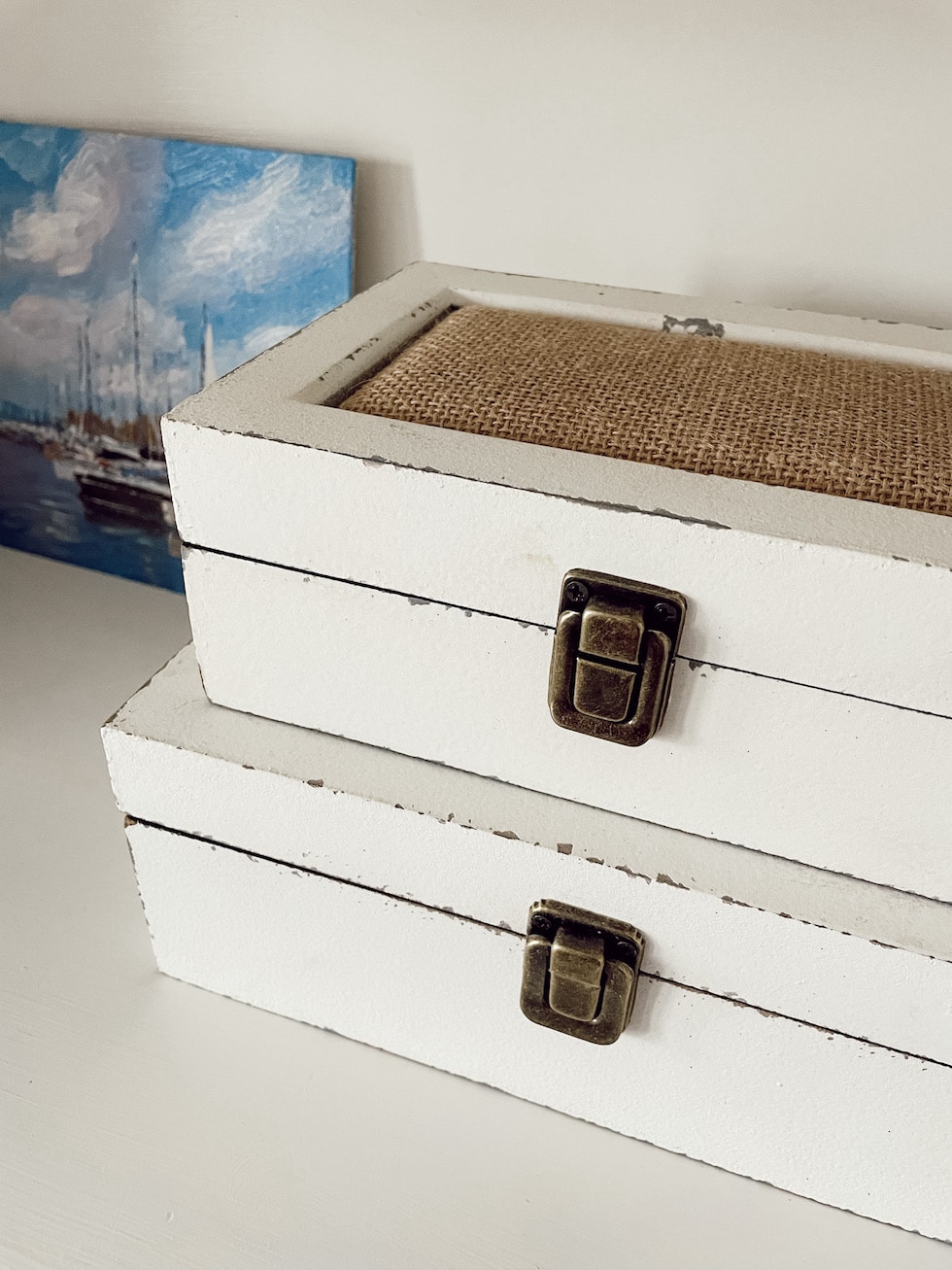 The stackable white lidded boxes on my bookcase are so cute. They will be fun for layering on top of books or just on their own. They will also be so useful for tucking away little mementoes, gift cards, letters, photos, jewelry, etc.
What project are you working on this month? I hope you're feeling be inspired by the simple updates I've made to our room so far (more to come!) and see how easy it is to transform your space by shopping at Walmart for all things home! You can find all of the sources and more linked below.
I'd love to have you share your home and projects in our free TIR Facebook community!
Stay tuned, I will share more ideas I have for my room the coming weeks!
Sources:
Scroll and click the images below for source details:
---

---
Blue and White Patterned Pillow
Cotton Lumbar Pillow with Tassels
Brass Floor Pharmacy Reading Lamp
Stonewashed Cotton Throw Blanket
Find more affordable and stylish decor finds at Walmart Home here!