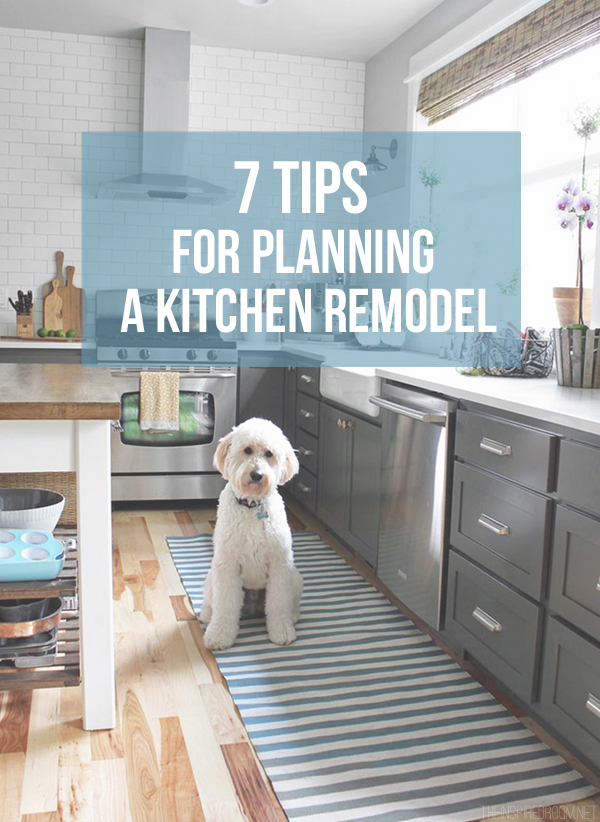 After my recent post on elements I love in a kitchen, many of you asked questions about the process of designing a kitchen you'll love forever when you are on a tight budget and have a problematic kitchen. How do your great ideas translate to a kitchen design you'll love when you are on a budget and can't do everything your heart desires?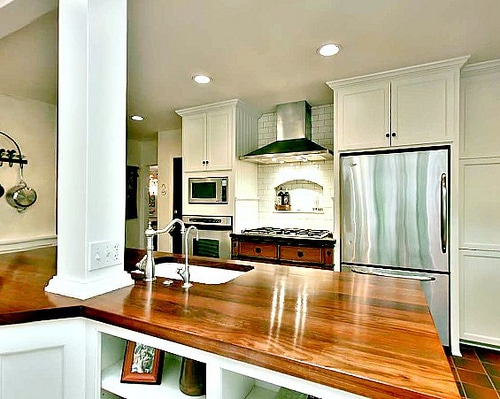 I'm back with more tips today, based on my experience with remodeling my previous kitchen! This kitchen wasn't a high end remodel by any means so my intent is to help and inspire those of us on regular budgets with things we learned along the way. While the kitchen wasn't perfect even after we remodeled, it was so much better than it was!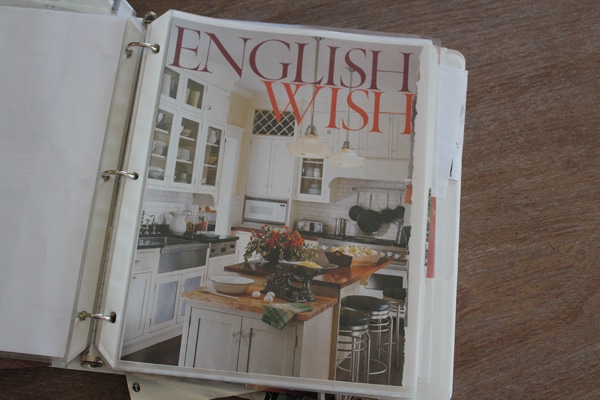 If you are new here, details about my current kitchen remodel (above) can be found in the reveal post here. While my two kitchens and styles are different you will probably see some similarities between the old remodel and the current one and I'll share more on that in a future post!
So please bear with the old pictures, below, as we take a little trip through the process of designing this kitchen. If only I could take more photos or retake them but alas, we no longer live in the house. And, I no longer have the roosters.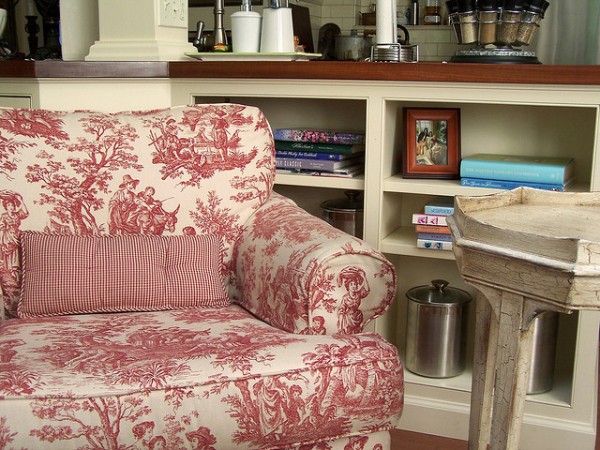 As most of you know, my last house was a true fixer upper. And by that I mean it was pretty awful. It did have great moments that convinced us to buy the house, but unfortunately the awful parts were quite overwhelming.
It was desperately in need of cleaning and fixing. 4700 square feet or so of work. It took us many visits to this house before I could even let myself look past the awful to imagine it being wonderful again. It had potential, but that word is the downfall of many of us ambitious house rescuers. Potential can be costly and more time consuming than you might imagine.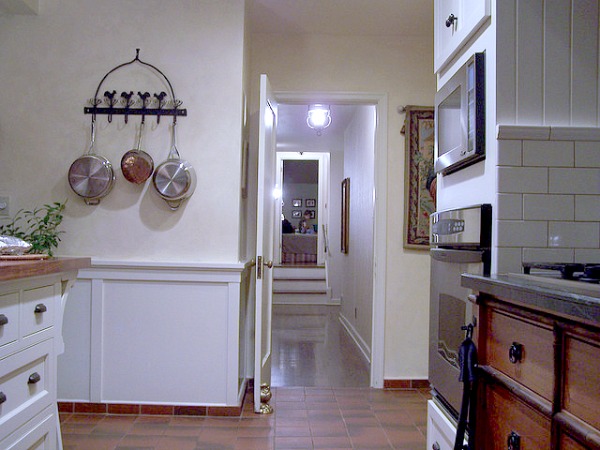 Our kitchen in this 1930s tudor had been remodeled in the early 1980s long before we bought it, but it wasn't really done well. This was about eight or nine years ago. All the appliances and tile were falling apart or needed attention. The stove and oven didn't even work! We cooked in the basement bathroom on our electric skillet for TWO YEARS because I couldn't bear to be in the kitchen for the first year (since it smelled so bad) and the second year we were waiting for a contractor and remodeling.
The existing dishwasher smelled so terrible that we removed it right away and sealed the hole with garbage bags and duct tape! We would periodically change the tape to keep things tidy haha. SO classy. And don't even get me started on the horrific SCRATCHING sound of RATS under our old sink. Ew.
There were many other yucky things about the kitchen, but I'll spare you the rest of the details and tips! Throughout the post you'll see real snapshots of my original kitchen notebook along with photos (sorry about the pre-blogging images) of the kitchen itself and how the magazine photos inspired the room!
 7 Tips I Learned through the Kitchen Remodel
1. Take your time.
I know how hard it is to wait when you move into a house and you can hardly stand the kitchen. Your first instinct might be to gut it immediately or at least start on a few projects. But I think if you are truly wanting to stick to a budget and make design decisions you'll be happy with for years to come, patience is your friend. But trust me, I get the urgency thing when your kitchen is really bad. You just want a functioning clean kitchen! But if you can set up a kitchen somewhere else in your house (even if it is just a sink and an electric skillet) you can get by while you take the time to plan.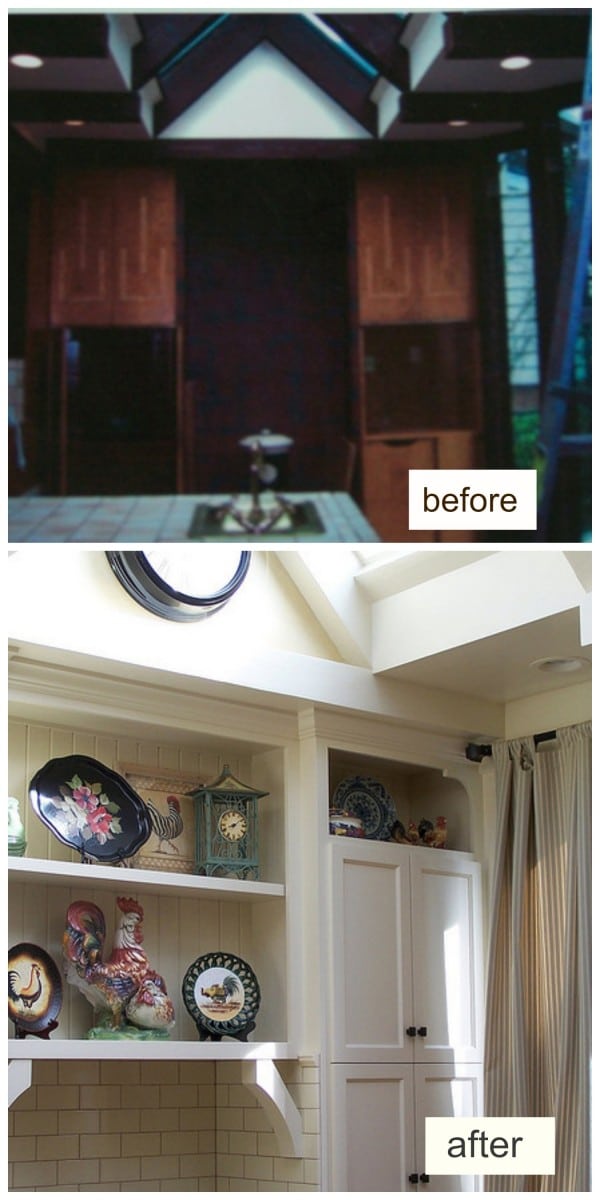 2. Get lots of advice from skilled people.
Pinterest and blogs are full of advice for DIY'ers, remodelers and decorators from well-meaning people. But not all of it is applicable to your situation. So even if you love a blogger's style, seek out help from contractors or designers who are trained, experienced and actually have BEEN in YOUR kitchen so they can give you good solid recommendations for your own situation.
My kitchen really started to take shape and come together in the real planning stages only after I had interviewed about ten contractors. I knew I was serious about sticking to a budget and wanted to LOVE the design of my kitchen. I didn't want to risk heading off on my own and making a costly mistake or spending more than was necessary.
I called reputable contractors before we made any decisions. Yes, that meant living with a yucky kitchen for a really long time and talking to a lot of people about my kitchen, but it was worth it! Almost every single idea we originally planned on before we bought the house ended up being scrapped once we considered the advice from professionals. Yep, good ideas are not enough. You need the RIGHT good ideas.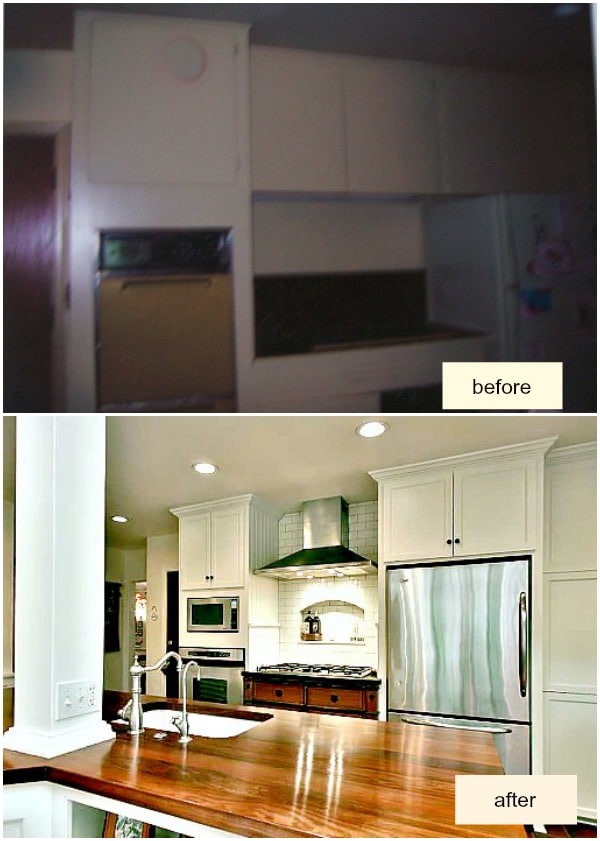 3. Leave your plumbing and electrical layout and keep the cabinets if you can.
If you are really on a budget, it's important to think through the whole kitchen plan before you get started. Sometimes leaving most everything where it is makes the whole project cheaper! But what can you keep and what should go?
Each contractor who came to give us a bid told us to gut the kitchen. Price tags were in excess of $60,000 – $80,000 for a newly remodeled kitchen It can all add up.
Finally, the last contractor came to see the space and after hearing what I really longed for (a charming English kitchen) he said the magic words. You don't need to gut the kitchen to get what you want, you can work with what you have and save a lot of money and a lot of stress. I really liked the sound of that!! But I did want to make sure that we would love the outcome, so we were really careful to ask a lot of questions before hiring anyone.
When we found the right contractor, everything started coming together. To save as much money as possible for the charming details I wanted, the contractor suggested we leave the layout of as much of the plumbing, electrical and appliances as we could.  He also helped us to decide which of our cabinet boxes were worth saving and told us how he could easily order custom new doors and even drawers to the original boxes and add details to give the kitchen the look I wanted. And due to careful planning, we were able to keep our flooring, too, to save even more money. We planned to change the floors at a future time so it was great to be able to put that part off!
Once we knew where everything in the room was going to be located and what cabinets would be staying in the space, we started planning out the details of what was really possible, not wasting more time or money on things that weren't as important to us.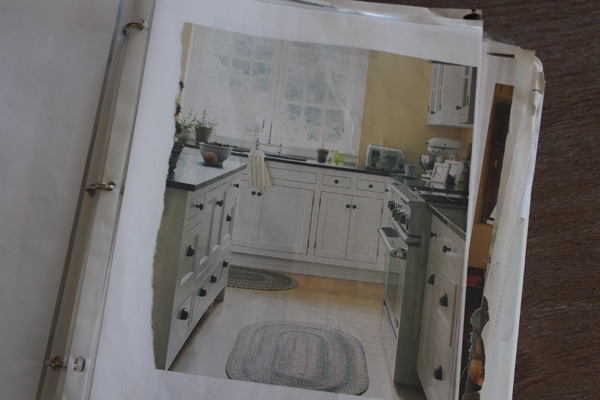 4. Search magazine photos for inspiration.
I love looking at all the details in every magazine picture I find! While my old kitchen was done long before the days of Pinterest (I would have loved searching the internet for photos back then!) I still think old school magazine inspiration notebooks are the best. I had ripped out dozens of photos of kitchens I loved over the years. Some pictures I loved just for the overall vibe, but many were specific elements we knew we could add at an affordable price based on the advice of our contractor or our own vision of the space.
When we saw a great cabinet we liked in a magazine, we tore the picture out and our contractor figured out how to create something like it. When we saw a cool bracket under a cabinet, we ripped out the photo to remind us of the style we loved so we could ask for something similar.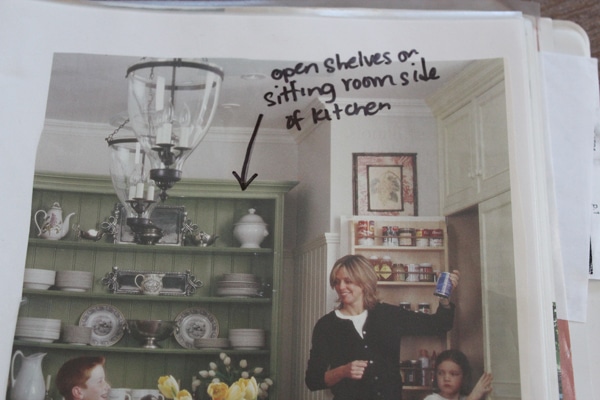 Above, see the inspiration picture for the style of paneling on the back of open shelves. And below, see how ours turned out.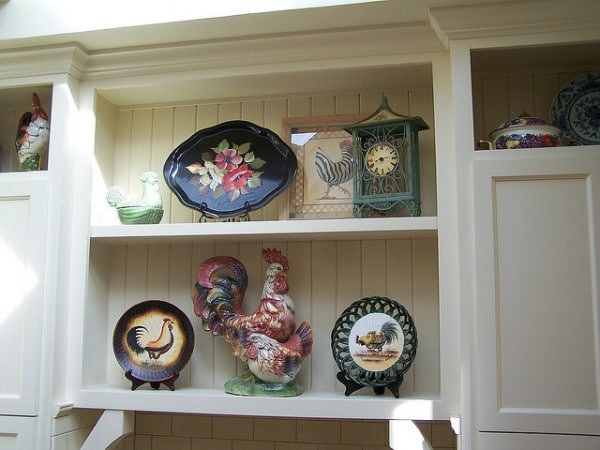 5. Make design notebook for your project.
We put together a basic three ring notebook for our kitchen project. I had made notebooks before for general decorating, but this one was specific to this particular kitchen remodel. Once we had lots of photos of elements we wanted in our kitchen, we put each photo and all of our notes in a plastic sleeve it in our 3 ring design notebook.
In many cases we would draw an arrow with a marker (drawing it right on the plastic) to the detail we liked in the photo and where it would go in our own kitchen.  It really helped to have specific photos and elements for the contractor to look at. So many times during the project we would refer back to the notebook as it helped him to come up with cost saving ideas for us as well as prevented miscommunication on many occasions!
After seeing a few of our photos with kitchen ideas, he suggested we bump the fridge back into the garage a bit to make it look more built in like some of the photos we showed him. We were originally thinking we would have to get a counter depth fridge and sacrifice size, but his solution was perfect, easy enough and affordable! I'm so glad we showed him pictures of our dream kitchens and that we hadn't already gone out and bought the wrong sized fridge!
We left the notebook in the kitchen during the remodel so if there was ever a question on how something should look, he had the whole manual right there to look at! It was a great place to put notes about the kitchen and keep everything organized.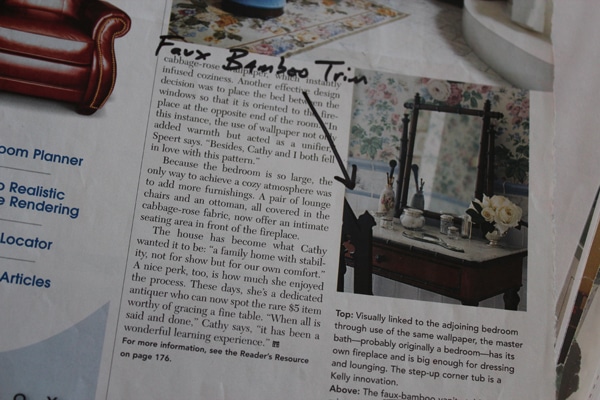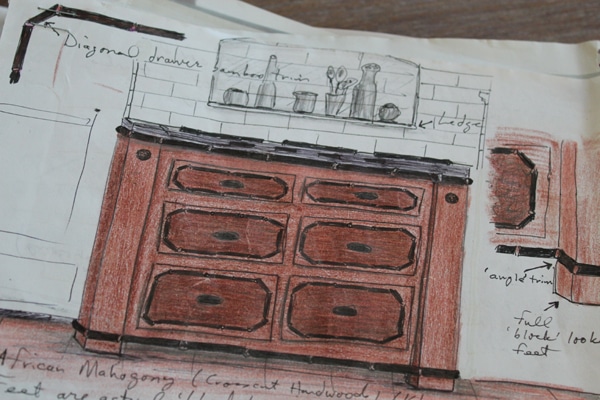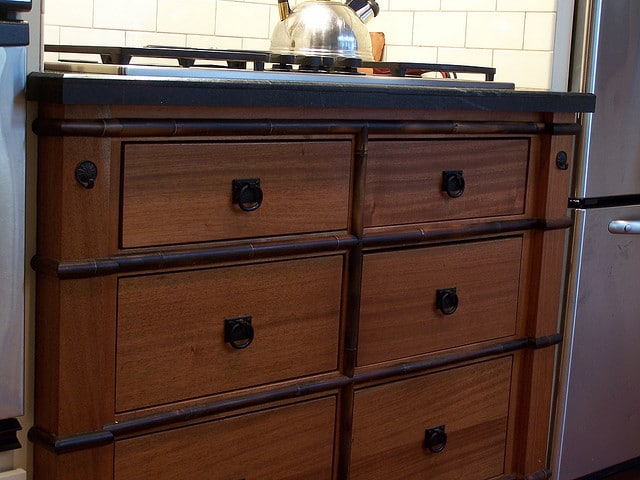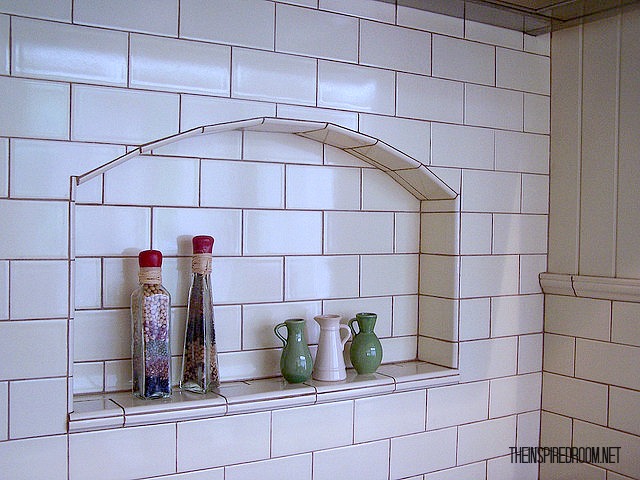 6. Create sketches of elements you love.
Quite a few times we would see photos of ideas we liked but they wouldn't necessarily work for our kitchen. So instead of tossing the idea and photo out, we would get inspired to use the "feel" of a photo in a new way. But since we didn't have a picture of exactly what we wanted, we would take inspiration from it and then draw out how we could use something like it in our own space.
Then once we showed our sketches and ideas to our contractor, he would give us advice on the best way to make something like it happen. Our bamboo stove cabinet was one we designed ourselves on paper based off of bamboo details we loved on furniture. Our contractor was able to design something similar.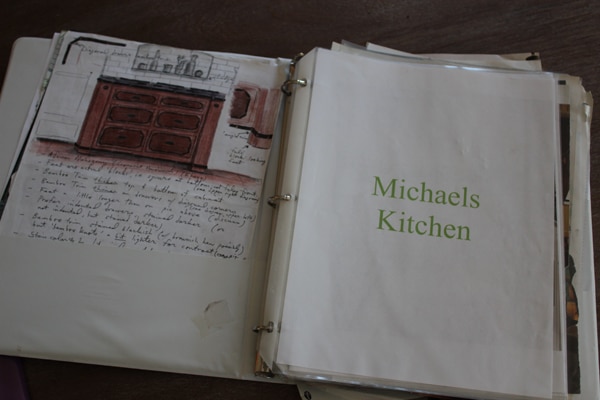 7. Be flexible.
One thing we definitely learned was that flexibility was a big key to our overall success. While we may have had dreams or visions of certain things we thought we definitely wanted when we first started planning, we were glad we were patient because we actually ended up with a much more affordable kitchen by being flexible.
The day we moved in we were dying to go appliance shopping since none of our appliances worked. But I'm so glad we waited and didn't jump the gun! Not only would have have likely spent a small fortune on more expensive appliances before we knew the overall cost of our kitchen remodel, but we probably would have had to spend thousands more to redesign our kitchen around them rather than working them into the more cost effective design we ended up with.
While I dreamed of a big fancy professional range, were able to select a nice higher end cooktop but put it into the customized bamboo cabinet. We loved the professional five burner cooktop we ended up with and the charming extra storage, too, so it was a great trade off for that expensive range I thought I wanted in the early stages of dreaming! We were also able to get a great quality oven and convection microwave that both fit into the original oven cabinet, thus saving even more money on a redesign.
I also adamantly wanted a double door refrigerator with a freezer on the bottom. But when I saw the price tag of the entire kitchen, I decided it was worth saving a thousand dollars on the fridge when I found a single door version with the freezer on bottom at a scratch and dent store. I ended up loving that refrigerator! Being flexible with appliances was a great way to save money and still get a hardworking professional quality kitchen.
New house side note: If ONLY I could get a new fridge and stove for this kitchen! I'd be such a happy camper, I do miss my old appliances! I'm being patient with what we currently have but someday my patience will pay off. I hope.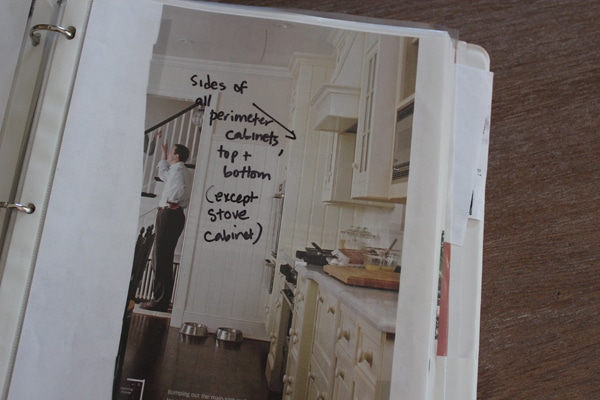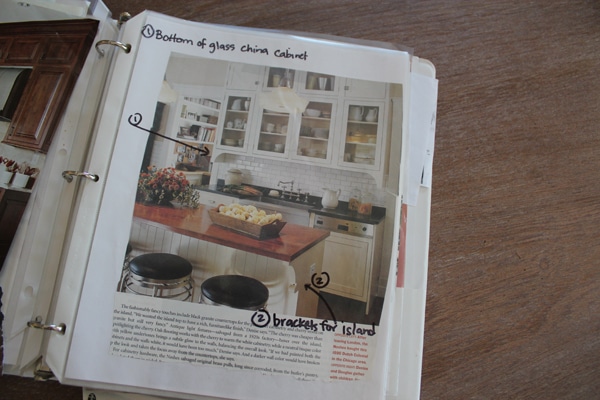 We loved the look of the upper glass cabinets with the brackets as seen in our inspiration picture above.
You can see our version of that cabinet in the photo below.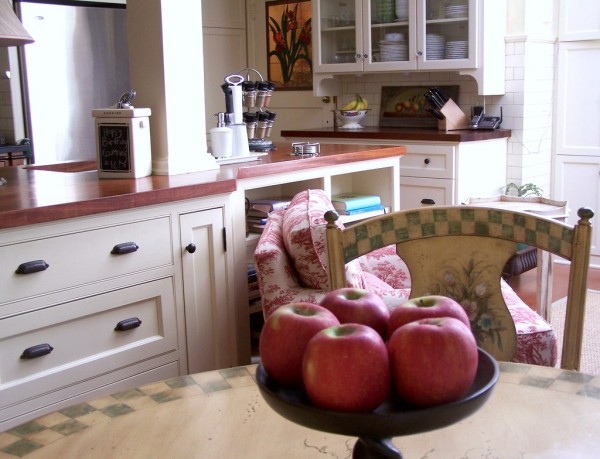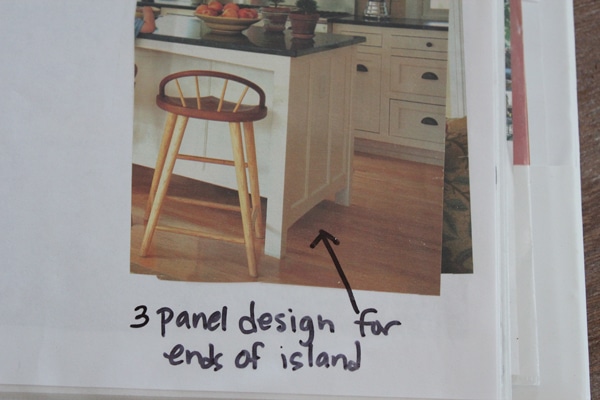 Above is the inspiration picture for the end of our island.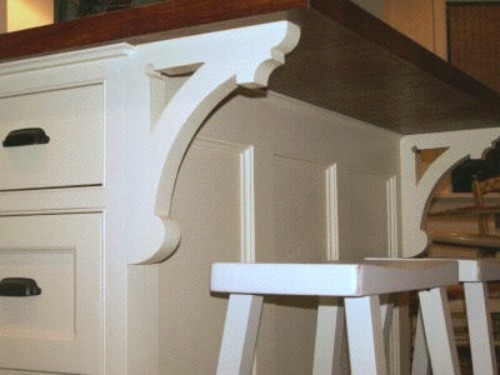 And (above) is what the panels on the end of our island looked like!
The brackets were inspired by the brackets in a previous picture.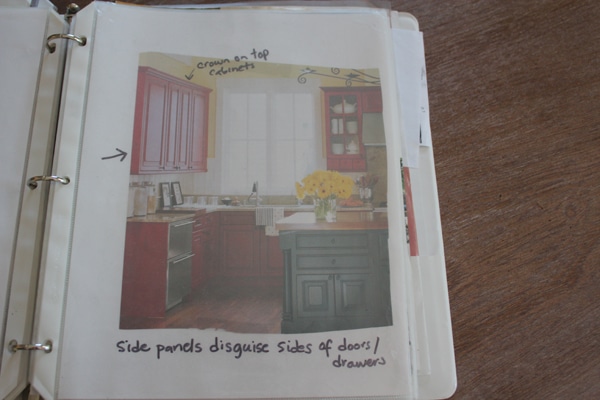 We had lots of photo inspiration for things like crown molding and the paneling styles for the ends of cabinets (above).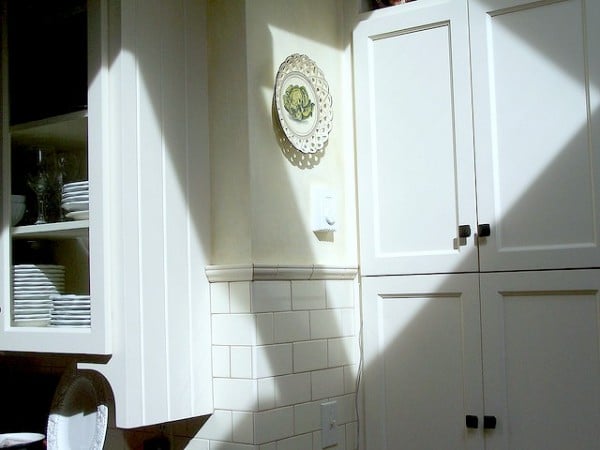 All the cabinets except the island were retained but we updated with new doors, new drawers, side panels and details like shelving, brackets and bookcases based on ideas we found through our magazine photos or kitchens we had loved through the years.
We loved the simple detail of the inset cabinet under the sink as an alternative to a farm sink.
I loved the big white sink, wood counter and faucet too. We loved the idea of our kitchen looking homey and more furniture-like. Many of the kitchens we loved were white with wood counters.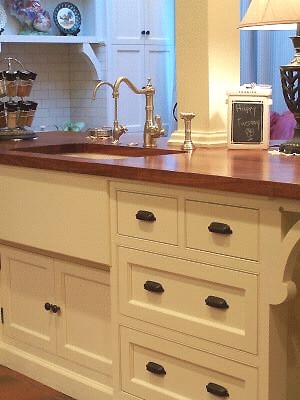 And here is the best picture I can find of what my inset sink cabinet, counter and faucet ended up looking like! See the inspiration pic above!
It sure helped to have all those inspiration pictures when we were remodeling our kitchen. I highly recommend a home project or decorating notebook when you are organizing for any project at home!
I'll revisit my informal "kitchen series" soon with inspiration from my new kitchen remodel. I'll be showing some of our sketches and the before and after floor plan, and answering questions on how it all came together!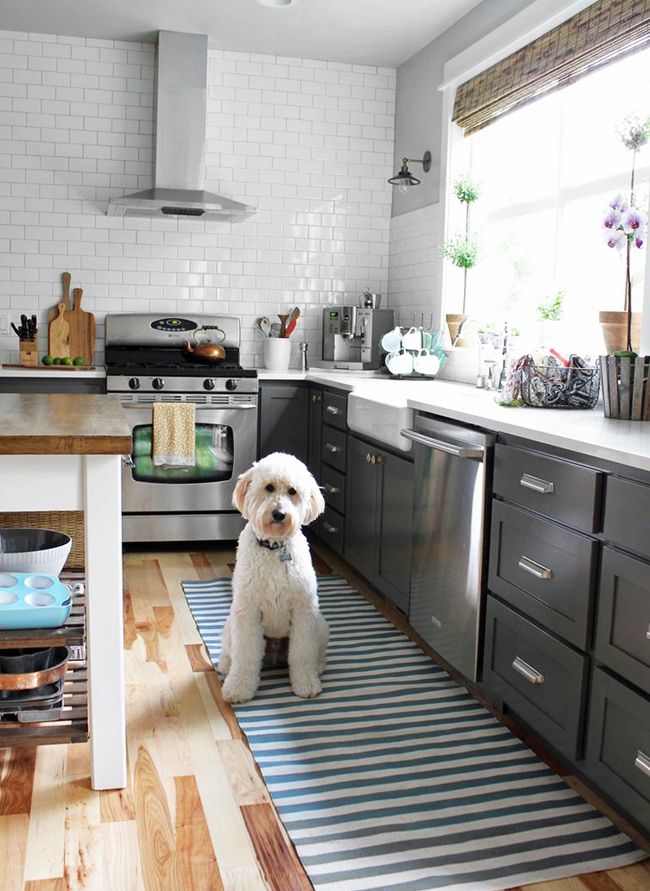 Here is the post on how to love your kitchen for a lifetime!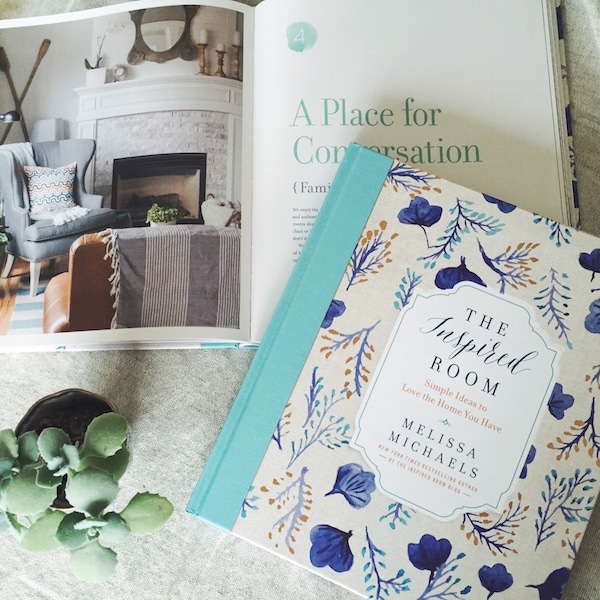 Check out my new coffee table book, The Inspired Room!