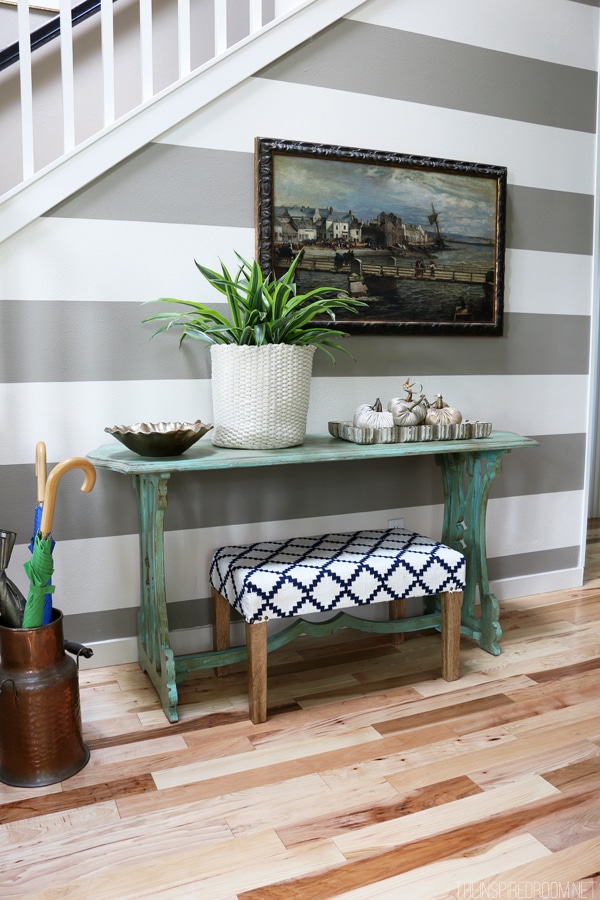 It is that time of year. (Don't panic if you are prone to hysteria at the ending of summer–I promise, summer is still here.) I look forward to this very moment every year. It has become like its own pre-Fall ritual for us. Can you see them? Sitting there all pretty on my entry table? The plush pumpkins are back to quietly whisper, the glorious season of fall is on its way. Oh yes. It is THAT time. The time when I ever so slightly nudge my house toward Fall with my Plush Pumpkins.
There they are in all their plushness plumpness, just begging you to pick them up and give them a little squeeze as you walk by! This year they are looking a little more sophisticated, don't you think? All dressed in their gold finery of chevron linen and silvery shimmer! I have to say, I've never seen any other soft pumpkin out there as beautiful as these. Their quality is remarkable and worthy of attention. They are heavier than you might imagine.
Behold, the beautiful natural organic stems. Each one unique and special.
My good friends, a.k.a. the LoveFeast ladies, are giving away a Large Metallic Linen Pumpkin set in your choice of Silver or Gold to a lucky commenter! Just leave a comment on this post and you'll be entered. A winner will be chosen Sunday night at 10PM PST.
Check out the LoveFeast Shop for more pumpkins (including the lovely velvets!) and all sorts of loveliness for your home!
Thanks for entering! This giveaway is now closed  and the winner will be contacted.
If you have questions on my striped wall, you can find my striped wall instructions here.
If you have questions on my hardwood floors, you can find hardwood floor details here!
Wondering where I got my table? It's from a flea market, you can read the post here!  :-).
The little bench came from Target.
The tray the pumpkins came in is from Mary & Martha.
What is the most happy thought that comes to mind when you hear the word FALL?